We asked 430 people about their experience of using an Airbnb guest book: would they prefer to receive a digital guest welcome book, for access on their devices before and during their stay?
The result? A whopping 74% of our respondents told us they would like the option of accessing the welcome book digitally.
Not only that, but we ran some data in June 2016 to look at how guests were using our Touch Stay digital guest welcome books. We found that 90% of guests are reading their Touch Stay welcome book!
If you weren't convinced about the idea of transforming your paper Airbnb guest book into a digital guide book, maybe knowing that 3 in 4 guests are asking for it changes your mind?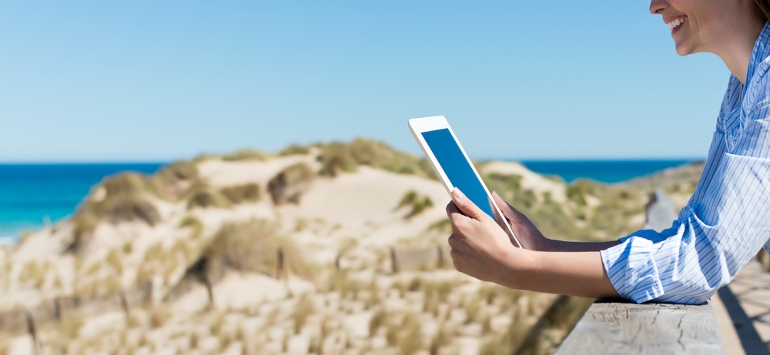 But What is a Digital Guest Welcome Book?
It's simply a resource that guests can access on their devices, before and during their stay. Our Touch Stay product is a mobile web application. Which basically means guests access it on their device, via the web, rather than downloading an app from the app store or play store.
But our product isn't the only solution. Check out this vacation rental app article that we wrote about the different choices you have. We subscribe to the keep it simple approach. After all, this is about providing guests with information that will help them enjoy their vacation!
Why Bother With a Digital Airbnb Guest Book?
Most of us are side-by-side with our gadgets 24/7, even on holiday. Anxiety sets in if we forget or lose them! It's not just that we want to check emails or be accessible. We also want to plan and then share.
When planning we're looking for trusted, local content. The best sunset spot. The most professional fishing charter. The kid-friendly ski run.
And then we share… the sunset photo on Instagram, the fish that didn't get away on Facebook, and the kids' first ski, filmed and uploaded to YouTube.
All with the device. Whether you think this is a sad reflection on modern society or not, it's a reality!
Local, Trusted Content
This is where the vacation rental industry wins! The best owners and property managers can instantly answer that specific, local question. A one-up on any guidebook. But not just the answer, they'll often add a little tip like this…
Glad you are having a great time! Hands down… Mattzaluna for Pizza to go. The crust is perfect… not too thick and not too thin. And the toppings, cheese, and sauces are absolutely delicious (all their food is good). We've tried all the pizza places and this one is the best "to go"!
This is a real email that I had from an owner last year when I stayed at a beach condo in Sanibel with my wife and kids. I asked where the best pizza in town was. I just wish it had been instantly available on my phone!
It's like having a real live, local guide. And that makes my vacation experience so much more enjoyable, not to mention relaxing – I usually spend hours researching restaurants, days out, and more!
Consider all the questions you currently get asked:
Where can I take my kids for ice cream? Is there a spa nearby? Where can I find the local seafood market? What's the most scenic hike? Which boat company is best for dolphin watching? Where is the nearest supermarket? Is it en route from the airport? How do I find your villa? I need cash, where's the nearest ATM?
This is the kind of information that guests crave during their stay with you. By providing it to them on their phone, tablet, or PC, you are giving them what they want, which improves their experience. And an improved experience leads to satisfied guests who leave great reviews!
Vacation Rental Hospitality
We were a sponsor of the European VRMA in Dublin in 2015. One of the overriding themes of those 2 days was hospitality. As Brent Bellm, the HomeAway COO, said:
Hospitality 2.0 as a catalyst of change in 2015 vacation rental marketplace – HomeAway COO

— TouchStay (@TouchStay) February 24, 2015
2015 was certainly a year in which the vacation rental industry started moving from a niche accommodation sector into the mainstream.
With Expedia's 2016 acquisition of HomeAway, 2017 looks set to be the year where vacation rentals take another giant leap towards mainstream.
And this means vacation rental owners and managers have a huge opportunity. Not just in reaching more travellers, but in showcasing what is so unique about the sector: hospitality.
Competition over quality and price are no longer the only metrics. The battleground is now about who can be the perfect host… hospitality is not just the domain of an Airbnb host!
How Does This Relate to the Digital Airbnb Guest Book?
Aside from delivering recommendations, one of the added benefits of a digital Airbnb guest book is the portability. Guests can access it before they arrive. In our survey, 60% of the guests said they would like the option of accessing it pre-travel to help plan their stay.
We've all experienced that pre holiday buzz. There's nothing quite like the excitement of imagining the beach, the warmth, the escape! So it's a perfect moment for you to share your local nuggets of gold, to provide them access to your digital welcome guide before they've even arrived!
So, go on, trash that paper guest book, it's gathering dust! Give it some 21st century life, freshen it up, revive it, pack it with your golden nuggets, and give your guests what they want!
Try Touch Stay for free - sign up for a 14-Day Free Trial here!