An Airbnb guest book accomplishes two things:
It helps you to provide a welcoming, personalised experience for each and every guest
It contains all the practical information guests will need to enjoy their stay with you
With a guest welcome book, guests know from the get go that you really care about their experience. They have a resource to turn to with any queries, meaning that they can find the answers quickly and easily, and are less likely to nudge you with repetitive questions.
But where to start? What information needs to go in your Airbnb guest book? What order should it go in? Lucky for you, that's exactly what we're going to cover in this blog - plus, you can download our free guest welcome book template!
If you're a vacation rental owner looking for more hours in your day, then keep reading. 86% of Touch Stay users halve the time that they spend managing their guests. We're going to guide you through our guest welcome book template so that you can do the same.
DISCOVER: Touch Stay guest welcome book templates for every holiday accommodation operator
Pressed for time? Jump straight to:
What is an Airbnb guest book?
Before we go any further, we should clarify exactly what we mean by an Airbnb guest book. It really does exactly what it says on the tin – it welcomes guests to your short-term rental accommodation by outlining:
how to access the property
how to get in touch with the host
how to operate systems and appliances
any house rules
the best spots to eat, drink, see, and do in the local area
check-out and departure info
It's a mixture of important practical details, your personal recommendations and how to keep in touch directly for future bookings. It aims to give your visitors all the information they need, in a clear, engaging format, so that they're fully prepared to have the best possible experience.


The Airbnb guest book
If you're an Airbnb host, you might already know that they offer their own Airbnb guest book feature. You can add local area information to your listing, spotlighting your favourite cafes, bars, restaurants, and activities.
This is a brilliant option if you want to entice Airbnb guests to book with you by showcasing all there is to do near your property, and the care that you put into curating their stay.
However, this guidebook only contains space for local area recommendations – it doesn't include property information. Your Airbnb listing contains a separate house manual section, but this is limited to a single text box. There's no dedicated space to clearly set out all the practical details your guests will need
The Airbnb guest book will start priming your guests for an enjoyable stay (and help you to inch into Superhost territory!), but it still leaves work to be done.
READ: Four alternatives to the Airbnb welcome book template
How a digital Airbnb guest book supports your short-term rental business
A digital Airbnb guest book containing all the material that your guests need – from WiFi passwords and laundry instructions, to the inside scoop on the best local cocktails – will help you to run a more efficient short term let.
With all the information in front of them, your guests won't need to contact you with questions. Less time on the phone equals more time to grow your business, focus on other work, and see friends and family.
Prepare guests for their stay with you
A Touch Stay digital guidebook allows you to highlight your local area favourites. It also contains all the practical property details that the Airbnb house manual lacks. You can help guests to get prepped by sending your digital welcome guide to them before they even begin to pack.
Our short-term rental guidebook template walks you through all the information your guests might need, including:
an introduction to you and your team
things guests might like to pack
directions to the property
safety information & house rules
contact information
full local area guide
departure information
By the time guests arrive with you, they've already seen all the crucial info, and so they're far less likely to call you with questions. If guests do get in touch, you can respond with a deep link to the relevant section in your guide. No need to type out the same instructions hundreds of times!
Unlike a paper guest welcome book, any changes you make automatically update for every guest at once. Everyone has access to accurate information, and there's no need for you to reprint and replace a sticky paper manual.
WATCH: Our AMA on how to communicate more efficiently with guests
A digital welcome guide enhances your guest experience
A digital guest welcome book benefits your guests as well as you. They receive a sleek, branded digital Airbnb guest book, which acts as a resource to which they can return throughout their stay. Instead of waiting on you to respond to their queries, they can easily look up the answers themselves.
A Canva guest welcome book template allows you to email a printable PDF to guests, or share a link to the template. A Touch Stay digital welcome guide improves on this with its own unique shareable link to a guidebook which adapts to any mobile or desktop device. Every person in the party can install the guidebook on their phone, tablet, or laptop, with no need to download a file or an app. With Memo 1.0 – Touch Stay's guest notification system – you can be sure that they'll get all the information they need, exactly when they need it.
READ: How a magical experience at your vacation rental will cultivate guest loyalty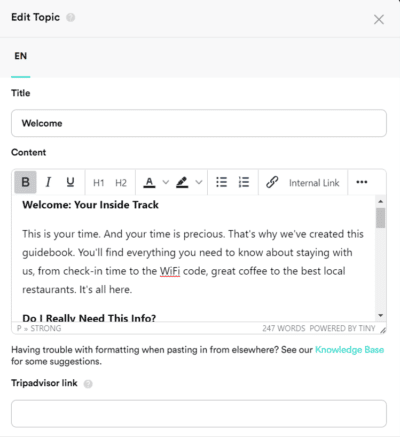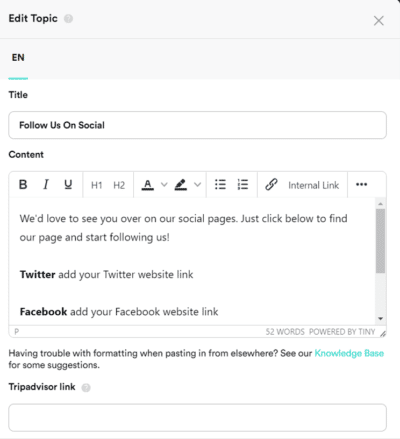 The Touch Stay guidebook template steers you through every stage of your guest's stay
We're going to walk through what to include in each section of your guidebook template.
1. Welcome guests to your vacation rental property
Whether you're on a blind date, at a job interview, or welcoming guests to your holiday rental, we all know that first impressions count. So, it's important that you open your digital guidebook app with a warm welcome:
Introduce yourself (and your property manager)
Explain your ethos to guests – is your aim to create a carbon neutral holiday let? To support the local community? To help visitors to unwind and rest?
Tell them what prompted you to start renting to holiday guests
Explain the history of your property
Share your phone numbers so guests know how to get in touch
Sharing a bit about yourself and your accommodation lets guests know that they're staying with a real person. This is reassuring for them, and also prompts them to treat your rental with even more care.
You could link to this section of your guidebook from a printed welcome letter. A welcome note contributes to the personal nature of your guests' stay, and you can simply prompt guests to scan a QR code at the bottom of the letter to find more info in your digital guidebook.
READ: How to write a welcome note that makes your guests smile.
2. Include check-in instructions
Now that you've welcomed guests, it's time to help them get through the door. Include all the practical details they'll need to arrive safely at your property (don't worry, you can hide any sensitive info until shortly before each guest's arrival):
Explain to guests that they can access Google Maps directions via the Map tab in their guidebook
If the route from the airport/train station/port is confusing, you could also write out your own directions, referencing local landmarks
Clarify access instructions, to ensure that guests understand exactly how to get into the property
Insert details of early check-in options, or suggestions of things guests can do whilst they wait.
All of these details ensure that your guests walk through the front door ready to relax and unwind – rather than stressed because they couldn't find the key box!
3. Outline your house rules
This is your short term rental property, and it's fair and expected that you have certain guidelines for your guests to follow. However, your guests aren't mind-readers – it's your responsibility to ensure that the guidelines are clear from the off.
Your digital guidebook is the perfect spot to reinforce any rules and boundaries. Guests have access to it before they arrive and throughout their stay, so they can always return to it to remind themselves. You can surface this section in your pre-arrival communications to ensure that you're setting clear expectations. You might explain:
Quiet hours – periods when guests are expected to keep the noise levels down
Areas of the property/grounds which aren't open to guests
How they can help you look after any specialist appliances/equipment
Any tasks you expect them to complete before they leave
How you deal with breakages
These can feel like awkward subjects to address, which is why it's so important that you do so in a clear, up-front manner. You don't want any difficult conversations mid-way through a guest's stay!
4. Clarify appliance instructions
It's easy to assume that because something is obvious to us, it'll be obvious to everyone. If you've been operating your oven for the past ten years, you might not even notice its quirks anymore. But a guest will. And they'll definitely notice if they can't cook dinner because they've never used a gas hob before.
Appliances that often need an explanation include:
The thermostat
The WiFi router
The washer and dryer
The pool-heating system
The hot tub
If you're unsure where to start, enlist a friend to walk through your property with you. Take a note of anything that they think is unclear, and make sure to include instructions in your guidebook.
If you can nail this section, your guests will have everything they need for a comfortable stay, and you'll receive fewer questions!
5. Local area recommendations
This is the bit that'll create a truly personalised experience for your guests. Don't try to include absolutely everything there is to see/do/eat/drink. After all, guests could easily Google that information. What they want from you is a curated list of your favourites. You could suggest:
The best local attractions to visit with kids on a rainy day
The hidden beach that's empty even on the sunniest days
The grocery store where locals get their fresh produce
The swish restaurant that's actually worth the price tag
The cosiest coffee shop to finish a book in
Guests like to feel as though they've got the inside scoop, so you only need to suggest a few options per activity – in this case, less is more. A range of prices will ensure that you suggest something for every budget.
Your Touch Stay digital guidebook integrates with Google Places to automatically import information from each business you recommend. It'll then pin each suggestion to the Map tab in your guidebook, so that guests can easily orient themselves. Provide guests with your personal insights, without spending hours researching addresses and opening times.
6. Wave a warm goodbye to guests
Solidify the warm relationship that you've built with your guests by sending them on their way with all the instructions they need to get home comfortably. Even better, detail how they can keep in touch!
Key points to cover are:
Check-out instructions
Details of how you'll return their safety deposit
Links to your social media, direct booking site, and booking site listings
Info about your email newsletter
The aim here is to leave guests with a lasting impression of how caring and competent you were, and to give them every opportunity to stay on your radar. Tell them about any discounts you offer for returning guests, or for direct bookings.
You've already done the work of showing them what an exceptional experience they'll have with you! Now you just need to show them how easy it is to return.
Get your free Airbnb guest book template
How to craft a truly special digital welcome book using our template
The information above forms the foundation of your guest welcome book. It guides guests through each stage of their stay with you. You don't have to include absolutely every detail that we've suggested, but the more you can include, the more prepared your guests will be (and the fewer questions you'll have to answer!).
These next suggestions will take your digital Airbnb guest book up another level, and really help it to stand out from the crowd.
Include a "Making a Difference" section
We added the "Making a Difference" category to the Touch Stay Airbnb guest book template to help short term rental hosts spread the word about the good they're doing. With 83% of travellers viewing sustainability as a vital component of travel, it's crucial that you shout about the environmental changes you're making.
From educating guests about how to compost, to encouraging them to donate one dollar per room night to local conservation initiatives, Touch Stay customers have already thought of a myriad of ways to use their "Making a Difference" sections.
If you don't currently have a cause that's personally important to you, we've inserted templated content that allows guests to offset the carbon footprint of their holiday with Ecologi. With just a few clicks, you can show guests that they're staying with a host who cares.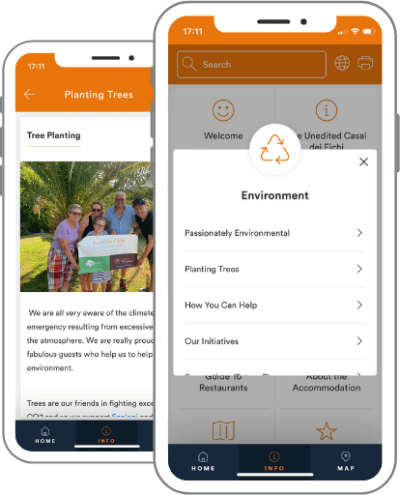 Click on the guidebook to see the
"Making a Difference" section in action
Sync your Airbnb guest book with your brand guidelines
Touch Stay digital guidebooks are white-labelled, meaning that you're free to include your own logo, fonts, the name of your short term rental business, and your brand colours.
Making these edits will help to solidify brand recognition amongst your guests. They won't think they stayed in "an Airbnb", or "a Vrbo" – they'll know that they stayed with you.
When it comes to booking again, they're likely to do so through your direct booking website (especially if you let them know that it's cheaper to book direct!), and this is where they'll send any friends to whom they recommend you. Use your guest welcome app as a brand asset and boost your direct bookings.
Mix up your guidebook media
From photos and videos, to interactive floor plans, there's a whole array of media that you can include in your digital guidebook.
Photos of yourself and your team help to build the emotional connection that guests feel to you. You become a real person, rather than a faceless username or email address.
Photos of your property help guests to orient themselves. If you remove sensitive property info, you could even use your guidebook as a marketing asset – guide guests through your short term let in far more detail than an OTA listing allows.
Instructional videos and diagrams support appliance instructions in making every facet of your property enticing and accessible.
How to share your guidebook with guests
Once you've got your vacation rental welcome book in shape (and remember, you can edit as you go – it doesn't have to include absolutely everything at first!), you're ready to start sharing with guests.
READ: What, how, and when to communicate with vacation rental guests
Touch Stay is a progressive web app, which essentially means that it functions in the same way as an app, but it's accessed via a URL. There's no need for guests to log into an app store and download an app – they simply:
click on the link you send them
install your guidebook to their home screen
return to it whenever they need to
You can just paste the link into any emails, texts, WhatsApps, etc. that you send throughout a guest's lifecycle.
Alternatively, use Memo 1.0 – our guest alert system – to automate your guidebook sharing via scheduled messages. Simply…
choose one of our message templates (or create your own)
decide when you want your emails/SMS to send
let Touch Stay do the work!
Guests will get the info they need, when they need it – every time.
Reclaim your time with a Touch Stay digital guest welcome book
We designed Touch Stay digital guidebooks with you and your guests in mind. Your guests enjoy a stay like no other, where no question goes unanswered and no local gem goes undiscovered. You enjoy breezy guest communications and more time for yourself.
With this guide to our short term rental guidebook template, we'll have you up and running in no time! It really is as easy as 1, 2, 3…
Set up your Touch Stay account
Edit our

guest welcome book

template to suit your property
Start sharing with guests
So, what are you waiting for? Start reeling in those 5-star reviews today.