Showing your vacation rental guests that you truly care about their experience is a key ingredient in reeling in those 5-star reviews. If you can keep your guests engaged with the efforts you're making, you'll be well on your way to review success every time.
An effective tactic for keeping guests engaged is sending them regular memos before, during, and after their stay. Sending the right notifications at the right time will nudge them towards the info they need before they even realise they need it, and reduce the number of questions you have to field.
If you're a holiday accommodation owner or vacation rental manager who wants a recipe for happy, well-informed guests, then keep reading. We're going to outline 13 notifications to send throughout the guest lifecycle, so that you can reclaim time in your day and elevate your guest experience.
Why guest memos are an important item in your communication toolkit
Guest memos improve the holiday rental experience for you and your guests. They benefit your guests by:
serving them crucial information at the most useful points in the guest journey
reminding them of fun local activities so they don't miss out
demonstrating that their host cares and is present
And it's not just your guests who benefit! Regular guest notifications help short term rental pros:
field fewer repetitive guest questions
spend less time managing visitors throughout their stay
see satisfied guests who leave glowing reviews
The joys of automated guest notifications
These benefits are magnified if you automate your guest notifications. After all, if you're having to sit down to manually send every email and SMS memo, you're not going to save much time for yourself.
However, if you can establish a communication flow which automatically distributes email and SMS messages at the right moment during each guest's experience with you, you'll free up no end of time and headspace. You can rest easy knowing that you'll never forget to share the access codes and must-book restaurants again!
How to implement automatic notifications for your holiday rental guests
There are plenty of accessible, cost-effective tools which can help you keep your guests in the loop. If you're looking for a powerful but user-friendly means of sharing crucial info with your guests, a digital guidebook might be just the thing for you.
Simply deposit all your practical and inspirational information – from appliance instructions and driving directions, to the best local pizza spot – into a single online location. Then watch as we package it up into an intuitive, polished digital guest welcome book.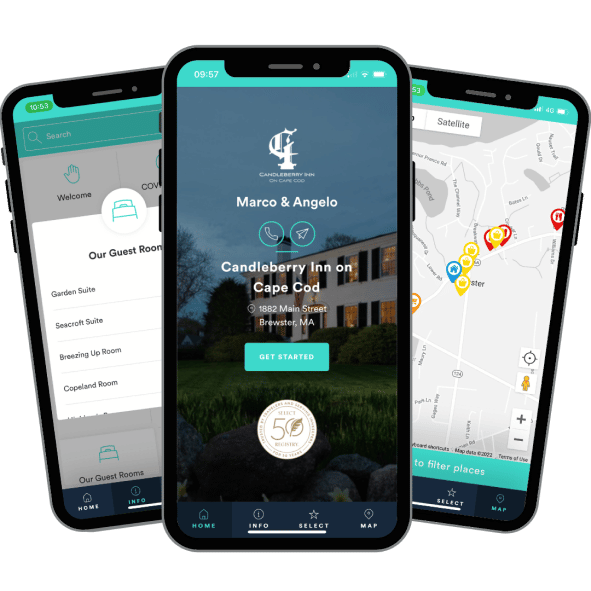 From here, you can use Memo – our guest notification system – to set up alerts throughout your guests' stay. Use our customisable email and SMS templates to direct your guests to the essential info in your guest welcome book at each stage of their visit.
86% of our customers halve the time they spend managing their guests. Think of what you could do with those extra hours! If you're still wondering how this all looks in practice, read on for a taste of the different guest notifications you could send with Memo.
DISCOVER: our digital welcome book examples, for a flavour of how your guest information could look
13 memos to send for happy guests
We're not suggesting you need to set up every one of the following notifications! These are just sources of inspiration for the kinds of alerts you might find it useful to send.
We do recommend getting in touch with your guests at least seven times between booking and departure. That's why we've crafted seven email and SMS message templates for you to customise in Memo. Read more about how you can get these templates up and running and working for you.
Pre-arrival guest notifications
How many times do you currently get in touch with guests between booking and arrival? Do you just send one booking confirmation? Perhaps another email closer to their arrival, filling them in on directions and access codes?
Tyann Marcink, our Queen of Guest Experience, contacts her guests fourteen times before they even arrive! And she's got the 5-star reviews to prove it. Before they leave for their trip, your guests are busy with life, work, and packing. If you want them to arrive with you feeling engaged and prepared, you need to make sure you're explicitly highlighting all the info they need multiple times, through multiple channels.
1. Booking confirmation
This one almost goes without saying. Guests need to know that you've received their booking, and they're all set to start planning other aspects of their holiday. This message just needs to:
introduce you
confirm the details of their booking
introduce them to your Touch Stay digital guidebook
Even if your booking platform automatically sends a booking confirmation email, an additional email directly from you is the ideal opportunity to start building your relationship with guests.
2. Request for guest information
You might need certain information from your guests before they arrive, such as a confirmation of:
the number of guests
how many guests are children
if they'll be bringing any pets
You could also ask a few more personal questions, such as why they've chosen to visit your area, or if they're celebrating a specific occasion. These details will allow you to add personal touches to their visit, which they might mention in a glowing review.
3. Reminder of essential travel details
Of course, it's the responsibility of each traveller to ensure they have all the documents they need before they leave. But your guests will certainly appreciate a gentle reminder of the hoops they might need to jump through before they set off for the airport, especially if travelling internationally.
You could nudge them about:
visas
vaccine requirements
regulations surrounding the expiry date of their passport
4. Essential access instructions
Distil your access process into three key stages, and then bullet point these for guests. You want them to arrive at your property without any hiccoughs, and so you need to serve them instructions clearly and repeatedly.
These three stages might be:
Check your texts to find the key box code
Check your emails for the alarm code
Find detailed access instructions in your digital guidebook
That's just three easy things they can do before they leave to ensure their arrival is safe and smooth.
5. Have a safe journey!
This memo develops the personal relationship you're building with your guests. It lets them know that you care about their trip, and reminds them that there's a human on the other side of this transaction.
This doubly benefits you:
Guests feel welcomed from the get-go, which means they're primed for an experience they'll rave about
They're more likely to be considerate of your property, because they remember that any destructive or anti-social behaviour during their stay will negatively affect someone else
Mid-stay guest notifications
Once guests have arrived at your holiday accommodation, it might feel safe to leave them to do their own thing. After all, nobody wants to feel as though they're constantly being checked up on whilst they're on vacation!
And yet, radio silence after visitors arrive will negatively affect everyone's experience:
Your guests might feel abandoned, as though once you've got them through the front door, you don't care about the rest of their stay
They may not feel able to contact you about any issues, which means you don't have a chance to fix them – cue the negative review!
They might forget about the simple, but essential, tasks you need them to do, such as putting out the rubbish for collection, or replacing the pool cover when they're not using it
Let's run through a few key notifications that you could send to guests during their stay. It's worth noting that these memos are best sent as SMS messages. Your guests are on holiday and (hopefully!) won't be checking their emails too often, but they'll always have their phone by their side.
6. Did you arrive safely?
A quick text on the day they arrive – or the day after – to check that their journey went smoothly, shows guests that you're still engaged with their visit. This notification works in tandem with your guest welcome letter to:
point visitors towards more detailed property information in your digital guest welcome book
encourage them to come to you with any difficulties or questions
nurture your guest-host relationship, especially if they won't meet you in person
Yep, a short text really can do all that!
7. Have you found the pool yet?
Whatever amenities you offer to your guests, check in with them to make sure that they've found them and they're making full use of them.
Use this text to direct guests towards the section in your digital guest welcome book which outlines:
where the pool/hot tub/espresso machine/snooker table is
how to use it
instructions for taking proper care of it
This is where the info you've gleaned from your pre-arrival communications comes in handy. Having asked your guests for more details about their visit – why they're coming, what they love about the area, what they hope to do during their stay – you can tailor this memo to match their answer.
Are they coming to practise their swing? Point them towards the golf clubs!
Interested in local history? Remind them about your collection of local guidebooks.
Wanting to hit the town? Nudge them towards your cocktail shaker!
8. Don't forget: it's rubbish day tomorrow!
Your guests are on holiday, but that doesn't mean the rubbish collection services will work around them!
There might be basic tasks, such as sorting their rubbish and putting it out on the right day, that they need to do to keep your property in good condition. Whilst most guests understand the need for this, they won't necessarily remember to actually do it.
A quick text the day before the bins are collected will jog their memory, and ensure that their trash doesn't pile too high. That's a faster turnover for your cleaning team, and a more pleasant environment for your guests.
9. Thinking of going to the botanical gardens? Remember your pass!
It could be the botanical gardens, or it could be the local leisure centre. Whichever local activities are on offer for your guests, remind them of the processes for using them.
If you provide a pass that gets them into the local pool, or a members' discount for access to nearby historical sites, make sure your guests know! Tell them:
where the pass is
what it entitles them to
how they can use it
You don't want your text to stretch on forever, so deposit all this info into your digital guidebook, and simply use your text notification to direct guests to the right section.
10. Promote your upsells
Perhaps you've negotiated a discount with the authentic local Italian restaurant. Or, you recommend your favourite spot to hire out paddleboards in return for a referral bonus. Upselling is a great way to enhance your guests' experience even further, whilst adding to your revenues.
In order to benefit from them, your guests need to know about these opportunities! Why not send them a quick text, pointing them towards:
a day of relaxation…with a discount at the nearby spa
an adrenaline-fuelled adventure…courtesy of a helicopter tour you can book for them
an exciting new cuisine…at the secret local spot around the corner
WATCH: how to use upsells to wow guests and increase revenues
11. Before you leave…
When guests depart, there are always a few things they forget to do. Whether it prevents a forgotten unlocked door, a left-behind passport, or an unemptied bin, the right reminder at the right time makes everyone's lives that bit easier.
Schedule this memo for the day before your guests leave. Point them towards the section in your digital guidebook which handles all things departure-related. You might surface a reminder to:
deposit keys back in the key box
load the dishwasher
cover the pool
empty the bins
scan the property for their valuables
Post-departure messages
Your visitors have had a wonderful stay, filled with unique local experiences and a comfortable home from home. Your job is done, right?
Not quite! Now's the time to reap the rewards of all the work you've done. A few notifications – sent in the days after your guests leave – will solidify the relationship you've cultivated, and remind them to start spreading the word.
12. Thanks for staying with us
An email which thanks your visitors for staying reinforces the relationship you've built with them. It shows that you haven't simply moved onto the next set of guests, and you still care about any feedback they might have.
13. Please leave us a review
You might include this request in the above memo, or you might send it as a separate message. The only thing that's really important is that you drop into their inbox in the days after they leave to prompt them to write a review.
Many guests – even if they've had the most wonderful stay – will forget to leave a review in the midst of their return to everyday life. They need that nudge to make sure that they actually share their experience.
And you need them to share it! Positive reviews build trust amongst prospective guests who are thinking about staying with you, and help to boost your booking site ranking.
READ: how to ace your vacation rental booking site rankings
Nurture loyal holiday guests with long-term communications
Stay in touch with your guests for as long as you possibly can! You've done the hard work of enticing them to your property. They've already had a brilliant time. Now, you just need to stay at the top of their minds and encourage them to return. Another email or SMS you could send in the days following their departure could point them to a "Keeping in Touch" section in your guidebook, that includes things like:
an invitation to join your email list so you can:

get in touch with special offers
drop into their inbox on the anniversary of their first stay

a request to follow or like your social media profiles
With a few easy, automated notifications in the months and years after they depart, you can earn yourself some loyal guests who keep coming back for more.
Schedule your guest notifications with Touch Stay Memo
Memo works in partnership with your digital guest welcome book to ensure that your guests have all the info they need and want. From glossy added extras, to the mundane tasks that just need to get done, you'll be able to keep your guests in the loop about anything and everything.
With our customisable templates and scheduled invitations, you'll save time whilst actually communicating more. Tired of the never-ending email chains and panicked late-night phone calls? Take control of your guest communications with Touch Stay.