What's the best way to communicate with guests between booking and arrival, and why does it matter? Let's scroll back to the guests you welcomed most recently to your holiday accommodation:
Had they read all the information you'd shared before they arrived?
Did they know what to expect from your accommodation?
How many questions did they ask during their time with you?
How many of those questions had you already answered in previous communications..?
Did they leave a positive review after they left?
If you regularly greet guests who don't know their access code from their WiFi code, or their washing up liquid from their detergent, do you know why this is?
We're willing to bet that it's because those guests have their holiday brains on: they just don't want to think too hard. They're not keen on reading long emails or PDFs – they'd much prefer to text or call you whenever a dilemma arises.
Some simple but effective guest communication tactics will serve them the information they need in a format that they want to engage with. This means they'll arrive with you knowing everything they need to know, which has two key benefits:
You receive fewer repeat questions
Your guests are primed for an outstanding experience
So, whether you rent a campervan, own a glampsite, run a B&B, or host a holiday rental, read on to discover six tactics that maximise the window of communications opportunity between booking and arrival.
Why your pre-arrival guest communications matter
The messages you send to guests between booking and arrival lay the foundation for their stay with you. If you drop off the radar after they book, you'll receive guests who already feel out of their depth (which equals more questions and concerns for you to handle).
On the other hand, consistent, concise, informative communications show your visitors that you know exactly what you're doing, and keep them engaged with your guidance throughout their stay.
Effective communications equal a more efficient business
Yep, we realise that this might feel counterintuitive. Surely establishing more frequent communications takes up time? That's more messages to draft and send, and more tasks added to the to-do list.
And yet, communicating strategically will save you so much time in the long run. Whether you're managing short term rental guests or hotel visitors, proactive pre-arrival communications equal fewer panicked late-night phone calls, and fewer questions throughout their stay.
With an organised communication flow, and by taking advantage of some simple (but very smart!) hospitality tech, you could halve the time you spend communicating with your guests. With more time to invest in other areas of your accommodation, you'll be able to hone your business model and maximise your income.
Accommodation operators who communicate well see better reviews
Enthusiastic pre-arrival communications empower your guests to enjoy their stay on their own terms. When guests arrive already in possession of all the information they need, they spend less time waiting for their host to respond to a text, or to pick up the phone, and more time enjoying themselves.
Strong communications between booking and arrival show guests that you're organised, professional, and hospitable. Before they even leave home, guests know that they're staying with an accommodation operator who really cares. Wherever you collect your feedback – Airbnb, Google, Tripadvisor – building a positive relationship with your guests throughout their visit will help you earn better online reviews.
READ: about the Touch Stay team's worst guest experiences, for more insight into how important strong communications are to the guest experience.
How a digital welcome book supports your pre-arrival communications
You know how we said that proactive information-sharing could halve the time you spend communicating with guests? Well, we didn't pull that figure out of thin air. In fact, 86% of Touch Stay users have already halved the time they spend managing their guests!
Our digital guidebook technology allows you to deposit all your practical information – from appliance instructions to driving directions – into an accessible guest app. And you don't have to stop there! Your Touch Stay digital guest book also has room for your favourite local spots, to give your guests a truly special experience.
With all this information in their pocket, visitors can acquaint themselves with their accommodation before they even pack their bags. When they arrive, they can easily answer any remaining questions by navigating through the app (or even scanning QR codes to get straight to the relevant information!).
All of this adds up to far fewer guest questions coming your way, which means more time to actually run your business.
Schedule your information-sharing with Memo
Memo, Touch Stay's guest alert system, allows you to schedule messages at any point throughout your guests' journey with you. Customise our ready-made templates, or create your own, to highlight specific information contained in your digital guidebook.
Your guests get the exact information they need, when they need it, and you can take some tasks off your to-do list (permanently!).
Touch Stay users see reviews which reflect the value that these clear communications add to their guests' stay, and we all know how important reviews are for building trust amongst potential guests and boosting your listing site rankings.
The Touch Stay guest app was a fantastic way of enjoying all that the experience and the region have to offer. Well done!
– guests of Hazel Parker, Mulberry Lodge
6 effective strategies for pre-arrival guest communications
So, given how important they are, where can you find reliable information about pre-arrival communications? Good news – you're in the right place! Let's delve into some practical strategies that you can use to ensure you're getting the most out of your pre-arrival guest communications.
1. Start communicating before your guests book
Your guest communications don't start when guests arrive with you. They don't even start when guests book with you. They start the moment your guests come across you whilst searching for their next holiday accommodation.
Whether they encounter you through your social media account, your booking site listing, or your direct booking site, how you present your accommodation will determine if they decide to book.
When crafting your listing/social media/booking site, try to pay special attention to your:
property description – of course you want your description to entice guests in, but it also needs to set accurate expectations. Try to find a balance between highlighting all the best bits, whilst remaining clear about exactly what kind of accommodation you host.
house rules – as above, your house rules help you to set guest expectations. Be clear about what you expect of your guests, if you welcome pets, and what guidelines you ask people to follow. It'll save everyone trouble down the line!
listing title – whether you list on Airbnb, Booking.com, or Canopy & Stars, your listing title is what initially draws guests to your accommodation. Check out our tips on crafting a catchy title that'll draw eyes to your property.
voice – each post, paragraph of copy, and listing description should reflect you and your style of accommodation management. This will help you to build a recognisable, authentic brand.
photographs – with so much competition out there, it's crucial that you have high-quality photos to show off your accommodation in the best light. Find out more about the value of professional photos here.
If you can nail each of these components, your very first communications with potential guests will be accurate and enticing, prompting them to take the leap and book a stay!
2. Establish a pre-arrival communication plan to keep things consistent
A communication flow helps you to ensure that your guests always have the details they need when they arrive at your front door. Remember that time you forgot to share the key box code? With a communication flow, that'll never happen again.
All you have to do is think about each guests' journey – from booking their stay, to arriving with you – and map out where and how you'll communicate with them. It could be as simple as a checklist that you work your way through for each guest. If you want to start here, check out our Guest Communication Planner.
However, if you're juggling more than one set of guests at a time (or even juggling one set of guests plus everyday life) you might still find that you're spending too much time manually sending messages. This is where a scheduled guest notification system comes in handy. Read on to find out more!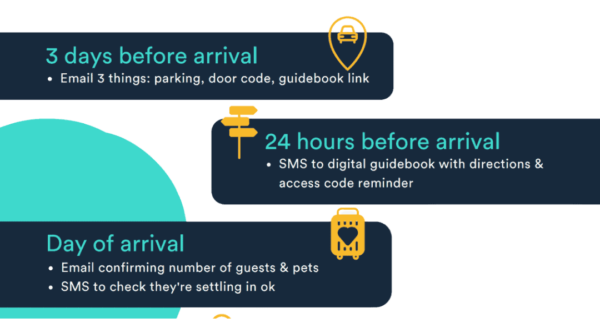 a sneak peek of our Guest Communication Planner
3. Get in touch with guests more often than you think you need to
Crafting your communication flow will prompt you to think about just how often you get in touch with guests. How many times do you currently contact them between booking and arrival?
We recommend touching base with your guests at least seven times. Tyann Marcink, our Queen of Guest Experience, has fourteen separate touch points before her guests step through the door. And you should check out some of the reviews she's getting!
Nat and Tyann over deliver on the experience of staying at their historic property. I loved how they accommodate their guests with recommendations and perks with local businesses. Before we checked in we received multiple emails containing travel tips and what to expect, which makes the whole process of getting there stress free. We'll definitely be back!
– recent guests of Tyann
As a guest, there's nothing worse than booking a place to stay and then getting radio silence until the day before you arrive. This is especially true if you've booked a different kind of accommodation for the first time, such as a glampsite or a campervan.
By keeping in regular touch, you reassure guests that you're a legitimate, professional host, and that you'll be fully prepared for their arrival. You also do yourself a favour: there's a far higher chance that your guests actually read and absorb crucial information if you repeat it a few times!
4. Turn your guest information into communications
With a digital guest welcome book, your information does the communication work for you. The essential details aren't buried on your website, in your listing, or at the bottom of your guest's inbox. Instead, all your information – from vital safety material, to your recommendations for the best local cocktail spots – is in one accessible hub.
All you have to do is share the link with guests before they arrive at your accommodation. They don't have to download or install anything, they simply open the link and follow the prompt to pin the guidebook to their home screen. You can even answer guest questions with deep links to specific sections of your guidebook.
All the info guests need is right there, complete with your local recommendations pinned to the Map tab. Plus, it's available offline, so it's perfect for guests on off-grid adventures – no more signal-hunting to try and load that crucial email!
By giving guests everything they need to know in an intuitive digital guest book, you save yourself hours of time typing and sending emails, and you provide a fluid holiday experience for your visitors.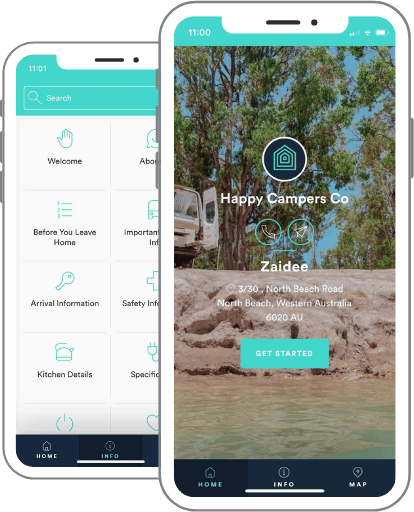 5. Reduce your manual tasks wherever possible
You might be communicating with guests anywhere from ten to fifteen times before they even arrive, and you don't want to manually type and send each of those messages. Luckily, there's some handy tech available to make this process as efficient as possible.
Memo – our guest alert system – allows you to schedule as many messages as you need throughout the guest lifecycle. Simply:
choose from our pre-written email & SMS templates (or create your own!)
schedule your messages
let us do the work for you
Use these notifications to surface information in your guidebook:
Prompt guests to book one of the restaurants you recommend
Highlight any extra services you offer, such as pre-arrival grocery delivery
Spotlight crucial arrival information, such as door codes and driving directions
With Memo, you can share your guidebook with guests multiple times before they even pack their bags, and you don't have to lift a finger. By the time they arrive with you, they'll have all the details they need, and they'll know that they're staying with a host who really cares.
6. Keep communication channels open after guests arrive
Now that your guests are through the front door, don't get complacent! Thanks to your comprehensive pre-arrival communications, they'll be attuned to turning to your guidebook with any questions, so you'll receive fewer queries.
However, it's important that your guests know they can still contact you if they need to. Shortly after they arrive, send a text to check that everything's going smoothly, and to remind them of your contact details. It's far better that they communicate any issues now, whilst you have a chance to fix them, than that they only mention them in a review after they leave.
Leaving a printed welcome note is a nice personal touch. You can even insert a QR code at the bottom directing guests back to your digital welcome book for more in-depth information.
Hint: you can also leave QR codes on any tricky appliances, to direct guests towards the instructions in your digital guest app!
Create time in your day with Memo
Memo doesn't stop working for you when your guests walk through the door. We've drafted customisable templates for you to check in with guests on arrival, to say goodbye as they leave, and even to keep in touch afterwards. You'll keep your guests in the loop at every stage of their visit, without ever having to pick up your phone.
Here at Touch Stay, we're all about making your life easier, and making your guests' stay even more perfect. So, why not give us a whirl? Start your 14-day free trial today, and start acing those pre-arrival communications.