Your guests' contact details hold incredible potential for:
cultivating the guest-host relationship
establishing your short term rental brand
increasing your proportion of direct bookings
But how do we know that an email address (maybe even a phone number, if you're lucky!) can really do all of this? Well, just think about how eager online travel agencies (OTAs) such as Airbnb, Booking.com, and Vrbo are for you to only communicate with guests through their messaging platforms.
In part, this is because platform messaging services provide some protection against unruly guests. All of your communications are recorded, so the booking platform can easily access messages in order to assess complaints from either side.
However, it's also because as long as OTAs keep hold of guests' contact details, they have exclusive access to travellers' inboxes, which means their brand name remains at the top of guests' minds. When it comes to booking another trip, guests will decide they want to book "another Airbnb", or "another Vrbo".
So, if you're a holiday rental host wanting to take control over your relationship with your guests, and to build a short term rental business that doesn't rely on the goodwill of OTAs, read on..!
We're going to cover:
Why you need your guests' contact details
Having access to guests' contact details – specifically their email address and phone number – improves both their experience and your capacity to nurture a relationship with them.
Pre-arrival guest communications
If you can contact guests directly, you can craft an effective communication flow which will enhance their experience before they even arrive. This might include:
a post-booking email to confirm key details of their stay
an SMS to point guests towards essential travel info
a link to the guidance on booking local attractions in your digital guidebook
a phone call on their arrival day or day after to check they arrived safely
Using all of these different channels – rather than just a booking platform messaging system – allows you to serve guests crucial info from multiple angles. Whether they prefer a quick text, an in-depth email, or a chat on the phone, they'll have received essential details in a way that works for them.
READ: The 6 best guest communication tactics between booking and arrival
Communications during your guests' stay
Having access to guests' contact details during their stay allows you to check in and efficiently solve any problems that arise. If your visitors come across an issue, it's far better that they tell you immediately so you can solve it for them. Otherwise, they might vent in the review section after they leave.
In order to address any hiccoughs, you might need to coordinate between guests, yourself, and a contractor. In this case, it's handy to have multiple means of communicating with your visitors. If they're out and don't have internet access they won't receive messages via an OTA messaging platform – you'll need to text or call them to ensure they're up to speed.
Post-departure communications
This is where your guests' contact details – email addresses in particular – come in really handy. If you wave goodbye to guests and never contact them again, you'll likely fade from their minds pretty quickly, no matter how wonderful their stay was. When it comes to booking their next trip, they'll book with the same OTA but not necessarily with you.
If you stay in touch, however, you'll solidify your short term rental brand in their minds, and provide regular nudges to book again. Tyann, Touch Stay's Queen of Guest Experience, keeps all her former guests on her email list unless they ask to unsubscribe. A decade ago, a guest celebrated their mother's 70th birthday at one of Tyann's properties – they recently rebooked to celebrate her 80th!
Having access to guests' contact details allows you to take ownership of your relationship with them, and encourage them to book directly with you when they return.
How direct bookings create a sustainable short term rental business
Why does it matter if guests book direct? As long as you're continuing to source new guests through the OTAs, why do you need to encourage former guests to return?
It's all about creating a vacation rental business that's sustainable and resilient. If you depend entirely on the OTAs for business, you're vulnerable to any policy changes they make, and completely reliant on their continuing survival. Booking.com already charges a 15% commission on each booking – what if they decided to raise that to 30%? What if Vrbo collapsed tomorrow? How would guests find you?
If you can encourage guests to book directly with you through your website, you can earn more revenue for each booking whilst still providing a discount from your OTA rates. Everyone wins! Plus, you'll start to establish greater brand awareness amongst your guests. Instead of telling friends and family they stayed in "a lovely Airbnb", they'll tell them they stayed at your holiday rental property.
WATCH: our webinar on how to achieve independence from the OTAs
Boost your direct bookings with a digital guest welcome book
The first step in encouraging guests to rebook directly with you is ensuring that their stay is exceptional, and the key to an exceptional guest experience is strong guest communications. If your messaging can make guests feel warm, welcomed, and prepared before they even pack their bags, you're on the right path to returning visitors.
A Touch Stay digital guidebook contains all the info your guests need in one sleek guest app. From your personal welcome message and recommendations of what to pack, to detailed appliance instructions, it's all there. With your local recommendations pinned to the Map tab, visitors will know they're getting a truly local experience.
Use your guidebook to link to your direct booking site, and explain the benefits that guests get from booking directly with you. Having provided a warm welcome, and answered their questions before they even think to ask them, you'll be tempting guests back before they've even left.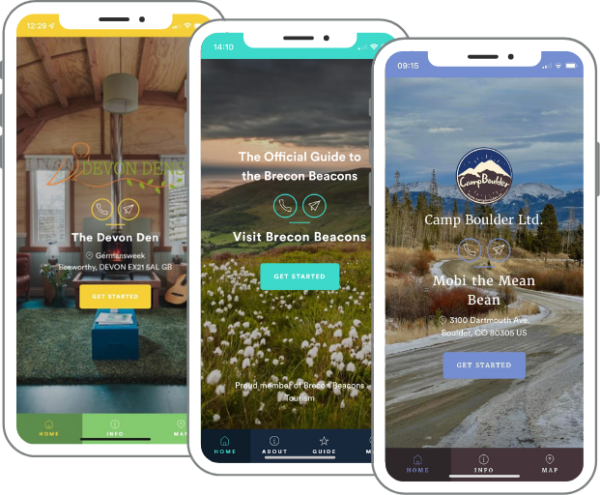 Sourcing guest contact details through Airbnb
Booking sites are often purposefully vague about exactly how and where you can access guest contact details, and what you can use them for. Airbnb, for example, continues to foreground Airbnb messaging even in their help article entitled: "How can I contact guests via email?"
Elsewhere, however, they do confirm that hosts and guests receive one another's mobile numbers once a reservation is confirmed. From here, you can then get in touch outside of the Airbnb messaging system to start building your relationship and gathering more contact details
Booking.com
Booking.com similarly gives partners the option of either contacting guests via the Booking.com extranet, or via their Pulse app. They make no mention of mobile numbers or emails. Rather than sharing private email addresses, Booking.com provides partners and guests with alias email addresses. This helps them to prevent spam, viruses, and misconduct, but also prevents you from adding guests to your email list.
In order to access guests' phone numbers, Booking.com partners must change their policy settings so that guests are required to submit a mobile number. It should then appear in their reservation details once the booking is confirmed.
Vrbo
Whilst Vrbo also encourages guests and hosts to keep all communications within their messaging platform, they do make it clear that hosts receive travellers' phone numbers and email addresses after a booking is confirmed, and are free to communicate via these platforms if they prefer.
Essentially, if you're using any one of these platforms, you'll always have access to your guest's mobile number once they confirm their booking. You won't always have access to their email, which is why we're going to cover how you can ask guests for extra contact details.
How to ask guests for their email address
Asking guests for private contact details can feel like a touchy subject. Travellers are often wary of giving out more personal information than is strictly necessary. But, if you follow these tips, you've got a strong chance of getting the information you need without annoying any of your guests.
1. Choose your moment
It's important that you only request extra info from your guests once you've already established their trust. If they've only just booked with you, and you immediately request personal details and seem eager to move away from the booking platform, they might think you're part of a scam.
On the other hand, if they've already enjoyed a wonderful stay at your property, and perhaps even met you, they're much more likely to trust you. Most OTAs provide alias email addresses, so you can still communicate with guests via email before and during their stay. We'd therefore recommend requesting their actual email address towards the end of their visit.
2. Be transparent
Let's put aside any smart schemes for persuading guests to give you their email address. The reason you want their details is so that you can establish a trusting long-term relationship with them – this won't happen if guests feel like you've been underhand.
Just be clear about why you need their email address, and what the benefits are to them:
They'll be the first to hear about exclusive offers
They'll get the first pick of any last-minute availability and/or your first release of next year's calendar
They'll receive opportunities to provide feedback, so you can improve your guest experience even further
You'll keep them up to date with any exciting property developments, or events happening in the local area
3. Be honest
Now that you've laid out exactly how you're going to use their email address, only use it for these things. Don't spam them with aggressive offers every other day. Don't clog up their inbox with useless information. Definitely don't pass their contact details on to any third parties.
Work on crafting an engaging, succinct email newsletter that keeps them up to date with news, available dates, and offers. This will keep you at the top of their minds, and might give them that nudge to book again when they're looking for their next holiday.
4. Use holiday rental tech to help you out
There's some smart technology that'll help you gather guests' email addresses in a way that benefits you and them.
For example, StayFi prompts guests to input their email address in order to access the WiFi. They don't have to worry about painstakingly typing out a complicated series of numbers and letters, and they also get access to fast, reliable WiFi throughout their stay. Meanwhile, you get access to every guest's email address, not only the lead guest's.
Touch Stay digital guest books provide the perfect non-intrusive spot to place your request for guests' email addresses. You can choose to insert a section towards the end of your guidebook that's all about helping guests to stay in touch. Either insert a link that takes them to your email newsletter sign-up, or embed a form which allows them to input their contact info.
You've got the space to clearly explain exactly why you need guests' emails, and how it'll benefit them, without them feeling like they're being nagged for extra info. You can even generate a deep link to this specific section and nudge them to complete it with a quick post-departure text.
READ: welcome visitors to your vacation rental with a guest welcome book template
5. Understand privacy laws around email marketing
It can be tricky to know exactly where email marketing falls under data privacy laws, specifically General Data Protection Regulation (GDPR).
To be completely on the safe side, it's best to request explicit consent from your guests to be included in marketing emails. This could be as simple as a tick box underneath the form they're using to submit their information to you.
It's also important to make it clear exactly how they can opt out of emails if they decide they don't want to receive them anymore. Most marketing emails have an unsubscribe link at the bottom of each email to ensure that they're complying with this aspect of the law.
Essentially, you need to ensure that your guests know exactly what they're signing up for, and that they can unsubscribe whenever they want to. Beyond the legality of data protection, this just makes sense for any short term rental business that's trying to build a loyal, trusting customer base. Your guests won't reward you if they feel that you haven't been transparent with them.
Build guest loyalty with a Touch Stay digital guest book
A surefire way to persuade your guests to share their contact details with you is to provide a 5-star guest experience at your rental property. And a 5-star experience starts with guest communications.
Share all of your practical and inspirational information with guests via a sleek, intuitive digital guidebook. Simply paste the guidebook link into your OTA messages, or establish scheduled messages in Memo, our guest alert system. With scheduled notifications available throughout the entire guest journey, it's simpler than ever to share vital information with the right people, at the right time.