What a city and what a trip. Last month I was in BCN and had the pleasure of catching up with some of the best minds in our industry: Andrew McConnell of Rented, Matt Landau (and his most excellent Sense of Place crew!), Antonio Bortolotti of VRWS, James Burrows of Rentals United, and the content powerhouse that is Jess Ashworth and Carla Chicharro of Lodgify.
I also broke one of my own rules and stayed in a hotel.
The Guest Experience Series. I'll be staying at a number of places around the world this year, documenting my experience as a guest after each stay. At the end of each article is the one aspect of guest experience that I think the place excels at. My hope is that, by sharing how others are excelling in certain aspects of the guest experience, it sets off a thought process in your mind about how you could implement your own unique version of that in your home/s.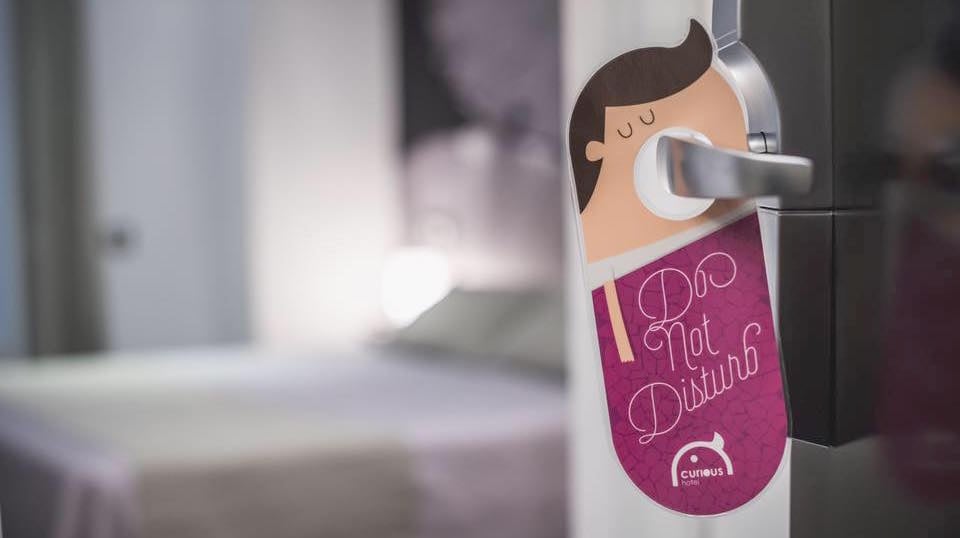 Airbnb vs Hotels.com
This story begins at 5am with a flat white at Gatwick Airport. I hadn't booked my accommodation and the plane boarded in 1 hour. My first instinct was Airbnb. I needed a 1-bedroom place at sub $100 a night. Surely a simple 10-minute search and done?
Fast-forward 30 minutes and I was flagging, despite the caffeine. So many options. They all had 4-5 star reviews, and lots of them. But somehow I didn't find "the one" beckoning me in. And the reviews, whilst 5 stars, often said very little. Almost like they were given 5 stars without thought.
More than that, though, the listings I saw left me with a feeling I can only describe as "meh". It felt like they'd been hastily thrown together. I had a similar experience in Paris during the VRMA. Why? Perhaps it's a factor of looking for a cheap place? I should expect less?
With 30 minutes left until the plane started boarding I did it… I caved in to Hotels.com. A die-hard, must-support-the-independent ethos, didn't last long.
(Side note: later in my stay I was introduced to Hotel Tonight. They sell unbooked hotel rooms for discounted prices, perfect for poorly organised people like me. A quick check and their pricing is identical to hotels.com. Can someone with more knowledge explain to me if they are pulling the same set of prices or whether there really is some exclusivity?)
Hotel Curious
Back to Hotels.com. Same filters as the Airbnb search but (for me at least) a superior interface. There's something about seeing professionally presented content in beautiful form that makes a search, well, less tedious.
And then I saw it: Hotel Curious.
Now, before I share the link, I want to play things down. There is no big reveal. I didn't choose this because of an uber cool website, with hip branding and minimalist style. No, the real reason I chose this place was its sincerity.
Friendly, but not casual. Professional, but not stuffy. Modern, but not too cool. And, best of all, honest. A line from their philosophy page:
"We are a one star hotel. There's no trick: we are small, we have no gym or pool, but we offer the best service (or at least the service and treat we want to receive when we are abroad and far from home!)"
I lost count of the number of reviews which referenced smiling faces, helpful staff and "I can't believe this is a one-star rated place".
Time to blush: despite Hotel Curious making an obvious "Book Direct" play, I booked with Hotels.com. C'mon, cut me some slack, I was being asked to board my plane! But I'll book direct next time. (And I'll rest easy that my "must-support-the-independent" ethos is in-tact.)
Here's the link, if you haven't already impatiently googled it: https://hotelcurious.com/en/
First Impressions and Last Impressions
We all know that first impressions count. It's why I booked Curious. We also know that last impressions influence future behaviour. But in hospitality it's different. The entire stay is my impression.
Matias on the front-desk greeting me with a beaming smile. The Curious Guide. The Curious Card. Staying in the Solidarity Room. A quiet and comfortable sleep. Simple (and good) breakfast. A warm goodbye. And all the while a general feeling of happiness because the place was exactly as described.
1-star itself is meaningless. A clear brand is everything. And the consistent application of that brand makes it authentic.
The Curious Material
Matias on the front desk handed me The Curious Card when I arrived. Business card in size, with information on both sides that they know every guest wants. WiFi, breakfast time, hotel phone number, and some local discounts.
We started talking and he handed me The Curious Guide. An A5-sized city guide. But not an endless list of places, but a helpful walking guide broken down in to 3 itineraries: The Blue, Red and Green Itineraries (routes).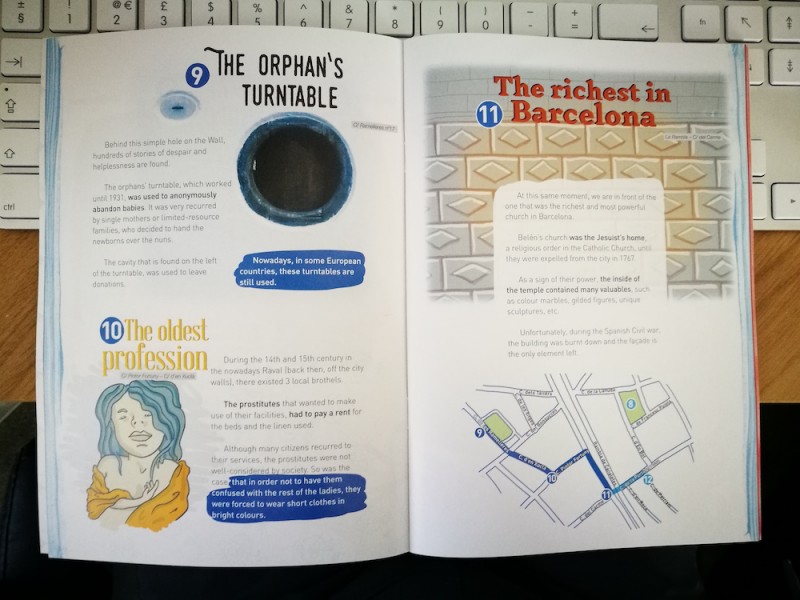 This one is part of the Blue Itinerary, showing points 9-11 along part of the Blue route. Each page has it's own cut out section of the map for easy reference, along with some interesting facts and stories behind each site. It's cleverly designed, not overwhelming, and simple enough to follow. It typifies the Hotel Curious brand.
(Note that I had no time to actually follow one of these itineraries as I wasn't in town for tourism. Honest I wasn't 🙂 But, had I wanted to tour the sites without a large tour group, this guide would have been just the ticket!)
In my room, the s0-called Solidarity Room, there's a placard on the wall. At first it feels like it might be a dull (but I agree necessary) message about fire escape routes. Turns out it was a short overview on why this room is named Solidarity.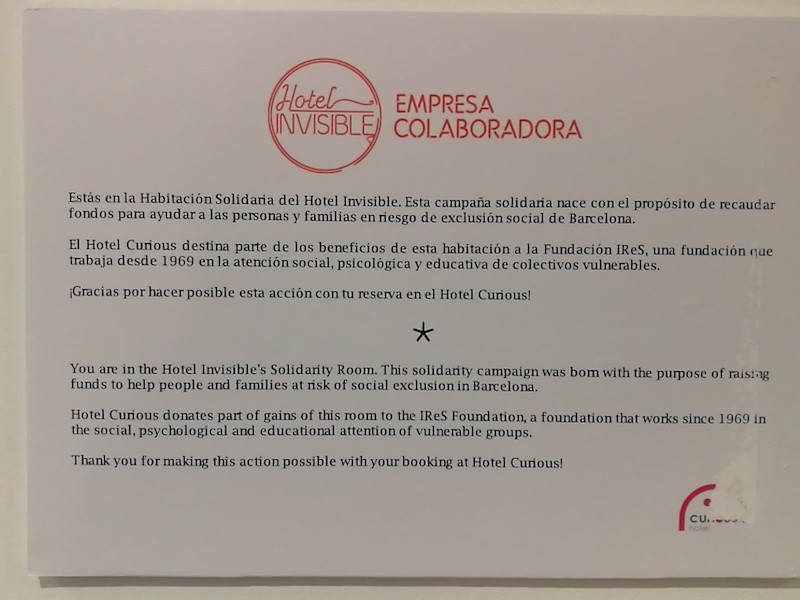 It reminded me of the project that Bob Garner and others on Matt Landau's Inner Circle are running: Star Throwers. It's a great example of how to connect the guest to what's going on around them. Even if the guest takes a passive role (as in the case of Solidarity), it still fosters a feeling of community. In this day and age that resonates with people.
Hotel Curious Excels at Branding
It's fair to say that the word brand can be a little fluffy. For many it lacks substance. It's intangible. It's often vague. For others it might be a clear concept, but figuring out how to define and implement their own brand is daunting. Hotel Curious shows how brand can be both concrete and simple to implement, without the need for big budgets.
But first, what has brand got to do with guest experience? Simple: it's how I feel about this business at every touch point.
From my experience on hotels.com, where Hotel Curious instantly stood out in a sea of others (and where it hands down beat Airbnb listings), to my interaction with Matias on the front desk, to my in-room experience of community, to the Curious Card and Curious Guide, to the honesty of why they are a one-star brand.
At heart their brand is about caring. Look at their reviews on any site you visit. This one from TripAdvisor is a standout example of a review that you consistently see. Scroll through any of the reviews and you'll pick up mentions of smiling faces, helpful staff, and great area tips.
None of this is forced. It all feels natural. And that is possibly the most important aspect when thinking about your brand: is it genuinely a reflection of you, or are you trying to be something you aren't?
And finally, Hotel Curious is just a memorable name. Which goes to prove that brand isn't about a name or logo, it's about your relationship with your guests.
If you're interested in reading more about branding in the vacation rental industry, have a look at this Guest Hook series on the three cornerstones of vacation rental brands.