90% isn't a number we've plucked out of thin air! This is the percentage of guests who read the Touch Stay digital Airbnb guest book they've been sent.
It's factual data based on our own analytics. Of the last 1,000 welcome books sent using the Touch Stay software, 896 of them were read by the guest.
Not only are they reading them, but they are reading them multiple times, and for an average of four minutes each time. Hopefully the days of "my guests don't read my Airbnb guest book" are gone!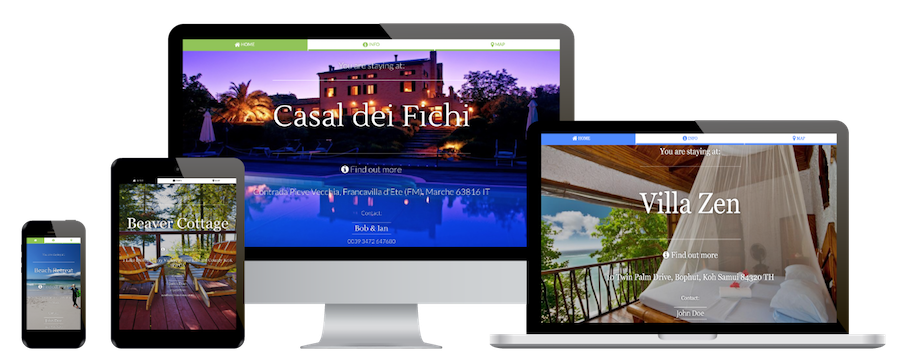 So Why Are They Being Read?
Because Guests Want Them in Digital Form
In a survey we ran last year, 74% of our respondents told us they would like the option of accessing the Airbnb guest book digitally. It's the reason Touch Stay exists! Delivered to the guest's email, it's front of mind and easily accessible.
Beautiful Design
Secondly, as the above image shows, our digital Airbnb guest books look appealing and invite you to take a closer look. Each cover page allows your own photo to be uploaded, as well as your own font choice and colour scheme to match your brand.
Interesting Content
This one depends on how interesting your content is of course! If you know your area, the local hotspots, the hidden gems, then you can use our integration with Google Places to populate the welcome book quickly and easily.
Pre-Arrival Information
Every guest wants to know how to find the property, what time to check in, what the WiFi is, and an overview of the practical information. Provide that information in an easily accessible digital welcome book and it might just stop some of those frequently asked questions from guests.
Digital Airbnb Guest Books Are More Efficient
It's not just about the guest. As owners and property managers it can be painful to create and maintain your guest book. That's why we've made Touch Stay a doddle to manage and maintain.
It's Refreshingly Simple
Instead of wasting time figuring out the ideal structure just press our "add all recommended content" button. Your welcome book will be populated in (literally) seconds with the right headings and canned text for you to work from. You might even experience a warm and fuzzy feeling as the simplicity dawns on you!
Multiple Properties?
2 properties? 200 properties? Maintaining that number of Airbnb guest books in Word or PDF sounds like a hideous task (that probably never gets done)! With a digital solution like Touch Stay you can create the content once and then share it with all your properties. Restaurants? Check in times? Contact numbers? Enter and update them in one place.
OK, time to stop, you get the point, we love our product! Thankfully our customers and guests love our product too. Hop on over to the home page for some testimonials and, if you would like to try us out, you can sign up for our 30-day free trial (no credit card required) to see what your welcome book could look like!