Back in 2013 I asked my good friend Matt Landau what he thought about the idea of creating a guest welcome app. His reply?
"I definitely think an online welcome pack/app would kick butt!"
So Joe and I got to work in 2013 on developing what is now TouchStay. It was around this time that another industry guru, Heather Bayer, emailed me asking if I'd seen Glad to Have You. They'd already taken their product to market and, in early 2014, HomeAway quickly snapped them up for a cool US$16m.
Fast forward 3 years, on the back of the VR industry's exponential growth, and you have the pick of at least half a dozen guest welcome products: Glad to Have You (GTHY), Hostfully, TouchStay, YourWelcome, Coral, Yoomondo, as well as some PMS which offer a guest welcome book within their platform, for example VReasy and Streamline.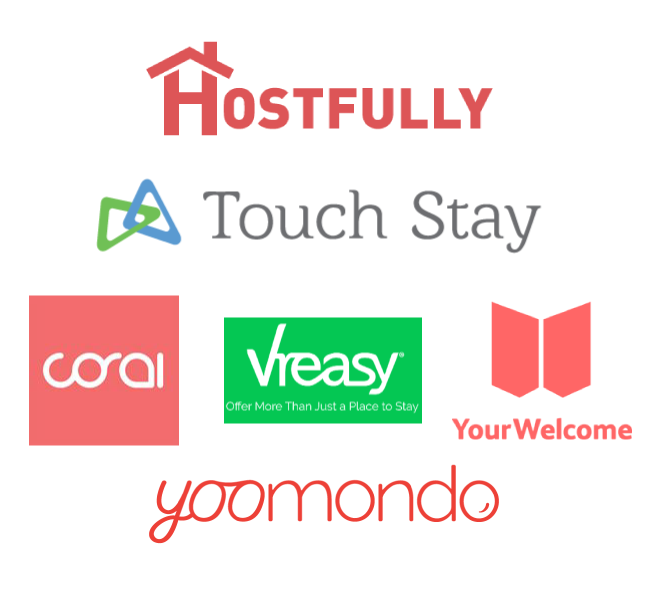 No surprise that, with all these new apps, we always get asked "What's the difference between TouchStay and x?". So we decided to write the differences down.
We'll focus here on Hostfully and Coral since those are the two we are most often asked about by people considering Touch Stay. We haven't yet tested YourWelcome as that requires us to buy a tablet. And, whilst we've used GTHY as a guest, we haven't tested the owner interface.
Note: this is a post which we'll add and amend as we hear and see more of these and other products. Please feel free to point out anything we've missed in the comments section and we'll add it (including the app owners themselves if you see any omissions or mistakes!).
Here's what we've found (skip to the end for our summary if you don't have time!).
Technology: Native App vs Mobile Web App vs Tablet
Sounds awfully technical but is actually dead simple.
All three of these products operate as a mobile web app, which means your guests access the content by clicking a weblink from their phone/tablet/PC, just like any other website link. No app to download. You simply send guests a web link to view your book.
This differs from a "native app" like Glad to Have You, in which your guests access content by downloading the app.
It also differs from YourWelcome which is an in-home tablet that your guests use when staying with you, as opposed to accessing content on their own device. Worth noting that an in-home tablet also means your guests cannot access the content until they arrive.
Process of Adding Content
Regardless of the technology, the major task any host/owner/manager faces is adding content that guests will find useful. How long that takes depends on how much you have to say. We have seen 90-page welcome books in our time!
Each one works via text entry boxes, just as if you were entering a listing on HomeAway, Airbnb, etc. Type your info and hit save. Hostfully and TouchStay give you more formatting options than Coral, but it's a minor difference.
Getting started is relatively easy as each of them aim to help you add the basics quickly:
Hostfully has an assistant feature which helps you speedily add the basics.
TouchStay has a 3-step on boarding, populating the basics with standard text.
Coral takes you through each of the basic areas and you fill as you go.
You're then left to add/edit/delete content depending on your exact needs.
Whilst the interface on each is different, they all work well. If you trial one product and then flip to the other you'll likely go through a period of frustrated learning, just like switching from a Windows PC to a Macbook!
Conclusion: in our opinion they all have intuitive interfaces and you'll quickly get to grips with any of them. Commit to the one that offers the features most important to you. Use the time you save to focus on the important bit: content your guests will find value in!
Adding Local Area Recommendations
All three of them use the Google Places API to make the process of adding area information (restaurants, bars, tourist attractions, etc) very simple.
Simply begin typing the name of the place and the results pulled from Google automatically appear before you. Select the place you're looking for and hit save. It's automatically added to your welcome book. All three make this process so much faster than adding them manually to a word doc or PDF.
There are, however, some significant differences in how the information is presented to the guest.
Both Coral and Hostfully show this area information in a separate tab whereas TouchStay keeps it in the same view, with guests using the table of contents to navigate quickly to that section.
Coral and TouchStay show you a map of the place so your guest can see where it is in relation to your home. Hostfully doesn't do this, but does include a link out to Google Maps, opening a new window.
Coral has a neat feature which automatically pulls the time it takes to get from your home to the attraction via difference modes of transport. For example a 15 min walk or a 5 min car journey.
TouchStay adds some extra guest help by pulling the hours of opening and website address from the Google Place listing.
If you have attractions that don't appear in Google, often the case for very small or obscure places (usually the best local spots in my opinion!), all three allow you to add those manually yourself.
If you're a member of Matt Landau's Inner Circle you can access my free guide "Create a Guest Welcome Book Worth Reading" which is based on my years of staying in dozens of vacation rentals as a kid, a boyfriend, a husband, and a Dad!
Sharing With Your Guests
All three provide you with a URL that is unique to each welcome book. You simply send that URL to your guests.
Touch Stay and Coral both offer more sharing tools. You can send the link via SMS from within the platform, or you can create a unique URL for each guest. Using that feature in Touch Stay allows you to see when guests opened the book.
Pricing
Hostfully and Coral offer a free subscription for a single property. That's a pretty compelling reason to use them! However, in Hostfully's case, you can't access certain premium features and your guest will see recommendations provided to them by the app. (In our tests those recommendations weren't very intrusive, however.)
TouchStay charges (currently) $70 per year or $6.99 per month for your first property and then scales down quickly for more properties. For this price you get full access to all features, plus we'll also spend two hours setting up your welcome book. In most cases that's enough time to get the majority of content created.
For multiple property owners both Hostfully and TouchStay charge, as follows:
Hostfully charge $24.99 a month for up to 5 properties, or $239.88 when billed annually. 6-10 properties is $49.99 a month or $539.88. Beyond 10 properties you need to contact them for specific pricing.
TouchStay charge $10.50 a month for 2 properties, or $105 when billed annually. Each additional property up to a total of 5 costs you $3.50 a month, or $35 a year. For 5+ you need to contact them for specific pricing, although the per property price rapidly decreases.
Both Hostfully and TouchStay will create your books for you if you purchase an annual subscription.
Coral do not appear to charge for additional properties although we are struggling to understand how they monetize their product. If you know please leave us a comment!
Branding
Coral does not offer any custom branding. TouchStay offers branding for any subscription level, with the ability to choose from a range of fonts and colors to match your own brand. Hostfully only offers this at "Enterprise" level.
Sharing Content Between Books
If you're an owner or manager of multiple properties then you'll want a solution that allows you to share content between your various welcome book. All three offer some degree of sharing content.
TouchStay has by far the most versatility here, with a tagging system that allows you to share and customize some/all/none of your content across different welcome books.
Both Hostfully and Coral do offer the ability to share local places across different welcome books but no other content (e.g. check-in time), meaning you have to add these for each welcome book individually.
Need to Print Your Welcome Book?
Being able to print sounds so simple and yet it's technically quite the challenge for reasons we won't bore you with. This does mean that none of the three have a perfect printed solution.
In our opinion Coral have the weakest print option, with Hostfully and TouchStay doing a pretty decent job of presenting the information in a clean design.
TouchStay additionally offers a custom design service if you don't like the built in solution. Prices are around $100, depending on the amount of content. We'll take your digital book and place it in a choice of four designs.
Demos & Tutorial Videos
TouchStay appear to be the only product offering video tutorials. Below are a couple of those videos which also show you how the software looks and behaves, one for owners and one for property managers.
Behind the scenes: Owners
Behind the scenes: Managers
So Which is the Best Product?
Naturally we think TouchStay, but then that's not particularly objective! So let's break it down…
If price is your only deciding factor, and you have only 1 property, head over to Coral or Hostfully. But take note that it takes time to add content.
If you prefer some help adding content, consider TouchStay at $70 and take the 2 hours set up time that we provide. Most people will save themselves way more than 2 hours because we know the system well and are fast around it! When you are handed the keys then you'll also have a number of tutorial videos available to you.
If you're a multiple property owner then your choice is between Hostfully or TouchStay. Both will help set you up and both are similarly priced at low numbers of properties. For larger numbers you'll need to contact them for specific pricing. At TouchStay we also offer larger PMs two complimentary web training sessions during the on-boarding to share our hints and tips.
We also believe our tagging system for linking and sharing content is more versatile, making your job of updating/maintaining content more efficient.
In the end there is really very little to choose between the products. The real question you should ask yourself is: do I have enough time to create interesting and useful content for my guests? If you nail this (and present the information in an engaging and smart way) then the product choice is secondary.
And so, over to you, what do you think?