Regardless of your communications while your guests stay in your bed and breakfast, there's usually one who didn't pack accordingly or read your compendium properly.
As a B&B owner, while your physical guidebook tucked into a nightstand might see the occasional peruse by the guest who just happens to open the drawer, a digital Airbnb welcome letter will halt guests from forgetting any packed items ever again. By slight chance if they do, you'll be able to point them in the direction of where they can stock up, without a word exchanged!
From informing guests about nearby nature walks and hikes, to highlighting your suites and upselling your breakfast packages, you can do all of this and more with a digital guidebook filled with essential information for your bed and breakfast. Today we're going to show you more reasons why and how you can make them work hard for you and your guests!
How a digital guidebook benefits your bed and breakfast
A digital Airbnb welcome letter enhances your B&B business in so many ways. You'll benefit from simplifying your potential guest communications. Your B&B guests benefit from being able to prepare better for their stay.
Having to spend less time working on that time-consuming compendium, you'll have more time to operate your thriving business (or enjoy a well-deserved early night sleep!).
For starters, a Touch Stay digital guide allows you to:
Halt repetitive guest questions.

Help guests plan their vacation itinerary weeks, even months in advance.

Provide local recommendations your guests won't find on any tourism website.

Save valuable time and resources.

Improve guest reviews.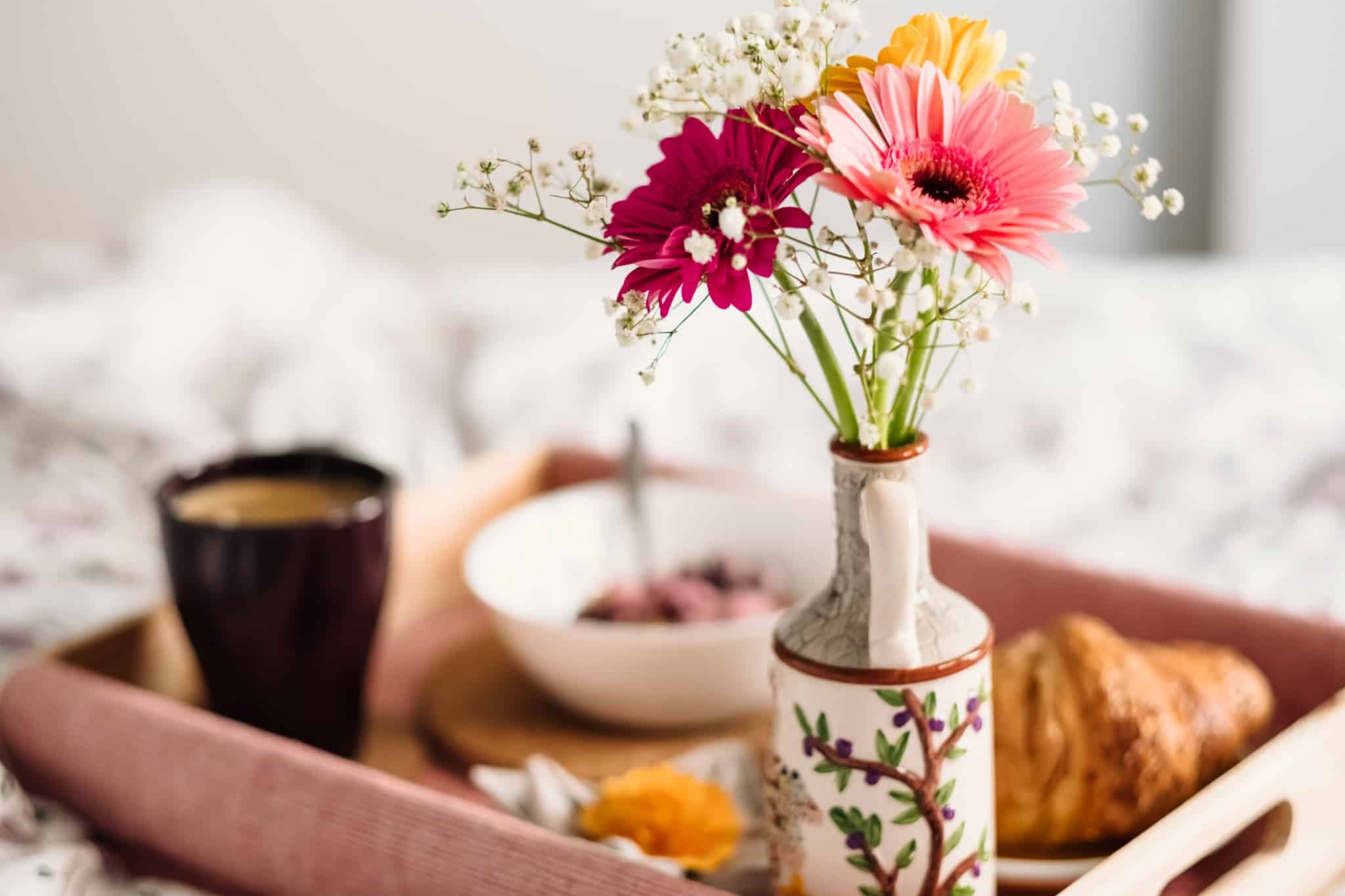 Now, let's dive into the nitty gritty of the benefits a touch more!
A digital Airbnb welcome letter ceases repetitive guest questions
Do you get asked the same question every time a new guest comes to stay with you? Something along the lines of:
"Are there laundry facilities on site?"

"Is there storage for my skis and snowboarding gear?"

"Can I customise my breakfast order?"

"How do I catch the shuttle to the nearby national park?"

"Is room service available?"
Whether these are questions guests ask before arriving or at check in, put a stop to them by feeding your guests this information in an easy to digest, desirable to read format. In other words, anything but a lengthy email or pdf attachment.
The core difference between a B&B compendium and a digital B&B guidebook? Being able to put the information in guests' hands before they arrive and often before they even think to ask!
Add these sorts of questions to your digital guidebook, and watch guest inquiries drop like the temperature on a brisk winter day at your bed and breakfast!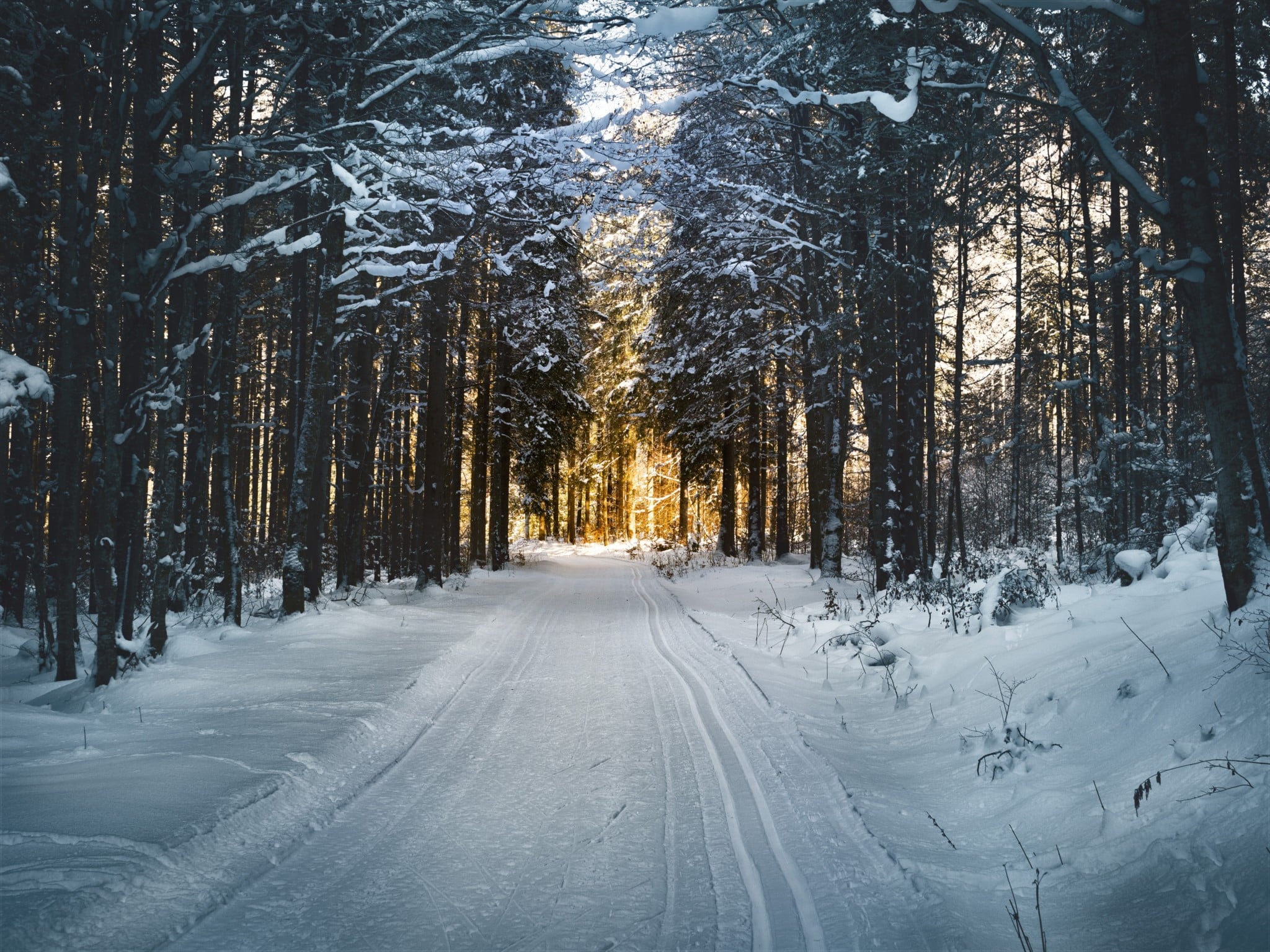 Enacting clear, concise communication as part of your B&B management plan, invites your guests to find the answers they seek in your easy-to-access digital compendium.
Plus, your digital guidebook is readily available to them anytime, anywhere on their phone, and is easily accessible offline. No need to worry about losing any pertinent tips and pointers along the way.
A digital B&B guidebook streamlines the check in process for your guests
An influx of new and existing customers can clog up the front end of your bed and breakfast operations with their questions, comments, and queries. This has the potential to create an initially unpleasant experience for new guests upon their first arrival to your property.
Create a winning first impression via your bed and breakfast's digital compendium, in turn reducing front desk congestion. Save the stress of a crowded lobby by including the following details in the check in section of your welcome guide:
Specific times for check in.

Self-check in information, including contactless entry codes to suites.

Directions to suites.

Early check in instructions (if available) and associated cost.

Late check in instructions.

Lobby hours of operation in the event guests still have inquiries (

after they've reviewed your digital guidebook FAQ section, of course!

).

What to do in the event guests have excess luggage and require storage.
Providing your digital guidebook to guests ahead of time with check in instructions, makes for an informed, relaxed experience for all parties involved.
A digital B&B guidebook offers recommendations guests won't find anywhere else
Sure, your guests may have decided to stay with you for any number of reasons you uncovered during the post-booking communication stage (birthday, anniversary, wedding, to name a few). To give them a truly remarkable experience during their stay, shower your guests with suggestions for your local area they won't find anywhere else.
A digital B&B compendium provides your guests the inside scoop on the best-kept secrets in your town or city – things like:
A rooftop bar tucked away from the main drag, serving up delicious espresso martinis with a gorgeous backdrop of the mountains.

An authentic Nordic spa, complete with ice plunges and steam saunas to soothe your guests' muscles after a day of snowshoeing.

A hole in the wall ramen shop, dishing out piping hot bowls of noodles and delicious miso broth that appeases hungry stomachs after a fun-filled day.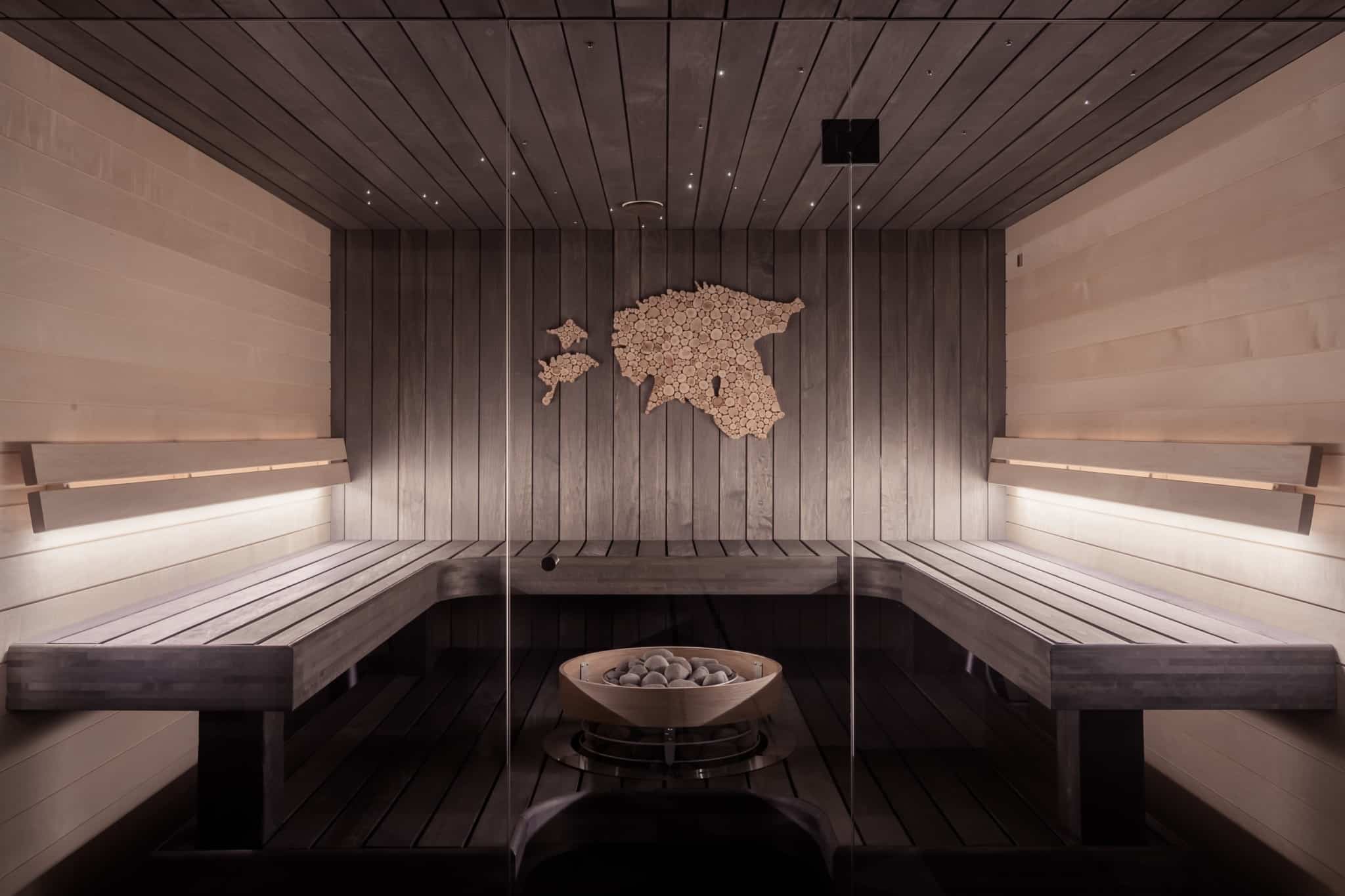 Providing guests with insider knowledge ahead of time, also gives them much-needed leeway to plan their itinerary accordingly. Plus, slipping in an activity or restaurant booking link that includes a discount, will not only have your guests enjoying themselves, but raving about your local knowledge.
It's also easy to update your digital guidebook's local recommendations as new shops, bars, and restaurants steadily open in your area.
However, be sure to send your digital compendium at the most optimal moment for your guests. Send it too far in advance and guests might forget about your precious all-in-one resource. On the other hand, sending it too soon leaves your guests with little to no time to check out your local recommendations.
Whereas finding an excuse to send it a few times between booking and check in, will empower your guests to book that popular restaurant, secure the best time for a boat trip, and snag the best slot for grocery deliveries.
A digital B&B guidebook positions your brand voice front and centre
Ah, that magical tidbit that makes your bed and breakfast marketing materials shine, and speaks to your guests – your brand voice! Your B&B is unique – shouldn't your brand voice be unique, too? It's what makes you, well, you, and creates connection between your guests and your bed and breakfast.
A digital guidebook not only assists in the physical aspects of running your property, like streamlining communication, creating consistent check in processes, and reducing guest questions. It also showcases your property's personality.
No matter what language your guests speak, communicate instructions and guidelines to guests in a way that aligns with your brand, as part of your larger digital marketing strategy.
As an aside, Touch Stay digital guidebooks have multiple language translation options available. No need to fret over potential language barriers between you and your guests!
Need a little help determining your bed and breakfast's brand voice? For starters, think about how you currently speak with and address your guests – are you helpful, friendly, caring, informative, empathetic? All of these attributes work to define and flesh out your brand voice.
How to structure your digital B&B guidebook
The beauty of a digital compendium for your bed and breakfast is being able to showcase all of the small touches included in your property when guests choose to stay with you. It also highlights what's not included, so guests can plan and pack accordingly.
Feel free to customise your guidebook in a way that makes the most sense to serve and meet your guests' needs. All our guidebook templates can be added to, edited, and branded to incorporate your logo, colours, and fonts.
Start with a warm welcome
A simple and easy start to your digital compendium is offering a warm welcome to your guests, welcoming them to the property and thanking them for staying with you. They chose you out of all the other bed and breakfasts in the area – now that's something to celebrate!
Our favourite way that B&B operators do this? Include a short video of yourself in the B&B or out front saying hello and welcome. Adding videos to your digital guidebooks is easy as well as being a brilliant way to communicate with new guests.
Next up, supply your guests with instructions on how to quickly add your Touch Stay digital guidebook to their mobile phone (we actually provide this content for you to use or adapt to your preferred wording).
Saving your guidebook to the home screen makes it easily accessible regardless of if they're online or offline.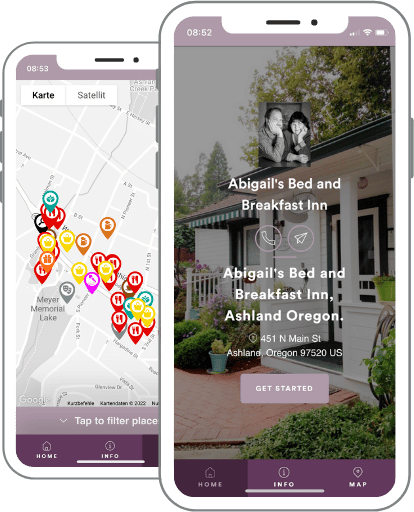 During your welcome, is also when you potentially showcase your bed and breakfast! While guests will have already done their research when choosing to book with you, feel free to highlight unique features as part of your B&B's property. This might include highlighting the beautiful scenery and surrounding landscape your pristine region has to offer.
Depending on the size and features of your bed and breakfast, potentially showcase your:
Immediate surroundings

Gazebo

Dining hall

Duck pond

Tennis courts

Flower gardens

Suite themes (if they vary)
Maitland Manor Bed and Breakfast puts the welcome section of their digital guidebook to good use, taking things one step further by presenting guests with a YouTube video.
An attention grabbing way to capture guests' attention while getting them excited for their trip, the video showcases the Maitland Manor property, in turn offering guests a sneak peek of what's to come during their stay.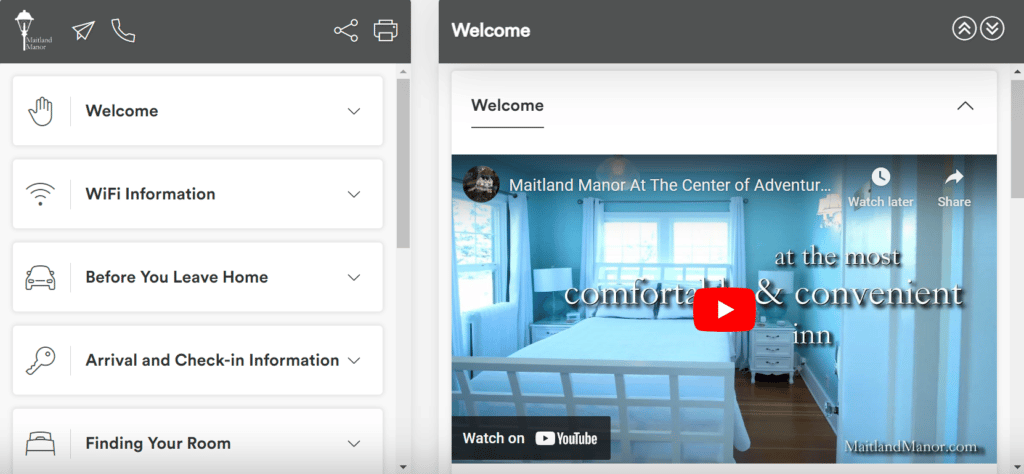 Prepare your guests for arrival

A follow-up to welcoming guests is preparing them for their arrival. Here, you'll want to include such details as your property's guidelines, check in time, and your contact information in case guests need to get in touch with you directly.
Property guidelines
Consider house rules or advisories you wish for guests to follow while staying in your bed and breakfast, and detail them in the prep section of your digital guidebook.
These might include no smoking, remaining on designated pathways while exploring property grounds, outlining off-limit areas, as well as detailing quiet times.
Check in information
Notify your guests what time they are able to check in, as well as check out. Also, what is the check in process? Again, it can reduce congestion in your lobby to permit self check in and can provide a smoother guest experience.
If early check in or late check out is permitted, detail what times these are, if there are any associated costs, and how much time is required in order to fulfil such a request.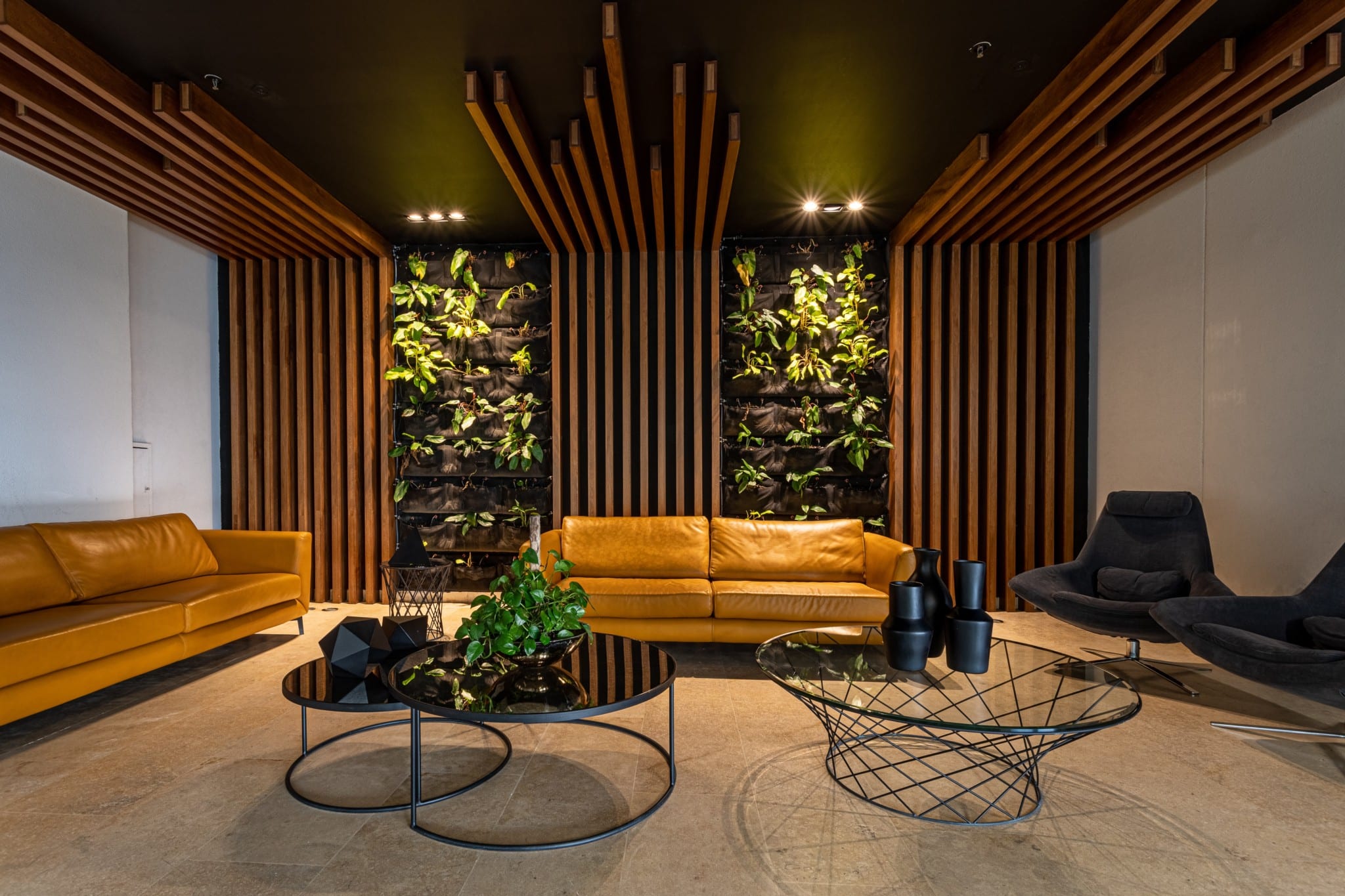 Directions to property
How do guests get to your bed and breakfast? Provide directions to your property in relation to your guests' mode of transportation. These can vary depending on if guests travel by:
Car

Bus

Plane

Train

Ferry boat
Parking
Is parking available for your guests on the property? Do you provide parking passes or is there off-street parking? If there is no space for your guests to park in your lot, are there nearby free or paid alternatives? These sorts of questions are ones you can address in your digital compendium.
Weather reports
Touch Stay makes it easy to add the weather widget to our digital guidebooks, informing your guests of the weather conditions prior to their arrival. You can embellish this with additional information about the given seasons. For spring time, you might be more inclined to instruct guests to bring their rain gear. For a winter holiday, snow boots and winter coats are a must.
In the case of Silverbow Inn, they instruct guests to 'keep it casual', but mention that prioritising warmth and dryness is fashionable any day of the week!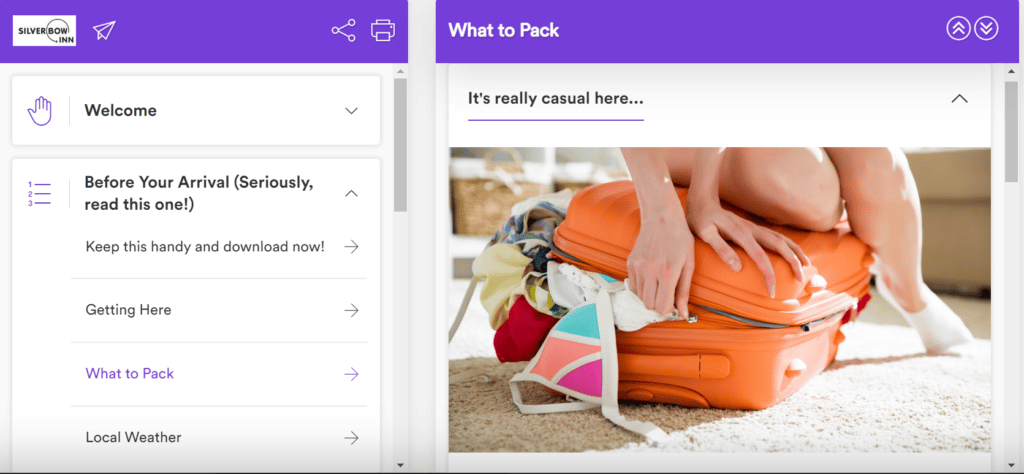 Contact information
By some chance your guests need to get a hold of you directly, how should they contact you? This section of your guidebook is designed for providing your contact information, whether that's your phone number in case of emergencies or after-hours assistance, or your email address.
You might even consider adding instructions for guests to use your Echo Dot or Google Home to call you if you have a smart device in each guest suite.
Provide post check in information
Guests are checked in and ready to get settled. So, what's next? This section might include information on how to access the room and operate your smart locks, Wi-Fi information, how to work the hot tub, and room comforts.
How to access the room
Providing guests with directions to their room can be helpful after their long journey. If your suites have smart locks, include information on how to operate the locks, as Maitland Manor Bed & Breakfast does.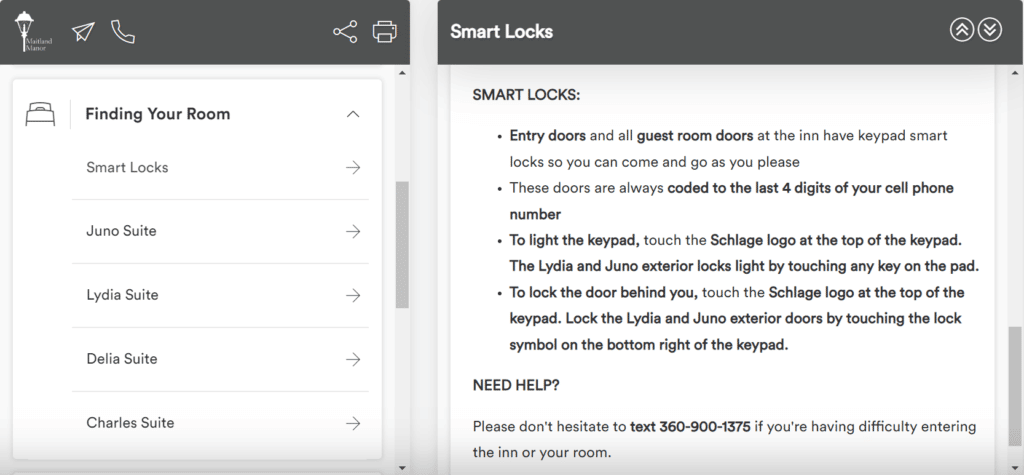 Wi-Fi
While guests might have decided to stay in your bed and breakfast to go offline for a short while, there's always a chance they will need to connect to the internet at some point during their stay. Include information on how guests are to access the network, and the Wi-Fi password.
Room comforts
Providing instructions on what to do if guests require extra blankets, as well as how to operate the thermostat and air conditioning, means guests' comfort and needs are met sooner.
Include information for operating other tech in your suites, too, like where to find the TV remote, what channels and streaming services are provided, and how to operate your smart home system.
Other information to include in this section might be housekeeping schedules, and instructions for what to do if guests do not want to be disturbed when housekeeping comes around.
Also, detail what laundry services are available in the event guests need their clothes laundered. Silverbow Inn's digital guidebook lists where guests can locate quarters should they wish to wash and dry their own clothes, as well as same-day laundry service options.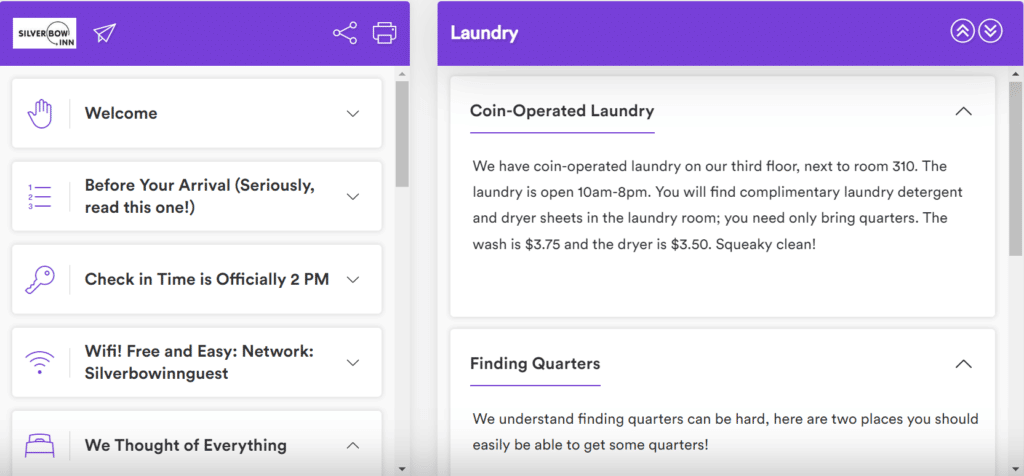 What's Included and What's Not Included
This section provides guests with all the information they need on what's complimentary with their stay. By detailing what you provide for them throughout their stay (and what you don't!) your guests will be well-equipped to pack toiletries, weather-appropriate clothing, and more.
In the event your guests have forgotten something, share where they can purchase goods. Better yet, use this as an opportunity to showcase and upsell items your guests will likely use if they've forgotten their own.
Food and beverage information
This section of your digital compendium is where hungry guests can review your tasty breakfast menu and dining information.
To begin, include the location and time of when and where breakfast is served, the menu, as well as alternative options for gluten-free, vegetarian, or vegan guests.
If you provide room service or build-your-own breakfast options in case your guests want something extra special, outline that information here, too. Also, if you have hungry guests heading out early for a day of hiking, list the to-go breakfast options you offer.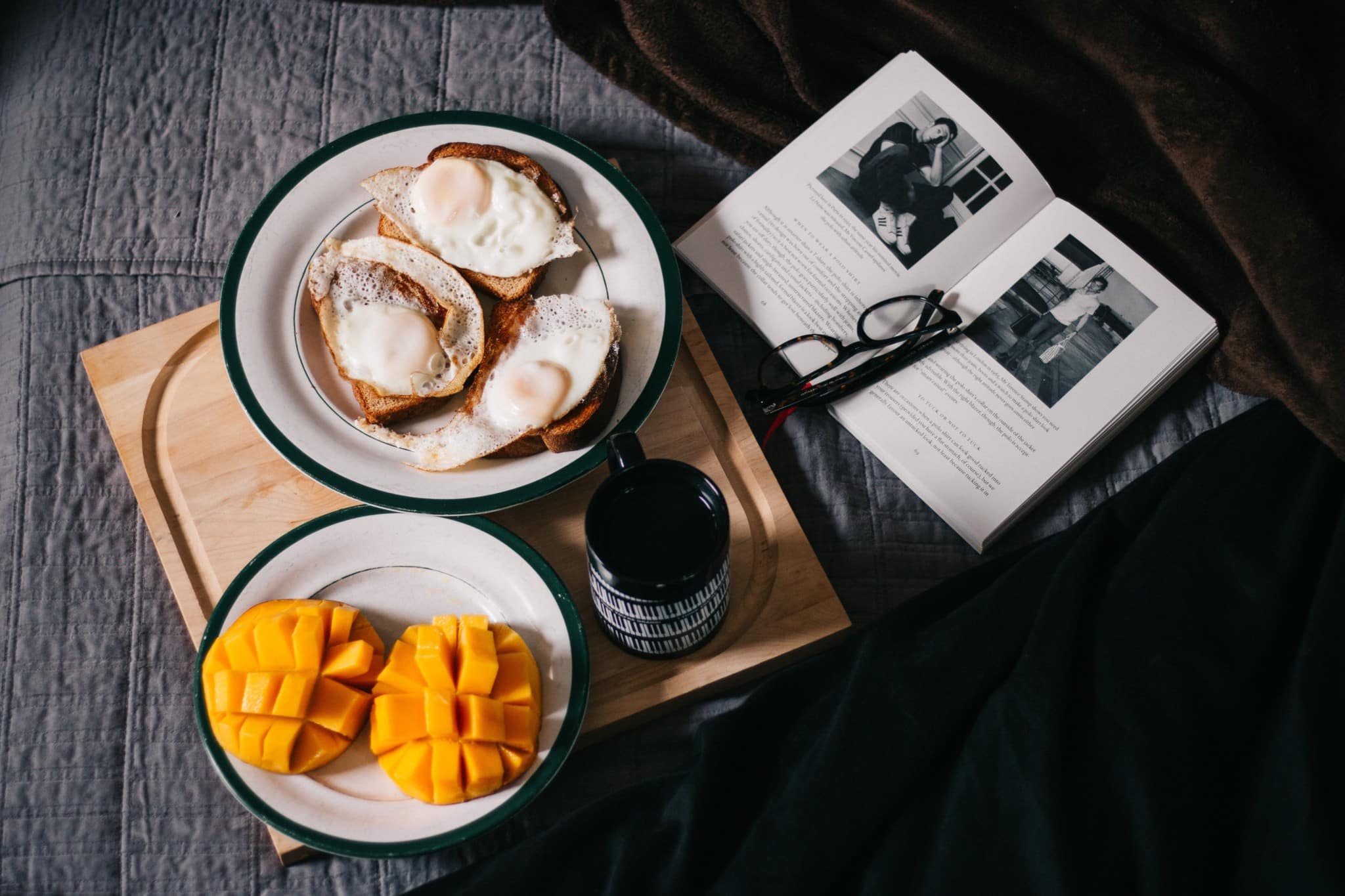 The food and beverage section of your digital guidebook also provides a great opportunity to upsell other items you might have available for guests. These include:
Gourmet platters, featuring local cheese and wine pairings

Freshly prepared picnic lunches for your guests to take with them on their day of exploring

A welcome bottle of champagne to their room
Local recommendations
Your local attractions section is the perfect place to showcase your favourite sites and sounds around your town. Consider carefully what you choose to include here though, because it could become a mammoth list!
If your typical guest stay is two or three nights, then highlighting the best things to see and do in your area makes more sense than listing everything. If you can, try limiting your groupings to the five best restaurants, the two best sunset spots, the best ice cream parlours, the five must-do activities, and so on.
If you're more used to hosting longer stays then of course expand on the options. But remember the aim is to inform guests, not overwhelm them!
Below is a list of suggestions to include:
Arts and culture – cinemas, theatres, and museums

Bars and restaurants

Monthly calendar of events around town

Shopping

Spas and gyms

Day trips – national parks and walking trails

Cycling, hiking, canoeing, and kayaking

Kid-friendly activities

Tour companies and tour packages

Grocery stores or farmshops

Beaches or lakes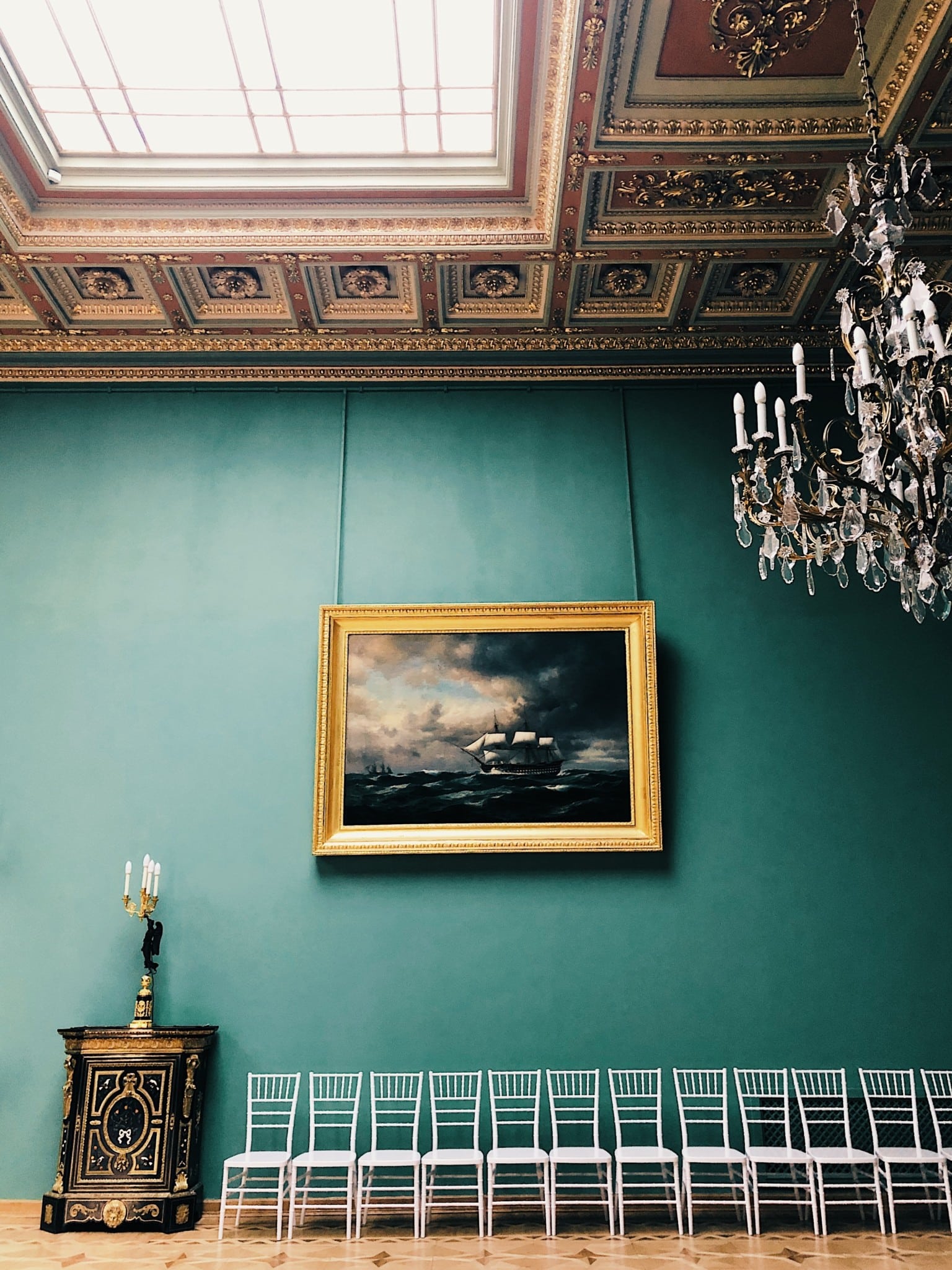 Check out information
When it's time for guests to depart, include any pertinent check out information. This includes what time check out is, what guests should do with used towels and linens, instructions for returning keycards if issued, as well as garbage disposal.
Consider using this space to thank your guests for staying with you, and offer a gentle nudge for them to reflect on their stay and leave a review. Feel free to also include your affiliate link or loyalty programme promotion should guests wish to book in with you again soon or recommend your place to friends and family.
You can also include your social media channels, and encourage guests to join and follow along on your social media journey!
In fact, if encouraging direct bookings for your B&B guests, without paying a booking fee to an online tour operator (OTAs), you could add a whole section on "Stay again" or "Keep in touch". It'll make it super easy for guests to add themselves to your email list, find you on social media, and pass on your details to pals.
How Touch Stay helps bed and breakfast owners communicate effectively with their guests
At Touch Stay, great guest communication is our thing – it's where the idea for our digital guidebooks was born. Our digital guest welcome books for bed and breakfast property owners also come in templates designed for short term rentals and holiday lets, glamping sites, caravanning, boutique hoteliers and airbnbs, too!
Entirely customisable to the needs of your guests and your bed and breakfast, our digital guidebooks feature ready-made templates for creating your very own communication flow using our guest messaging system, Memo.
Armed with the information to create a top-notch digital guidebook for your bed and breakfast, you'll have guests knocking at your door in no time.