In December 2020, Airbnb had over 150 million users and more than five million global listings. That's a whole lot of potential guests, and a whole lot of competition. So, how do you make sure that your vacation rental property is one of the first listings that a traveller sees?
We recently chatted to Thibault Masson about this very question. Thibault has five years of experience at Booking.com and also runs his own vacation rental businesses, so he had a wealth of insights for us.
Head over to watch the recording of our conversation, or stick around to read the highlights below. We've pulled together Thibault's top tips for pushing your vacation rental listing to the top of the booking site rankings.
Why is it crucial to understand how vacation rental booking sites order their listings?
Understanding the inner workings of vacation rental booking sites, whether this is Airbnb, Booking.com, or any other, translates into more visibility for your property, and more bookings for you.
Thibault highlighted that we rarely continue to the third or fourth results page of a booking site. We're most likely to choose a property which is on the first page, or perhaps the second. In order to show up in these top results, it's crucial to understand what the booking site wants from you.
Lucky for you, we're about to explain just that!
Knowing the rules of the game is really wise, because sometimes in doing the right thing, you fall foul because you didn't do it in the way that the platform wants you to do it. You need to be savvy to the rules of the game
- Andy
The key factors which determine your listing's ranking on vacation rental booking sites
Thibault outlined the key ingredients which decide where your listing sits amongst the (potentially) thousands of others in your area.
How well your vacation rental property meets the user's search criteria
Thibault began by highlighting that, really, there's no such thing as a "first page" on any of these booking sites.
Wait, what?! So what's this article about then?
Well, all this means is that users have incredibly varied search criteria. Any two people are likely to be searching for different dates, different locations, different numbers of guests, and different preferences. There isn't one first page, but a different first page for every user.
If your listing doesn't meet a user's criteria, you won't show up. Makes sense, right? So, make your listing specific to everything you offer to maximise your chances of showing up in every possible search.
How much money your vacation rental earns for the booking site
Listing sites aren't charities – they're going to rank first those listings that make them the most money. No surprise! We're businesses, they're businesses.
– Thibault
Vacation rental booking sites are far more likely to place your listing in a higher position if they think that users are likely to book it. The more people who book it, the higher the total commission for them.
One factor here is whether or not your listing is available for direct bookings. Users are more likely to book a property if they can do so with one click, and the process is far easier for the booking site to track.
How recently your vacation rental property was listed on the booking site
Some booking sites give newly listed properties a boost to help them nab their first set of guests, and (hopefully!) positive reviews. Keep reading to find out how you can take advantage of this window of opportunity.
Simple steps to boost the ranking of your vacation rental listing
So, now that we understand the logic behind booking sites' search rankings (to summarise: which properties will make them the most money), how can you use this knowledge to work your way up the rankings?
The short answer is that you need to set yourself up as a reliable property owner. Show the site that you're on top of the guest experience, and that you won't be sending any disgruntled guests to their customer service team.
Optimise the building blocks of your vacation rental listing
Getting the basics right will go a long way to matching you up with the right users, and convincing them to click through to view your property.
there's an art to choosing the right title for your listing, and we've written an article to help you land on the perfect one
a great set of photos will show off your vacation rental property in the best light (literally!). Check out Dani Stein's story about how his Touch Stay digital guidebook has helped him to showcase his amazing visuals
write a good description of your listing. If you can strike a balance of accurate, detailed, and concise, you're on the right track
Regularly update the price of your vacation rental listing
Thibault explained that booking sites look for listings which regularly update their prices because this is a sign that the owner is engaged, and that the details are recent and accurate.
There's dynamic pricing software that can take this task off your hands by automatically adjusting your prices multiple times a day. Many property management systems, such as BookingSync and OwnerRez, have integrations with this software, to make your life even easier.
If you don't think this is the right solution for you, Thibault recommends manually adjusting your vacation rental listing price once a week.
Respond quickly to messages from potential guests
The two biggest pain points for the listing sites were the fact that owners and property managers didn't keep their calendars up to date, and they didn't respond to guests in a timely manner. That's why those two things are so important to stay up on, and why they give you such a good push, because those are the massive pain points that travellers have with booking on listing sites.
– Tyann
Rapid responses are a good recipe for happy guests, and happy guests will book again through the same listing site.
So, vacation rental listing sites reward hosts who demonstrate strong guest communication. In fact, one of the criteria for becoming a Superhost on Airbnb is that you respond to 90% of messages within 24 hours.
Understanding how reviews affect the site ranking of your vacation rental listing
We all strive for those five-star reviews (so much so that we've written an article about how you can get them), but how big of a deal is it if a guest gives us four stars, or even three, or two?
Thibault delved into the review minefield for us. Here are his key insights:
Even a four-star review can negatively impact your vacation rental listing
Four out of five doesn't look bad, right? At school, a grade of four out of five is pretty good! Actually not, that's what you need to be aware of. On Airbnb, most people score above an eight out of ten for cleanliness. So if you're getting a six, you're actually below average
– Thibault
When the average Airbnb in your area already has above four stars, any review score below five stars can quickly begin to pull you down.
However, Tyann, our Community Ambassador, offered an additional perspective. Some guests just don't like giving five stars, and so you might end up with a four-star review that reads like a five-star review. This can be a good thing – it pulls a user in to find out what went wrong, but they actually end up reading a great review of your vacation rental property.
So yes, it's important to keep your average review score as high as possible, but getting the occasional sub-five-star review definitely isn't a disaster.
Your vacation rental listing will benefit from having a large number of reviews
It's just maths. If you have a small number of reviews, any sub-five-star review can quickly begin to pull your average down. If you have one hundred reviews, on the other hand, you've got the cushioning to survive a couple of lower scores every so often.
So, how do you encourage guests to review your vacation rental property?
Thibault highlighted that most booking sites automatically ask guests to review, and you're often able to edit the wording of this request. If you can, try to make the request feel as personal as possible, to tap into the connection between you and your guests.
Tyann suggests prompting guests to be as specific as possible in their reviews – what did they like about the kitchen, the digital guidebook, the bedrooms? This helps them to structure a response which is far more helpful and tempting for prospective guests.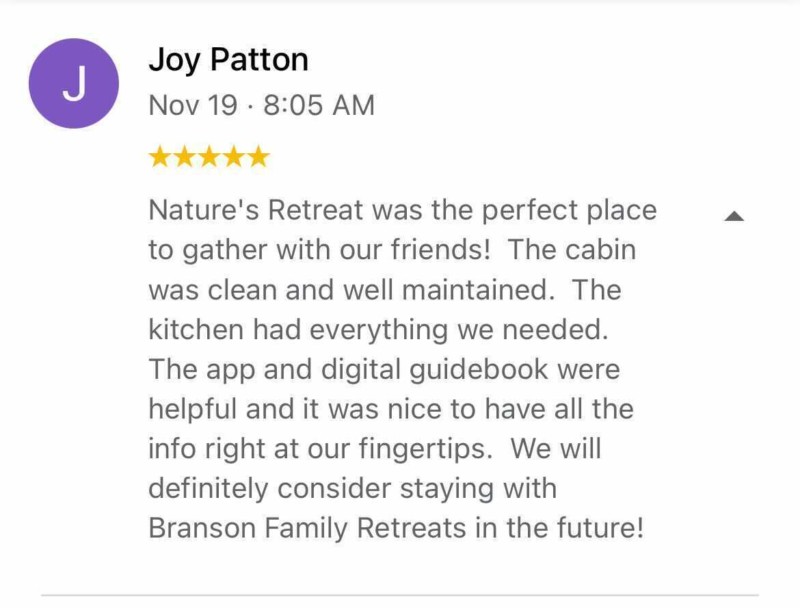 An example of Tyan's review formula in action
Use your digital guidebook to encourage guests to review
A Touch Stay digital guidebook helps you to encourage guests to review your property. Simply drop a link to the review site of your choice in the departure section of your guide. Plus, Touch Stay customers see happier guests, and more positive reviews. Want to try?
DISCOVER: how a digital guidebook app can boost your review scores
How to break out of the initial review slump
Thibault talked about the vicious cycle of listing your property for the first time, struggling to attract guests without any reviews, and therefore struggling to gain reviews.
Good news! Airbnb gives you a helping hand by pushing new listings to the top. Here's how you can make the most of the opportunity:
I know we've said it before, but get the basics right! A good title, a good description, and good pictures will work wonders
apply a discount to attract early guests
accept that there will be teething problems. If guests do have complaints, this is an opportunity for you to communicate well and solve the issue. This often converts a potentially negative reviewer into a guest who tells everyone about your strong customer service and fast response times.
How to cope with (unfair) negative reviews on vacation rental listing sites
Sometimes you get stuff wrong – we all do! A guest's review might reflect that, and all you can do in this situation is respond politely, and perhaps explain how you plan to tackle the issue.
Occasionally, however, a guest will leave an unfair negative review. Perhaps they're miffed that you retained some of their deposit after they left your property in a state. How can you handle a review that doesn't fairly reflect the guest's experience?
if you know it's coming, communicate (calmly!) with them beforehand to see if you can come to a resolution
document all your communications, and where possible communicate through the booking platform. This way, you have proof that the review was motivated by factors other than their actual experience at your property
when you can prove that the review is dishonest, the platform will often remove it for you
A Touch Stay digital guidebook can help you to attract positive guest reviews
At Touch Stay, we're all about the guest experience. Our digital guidebooks are designed to save you time whilst improving your guest communications.
Include all the crucial info that your guests need to know, along with your personal recommendations for the local area. Guests know exactly what to expect when they arrive, and have all the tools they need to have a fantastic time at your vacation rental property.
Roll on the good reviews and repeat bookings!