You've established a glampsite gorgeous enough to win the hearts of boho chic lovers everywhere. Outfitted to offer the most bougie backwoods experience, your guests are ready to kick back and relax in style from the comfort of their luxurious yurt, hut or geodesic dome.
The fun doesn't have to stop there for your guests, though. Nor does the literal 'buck' have to halt once your guests have booked in with you. Any number of products, services or excursions can be transformed into an upsell worthy of the attention of the most wanderlust-filled guest.
Today, we'll be addressing how to upsell products as part of your glamping experience and how to incorporate your upsells into your Touch Stay digital guidebook.
Table of Contents
The power of the 'upsell'
Before we get into the how and why of upselling for your glampsite, let's first dive into what exactly upselling is.
During Touch Stay's recent webinar Guest Upsells – how to wow guests and increase revenues, panellist Bart Sobies, Founder of The Accommodation Show, defined upselling as "the opportunity to create strong partnerships with local businesses and … something to talk about from a marketing perspective". It's about sprinkling products, services and opportunities throughout the entire span of your guest journey that support and enhance your guests' stay with you from beginning to end.
For our panellists, the secret sauce is in how you position your upsell. Positioning your upsell as meeting a demand for a particular experience on the part of your guests, is really what sets your upsell apart from other glampsite owners and operators.
For example, when you position your upsell as a marketing tactic, your guests will likely baulk at the idea of being sold to. Yet, when you position your upsell as providing added value to your guests, in turn helping to create a smooth, personalised guest experience, your visitors will be chomping at the bit to get their hands on it.

The importance of upselling for your glamping business
Upselling has the potential to create a lasting impression on your guests. It can also serve as a long-term source of additional revenue on top of any initial costs achieved either via your direct booking website or your online travel agency (OTA) listing.
Below we've touched on a few benefits of upselling for your glamping business.
1. Upselling creates a top-notch guest experience
Continually adding value throughout the entirety of your guests' stay via your glamping upsells, makes for a fantastic guest experience. Offering additional features for guests to 'add-on' for purchase ahead of time or upon arrival, takes the guesswork and stress out of particular glamping pain points, like grocery shopping, sports and equipment rentals and luggage storage. It demonstrates to guests that you care, while increasing your glamping business bottom line.
Your Touch Stay digital guidebook builds rapport and trust with your guests, so that by the time they arrive for their stay, they will be more than willing and happy to engage with your upselling items and opportunities. We'll cover how to use your Touch Stay digital guidebook to your advantage when upselling to guests later in this article.
2. Upselling serves as a long-term investment for your property
Speaking of that 'bottom line', upsells are truly a long-term return on your investment for your glampsite. Upsells can help you to increase your glampsite's profits, keeping additional income in your pocket to reinvest back into your business as opposed to automatically being forked over to OTAs.
If guests are expecting a luxury glamping experience with you, wrapping upsell items and offerings into your overall price point is much more appealing to guests than asking them to hand over more moola.
Positioning these products as freebies to your guests while on their vacation puts you in their good graces. They'll be sure to relay their all-star glamping experience to friends and family, and return themselves in the near future!


3. Upselling promotes local businesses
Joining forces with local business owners to upsell excursions and experiences in your city or township is a win-win for all parties involved. For starters, researching and uncovering your guest avatar in advance can be highly beneficial to determining which businesses to promote and partner with as part of your overall guest glamping experience.
Getting to know your local businesses can present many wonderful upsell opportunities, such as:
Promoting a local cafe, where guests receive a discount, the cafe receives business and you receive a kick-back!

Providing an affiliate link to book with a local paddle boarding company, which again, promotes local commerce, reinvests funds back into your business, and creates happy glampers.
For instance, Devon Dens' digital guidebook personalises their glampers' cuisine experience with upsells in the form of local produce orders – yummy!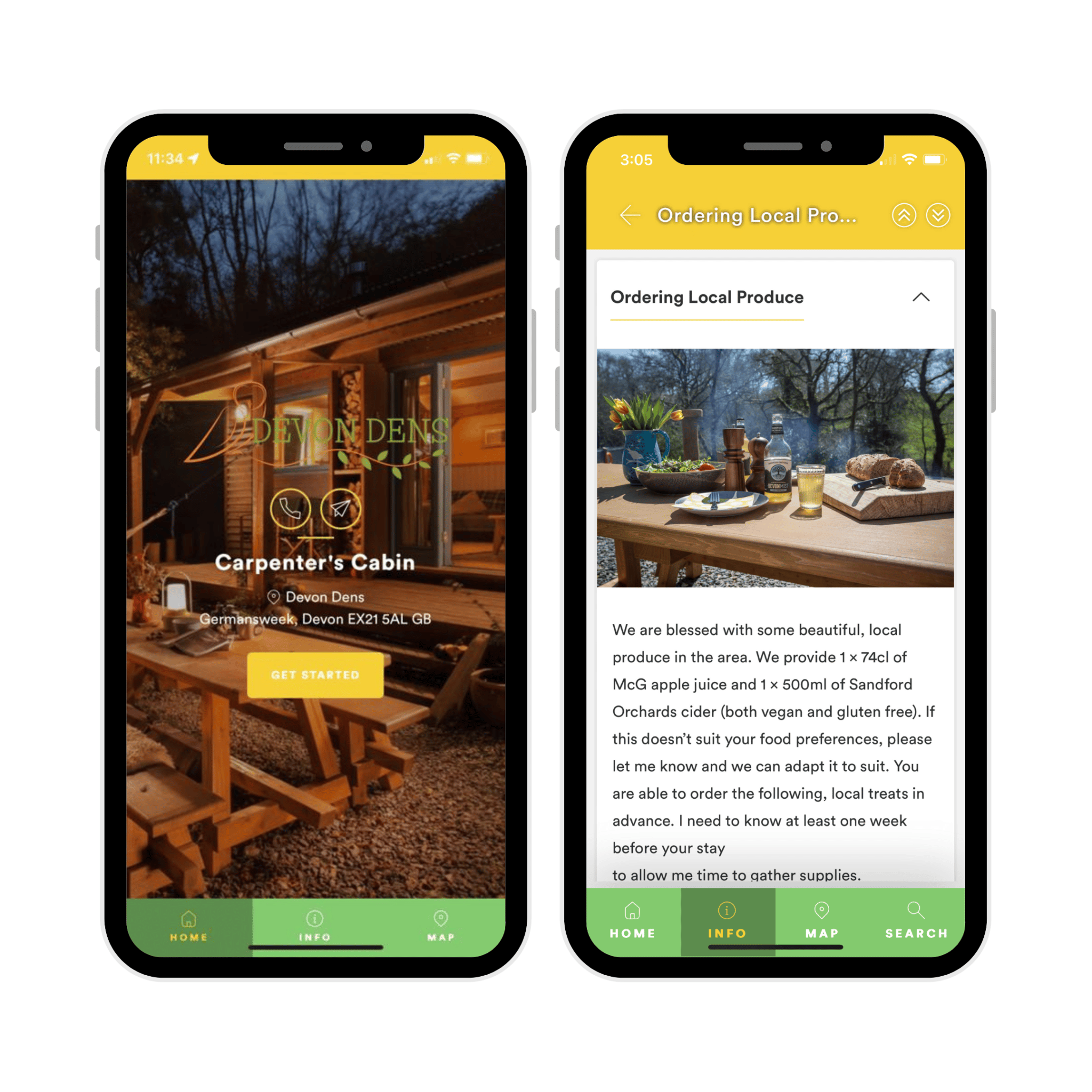 4. Upselling increases reviews and, in turn, repeat bookings
We'll say it till we're blue in the face – empowered guests make for happier guests! Empower your guests with a selection of upsells catered to their specific wants and needs, as revealed in your post-booking communications.
Supplying guests with a variety of upsell opportunities in the form of grocery delivery, airport pickup or spa packages, can really make your guests feel looked after and pampered. In turn, relaxed and happy guests will be more likely to leave you and your glampsite a glowing review, and are more likely to book in with you again in the future.
How to use your digital guidebook for upsells
Whether you're upselling sporting equipment rentals or a welcome bottle of champagne, whitewater rafting or a glacier helicopter tour (and yes, all of these can be viable upsells!), your Touch Stay digital guidebook provides positioning power to help you to make the most of your upsell opportunities.
So how exactly do you use your digital guidebook to your advantage in harnessing and positioning your upsells as an experience your guests want, no, need to have, versus an optional add-on to their trip? We've provided a few pointers below.
1. Get to know your guest
To list your upsells and hope for a positive outcome from any guest that stays with you is to literally throw ideas at a wall and see what sticks. This is because when you target everybody, you target nobody at the same time. You need to be more intentional in providing glamping guests products and services they'll love or long for.
Touch Stay's recent article covers all the basics of determining your guest avatar. To quickly recap, a guest avatar doubles as your buyer persona for your glampsite. It gets to the heart of the matter of who is staying with you and why, ultimately allowing you to get to know your guest and hone in on who exactly to target in your glampsite listing.


2. Ask your guests… and listen
Part of getting to know your guests is by extension asking them what they want! Add a few additional questions to your booking form, or build in these questions as part of your guest communications flow. Don't be afraid to ask your guests throughout their stay with you, too. Their wants and needs might change, and this can help you to define the sort of upsells you should be offering, and how exactly to provide them to your guests.
If you really want to take it one step further, engage in your upsells yourself! Test out the experiences you plan to offer guests so you can really determine their value. Besides, who doesn't like to 'test' out a Swedish deep tissue massage?!
From here, you can connect which upsells pertain the most to your guests, and plug them into your digital guidebook.
Think:
Spa packages for the blissed out couple on their honeymoon.

Tickets to a tree top adventure park for the parents looking to let their kiddos romp around.

Sporting equipment storage for the ski junkie bringing one (

or three!

) pairs of skis or the cycling fanatic coming with spare wheels!
3. Position your guest communications flow
Tossing upsells at your guests left, right and centre without any rhyme or reason, can confuse guests and make them less likely to actually take advantage of your upsell offerings.
Mapping out your guest communications flow to determine when to present your upsell options to your guests, how they can use your upsell, and how it will help them while staying with you, once again creates intent behind the way you present your upsells within your digital guidebook.


3 upsells for your glamping guests
If you're stretched for time and are in need of some inspiration for upsells, we've got you covered. Here are a few ideas for products, services and experiences to offer your guests!
1. Food and Beverage Items
For many Touch Stay customers, including a food and beverage section within their digital guidebook offers guests a glance at the cuisine choices available onsite for hungry stomachs, as well as off site dining options.
This section of your digital guidebook also doubles as a prime moment to upsell food and beverage options to your guests. It also highlights local delicacies that instantly give your guests the warm and fuzzies while supporting your local economy.
These might include:
Charcuterie boards, featuring a local selection of gourmet cheeses, cured meats, honey, chocolates and wine pairings.

A welcome bottle of bubbly or prosecco from the nearby vineyard in their glamping tent upon arrival.

A voucher to the popular local Greek restaurant, plus the reservation link if they want to book a table that evening!
In tandem with a splendid visit to Booderee National Park, the digital guidebook from Paperbark Camp offers patrons a delicious upsell in the form of a picnic lunch as catering options are limited: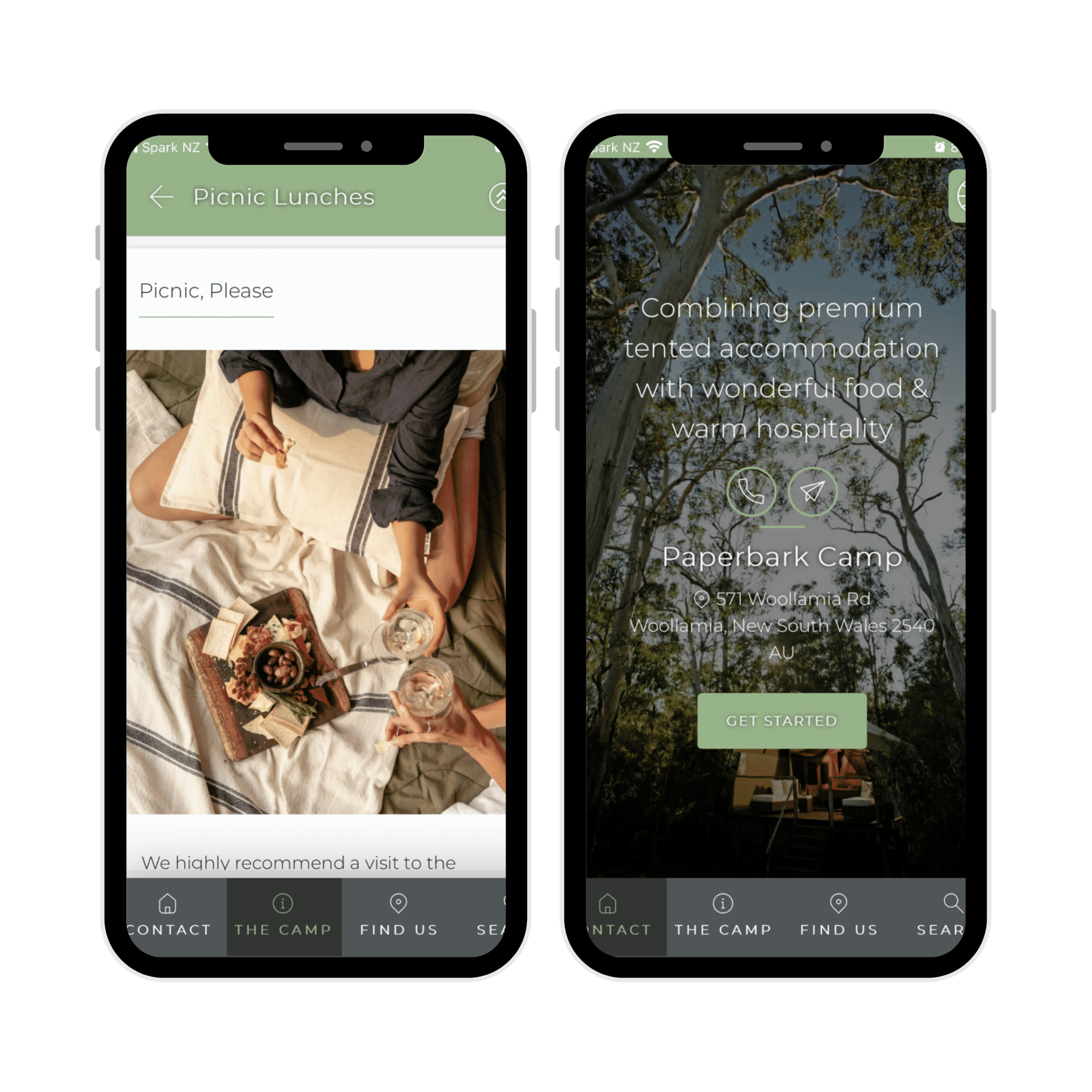 2. Premium Services
Services like early check-in, late check-out, luggage storage and equipment rentals can be very appreciated by guests.
Standard check in and check out hours sometimes don't fit around guests' schedules, especially if they are flying. For a small fee, providing an early check in where they aren't left waiting around until 2pm or 3pm, or a late check out in the event they want to hit the snooze button once or thrice, can really make your guests' stay that much better.
Another great option? Mid-stay cleans. Sometimes your guests might want a little pick-me-up depending on their length of stay. A mid-stay clean or linen change can allow your guests to get the most out of their trip without the hassle of tidying up after themselves.
Housekeeping services like a freshly made bed in the morning and restocked towels, or a cleaned and ready-to-light fire pit, can be a real treat for guests after a long day of exploring and adventuring.
3. An exclusive guest experience
Make your guests really feel like royalty with myriad upsell offerings catered to creating an exclusive guest experience. Upselling a concierge-style service to your guests, grants them access to any number of local activities your city or township might be known for.
Rather than simply offering a 'bed for the night', Touch Stay's own Hazel Parker offers trips to the spa and helicopter rides to her guests. This ultimately saves her guests valuable time and money, as well as the stress of researching and booking their own exclusive guest experience. Hazel truly has her guests covered!


Give your guests that glamping glow with a Touch Stay digital guidebook
Ready to take your glampsite (and upsells) to the next level? Entirely customisable to the wants and needs of your glampsite, a Touch Stay digital guest welcome book halts repetitive guest questions while helping you run your glamping business like clockwork. Try our 14-day free trial today and get your glamping guidebook ready to pitch!