Every year on 22 April the world celebrates Earth Day. This is the anniversary of the start of the modern environmental movement in 1970, and more than 50 years later, 2021's Earth Day couldn't carry a more urgent and potent message – things need to change, fast.
This year, Earth Day has fallen in sync with some new sustainability policies we've been working on at Touch Stay. Over the last few months, we've been thinking about ways we can minimise our carbon impact on the environment, and how we can use our digital guidebook to inspire others to do the same.
So, we've made some changes, and we've written this blog to explain:
what we're doing to minimise our carbon footprint

how we're doing it

how we can help you put sustainability higher on your agenda as a host
We've also written a new page where we talk in more detail about our more holistic approach to social responsibility and environmental sustainability – you can read it here.
Acknowledging the reality of our carbon footprint
Making our business more environmentally sustainable is something we're fully committed to, especially since we operate in an industry with such a large carbon footprint. And even though we're a remote business (meaning our emissions aren't as high as office based companies), we knew it was time we took this really seriously.
So, when we started to look into how to offset our carbon emissions it was important to understand exactly where our carbon emissions come from.
To do that, we needed to calculate our carbon footprint based on all our employee and company activity – not just take an educated guess and throw some money at it. By understanding exactly what drives our carbon emissions, we knew we'd be able to make a tangible dent on them, while also holding ourselves truly accountable.
How we calculated our carbon emissions
In order to calculate Touch Stay's carbon emissions, we used a remote working energy usage calculator provided by Bulb. This calculator measures typical emissions from gas and electricity, and highlights where remote businesses tend to use energy.
For Touch Stay, this included:
any national/international business travel (we based our calculations on a "normal" year when our team would be travelling more both nationally and internationally)

employee use of energy at home (using the remote work model)
Once we calculated our emissions figure using Bulb's formula, we cross referenced it against Ecologi's employee footprint calculator to make sure we had the correct figure.
The figures were very close, giving us an average of around 7.9 tonnes of carbon dioxide a month.
We aim to offset this figure in 2021, and become carbon negative in the years that follow.
How we're offsetting our carbon emissions
After much consideration, we chose Ecologi to help us offset our 7.9 tonnes of monthly carbon emissions. We explored various possible partners in the tree planting sector, including Tree Sisters and the Woodland Trust, but we settled on Ecologi because it ticks two very important boxes for us:
They offer carbon offsetting through its Climate Positive Workforce scheme

They allow ad hoc tree donations to expand the Touch Stay forest – including their 'sparkly trees' referral scheme
Since teaming up with them in April 2021, we now buy enough trees each month to offset our 7.9 tonnes of monthly business carbon emissions. As a result, we'll become carbon neutral by spring 2022, and we aim to invest further in our Ecologi forest to become carbon negative.
We're also aware that our 7.9 tonnes of carbon emissions isn't a fixed number. As the Touch Stay team grows and changes, we'll reassess this on an annual basis, making sure we're always meeting our long term goal of carbon negativity – no matter how our business changes.
Why we're pushing for carbon negativity
Honestly? Because we can. Our company is small enough and flexible enough to plant enough trees to offset our carbon footprint, plus some more. And if that's something we're able to do, shouldn't we do it? For us, we see it as our responsibility.
So, we'll continue to measure Touch Stay's carbon footprint and identify where additional improvements can be made. For example, we'll look into how we can more sustainably run our servers and data centres. We'll also explore new ways to plant trees in the Touch Stay forest, as well as further encouraging our customers to share their social responsibility stories too.
You can find out more about Ecologi and how they approach tree planting by heading to their website. If you want to contribute to the Touch Stay forest, you can also make a one off donation. If you choose to sign up to Ecologi, this link will grant both you and Touch Stay an additional 30 'sparkly trees' as a thank you from Ecologi.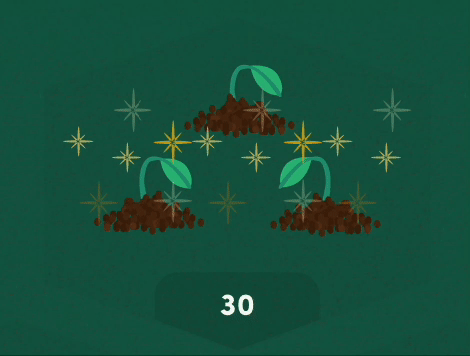 Helping you bring sustainability to the forefront of your business
Lastly, and aside from offsetting our own carbon emissions, we're also determined to make it easier for you to make a difference.
That's why we've created a new section of our Touch Stay guidebook called "Making a Difference".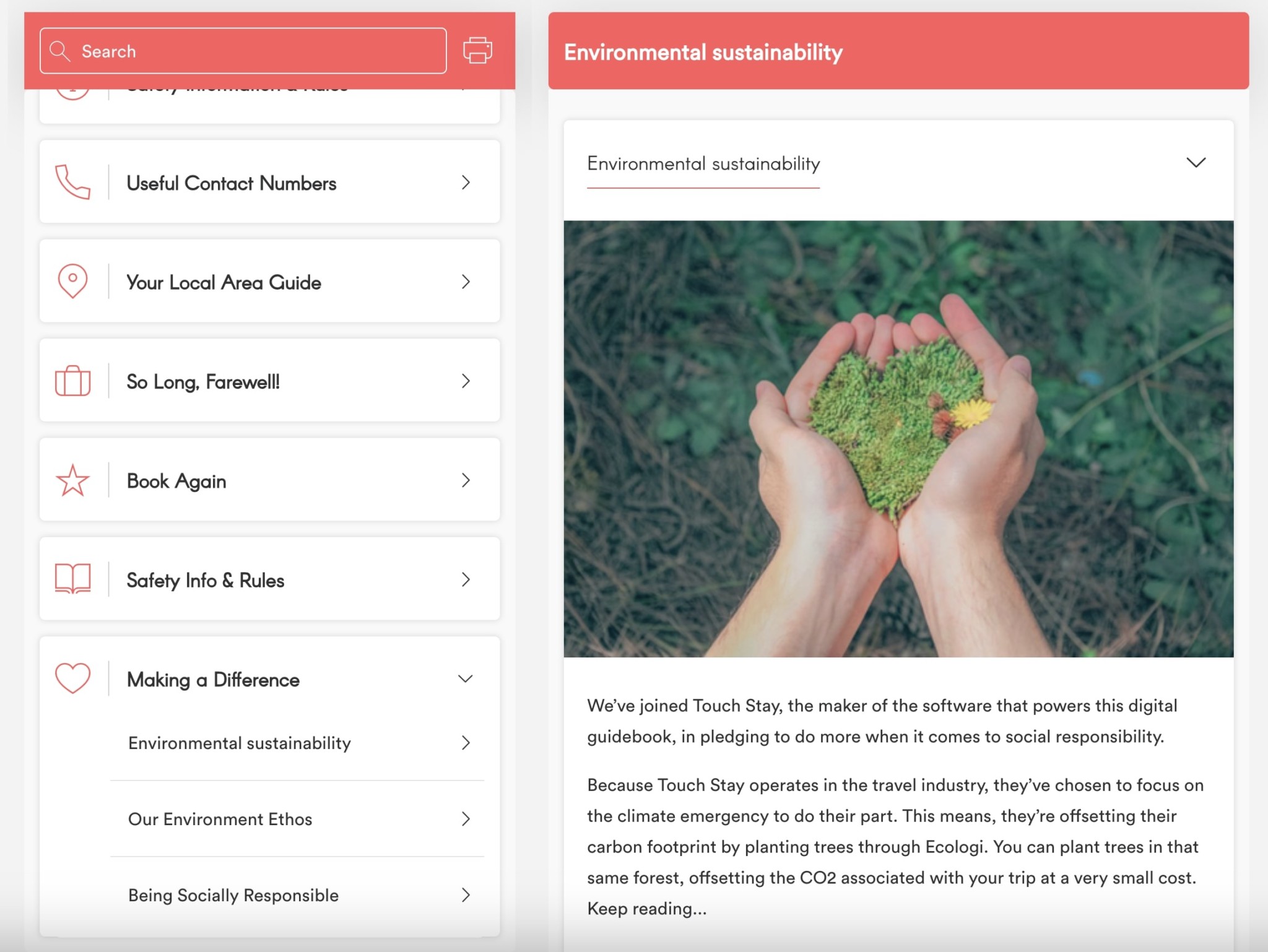 Shown above, you can use this as an "Environmental sustainability" section where you can highlight how you make your vacation rental more environmentally sustainable. We've created a video to explain how to add the Making a Difference section to your guide.
Long time Touch Stay user and environmental advocate Bob Garner has also written an article for us about how you can use this new section to promote your environmental attributes. Read: How your environmental attributes can inspire and attract guests.
Making a difference together
The climate emergency is only getting more serious, and we all need to do our bit to help avoid what we know could be catastrophic changes to our day-to-day lives. From our point of view, the more measurable and tangible the changes we make, the better.
The good news is that there are lots of things we can do to help our industry thrive in a sustainable and eco-friendly way. From offsetting flights to more eco-conscious hosting, there's no shortage of ways you can start to make a difference. All you need to do is start.
For us at Touch Stay, a big part of starting was making sustainability a key talking point within our community. Now, we're working towards a normality where sustainability plays a focal part in all our business decisions – and we'll keep you updated on how this evolves in the future.