Your short term rental property is where guests come to enjoy themselves, unwind, relax and have fun, so providing a seamless guest experience is key to them creating great memories - not to mention leaving positive reviews and making repeat bookings!
However, hosts often encounter the same guest questions time and time again, and ensuring these enquiries are addressed promptly and efficiently is vital for creating a positive guest experience. But constantly fielding the same questions and answering them with the same stock responses not only takes up valuable time, but makes the hosting experience dull and repetitive, when it should be enjoyable and interesting!
There's an old saying: "An ounce of prevention is worth a pound of cure."

Well, this is where Touch Stay comes into play! A Touch Stay digital guest welcome book frees up your time by providing guests with all the necessary info they need in a comprehensive, easily accessible format - exactly when they need it.
Plus, Touch Stay's structured, intuitive layout allows hosts to organise information under relevant sections, such as Pre-Stay, Arrival, Mid-Stay and Post-Stay. This ensures guests can quickly navigate to the relevant section in their guidebook and find answers to their specific questions without having to reach out to you repeatedly.
Let's dive into some of the most frequently asked questions across different stages of a guest's stay that we recommend including in your own Touch Stay digital guest welcome book - to turn frequently asked questions into rarely asked questions!
Pre-Stay FAQs
Before your guests embark on their trip, they're likely to have questions about things to pack or prepare, as well as essential trip information. Here are some common pre-stay questions we hear a lot, and how Touch Stay can help answer them:
How can we contact you if we have questions about our upcoming stay?

Not only do Touch Stay digital guest welcome books feature a contact icon prominently displayed on the front page, but also include a 'Useful Contact Numbers' section, in which you can add your phone number and email address (as well as maintenance or cleaning staff contacts), allowing guests to quickly reach out to the right person for any enquiries they may have.


Can you provide directions to the property?

Whether your guests are travelling by car, bike, bus or train, Touch Stay integrates directly with Google Maps, allowing hosts to provide detailed directions to their property, including landmarks, public transport options or driving instructions, enabling guests to navigate with ease.

What do I need to remember to bring?

Touch Stay allows hosts to create a checklist of essential items guests should remember to bring, such as beach towels, hiking gear, or any other specific items relevant to the property or location.
Download our FREE guest welcome book template which includes a handy list of things you can tell guests they will or won't need to bring.


Is your property accessibility-friendly?

The flexibility of Touch Stay digital guidebooks means you can easily create a custom Topic to provide detailed info, images and videos of your property's accessibility features. This can include wheelchair ramps, lifts and/or local taxi services, ensuring guests with specific accessibility needs have all the required information beforehand.



What will the weather be like?



Hosts can use our built-in weather widget to incorporate real-time weather updates, or alternatively link to any other reliable weather forecasting website, helping guests plan their activities accordingly.



What will the tide be doing during my stay?



If your short term rental property is near the sea, the tide may affect the activities your guests have planned on or around the beach. Luckily, we've thought of this too, and have a Tide Times Widget you can include within a Topic of your digital guest welcome book. This lets guests check what the tide will be doing locally at any given point of their stay.


What is your cancellation policy?

Touch Stay digital guest welcome books can include a dedicated section outlining a host's cancellation policy. Guests can easily access and review the policy at any time, providing them with clarity and peace of mind.


Can I add this guide to my phone?

One of the best things about Touch Stay is that the digital guidebook can be saved to a guest's phone home screen, appearing and functioning just like an app. Even better, nothing needs to be downloaded and it even works offline, so your guests have all the necessary info at their fingertips throughout their stay.


Anything I need to remember before I leave?

Touch Stay has a great feature called Memo which lets hosts schedule important messages in advance. This means you can relax, safe in the knowledge that your guests will automatically receive the right information right when they need it.

You can send unlimited Memo notifications through text or email (or a combination of both). These can include things like booking confirmations and links to your Touch Stay guidebook, to sharing property details, reminders about packing passports and travel adapters, or info about add-on experiences.

When you apply the Memo template, or add your own custom template in the post-booking phase, your guests are far less likely to need this question answered!


Arrival FAQs
Once guests have arrived at your property, they're likely to have questions related to check-in, property orientation and nearby amenities. Here are some regularly-asked arrival questions and how Touch Stay can provide the answers for you:
How do I check-in?

Touch Stay digital guest welcome books allow hosts to provide clear and detailed check-in instructions, including key pick-up procedures, access codes, or any other specific requirements for an effortless check-in experience.
The guidebooks also include the ability to update the Access Level for any content at any Topic, Subcategory or Category level, as well as for the homepage and location map. This lets hosts determine when the info appears in relation to the guests' stay dates.


What time is check-in?

If you allow early check-ins, you can communicate instructions and guidelines through your digital guest welcome book, ensuring guests are aware of the possibilities and any associated procedures. If a guest needs to check-in after hours, make sure they have instructions for finding their way in the dark!
How do I contact you after I've arrived?

Just like with the booking FAQs, you can supply your contact details, including any phone numbers and email addresses, allowing guests to quickly reach out for assistance once they've arrived at the property.


What amenities are nearby?

This is where you really get to sprinkle your own personal touch on your digital guest welcome book! Hosts can provide comprehensive info about nearby attractions, local shops, beaches and other amenities, plus add personal recommendations (or places to avoid!) for local restaurants and pubs, allowing guests to make the most of their stay.

Try using our starter template's Local Area Guide which is ready and waiting to be populated with your favourite local places. Touch Stay integrates seamlessly with Google Places, so we recommend adding at least five recommendations for local restaurants, attractions or activities to create an 'essential' guidebook.

Check out

Paradise in Hawaii's fantastic example of how much detailed local information can be added over time to your own Touch Stay digital guest welcome book...



Mid-Stay FAQS
During their stay, guests will likely have questions about the property itself, such as how to operate appliances or accessing amenities:
What's the WiFi password?

The classic question! Everyone likes staying connected to the internet, especially if the property is located somewhere with little or no mobile reception. This is probably the most commonly asked question hosts receive, so the WiFi password can be prominently displayed, letting guests easily connect to the internet without having to root around in a printed ring binder.



Touch Stay hosting WiFi tip #1:

Set your WiFi password to 'NoSmokingInside' - or any other rule you feel strongly about enforcing!



Touch Stay hosting WiFi tip #2:

If enabling translations within your guidebook settings, include a number in your WiFi password so it doesn't get 'translated' too!


How do I operate the washing machine/dishwasher/coffee machine, etc.?

Hosts can provide clear, simple instructions for operating each appliance available in the property: embed videos, include labelled photos, write out instructions, or simply include a link to the online PDF instructions from the manufacturer.


Any other property instructions I need to know?

Touch Stay digital guest welcome books offer hosts the flexibility to include any additional property-specific instructions, such as pool usage guidelines, parking instructions, or waste disposal procedures to minimise any potential confusion.


What time is check-out?

All necessary check-out information can be included, along with reminders for guests to close/lock doors and windows, to put any moved furniture back where they found it, or where to leave keys upon departure.
How do I book an extra day?

Hopefully your guests enjoy their time at your short term rental property so much that they want to stay for longer! With Touch Stay, you can simply add a Category in 'Book Again' and include a Topic within that called 'Extend My Stay'. This lets guests conveniently enquire about requesting additional days.
Touch Stay also has a handy feature called First Impressions, which can be included anywhere in your digital guidebook, and lets hosts collect data about specific aspects of the guest experience and act fast to rectify any guest issues. In fact, of the 1,000 most recently completed First Impressions ratings left by guests:

74% left a 5-star rating

85% were 4- or 5-star

Of the few who left 1-star, cleaning was THE #1 reason
First Impressions provides hosts with the key data instantly to both fix the issue for that guest and to inform operational improvements.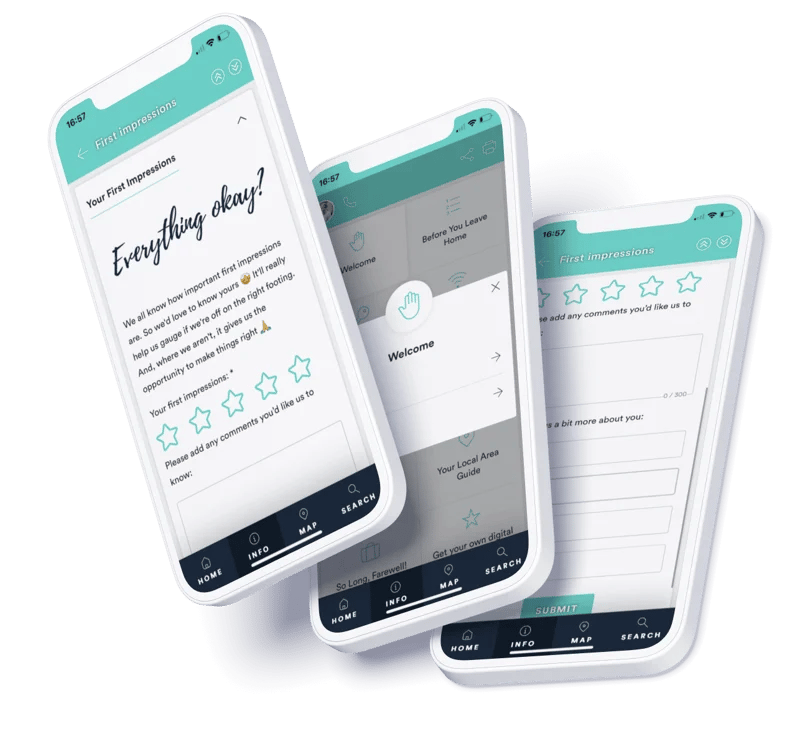 Post-Stay FAQs
It's easy to forget to follow-up with guests once they've left, especially if you have back-to-back bookings. But guests may have questions regarding future bookings, post-stay procedures, or even about something they've accidentally left at the property. Luckily, Touch Stay has this covered too! By including detailed answers, you can offer a seamless transition for guests between their current stay and future bookings.
How do I book another stay?

Touch Stay allows you to include information on how guests can book future stays, such as providing website links or instructions on using your chosen online booking platform. This helps guests easily access all the necessary resources to plan their next visit without the need to contact you directly for booking-related enquiries.



How do I leave a review?



We know exactly how valuable great reviews are to your short term rental business, so our Ratings feature provides a way to continue collecting those rave ratings and reviews! The simple star rating format is easy and familiar for guests, and is effortless for you too!

Using Touch Stay's Memo feature, you can also schedule automated rating and review requests to be sent on your guest's departure date.

How can I recommend you to friends and family?

This one's important! It's easy to add a Category to your Touch Stay digital guidebook called 'Keeping in Touch' where you can invite people to follow your social channels, sign up for your newsletter, visit your website, or share your guidebook with friends and family who they think would enjoy a stay at your property.


Touch Stay digital guest welcome books serve as a simple-but-proactive communication tool to save you time, and for your guests to feel informed, confident, and at ease for the entire duration of their stay.
We all know that guests who leave happy and relaxed leave better reviews, make more repeat bookings and are more likely to recommend you to friends!
So, what are you waiting for? Try Touch Stay absolutely free for 14 days!