You've injected time into crafting a polished, informative guest welcome book. You've made sure it contains detailed driving directions, instructions for turning the dishwasher on, and even recommendations for the best local bagel spot. Job done, right?
Well, not quite! Giving your digital guidebook a spring clean before each new holiday season ensures that it feels fresh and up to date for all your guests. It also prevents you from having to take time out to edit it when you're busy managing a steady stream of visitors.
We're going to walk through the key things to consider when refreshing your digital guest welcome book for a new batch of holiday guests. If you're a holiday accommodation owner or manager who wants to craft polished, effective guest information (whilst saving time), then follow our digital cleaning checklist!
Why it's a good idea to refresh your guest information
Why does it matter if your digital guidebook is up to date? Is it really an issue if a couple of details aren't quite right?
It may not be the end of the world if you haven't updated the opening hours of your local coffee spot, but it will throw a spanner in your guests' morning plans. And this, in turn, will disrupt your road to a 5-star review.
If you can ensure that all the info in your guest welcome book is up to date, you'll secure:
fewer questions from confused guests
rarer complaints from guests who feel caught out
more glowing reviews from guests who have everything they need
more time during your busy period to focus on actually hosting your visitors
Let's take a look at some of the key things to consider when you're casting a pair of fresh eyes over your digital guest book.
1. Check that your practical property information is accurate
Your practical property info is one of the most important elements of your guidebook. It outlines all the hands-on details your guests need to have a comfortable stay in your holiday accommodation.
Carefully read through each section of your guidebook which outlines important property details. These might include:
access instructions
driving directions
appliance how-to's
For each section, ask yourself:
Is this information still accurate?
Is it clear what I mean?
For example, if you've recently installed a new dishwasher, make sure that you've updated the instructions in your guidebook. You could even ask a friend to review this information to make sure it's clear to someone who's never been to your vacation rental before.
Your Touch Stay account includes a welcome book template which outlines all the info you might want to include. Whether you're creating a guidebook for your vacation rental home, your glampsite, or even your event, we've got you covered. Simply work through the template that best suits your project, editing, removing, and inserting info as you need to.
2. Rejuvenate your local recommendations
Giving guests a local's insight into your area truly makes for a stand-out experience. It saves them from agonising over which restaurant to try for dinner, or arriving at a local cafe with 5-star Google reviews only to find the coffee underwhelming.
Now is a great opportunity to take another look at the local places you're recommending. Make sure you highlight your top 5:
places to eat
spots for a caffeine fix
family-friendly days out
rainy day activities
local beauty spots
Are these spots still the best of the best in your area? Are they still in the same location? Do they still open at the same time? Make sure that you're still willing to stake your reputation on the places you're recommending, and that the info in your guidebook is still accurate.
The good news? Touch Stay is integrated with Google Places! So you can import all of this info automatically by adding the businesses you want to recommend through Google. You can even add your own description if you want to inject a personal touch.
3. Review seasonal details in your guest welcome book
A trip to your log cabin in the mountains in June will look very different from a trip made in December. If you're in the northern hemisphere, this is the difference between an action-packed skiing holiday, and a rustic hiking retreat.
So, make sure that your guide foregrounds the info your guests need for this holiday season. If you're heading into summer, why not emphasise:
How guests can work the air conditioning
Where you keep the complimentary suncream
How they can get to the best local beach spots
What flavour you'd recommend at the nearby ice cream shop
The shady spot on the porch that's perfect for cooling down
If you're heading into winter, you could switch it up to focus on:
How to work the heating
Fun family activities for a chilly day
Where guests can hire heavy duty wetsuits for water sports
Whatever the weather, your guests will have all the details they need to make the most of their time with you.
4. Review your communication flow
Sharing your guidebook with guests multiple times – before, during, and after their stay – ensures that they actually read and digest the info you've prepared for them. With a Touch Stay digital guidebook, you can even share deep links to specific sections of your guide. This allows you to direct your guests towards the precise details they need.
But how do you know which details to surface? And when to do so?
This is where it's important to consider your guests' booking timeframes, and how they might differ from season to season. A winter break might be a spontaneous trip away, whilst a summer vacation is months in the planning. Get to know when your guests are booking during different months, so you can adjust your communication flow to suit their timeline.
Your schedule doesn't just depend on your guests. It also depends on your local area. If restaurants book up months in advance during peak tourist season, you need to give your guests more notice to book them. There's no point sharing your restaurant recommendations two weeks before guests arrive if all the tables are booked up months ahead!
Establish a flexible communication flow with Memo
Memo is our powerful guest notification system which allows you to share your information with the right people at the right time, every time.
With Memo, you can establish a flexible guest communication flow in three easy steps:
Customise our pre-written email & SMS templates (or craft your own!)
Set up your guest invitations
Watch Memo send your scheduled messages, whilst you get on with more interesting stuff
From a post-booking confirmation email, through to your final request for a review, we cover every stage of the guest journey.
You can even create different templates for different seasons. For example, your pre-arrival email in the summer months might point guests towards a cool rooftop bar that serves great Pimms. In the winter, this email might highlight the indoor food court that's perfect for sheltering from the rain. All you have to do is create two different message templates, and set them to only send to guests who arrive between certain dates in the year.
READ: 7 step guest communication flow using Touch Stay's Memo 1.0
5. Refresh your guidebook's design
As well as revisiting the information you include in your guest welcome book, it's also important to revisit how you're presenting your information. Bring a fresh pair of eyes to your guide to make sure your info is laid out in a polished, accessible format.
It can be helpful to ask a friend or family member to take a look for you. You've probably spent so much time looking at your guest information that it's difficult for you to see the wood for the trees. Someone who's never seen your guidebook before can offer a fresh perspective.
Ask them to keep an eye out for:
any large blocks of text that are particularly difficult to read
info they expect to find in one section, but which is actually in another
the ease with which they can navigate around your welcome book
Aside from troubleshooting your current content, you could also take a step back and look at the resources you can add in. Have you taken any recent photos of your property that really make it shine? A new logo? How about a website redesign? Use these assets to present your property in the best possible light – show them off!
READ: how to design a guest welcome book that reflects your vacation rental brand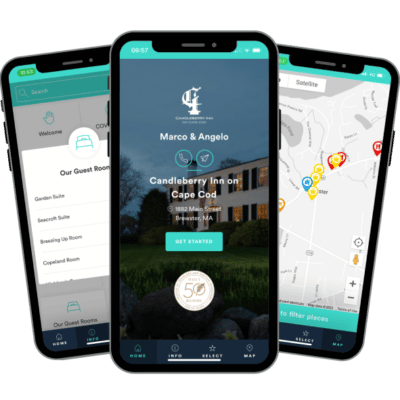 Your Touch Stay digital guidebook has lots of space for you to ace the formatting and truly make it an expression of your vacation rental brand (without requiring a graphic design degree!). You can include:
a media item at the top of each topic – this could be an image or a video
in-line images to break up and illustrate your written content
a cover photo
your own logo & brand colours
even your own font!
No tricky formatting or unwieldy Word Docs here, just the structure and space for you to show off your holiday accommodation in the best possible light.
DISCOVER: how Touch Stay helps Dani Stein show off his polished visuals
Run through your digital cleaning checklist on your Touch Stay digital guest welcome book
With a Touch Stay digital guidebook, you can give your guest information (and your diary!) the revitalisation they deserve. Wave goodbye to confused guests and tedious phone calls. All the practical and inspirational info your guests need is accessible from their phone (even when they're offline).
Use Memo to easily design your own guest communication flow, surfacing the right info to keep your guests in the picture. When your guests have all the details they need, and they know exactly where to find them, you see:
more time in your day
glowing reviews
fewer headaches from unhappy guests
Start your 14-day free trial today (no card details needed!) and see just how easy guest communications can be.