Guest welcome books are for guests who've already converted right? Check-in times, how to find us, contact numbers, etc.
But as a booking conversion tool as well?
It goes like this…
Dear John


Thank you for your email inquiry. I can confirm that the dates you requested are available, and the total price is $2,000.

You might like to take a quick read through our guest welcome book – Casal dei Fichi – which we hope gives you a sense of what a stay with us would be like.


Best wishes.


Jeremy
The email text itself isn't real (and I'm sure your copywriter could do better!) but the guidebook is very real. In fact the guide book is from Bob Garner, one of our Touch Stay owners, and he takes this exact approach to his own inquiry response management.
In Bob's own words:
"We are using our Touch Stay pack as a giveaway to enquirers and it is really working to up the conversions – very useful."
And when you look at his work it's not hard to understand why.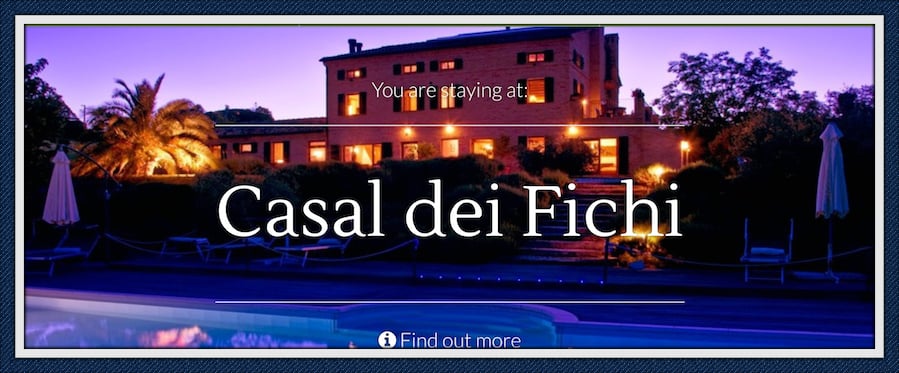 Here are three hurdles the guest has instantly leapt over in receiving that guide from Bob.
1. Why This Owner Over Another?
I'm a guest. You're a guest. We've all been there. We send out multiple inquiries for similar places. Even when we get responses we often procrastinate.
Should I take the plunge and book? Is the location really perfect? Maybe I'm missing out on something by not booking with another owner? Ask no more, the guide book says it all!
By sending the guest something extra, rather than a simple email response, you immediately jump to the front of their minds. You're different. They remember you.
2. Do I Believe In This Owner?
No, this isn't about a deep faith! Nor is it simply a question of trust. This is a gut feel about whether my experience will be lousy, ordinary or exceptional.
Within seconds I believe that Bob is the kind of owner who's more likely to provide an exceptional experience – he clearly cares.
Much of our vacation choice is governed by gut feel, the sense of already being there, the so-called "getting in the holiday mood". Bob's guidebook sparks that feeling.
3. Will I Attain Hero Status?
If you've ever been the lead guest you'll know that the pressure is on! Your partner; your kids; often your in-laws or friends. It's a tough crowd – they all have opinions.
However, as in every risk situation, the reward potential is significant! Hero like status can be attained if the choice of holiday is on the money and appeals to the entire group.
Look through Bob's guest book for vacation rental and ask yourself "Would my family and friends be wowed by a stay at Casal dei Fichi?" Answer? You decide. All I know is that I'll be able to say to everyone "Hey, look what I found".
Instant hero status!