So you've done it… you've taken your first step towards independence from the major vacation rental listing sites by deciding to create your very own website! The major sites have been a great way to get started in the vacation rental industry, but you're looking to take your business to the next level. You want control of your own brand!
The trouble is, building out your website can be time consuming and downright confusing! How do you organize and design the website? What do you write? How should you display your photos? How on earth do you take online bookings? And what does mobile-responsive mean?!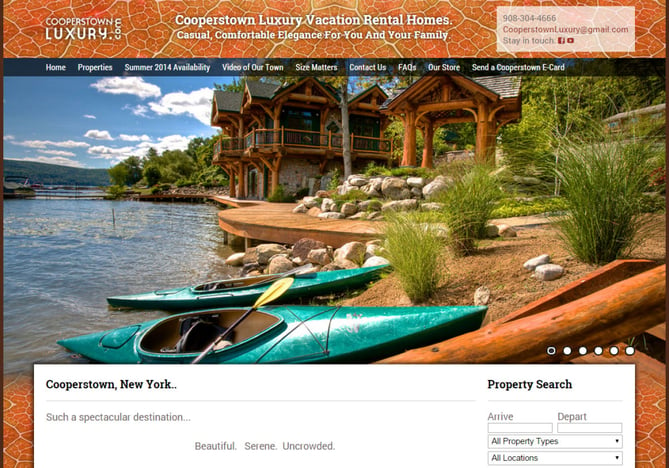 Keep Your Guest in Mind
The key to building a great a vacation rental website is to place yourself in the shoes of a potential guest. They look for practical information, but presented with some style. They look for sharp photos that portray the function of your home, but they also want to feel it. They look for instant booking capabilities, but they still want to be wooed by your story.
In other words your guest wants function, facts, and feeling all bundled into one! So make sure that your website has the necessary function on the back end, the essential facts on the page, and the all-important vacation feeling in photos and copy. Think of it like your house… you need strong foundations and a solid construction, but you need a personal touch to make it a home!
We invited Matt Potter from WebChalet.com, a vacation rental website builder service, to give us his view on the essential elements of function, facts, and feeling…
Function: Behind the Scenes of Your Website
Booking Engine
User experience on a vacation rental website comes down really to one thing: a simple route to booking. If you're going to invest the time in building and branding your website you should ensure there is a booking engine that allows potential guests to book straightaway. Yes this is a personal industry, but your modern guest is used to the instant booking capabilities of a hotel.
Easy Payments
Payments need to be easy. When a guest books, make sure you can accept secure payments right away. The ability to accept major credit and debit cards will ensure that guests from all locations are able to easily pay you. No wire transfers. No mailing of checks/cheques. When looking for a website-builder company, make sure that its software has a merchant integration to make this process of accepting credit and debit cards simple. A couple powerful merchants include Stripe, PayPal, and BrainTree.
Mobile-Friendly
Google has placed a marker in the ground. Your vacation rental website has to be mobile-friendly. Check out this WSJ article for some background. Make sure that the design you get is responsive (which is Google's preference) so that potential guests can book from any of their mobile devices. Plus, once they book, they can easily swipe through photos of your vacation rental to share with all their friends.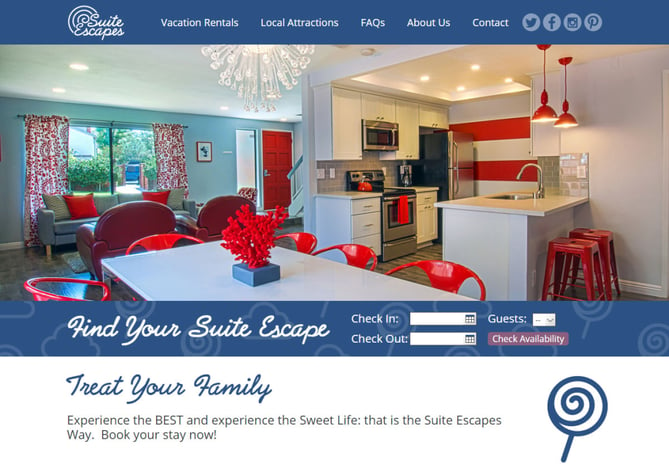 Facts: Information for the Front-end of Your Website
Clear Rates and Availability
Guests are making decisions instantly. As soon as they click on your property page they are hunting for two things–how much, and when can we go? Potential guests need a view of your calendar, clear pricing, and the option to inquire or instantly book. If you make the information obvious, and the route to booking simple, then you are on track to start getting bookings.
Clear Description
Ensure that the guest browsing through your website is presented with a clear description, all in one place. Include important information, from bed arrangements and whether or not there is air conditioning, to practical area information like the distance to the beach or the nearest grocery store. Keep your paragraphs short and use italics or bold to emphasize some of the key points – this will help you to engage the reader who skims pages!
Floor Plans
There are many factors to consider when booking a house. When words don't give you enough facts and a slideshow of photos doesn't give you the full picture of a space, there is one tool that can help guests determine whether the home will actually work for them: a floor plan. Many hotels provide one, and anybody looking into real estate would surely ask for one too. And yet, including a floor plan is a feature many vacation rental professionals forget to do. However, this image can make a huge difference for your rentals! A survey by vacation rental marketing genius Matt Landau revealed that 71% of guests would prefer a vacation rental that showcased its floor plans.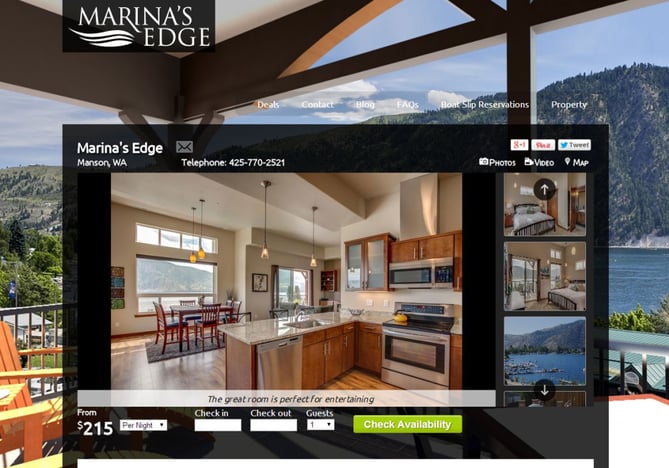 Feeling: Seducing Your Guest!
Discover Your Design
There are many solutions for handling your website design. You can look into getting either a website template to build it yourself, or you can get a professional custom-designed site. Both are great options to establish your brand online. Vacation rental website builder companies, like WebChalet.com, provide both options along with several other services to empower your vacation rental business.
Whether you get a website template or a custom design, go big! The most effective website designs have been championing wide "Hero Images"—photos, videos, or illustrations that cross the entire screen with crisp colors and resolutions. For these images you'll want to go for at least 1200 pixels wide.
Sharp Photography
If the first impression is solid, then they'll proceed with browsing through the menu and checking out the properties. There is no better way to generate a good first impression than with professional photography (head over to Tyann Marcink's website for some help and advice). Picking the right image for your homepage header or slider will make the perfect first impression and tease out interest in renting your property.
Quality Content
A great website has to have great content that captures the guest's imagination. This isn't just about describing your vacation rental; it's about injecting feeling. Copy has the ability to add context to a photo by explaining how your guest can experience the image.
Quality content starts with a good page structure. Some of the necessary pages I believe you should include are: a showplace for your properties, an About Us page, a FAQ page for reference, and perhaps even a blog. Take a piece of paper and jot down the essential pages and then you can get to work on beautiful prose! If you struggle, there are professionals out there to help, like our friends at Guesthook.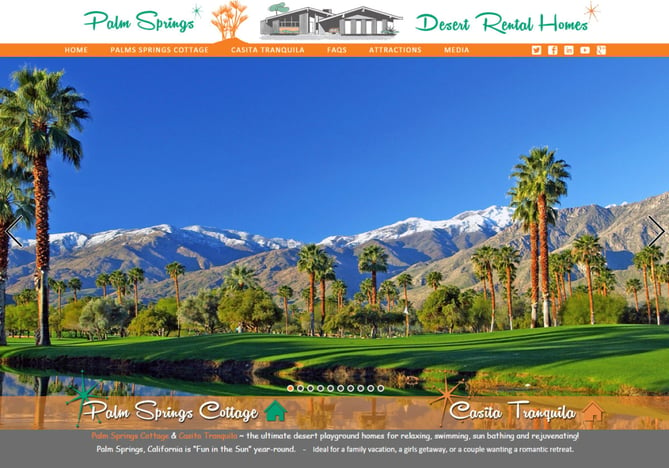 Some Concluding Remarks – the 4th "F"
When you're building your own website it's sometimes difficult to step back and look at the result objectively. How will the guest find the experience? Can they navigate the site and easily inquire? Is there a clear route to booking? Am I giving them enough facts and feeling, presented in the most obvious way? Feedback is your friend here!
The best way to ensure you're providing the right experience for your guests online is to ask them for feedback. Many guests will be happy to tell you about their experience using your website and make suggestions. For those that booked with you through VRBO, etc, how about a simple email to let them know you have a new website and that you're seeking feedback? It's as simple as asking (and maybe they'll book…!)
Matt Potter is a marketing specialist for WebChalet, who bring a hotel-like booking experience to the vacation rental industry by empowering small businesses. Vacation rental owners and managers benefit from their dedicated reservation team answering inquiries 7 days per week, a powerful booking engine, and a unique marketing platform.