Whether you're a lifelong motorhome or campervan manager, or you're in the initial stages of setting up your business, renting out your motorhome or campervan for adventure-seeking guests, couples or even solo travellers, serves as an outlet of fun as well as a potentially lucrative stream of income for your business.
The natural next question is… what to include in your campervan, RV or motorhome rental, that ensures your guests have a smashing time while exploring epic coastlines, rugged deserts or breathtaking mountain ranges?
Today, we'll cover each element of your motorhome and what to include to amplify your guests' campervan experience. From sleeping areas to kitchenettes, bathroom facilities to deluxe add-ons and features that will surely wow your guests – it's all here. Let's dive in!
Table of Contents

Supplies
The supplies you provide guests as part of their RV share can range from basic to bougie!
While there are certain essentials to include that'll save your guests from crowing about where the forks are located, you can also get a little creative with what you can add to the mix!
Kitchenette
Supplying your guests with basic cooking equipment and utensils makes it easy for them to whip up a batch of one-pot macaroni and cheese, or scrumptious black bean tacos no matter their location.
When thinking about what to include as part of your motorhome's kitchenette, consider how many people your campervan or RV can comfortably fit. This will give you an idea of how many individual pieces of tableware to include, like drinking glasses, plates and bowls.
To get your RV engines revving and your mind inspired, here are a few essential pieces of cookware and kitchen gadgets to equip your motorhome with:
dishes, mugs, silverware and glassware

children's cups, bowls and plates for any little ones onboard!

water bowl for dear rover –

that is, if you are pet-friendly in the first place!

kettle and coffee pot –

for a comforting cuppa in the morning to accompany guests while they watch the sunrise

pots, pans and cooking utensils –

measuring cups, spatulas, slotted spoons, and tongs are multi-purpose and easy peasy to stock up on

magnetic knife rack –

easy access for the adults, out of reach for the little ones

magnetic spice holder –

utilise more space in your motorhome by magnetising spice placements

double burner gas cooker

pantry essentials –

think oils, salts, sugar, coffee and tea

fridge and freezer –

for guests' food to remain fresh while on the road

kitchen towels, dish cloths and dish soap

basic cleaning supplies –

think environmentally-friendly household cleaners, a broom and dust pan

garbage bags and garbage can –

to help guests keep things neat and tidy
Take your guests' average cuppa morning joe to the next level by including a milk frother and a single serve K-cup coffee maker, as Rolling Retreats does for their guests!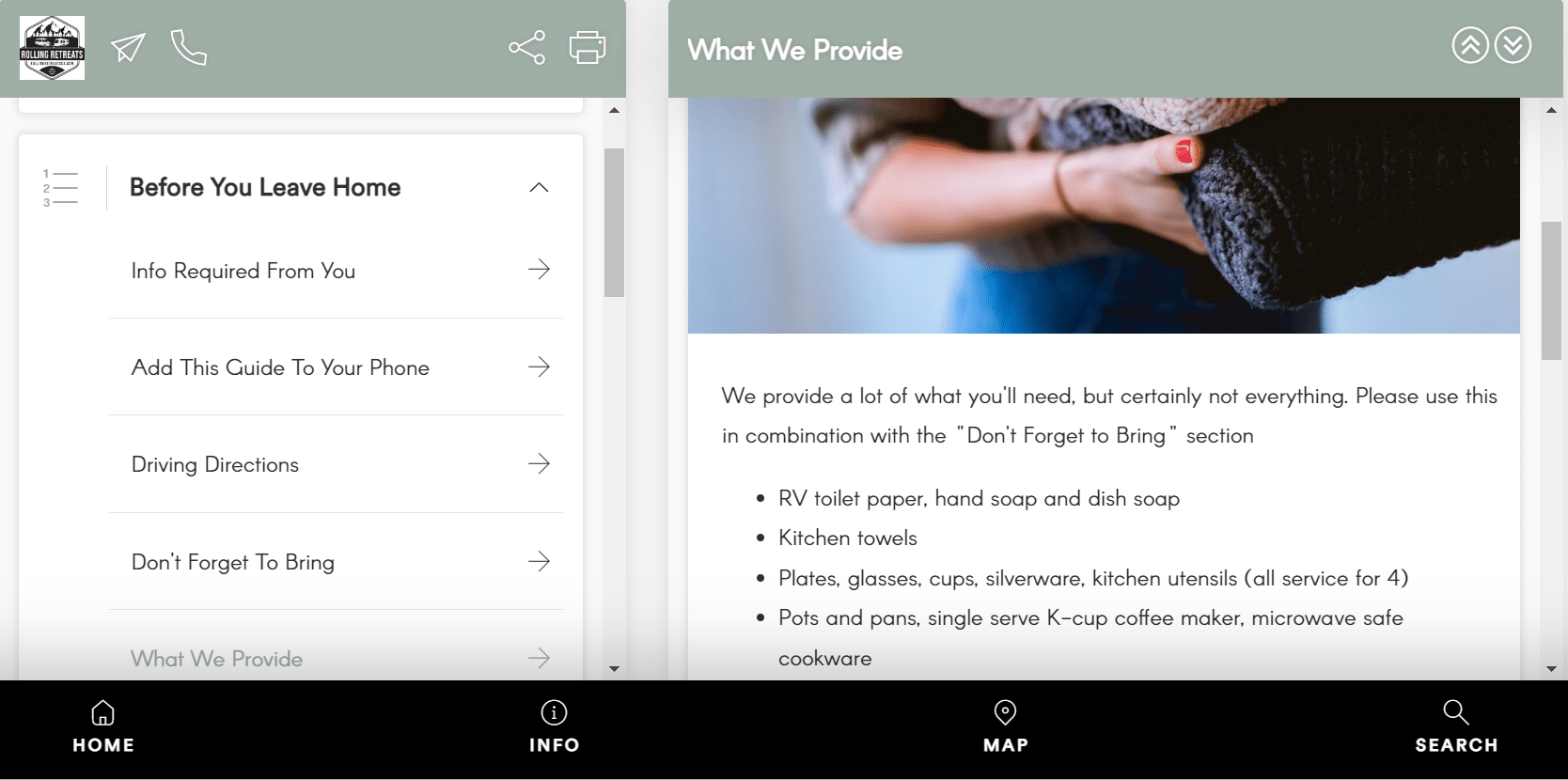 If you want to go the extra mile, consider throwing in a few propane tanks or canisters for guests' use when cooking.

Sleeping area
Whether guests are looking to curl up and doze off to the land of nod, or are seeking a nice stretch of softness to kick back with a good book, the sleeping area of your motorhome or campervan is another key area to consider.
Given the bedroom zone of your motorhome will take up the most space and is likely to also convert into a dining/sitting area for your guests, keeping this space cosy yet functional is ideal.
Here are a few key pieces of gear you might wish to include:
cushy mattress –

complete with a waterproof mattress topper or protector if you want to go the extra mile!

modern, fresh linen –

accompanied by beautifully decorated throw pillows and blankets, can really make this space

change of sheets and pillow cases –

depending on how long your guests are on the road for, consider including multiple sets

black-out curtains –

for guests looking to get an undisrupted 8 hours of shut-eye, without the sun blinding them at 6am

fairy lights – make this space even more magical with a set or two of quaint twinkle lights that sets the ambiance and provides added comfort to your guests
Happy Campers Co. doubles up their sleeping area and transforms it into a private movie area, arming guests with a projector and bluetooth speaker.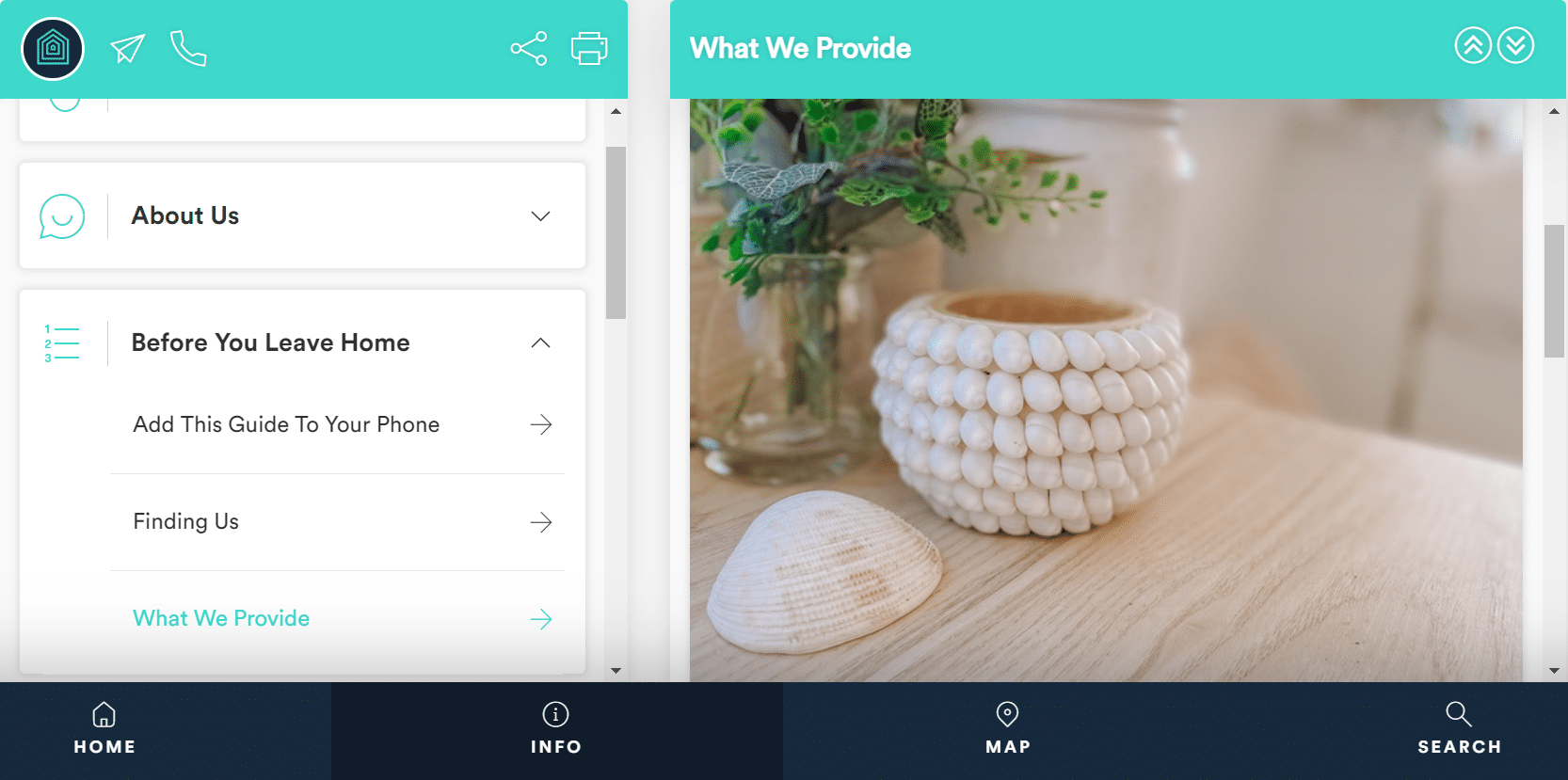 Bathroom
While having toilets or bathroom facilities onboard your motorhome might seem a little tricky, it is doable, especially in the event your guests happen to have a loo emergency in the middle of nowhere or are in need of a quick rinse after a jump in the ocean.
Consider providing guests the following when you're looking to create a self-sufficient bathroom zone as part of your motorhome inclusions:
portable camping toilet –

this might include

a chemical toilet or a composting toilet

RV-friendly toilet paper –

this makes a big difference as it breaks down much faster than normal toilet paper, preventing back-ups or clogs of your motorhomes' toilet system

hand soap –

and hand towels!

sanitary napkins –

ensure guests feel extra taken care of during their time of the month

wash basins –

for a quick and easy cleanse!
As part of Parklife Campers' fleet, each motorhome comes equipped with an outdoor shower that is built into the van. Although the shower provides cold water only, Parklife Campers helps guests to freshen up and feel clean!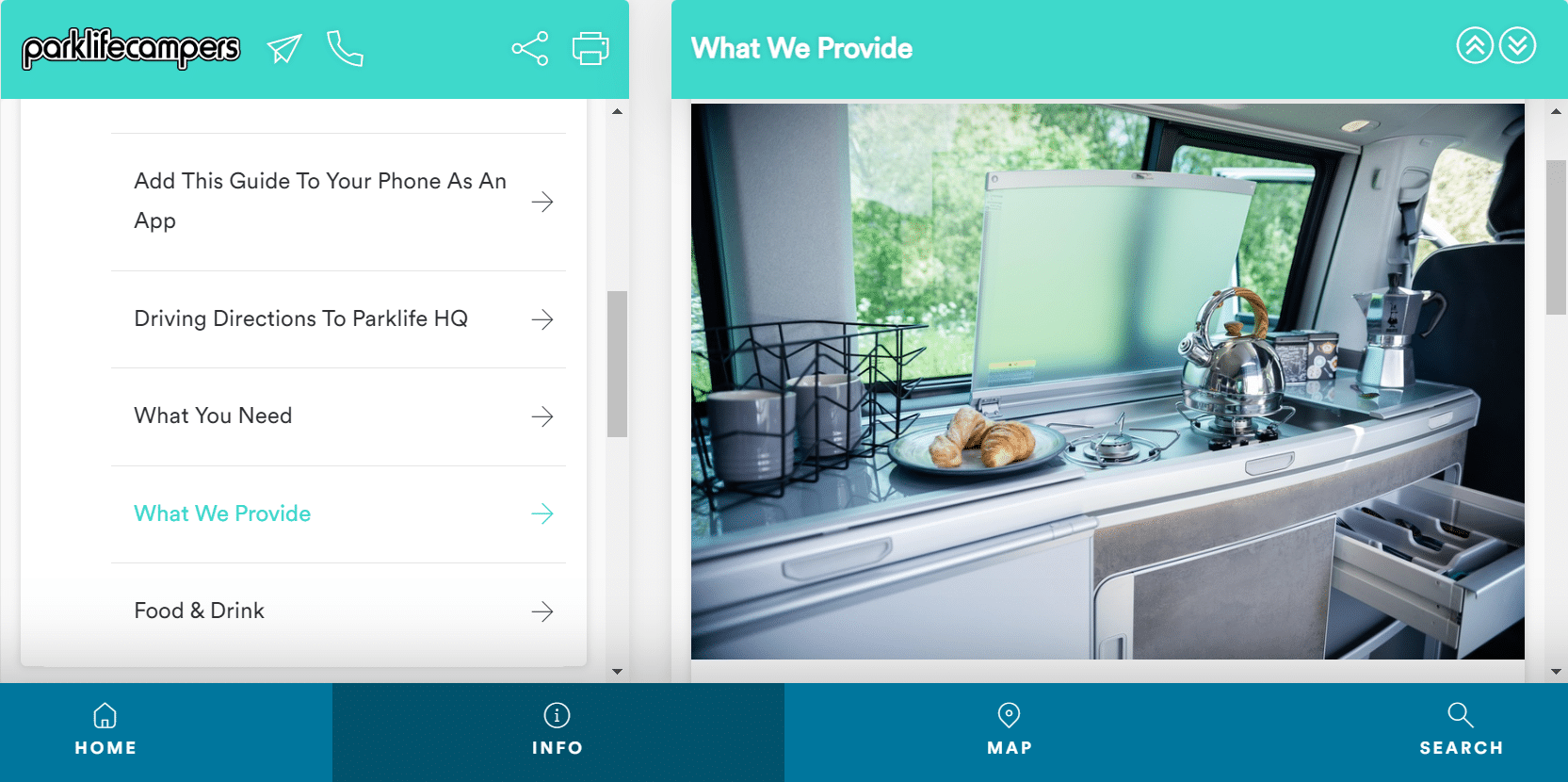 Fun & games
Part of the campervan experience is the memories and fun times had while your guests are out roadtripping. Provide them a myriad of enjoyment with the addition of the following recreational items and activities to preoccupy them over longer stretches of time:
Board games –

consider games with fewer pieces, like a deck of cards. These are easier to keep bits and bobs together and less of a hazard for little ones onboard your motorhome!

Books – kid's picture books and adult novels abound!

Sidewalk chalk –

for periods of time when your roadtrippers have stopped to stretch your legs and you feel like getting creative!

Kite – for those beachside visits when your guests want to take advantage of the windy ocean!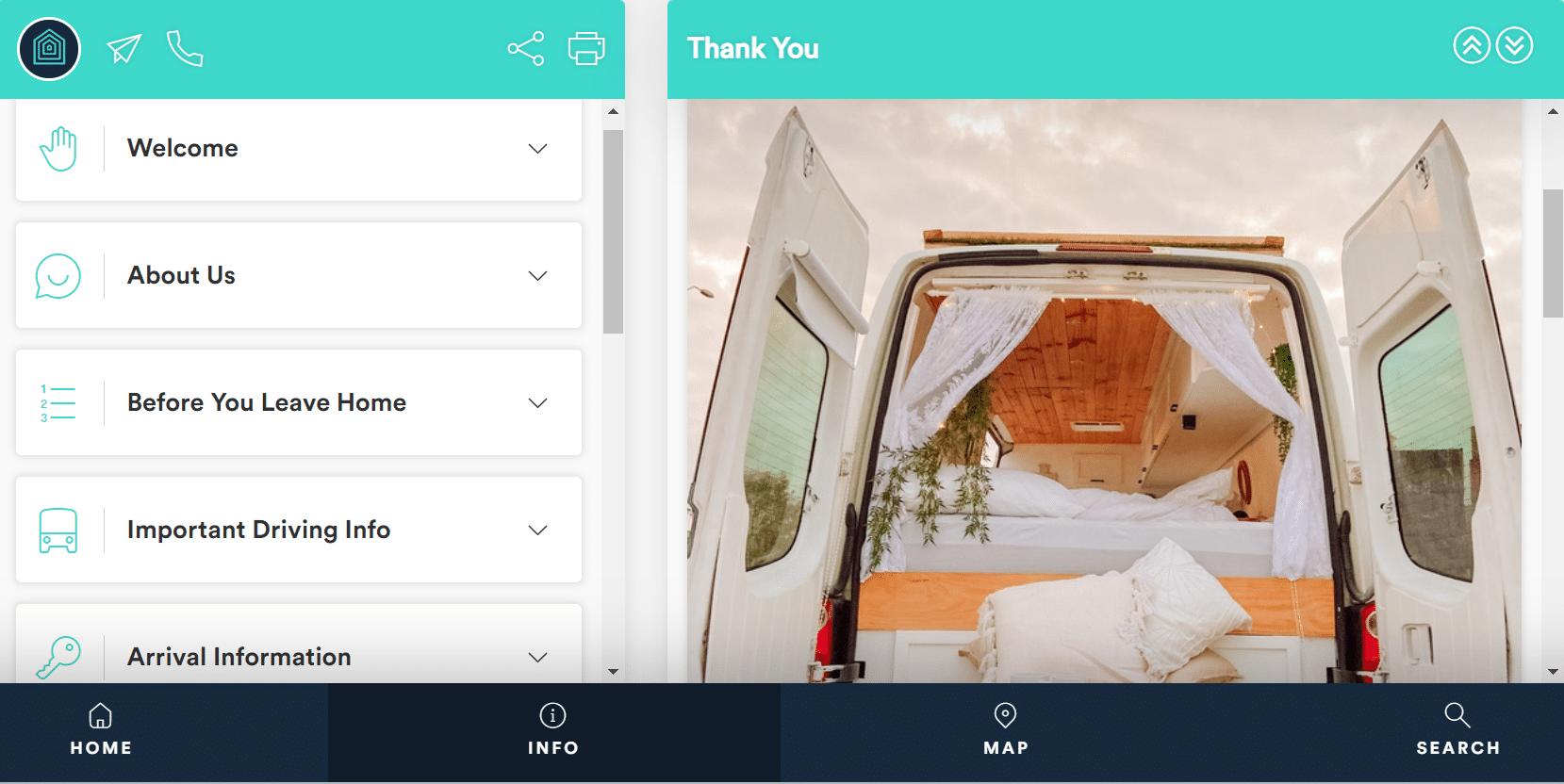 Happy Campers encourages their guests to get creative while making memories with their Fuji Instax Mini onboard their VW Crafter, Zaidee. Equipped with a pack of 10 films, guests are encouraged to snap polaroids of their adventure till their heart's content!
Just in case
For when your motorhomers find themselves needing small tools to help their stay more comfortable, consider adding a few of the following pieces of equipment:
pressure reducing valve

tire pressure gauge

septic tank treatment pods

water and sewer hoses

30 amp electrical cord

levelling blocks

swing out hitch*
battery jump starter
tyre inflator
Add-on ideas
They've provided their guests a comprehensive yet brilliant list of optional add-ons that for a small fee, can enhance their guests' travels while occupying their motorhomes:
2 place bike rack ($50)*

2 place bike rack and kayak/surfboard rack ($100)*

2 kayaks (10′ long) with oars ($100)* We do not provide life vests, so bring your own.

Cargo carrier ($50)*

Outdoor BBQ ($20)*
Deluxe additions
Looking to up your guests' time in your RV even more? Here are some deluxe additions to add to the mix if you're wanting to level up your campervan fleet:
air conditioner

camp chairs

personalised outdoor rug

solar panels

portable power station

roof rack

pop-up fire pit

hammock

sun shades

magnetic fly screen

incense holder and sticks
Equip your motorhome with a Touch Stay digital guidebook
The greatest piece of equipment to add to your campervan line-up? A Touch Stay digital guidebook! Inform your guests what's provided and what they need to pack, with lots of time to spare ahead of time.