Case Study: Bringing a
family business

into the digital world
We spoke to Michelle Reynolds from Skytrek Willow Springs Station about how Touch Stay helped digitize their business – a 70,000-acre working sheep station turned experience vacation destination.


Bringing a family business into the digital world
The story of a small family business welcoming the digital age…
Skytrek Willow Springs Station is a 70,000-acre working sheep station in South Australia that the Reynolds family branched out into tourism in the mid-1980s.
Utilising the existing buildings on the property, the family created purpose-built accommodation.
They now have 7 buildings that they let out, along with campsites, 17 private secluded bush camping sites, a self-drive 4WD track on the property.
While still a working sheep farm, tourism makes up half of the business. Michelle's parents were the first ones to take on the idea of tourism and diversifying as a sheep station, starting out with shearers' quarters, simply because the building wasn't being used. They put the word out to friends and family and charged 4 dollars a night – and it all just flew from there.
The family soon realised tourists were looking for an experience – they wanted to get off the beaten track. And that's what Skytrek Willow Springs Station was offering.
Read on to hear how Michelle took this small family business into the digital age – and how Touch Stay helped her make the transition a success.
Taking the digital plunge
We only decided to go digital with our bookings in 2018, and at that time everything we were doing was on paper…
It took me a while to convince my mother to transfer to technology! Because we're in the middle of outback South Australia, we have a lot of issues with connectivity – we don't even have phone service out here. We generate all our own power, so she was nervous to take that step into the digital age.
But, when we took that step, we certainly multiplied our business quite significantly. And we realised that a lot more people were looking for accommodation and experiences online! So, what was being run as a small family business had to quickly change and we realised that we needed to employ staff.
But even with new staff, we were struggling to keep up, and that's when we got Touch Stay.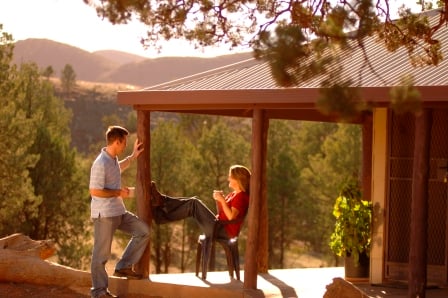 How Touch Stay has changed our business
Touch Stay has done a number of different things to help our business. One of the big things is in regards to challenges.
For example, we decided to trial booking channels such as booking.com, but the difficulties of booking.com for us, because we're so remote, is that a lot of people expect there to be food supplies on-site, which isn't the case – it's all self-contained accommodation. So we ask people to bring their own food and cook it on site.
However, with booking.com you can't actually edit your description, so whatever you tick shows up on your booking.com listing. There's nowhere for you to say that the closest food provider is half an hour away. So Touch Stay allowed us to educate our guests before they got here – telling them to bring food and pointing them to our Q&As.
The map is brilliant because we can point them to the local operators, like stores and cafes where you can buy your food. So that made it a lot easier for people before they got here – they could actually be prepared before there were here on site!
Saving time and creating a personal experience
The other challenge that Touch Stay has helped to overcome is one that affects us because we're a small family business.
We were suddenly experiencing, what was for us, mass tourism, and it was quite difficult to keep up with our personal experience by giving a local point of view to our guests.
It was difficult to get all the housekeeping done, take all the bookings, and then communicate with our all guests. So Touch Stay gave us the ability to tell our story, provide information, and give that real locals experience without taking up all our time. So, while it took a while to set it up, once it was up and running Touch Stay has been amazing for us.
We find guests who have already made plans of what to see and do because they've seen our Touch Stay guide. And we can always add on it that a little, or we can help them book those things. So it's made a big difference in our business.
We don't ever intend on employing a huge amount of people – one because we can't afford to, and two, we don't have the infrastructure here for the staff housing, and I guess we'll never really grow to the point of a resort. So I guess the biggest thing was that we were able to communicate the same experience without having to use our time.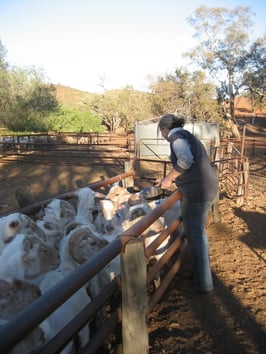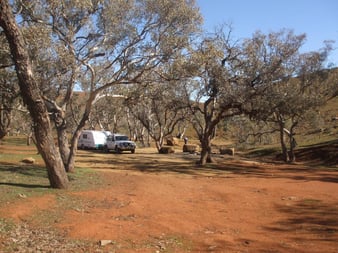 Giving a digital experience – with no internet
We certainly see a lot more people wanting to go digital. And that's hard for us in the Outback. But it was something Touch Stay was able to help us overcome.
Going digital is fantastic if you live somewhere with the internet! And that was the beauty of Touch Stay – we were able to use something that gave people the same information from an app, but they could use it offline. In an area like ours, trying to give guests an idea of what to do, the opening times – all of that coming through without internet access was a massive plus for us. We have wifi in one area of the station where they can scan the QR code, and once they have it on their phone, they don't need any more internet access.
And for the "grey nomads" or baby boomers, those who are 50+ and travelling – we're seeing a lot more of them going to digital, too. But they do still like their hard copy backup. So we still offer printed hard copies, too.
We've also got a how-to for those who aren't technologically savvy. We are certainly seeing younger guests adopting quicker – we explain that once you've booked, you'll get a link of what to see and do when you're here – and we remind them at every step of the booking – from booking, a week ahead of the check in and when they're arriving. And because of that, we find a lot of guests have already got an idea of what they want to do when they get here.
But I think people are going to look for technology more and more. What we've gone through recently with covid, lockdowns and restrictions, people are going to want to get out a lot more – so vacation rentals are going to become a lot more popular.
Helping guests enjoy longer stays and telling important stories
As we're quite a remote option, the normal length of stays for us is about 3-4 days. But what we've noticed with covid is that those stays are becoming longer. And people who want longer stays now want to know what they can do for that longer period – which is where I think Touch Stay will be brilliant.
But Touch Stay can also help us tell the "paddock to plate" story – a trend that is really popular here in Australia.
It's about understanding where your food and clothes have come from, understanding – where does the story start? So, at our working sheep station, products like Touch Stay can help tell the story about the woolen jumper you're wearing – how it actually started with our sheep. We can explain how the sheep outside your cottage, how that particular sheep has been sheered, the wool sent off into factories and how it eventually comes out into a garment.
So many more people are looking for that "paddock to plate" experience – and they're looking for that education. And Touch Stay can help us tell it.

Establishing a quality end to end experience through innovative communications
You can read more about how Michelle has implemented technology to her business in her own case study which talks in detail about the tangible results the process has had.

Want to learn more about Touch Stay?
We'd love to show you around!
Why not sign up for our 14-day free trial?
(No credit card needed!)