Customer Story: Getting Loud and Proud About
Sustainable Initiatives
Bob Garner owns Casal Dei Fichi, a sustainable vacation rental property in Le Marche, Italy. He explains how his Touch Stay guidebook has helped him to attract guests, and inspire them to get with the eco programme.


Getting loud and proud about sustainable initiatives
On a mission for environmental responsibility and happy guests…
Bob Garner owns Casal Dei Fichi, a renovated farmhouse in Le Marche, Italy, which contains six sustainable, luxury holiday apartments.
Bob and his husband love hosting guests at a property into which they've poured so much time and care. Bob explains how his Touch Stay digital guidebook has freed up time for quality conversations with guests, and helps him to engage guests with his eco initiatives. He even uses his guidebook as a sales tool – sharing it to convince guests to book!
A necessary change of scene
My husband and I moved to Le Marche around seventeen years ago. We got out of our corporate London lives to buy a derelict farmhouse in the Italian countryside. We converted it into six sustainable, luxury apartments, and we now live on site!
We're very hands on with our business – we love entertaining and hosting. We see our guests every day. They love it and we love it – who knew we were so good at being hosts with the most!

A step forward from paper guides
I hadn't heard of digital guides until I came across Touch Stay. I thought it would be a good thing to get into because we were using paper versions up until that point – and we all know they're tricky to update, they get dog-eared and coffee stained.
I remember very clearly one winter week when everyone was away, I had the place to myself and I'd spend the evenings listening to music and putting all the information into the guide. I got a real buzz as it came together.
Of course, we've improved and enhanced the information since then, but even at the beginning it felt like we had a lot of information that people were really going to appreciate and enjoy. And it turned out they did! Touch Stay was definitely a fortuitous discovery.

Inspiring guests with local recommendations
The structure of the guide has given me a sense of what else I could communicate to guests that I hadn't thought of before – that in itself is a big win.
But it also gives the guests the opportunity to delve in – they can go as deep into it as they like to discover things to experience and places to go. They can start to map out their holiday and discover new things that they didn't even know existed. We're in a rural area but there are a lot of amazing things to do. Putting them all in the guide really inspires guests to think, "Oh yeah, I will go to this town, or that beach, or this funky restaurant".
I know when I go on holiday, so much of the experience is the anticipation. Many guests tell us that's part of the pleasure of it, and the guide really helps us deliver that feeling.
Receiving positive feedback from happy guests
We get people saying that their experience on holiday has been richer, deeper, and more interesting because they've had the guide, with all that information.
Of course, we're on site, so the idea with the guide is to give people some information about the things they can see, do and experience, knowing that they can then come to us for further clarification if they need it. We use the guide as a way of tempting people.
We find that we often get guests – and I get a little buzzed whenever it happens! – messaging us before they've arrived. They'll receive the guide and they'll say, "Wow, this guide is really amazing, it's brought my holiday alive." You really get the excitement that guests feel when they first see it.
After they leave, guests will often tell us how much the guide helped them. They'll even leave a comment about the guide in their reviews. We get a lot of reviews on TripAdvisor with guests saying that they had a great stay, they enjoyed meeting us, and referencing that the guide helped them. It gave them further insight and made the holiday experience more pleasurable.

Enhancing relationships with guests
The most pleasurable part of what we do is interacting with the guests. We have a lot of guests who come back – we have a very high return rate and recommendation rate. So, lots of guests who come year after year, they're really friends rather than just customers.
Our guide has cut down on those nitty gritty questions such as how to work the hob, or how to use the remote control. But importantly it allows guests to talk to us about the more interesting things. For example, they'll read about the caves, which are the best underground caves in Europe, and then ask us about when to go to get the best experience with translation in their language.
That's an opportunity for us to have a glass of wine, have a chat, get to know them a bit more, and for them to get to know us too. It breaks down barriers. So, in a way, Touch Stay helps us facilitate deeper conversations, which we want because we enjoy that social side and we can build a bond with the guests.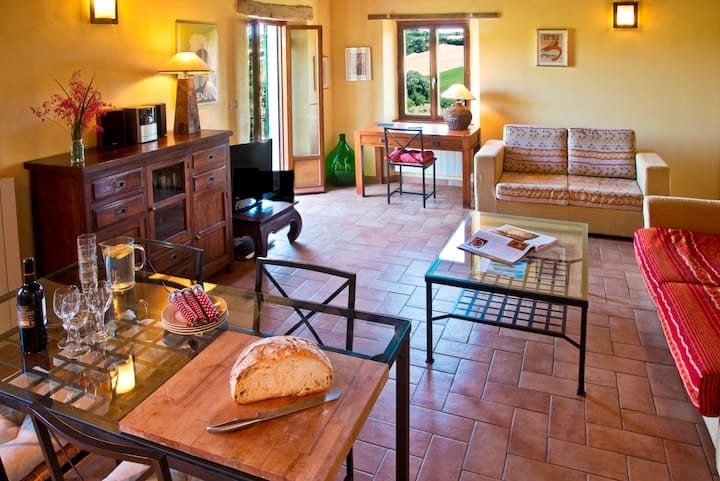 The proof is in the reviews
Guests often write about the wonderful experience they had with us, from booking through to the stay and post-stay. They'll say that everything was seamless and well-communicated and gave them a sense that they were going to a place that felt like home from home.
The guide is part of that flow for us. We send out lots of reminders to check out the guide before guests arrive, and we often find that guests are already using it. And so the guide becomes part of that whole guest experience.
Guests often note that it was great for them to get the guide right at the beginning because it reaffirms that they've chosen the right place to stay. The Touch Stay guide fills the gap between booking and arrival – it gives them that reassurance that they've booked the right place and they're going to really enjoy their stay.

Boosting a sustainable travel message
Our "Making a Difference" section is the most important part of our guide. When we first started developing this business, we knew that we wanted it to be environmentally sustainable. For me, it's really crucial to be out and proud and loud about it.
Within our guide, we've explained our philosophy around sustainability, why it's important, and what we've done about it. So, guests already know before they come that it's a sustainable property.
In the guide we talk about how guests can help us during their stay. The guide explains what we do and why we do it: Do you know about this? Would you like to know about this? Have you heard about this? I'm always amazed by how open people are to learning about new things.
And so, when guests are using the pool, or taking veggies from the organic garden, or using the refillable bottles in the kitchen, they're getting the sustainable experience that's laid out in the guide.
So there's no great surprises. Guests come with the knowledge of what it's going to be like. The whole point of the Touch Stay guide, for me, is communication and information – making our lives easier and the guests' lives more enjoyable. If we can do that, then it's a win-win.

Using the guidebook to encourage bookings
If we get an inquiry and it doesn't seem to be going anywhere, we'll follow up with a Touch Stay guide. If we think they're not sure whether they want to book or not, we'll send them the guide because it tells them so much more about us. It tells them about the property, the region, the experience, and everything we have to offer.
We get a lot of people who then book. So it's actually a sales tool too – it pushes people over the line and gets them to connect and to commit. And they may not have committed without the Touch Stay guide.
Isn't that a wonderful tool to have?


Want to learn more about Touch Stay?
We'd love to show you around!
Why not sign up for our 14-day free trial?
(No credit card needed!)