Customer Story: Starting a vacation rental
side hustle

with Touch Stay
We spoke to Sarah about her recent debut in the vacation rental market – and how using Touch Stay from day one has made her side business flourish with minimal effort.


Starting a VR business with Touch Stay
Jumping into the world of vacation rentals
Sarah bought her first holiday-rental property in October 2020, a "cute little two-bedroom home" in the town where she lives. After setting everything up while balancing a full-time job, she knew that automation and tech were crucial to helping her run her side business in the long run.
So after opening to guests in April 2021, she went on the hunt for a digital guidebook – something amazing and useful to offer her guests, while also letting her be a little bit hands-off, too. That's when she came across Touch Stay and, in her words, "it's been awesome."
Setting up the guide
It took me a little bit of time to set up my Touch Stay guide – mainly because while I was setting it up, I was also trying to furnish the house and make sure everything was up to scratch. But, it was really fun designing it and getting everything put together. I think in total I would say it took me about 8 hours, on and off – half an hour here, half an hour there.
But it was very very easy to get set up – and I think it's beautiful. I get a lot of compliments from my clients that stay at the Airbnb. I also did a small talk to a local group of retailers about vacation rental properties, and I told them that I used this thing called Touch Stay to do a digital guidebook. I had a couple of people go, "oh my gosh, why did I not know about this?" Like if I would have known about this, I would have had much happier clients staying with me and I wouldn't have had to answer like 5 billion questions – so yeah, it's been really really great.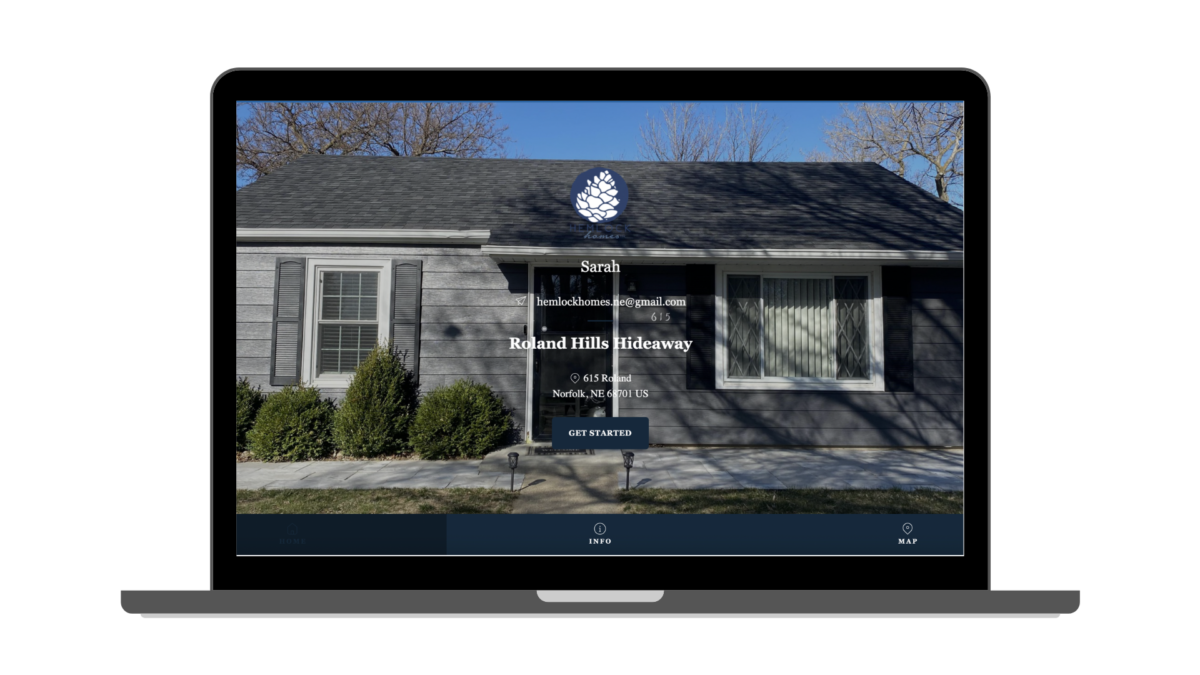 Sarah's branding for Roland Hills Hideaway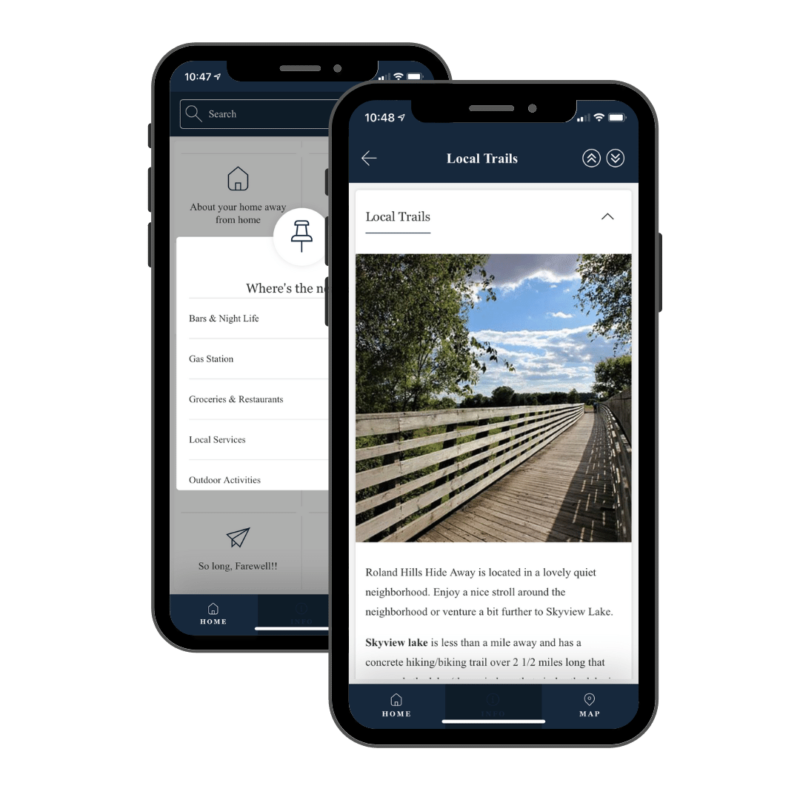 Providing the control I need
When I posted my house on Airbnb, they offered a digital guidebook and I was like, "Oh! That's cool!" – but I had no control over it and I really wasn't that impressed by it.
And then I came across Touch Stay – and I feel like the customer service that I've had has been awesome. I just found the website and I got an email right back from a guy called Andy – and even though we're in different countries, he has been super helpful, like "Hey I'm here, I'm your rep, if you have any questions, come to me!"
And I feel like I have complete control of the guidebook. Like if someone asks a question and I realise that I don't have it in there, all I have to do is include it. I can also create links and add my guests' check-in dates and times – only giving them access to the guidebook for their length of stay. Then I can send the keypad code and send it before they arrive. I think that's the best thing and the easy concept of it. I have a link that I can share with my guests, and with that link, it's not like the address is out there for everyone – I don't give you access until your check-in date. And that's helpful from a security point of view – there's a lot of really good things about Touch Stay.
Also, when I started this project, I wanted to take my branding seriously, so I had a friend design me a logo to match my blue and white house. I could even use Touch Stay to reflect those colours! The logo is the profile picture, which represents the business side of things more – rather than me as a person.
And I'm super proud of my guide! And really, it's all been done by Touch Stay, thanks to how organised and easy you've made it. I feel lucky I found it, especially as I know people who have tried to do similar things and didn't find Touch Stay.
Saving time without even knowing it
I've been lucky enough to get my guide set up at the start of my business – and have been using it from the start. But it's also been nice because I can tweak it and update it in real-time, and that's been super handy.
For example, someone will ask me a question and I'll just add it in right away. I don't think I realized how much time it has actually saved me until doing that talk with other vacation rental owners, because I got a lot of feedback and questions like, "I have people messaging me every single day" – and I didn't have that! I literally have someone staying right now for a month and she just basically messaged me saying, "Hey I'm leaving tomorrow – it's been awesome, it's been great – thanks!" And for me, it's just been really hands-off. So while I can't give you an example of how many hours or days it's saved me, it's definitely saved some time – and it's awesome.

Making tech work for me and my guests
I come from a tech background, and so I'm a little more tech-savvy than most. And I really wanted this business to be pretty hands-off. My full-time job also deals with real estate, and I travel a lot, so I really wanted to be able to just put everything out there and manage it completely online. I'd also stayed in a lot of Airbnbs before and never saw a digital guidebook – so I wanted to do things differently.
A lot of my guests have found it so easy too! They get the directions, they get the code. I include pictures so they know exactly what they're looking for – pictures of around the house, the backyard, etc.
Touch Stay also made it really easy to list things to do – and I'm from a really small town, and there's maybe not a lot to do! But – I can still list things like restaurants, bars, shopping centers, and trails, etc. I also thought it was really cool that Touch Stay has a pre-set about what to do if you arrive early – to go and get groceries! It makes so much sense – like, go and get ready for your trip!
Basically, Touch Stay lets me provide everything my guests need – and from there, there really isn't a lot of contact.
Sarah's "what to do when you arrive early" section
No horror stories…
I suppose anyone who has started in vacation rentals without Touch Stay could probably give you the whole, "oh man, it was a nightmare" story – but because I've had it from the get-go, I guess I've been lucky.
I'm a really detail-oriented person, and Touch Stay has been great. I wish I could share some terror stories from life before Touch Stay but I don't have any – I've always had Touch Stay!

Want to learn more about Touch Stay?
We'd love to show you around!
Why not sign up for our 14-day free trial?
(No credit card needed!)