Ep. 31
A collection of
Aha Moments

from our industry friends at VRWS 2022
This week on the Guest Cast, you're in for a treat!
Touch Stay's recent attendance at the Vacation Rental World Summit in Porto, laid the foundation for our latest episode of the Guest Cast. A carefully curated selection of industry voices, recounted their Aha moments for us, while working in the short term vacation rental industry.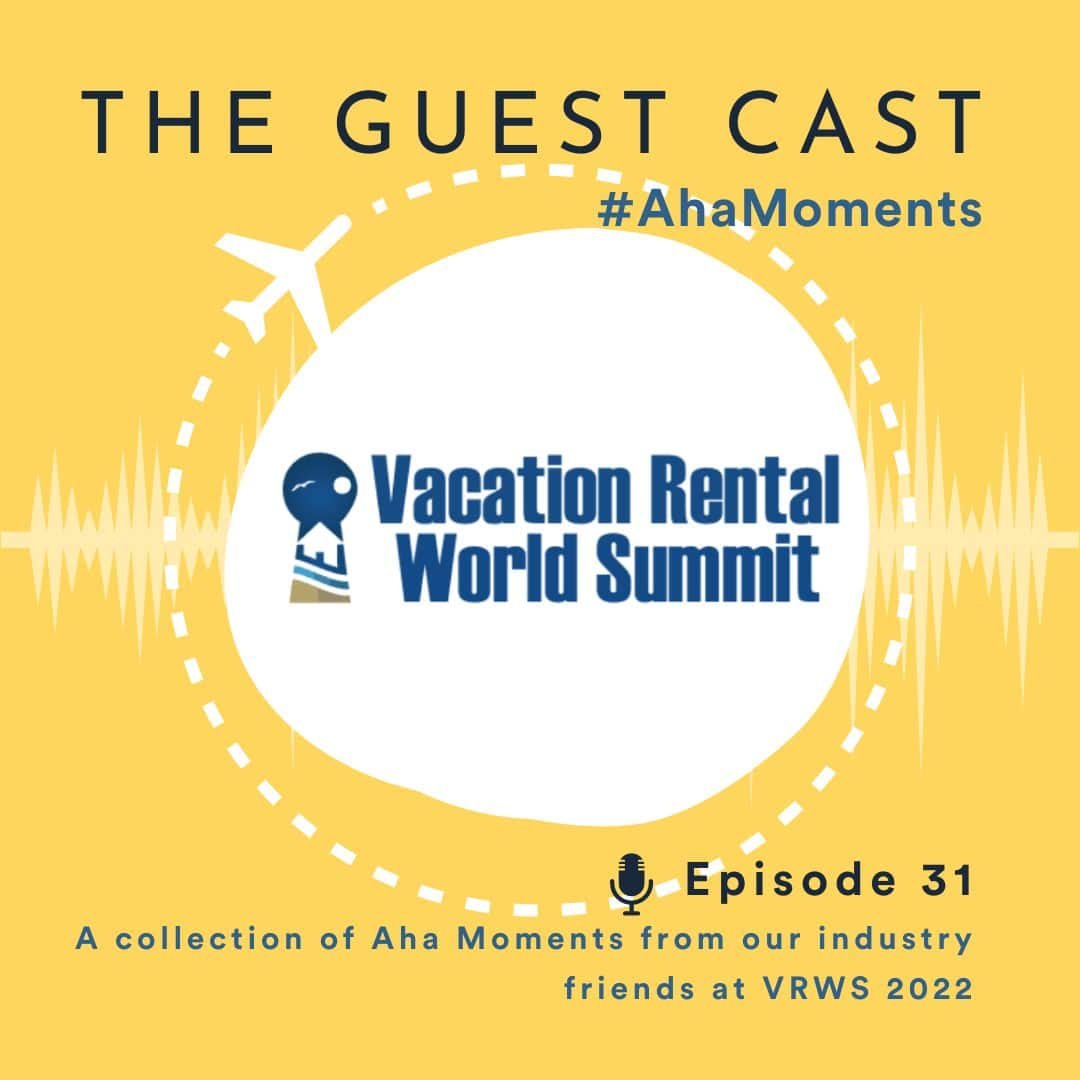 Antonio Bortolotti
We start with Antonio Bortolotti, the brains behind the VRWS event. He experienced a more sombre Aha moment amidst the aftermath of 9/11, while working as an airline crew member for Italian airline, Alitalia. His story begins with: "I was flying en route to Chicago. I was in the cockpit, just off the coast of the United States and Canada, when the first airliner hit the first tower. Once I got home 9 days later, because we were stranded in Canada, I said to myself 'I gotta get out of here. I have to find an alternative life'."
A few months later, a subsequent holiday with his wife to Sardinia, brought them face to face with their dream house in paradise – as well as a vision. "We decided to start from zero, buy this rental with the pennies we had because we had no money when we started this adventure. I was saying if I can rent it out and get 70% of the yearly mortgage fee, I'll be happy. But my wife said 'you'll do better than that'."
"Year one, we made 20% profit. The mortgage was paid out, plus we made money on top of it, so we replicated the whole process in year two. By year three, we had the whole building with three units within this super nice house. That's how I got into vacation rentals." – Antonio
Richard Vaughton
For Richard Vaughton, director and founder of Rentivo, his Aha moment came while attending the event. "In a conference with 523 attendees, I'd been picking their brains about where the industry is going, what's happening, and what we might see. One thing's for certain – the industry is going to get bigger."
"There's a lot of uncertainty around what's happening right now, but from what I see, Europe is the next hot spot for companies to think about, being bought, being sold, being acquired, and looking at investment. Europe's the next target market for the big companies and the small entrepreneurs." – Richard
Richard finished off by noting "the tech companies will try to enter the space to help these companies as well… but the interesting bit is the growth. I'm willing to bet we'll see some super managers in Europe in the next two years being pulled together."
Madison Rifkin
CEO and Co-founder of Mount, Madison Rifkin, explained to us how her Aha moment came about while backpacking during her college years. One particularly elevated guest experience of her own, sparked a fire in her that made her ask why more properties didn't have the level of comfort and personalisation she experienced.
"I was travelling in Amsterdam with my friends. We stayed at an Airbnb property, a little boat on the river, and they gave us bikes." This was our last leg, we had just been in Norway, Finland, and Sweden. We couldn't help but feel like dumb American tourists – we stuck out. We were going to tourist traps, and we were eating terrible food. We just felt so unauthentic."
Madi goes on to explain how the bikes were a transformative moment for her and her friends. "When we hopped on the bikes in Amsterdam, we felt like locals. We also started getting good recommendations to proper restaurants where the locals would eat, and people conversed with us. I was like 'why isn't this a thing everywhere? Why can't I hop on a bike in the local area and explore?'"
"I realised you have to elevate the guest experience by putting in what makes guests feel comfortable in your property, and then you can capitalise on it via revenue as well." – Madi
Manual Lozano
For Manual Lozano of Expo Renta Vacacional, his Aha moment came when he spotted a gap in the market regarding industry events.
"I basically realised there was nothing being done in the arena of conferences, or associations in Mexico," recalled Manual. "I called the OTAs, and asked 'what are you doing in Mexico regarding conferences and training the property managers', to which they said they weren't doing anything."
"I thought 'vacation rental is growing like crazy, how are you not doing anything?' So, I started to develop this idea for creating this conference, similar to the ones in the States or Europe," explained Manual.
"When you have an idea that you think is worth trying, people are telling you a thousand ways not to do it. My suggestion is, if you really have that feeling in your gut that tells you it needs to be done, just try to figure out a way to do it." – Manual
Greg Chuchra
Greg Chuchra, CEO of Tedee Smart Locks, shared with us a lightbulb moment he had, while attending the event.
"Each owner pays around 70 euros per year per property, just to replace keys which are lost or broken in the keyhole because of guests who are not able to use it properly," shared Greg.
"The cost of operations is 30 euros per property per month, just to provide the key and communicate with the guests. That was really an Aha moment for me, as the alternative would be our smart lock." – Greg
David Jocoby
President and co-founder of Hostfully, David Jocoby, explained his Aha moment came about roughly 12 years prior, when he and his wife took a one-year sabbatical, travelling the world.
"We went to 27 countries and 5 continents, and stayed in 37 homes during that trip. Some were vacation rentals, some were through friends of friends that you meet while travelling," explained David. "Then some were through the website, Couchsurfing, through which we stayed for free in some real random places. It's literally hosts who want to meet travellers from other countries and help them travel."
"It was through the experience of staying in people's homes, I realised the incredible influence of the host on the guests' stay," shares David. "Anything the host told us to do went to the top of the list, ahead of Lonely Planet, or Trip Advisor."
David provided insight into what took place post-sabbatical, and how he applied his own experience to the birth of Hostfully. "After that trip, I moved to San Francisco, and we had an in-law suit we started renting out. I wanted to pay forward that wonderful hospitality I received."
"I spent hours making an ugly Microsoft Word guidebook, banging my head against the wall, thinking there's got to be a better way to do this. That's how Hostfully started." – David
Dana Lubner
For Dana Lubner, Head of Leadership from Rent Responsibly, her Aha moment was something which Matt Lando shared during his keynote speech while attending the summit.
"He had said that action-based values are essential for any company to really have their purpose and their compass. He introduced this idea of adding some sort of action to the value, that's put into practice by putting that action word associated with the value," shares Dana.
"I'm working with all of these local alliances, local leaders, and they've gone through the exercise of creating a mission statement of what they want to do. I am so excited to see if that's something that can move the needle, of really identifying as a team the values that matter to them and then adding action." – Dana
Roberto Bricio
Field Marketing Manager for Guesty, Roberto Bricio, shared his thoughts on how property managers have started to use data in an efficient and effective way.
"My Aha moment in this industry is definitely the angle that property management companies started to have on data – precisely how to take their business forward, and how to use it. We have data, but the issue is how to use it properly, how to acquire it, and learning how to read it." – Roberto
Roberto finishes off by shedding light on the data trends he has seen throughout the years he's been working in the industry. "I've seen many companies that are taking data more seriously, to make smarter decisions. It's great because it has everything to do with the professionalisation of the industry, meaning that you need data, and you need better and more efficient management to keep up with better pricing revenue."
Raul Oliviera
Finally, we spoke with Raul Oliviera from Alep, on his Aha moment about the importance of personal touches when it comes to making your guests feel welcome in your vacation rental.
"When I got to my holiday house with my kids, it was a very nice surprise when I got there," says Raul. "They had prepared a box with some small toys for the kids. It's pretty nice to know that people think of you, that it's not just a business, it's more important than that. They want you to feel welcome at their place." – Raul
Get notified about upcoming podcasts
Sign up below, and we'll let you know when we release the next podcast.
Interested in being a guest on The Guest Cast?
Had an 'Aha moment' of your own that hosts, owners, managers and operators could learn from? Interested in being a guest on The Guest Cast?

Just email hello@theguestcast.com with your story and we'll get right back to you.