As featured in…
From awards and podcasts, to panels and press, we've had many opportunities to shape our industry.
Discover what we're saying, and where you can find us out and about.

What others are saying
It's always flattering when other people mention us in their articles! Browse through these publications to discover why people are talking about Touch Stay.
Awards
We put a whole lot of work into creating a superb product for our customers, and we're so grateful when that's recognised.

Supplier of the Year
2021 VRMA Excellence Awards

Best App or Website Solution
The Shortyz 2021

Guidebook and Guest App
VRMB Keystone Awards 2021

Champions of Mobile
Travolution Awards 2021

Best Product
PASC Business Awards 2021/22

Courage in Adversity
Shortlisted - The Shortyz 2021

Innovative Use of Technology
Shortlisted - The Altos 2021
"It would be impossible not to recognise this great product"
We've had simply hundreds of emails thanking us for introducing Touch Stay to PASC members through the newsletters. A common thread of these emails is the quality of service and support offered by Andy McNulty and Tyann Marcinck Hammond and how much the guests, using Touch Stay, really like it.
Alistair Handyside, PASC Executive Chair

Books
For your inner bookworm – check out Touch Stay featured literature below!
The Book Direct Blueprint
Boostly
Next Level Airbnb
Jill S. Riley
Learn how to manage you Airbnb properties worry-free and maximise your profits while minimising the effort with 50 essential strategies and tools to optimise your short term rental business.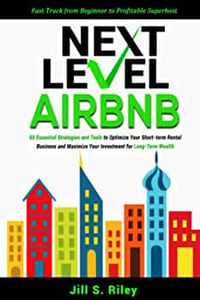 Mentions
We are always appreciative of shout-outs and recognition – here are some below!
Sarah and T – The Professional Vacation Rental Manager's Podcast – Episode 145
Thanks to Sandi Fisher of Cody Lodgings and to Brittany Blackman of Breathe Easy Rentals for both calling in to episode 145 of Sarah & T's podcast VR Vendors You Can't Live Without – Part 2 to give Touch Stay a shout out!
Sandi mentions how her team thinks of Touch Stay as a great tool for sharing with guests the best of what their community has to offer as well as information about the property, and how they've used it as a tool to promote their favourite activities, local hikes that only the locals know about, for example. They've also made it available on their website for anyone who wants to find out more about what's available in the community, so feel it's also a benefit to their community and partners they choose to promote. She also said they may look at more creative ways to use it in the future, much like other property managers have used it for owner information. And she signed of saying
we've just seen great customer service from them. And as we're essentially a customer service company, we really appreciate companies that share that value, and we really enjoy working with them.
Brittany talked about how helpful she found Touch Stay when she was starting out in the industry. For her, Touch Stay was like a virtual customer service assistant that was easy to use and affordable, and capable of answering all the guests' question. She mentioned how love being able to provide information in lots of different formats – words, pictures and videos, especially those tricky appliance instructions. Brittany also thinks Touch Stay digital guidebooks are not just for guests: her team uses it internally, as a team training guide, and she's used it for advocacy purposes too creating a short term rental playbook for local managers and owners.
12 people to follow in attractions, experiences, and tourism in 2023 – Kate Stinchcombe-Gillies
Kate has been a friend and colleague for many, many years. My favourite times with Kate are over a full English, coming up with creative ways to solve problems. Kate is the most meticulous and strategic, yet creative and forward thinking #travelPR expert you'll meet.
Catherine Warrilow, Managing Director, daysout.com
Podcasts
We love sharing our knowledge and ideas with industry friends. Why not listen to one of the episodes below!
Talks & panel appearances
We'll always seize an opportunity to connect with other industry pros at panels and conferences.
Marketing for Direct Booking
Kate has made several panel appearances, discussing the importance of implementing marketing and communication strategies for your direct booking site. These include:
✓

Short Stay Summit 2022

✓

VITUR Summit 2022

✓

The Avantio Partnership 2022

✓

Direct Booking Success Summit 2022

✓

Rental Scale Up Conference, June 2023

Magic Fairy Dust
Tyann has taken The Magic Fairy Dust of Guest Loyalty global. She's presented at:
✓

Direct Booking Success Summit 2022

✓

VRMA International 2022

✓

VRMA International 2021

✓

Vacation Rental Women's Summit 2021

✓

Short Stay Week 2021

✓

NWVRP Annual Conference 2021
Communication: The Key to Enhanced Guest Experience
Tyann and Kate spoke at the Vacation Rental World Summit (VRWS) 2023, using data from our Guest Communication Study to emphasise the critical role of guest interaction in boosting revenue and reviews.

Who's on First: Guest Experience or Guest Communication
Not one to rest on her laurels, Tyann has also developed a brand new conference session. So far, she's taken it to:
✓

NWVRP Annual Conference 2022

The Triple Bottom Line
Andy and Tyann have discussed the triple layer benefits of social, environmental, and financial sustainability at:
✓

VRMA International 2021

✓

Short Stay Week 2021

Tech and the Future of Short Term Rentals
Kate spoke about the role of technology in powering short term rentals into the future at:

Not to mention…
Tyann has shared her expertise on everything from guest experience, to branding, to guest communications, at:
✓

ALP Virtual Summit 2021

✓

ALP St. Augustine Regional Meeting 2021

✓

Data and Revenue Management Conference 2021 (also featured a Touch Stay guidebook as their event guide!)

✓

FVRMA 2021

✓

VRMA 2022

Video features
Check out these industry friends who have featured us in their product recommendations.
Andy chatted to Deborah Labi, a.k.a The Guest Innspector, about how Touch Stay supports vacation rental pros
Kyle Stanley, a.k.a The Fearless Investor, is joined by our very own Tyann to discuss how to streamline your guest experience with Touch Stay's Guidebooks.
Dustin Baker explains how to stand out from the competition, and how Touch Stay Digital Guidebooks can be used as an extension of your vacation rental branding.
Want to get in touch?
Got a question? Or perhaps you'd like to feature Touch Stay?
Get in touch with the team – we'd be thrilled to hear from you!
Want to learn more about Touch Stay?
We'd love to show you around!
Why not sign up for our 14-day free trial?
(No credit card needed!)