The idea of community gets tossed around a lot these days. Perhaps you view it as a concept with foundations firmly rooted in principle and substance, or a beacon fostering connections, togetherness, and new ideas. Or, maybe you regard it as a buzzword meant to appease the marketing needs of boardroom executives everywhere.
Regardless of your perspective, there's no denying the concept of community has drastically changed in recent years, especially in relation to the short term rental industry. But what does community even mean when stacked alongside travel these days? Better yet, where do you go to find authentic, fulfilling, thought-provoking, albeit friendly vacation rental communities?
Today, we're going to be exploring just that – what is a 'community' and what to look for when considering joining one.
For when you inevitably find yourself asking "okay Touch Stay, a vacation rental community sounds superb and all – but where do I go to find one?" – we've also included a list of 6 vacation rental communities to help you get started that we think are worthwhile checking out.
What is a community, and why does it matter?

A quick Google search of 'community' returns the following definition:
a group of people living in the same place or having a particular characteristic in common.

the condition of sharing or having certain attitudes and interests in common.

While this seems like a pretty clear definition, a solid counter question to 'what is a community' is 'why does a community matter?'
In short, it's about the power of a group. Whether that's to lobby, to offer support, to problem solve, to listen, or to motivate.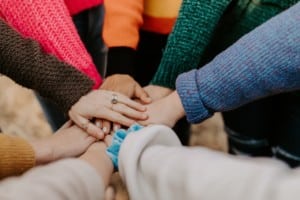 The point is simple: A single individual with ideals, values, beliefs and thoughts has so much potential. Yet, when like-minded individuals gather to create a genuine community, they are a force to be reckoned with!
Where vacation rental communities can go wrong
For many years, the concept of a vacation rental community was synonymous with the spirit of togetherness, of like-minded hosts offering a new generation of guests the unique chance to "live like a local". While critics were quick to point out flaws in the early stages of this concept, the strong sense of community was evident.
However, for many vacation rental hosts who exist and hold space in these circles, Airbnb is probably the most obvious example of how the word 'community' lost its authenticity, quickly turning from a beacon of hope into a blaring buzzword.
Airbnb's guest refund saga

When Airbnb removed hosts' decision-making power to refund, credit, or move guest dates in the now well-publicised guest refund saga amidst the pandemic, this angered many hosts (and rightfully so!).
Despite differing opinions towards the move, the consensus remained – the core concept of community was brought to its knees with the decision, in one fell swoop.
While the intention behind the decision was to harden the stance those hosts take when considering guest refunds or changes, many considered the system now loaded against them. They would take a cash flow hit if they needed to refund out of their policy, while facing an uphill battle to get their fees refunded.
What's more, for many hosts, Airbnb served as their primary source of revenue.
Suddenly, hosts were faced with a catch-22 of epic proportions – remain listed on a platform that had defaced its community, because they couldn't afford not to, or cut their losses?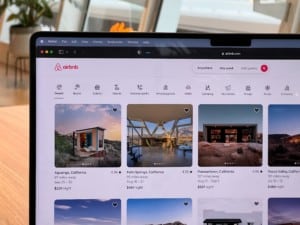 In response to many feeling as though the initial sense of community was lost, Airbnb shifted its community engagement to the centre of its communications strategy, with campaigns like Made Possible by Hosts. While it took a major disruption to get there, this demonstrates the power of a community to force change and action as necessary.
Where to find trustworthy vacation rental communities


In pointing out where Airbnb went wrong in its decision-making, is not to highlight the company's flaws, or to make a mockery of how they handled the situation. In fact, much of Touch Stay's own success can be attributed to Airbnb shedding light on vacation rentals as a niche within the travel industry, in turn opening it up to a much larger audience.
It's simply an illustration that a true community can only ever be possible, when trust alongside consistent and meaningful engagement, are built up over many years.
6 vacation rental communities you need to join
So, where does one glean first-hand such an amazing and powerful experience? It's simple – by joining one of the communities we've listed below. Let's dive in...
1. Professional Association of Self-Caterers (PASC)
Who should join: UK-based holiday rental managers and holiday let owners

The term 'self-catering' is equivalent to vacation rentals for those outside the UK not as familiar with the terminology.
Alistair Handyside runs the organisation with integrity, determination, energy and, above all, with care. You're guaranteed to learn something new with their free newsletter.
No-nonsense in style, this weekly treat covers a breadth of topics with depth and clarity. Topics include, but are not limited to:
Cleaning standards

Tax reliefs

Grants

Changing regulations
PASC's level of care and detail, also extends to their member consultations, regular webinars, and collaboration around specific issues.
2. Rent Responsibly
Who should join: US-based short term rental managers
Armed with a vision to advocate, celebrate, and educate, mission-based organisation Rent Responsibly enables fellow short term rental stakeholders to collaborate effectively and efficiently in creating a sustainable future.
Founders David Krauss and Alexa Nota, help their committed members protect their right to rent.
They also encourage them to take a lead role in improving our communities, by focusing on three pillars:
Collaboration

Education

Celebration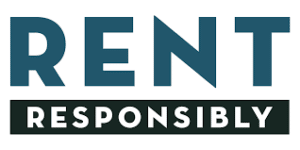 Even if you aren't US-based, it's worth signing up to their newsletter for a little energy boost each time it lands in your inbox. This is one authentic community!
3. Vacation Rental Management Blog (VRMB)
Who should join: Everyone!
Considered one of the originals in the industry, Vacation Rental Marketing Blog (VRMB) started as a Facebook group rooted in community. Touch Stay was born out of VRMB so this group is one that our CEO, Andy McNulty, holds personally dear.
There is a free newsletter, but the real community value is unlocked with a paid subscription.

Those who join will inevitably contribute, engage positively, and receive a wealth of information, making the paid subscription worth it given the significant ROI.
With over 1100 members, it's where short term rental owners and managers come to learn and grow. Featuring a community of like-minded individuals, members gain access to valuable resources that assist with easing their potential learning curve.
4. Touch Stay Rock Stars
Who should join: Everyone!
Our own community, the Touch Stay Rock Stars, is an active Facebook group of members who support, advise, and encourage each other every day.
In addition to Touch Stay related content, this brilliant community answers pretty much any question to do with welcoming and managing your guests, as well as helping out with queries about your digital vacation rental guidebook.

It's a happy, positive place filled to the brim with enthusiastic and forward-thinking people. We're guided by the following philosophy when interacting with this wonderful community – it's also how we sign off on our bimonthly newsletters:
"We're cheery, optimistic people here at Touch Stay. That's not to say it's all stars and hearts, but we believe in the human spirit and the power of people. Feel free to ask us anything. Anytime!"
5. Short Term Accommodation Association (STAA)
Who should join: UK-based property managers
While less overt in their communication outside of their direct membership, the Short Term Accommodation Association (STAA) provides no shortage of community, nor the active and thoughtful work that goes on behind the scenes.

Regular webinar meetings with membership, strong advocacy on behalf of members with relevant government officials, and weekly regulatory updates, all add up to a strong community.
6. Host2Host
Who should join: US-based vacation rental managers
One of the longest-running communities on this list, Host2Host was originally conceived by Debi and Rob Hertert as a meetup for Airbnb hosts in Portland, Oregon.
Whilst H2H is regional to Oregon, it makes the list and takes last spot because it is the truest match to the original definition of community:

Through ADVOCACY, we protect and advance our common interests.

Through COMMUNITY, we strengthen our relationships with each other and with the people and businesses in our own neighbourhoods.

Through EDUCATION, we learn from each other and raise our professional hospitality practices.
Debi and Rob are earnest friends of Touch Stay, with Andy having experienced first-hand the words on their website are matched by their actions. A true community.
Find guidance and support in a vacation rental community
While the concept of community continues to be used by some as a buzzworthy addition to marketing collateral, when used with intent and matched with action, it is a powerful force.
On so many levels, the world is more divisive than it's ever been. Yet, it's also more collaborative than it's ever been. Whilst division can (and does) breed communities that further polarise society, its ultimate gift is to strengthen communities built on positive principles and substance.
The communities mentioned above have all been nurtured and developed over extended periods of time. As such, they have each proved to be a powerful and important force in their own right, leading, guiding and supporting their respective communities.
They continue to define what it is to be a community, and what it means to be a part of one, both in the present and well into the future.