Picture the scene: you want to create the perfect guest experience for the lucky travellers staying with you, so you've invested time in crafting your digital guest welcome book. You've included all the practical information they could possibly need, and you've topped it off with your insider local area recommendations.
Everything your guests need is now in one accessible digital guestbook app, which means they shouldn't need to ask too many questions, right?
And yet, they still think it's easier to send you a late-night text than it is to just open your digital guidebook! So, how do you encourage them to actually use it?
That's exactly what we're going to cover in this article, with a little help from one of our customers, Filippo Fontanive of Alleghe Resort, and our Community Ambassador, Tyann Marcink, who manages her own holiday rental properties. They've kindly given us the tactics they use to get guests to read their digital guidebooks.
How a digital guestbook app saves time for holiday rental owners
It's simple!
You put all the information your guests need into your online digital guestbook app. From WiFi passwords and arrival instructions, to recommendations on the best local coffee spot, it's all in there. Your guests then follow the link you send them and find out what they need to know before they even arrive at the property!
The results? You become the guest satisfaction champion who provides a smooth, welcoming rental experience, and you save time to focus on other areas of your business. In fact, more than 80% of Touch Stay's customers have halved the time they spend managing guests since starting to use our digital guestbook software – so we know it works!
The only hurdle you might face is persuading your holiday let guests to actually use the tool you've created for them. But never fear, by the end of this article you'll be well on your way to reclaiming your time and seeing happier guests!
Here are our 8 top tips for increasing digital guestbook app usage by guests.
1. Show guests how easy it is to use your digital guestbook app
Guests are used to flicking open a paper welcome manual, and so the idea of having to use their phone to access information can feel like a big change. You need to reassure them that a digital guestbook app is actually more convenient for them.
Clarify that they don't need to download the guidebook
The Touch Stay digital guidebook gives guests a sleek, app-like experience, and because of this they sometimes think that they'll have to download it from an app store. In fact, we use PWA technology (read about exactly what that is here!), which means that your digital guidebook looks and feels like an app, but doesn't have to be downloaded.
People often resist downloads because they know that they'll take up space on their phone, and because downloading an app feels like a hassle! So, make it clear in your guest communications that your digital vacation guestbook can be accessed quickly and easily through a link. No downloads required.
Share a simple, shortened version of your guidebook link
It might sound silly, but being confronted with a lengthy URL can put guests off from actually clicking on it. A shortened version looks more legitimate and professional, plus it's much easier to spell out over the phone if you ever need to.
Bitly is a useful tool that allows you to shorten URLs for free – just paste in your link and it'll generate a shortened one for you!
Clearly show guests how to access your
digital guestbook app
Even the simplest processes can sound daunting when they're written out as a long list of instructions. In contrast, a video provides a visual step-by-step guide – guests can see exactly what their device screen should look like at each stage of the process.
We've created two videos – one for iOS and one for Android – which walk the viewer through the exact process of adding a guidebook to their home screen. An easy strategy would be to send this article to your guests the very first time you share your guidebook with them, to make access as easy as possible.
Present your guidebook as a digital version of the traditional house manual
The way we frame our communications influences the way our listeners respond to them. It can be tempting to present your digital guestbook app as an exciting new piece of tech (because it is!). This might work to pique the interest of your more technologically-minded guests, the ones who love a new gadget. However, for those who find new tech daunting, this messaging can actually be off-putting.
If your guests are resistant to engaging with your guidebook, you might want to switch up your messaging: it's not a fancy new gadget, it's just a new version of the printed house manual. It's essentially the same thing, but they can now have it with them on their device at all times.
Print a PDF version for the hardened technophobes
The brilliant thing about your digital welcome book is that it's, well, digital! But, don't forget that it's key purpose is ultimately to get important information to your guests.
If guests are really resistant, perhaps download your guide as a PDF and print the crucial information (or the whole thing!). You can always attach the guidebook link (and a QR code) to the front of the PDF. This way, all the stuff they really need to know is right in front of them, and they can still choose to access the digital format.
2. Place the link to your digital welcome book in prominent locations
The most prominent locations – the ones that people are most likely to see – are actually online. Make sure that your guest book link is:
on your direct booking website
in your property description on listing sites
in your email signature
in your social media bios
These are the four key places that prospective guests are likely to find you. Providing access to your digital guestbook app here turns it into a marketing tool. Potential guests get a much deeper insight into your property, and they get a sense of what it would be like to stay with you as an organised, welcoming host.
Tyann suggests this as a template for your copy:
"[Property name] adventures are best with our adventure tool! Access it now. [insert link]"
Set any Topics containing sensitive info (anything you don't want the general public to see, e.g. access instructions) to Limited Access. You can then set a Lead Time, meaning that these topics only become visible to guests who have booked to stay with you a certain amount of time before they arrive. For more info on how this works, read:
Include QR codes on your printed assets
Filippo has included QR codes which link to his guidebook on all of his paper marketing materials. Take a look below!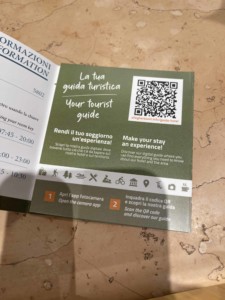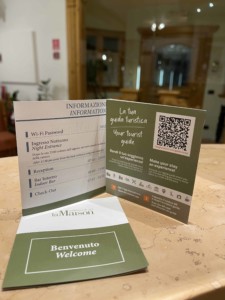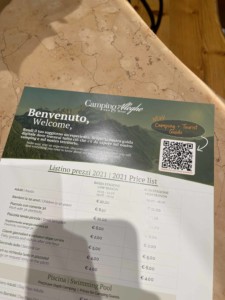 Even if guests feel more comfortable using paper materials to access the key info, they're quickly directed to Filippo's guidebook for more depth. Filippo reports that guests scanned the QR codes approximately 1,000 times throughout 2021, and he can see that his guidebooks have had 3,500 views – something's working!
3. Craft persuasive and engaging pre-arrival guest communications
Of course, if guests aren't even opening your emails, then all of this is for nothing. In order to access your digital guestbook, they need to see the link! So, how do you get guests to open (and read!) your communications?
Luckily, we've got some really simple tricks to get guests opening your emails:
Hook them in with an intriguing subject line
Tell them what's in it for them early on
Avoid long blocks of text
Opt for short paragraphs and bullet points wherever possible
Include headings and subheadings to guide readers through
Find your tone of voice and use it! Be funny, be off-the-wall, be yourself.
Essentially, you want your communications to be skimmable and engaging. The subject line needs to tell guests exactly what they'll get from this email (all the better if you can do this in an amusing, intriguing way!). The body of the email should clearly and concisely tell them exactly what they need to know, and point them towards your digital guidebook.
READ: our message template that you can use when sharing your guidebook with guests
4. Tell travellers why they need to use your digital guestbook app
As a general rule, we don't tend to do things unless we can see something that's in it for us. At Touch Stay, we call it the "What's in it for me" factor. Guests won't open your guidebook just to make you happy. You need to show them exactly how it will benefit them.
So, in your pre-arrival communications, clarify the crucial information that your guidebook contains:
Safety information, e.g. urgent care and hospitals
Weather information, e.g. what to do in strong winds, lightning, hail, or tornadoes
Pest information, e.g. how to fend off ticks, snakes, and bats
Demonstrate that your guidebook is an important safety tool, not an optional added extra.
READ: the art of effective communication, to find out more about how to craft engaging guest communications.
5. Show that a digital welcome manual equals a great guest experience
Whilst you'd hope that the promise of crucial safety info would be enough to get any guest to open your guidebook, some will still assume that whatever problems occur, you'll be on hand to solve them.
So, now is the time to convince them that downloading your guidebook will enhance the guest experience for them. Include information about all the added extras you offer:
Do you offer transfers from the airport?
Perhaps you can stock the fridge for guests so that it's full when they arrive?
What about your recommendations for the best pre-dinner cocktail locations, spots to catch the sunset etc?
Put this info in your online guestbook, and then use your pre-arrival communications to direct guests towards it. If you tell them that your guestbook gives them access to a discount at a local restaurant, or the chance to book a spa day, they'll be far more motivated to give it a read!
You have the option of completely customising the categories in your Touch Stay digital guestbook app, so you could even create an entire category which is dedicated to your upsells. This is what Hazel, our Australia Community Ambassador, has done!
WATCH: our webinar on using upsells to wow your guests
6. Don't be afraid to repeat your guest communications
Guests might not hear you the first time, the second time, or even the third time. That's why repetition is your friend. The more times you encourage guests to open your guide, the more likely it is that they'll actually do it.
In our webinar on communicating efficiently with guests, Andy – our CEO – described the silent gap between booking and arrival as "that moment of tumbleweed, that deserted town". You need to capitalise on your guests' excitement by communicating repeatedly. Serve them all the info they need and encourage them to open your guidebook!
You can do this by sending them deep links to specific sections of the guide. One email directs them towards your suggestions of what to pack, another directs them to your favourite local restaurants, another to your shortlist of the must-see landmarks. Each communication can highlight (and link directly to) a different section of your guidebook.
Tyann Marcink communicates with her guests 14 times between booking and arrival. She's helped us to craft our Guest Communication Planner, to help you map out exactly when you should be getting in touch with guests, and how you should be sharing your guidebook with them.
7. Use a variety of communication channels to send your digital guidebook link
Some guests will read a lengthy email, whilst some will just about skim a text. You can only ensure that you're meeting everyone's needs if you insert your guidebook link into a range of different communication platforms. These might include:
email
text/SMS
WhatsApp
platform messaging services
scheduled messages from your PMS
QR codes
If you can hit every one of these points (or at least the ones which are relevant to you), then you're increasing your chances of hitting every type of guest. If every type of guest opens at least one message, then you've got a much higher chance of them engaging with your guidebook!
Touch Stay allows you to schedule messages to guests, so that you never forget to send an invite. Or, you can use a Quick Share link to include your guidebook in any of your other messages. You have complete flexibility over when and how you share your digital guest welcome book.
8. Mix up the media you include in your digital guest welcome book
Guests are more likely to engage with your digital guidebook if it includes a range of text, pictures, videos, and links out to your social media/website/affiliate partners. There's more to occupy them, more for their brains to engage with!
You could include:
relevant pictures of your property
instructional videos of specific amenities/appliances
links to user manuals
pictures of yourself, or even an introductory video!
links out to your website and social media
If you're looking for inspiration, check out Dani Stein's digital guidebook, which we love for its stunning use of imagery.
READ: to get you started, here's our Guidebook Essentials checklist.
How to know if holiday rental guests are using your digital guidebook
These tips wouldn't help much if you couldn't actually see who was opening your digital welcome book!
That's why we've made sure that you can see how many times all your guide links have been opened (both as a cumulative number, and per guide). You can also see if a specific guest has opened your guide by navigating to the "Invite and Share" tab on the relevant guidebook.
So, if someone is peppering you with questions, you can check to see if they've opened the guide. If they haven't, maybe gently nudge them towards it again! At the very least respond to their questions with deep links to the topics in your guidebook that provide the information they're enquiring about.
Read our detailed instructions to see if guests are viewing your guide.
Touch Stay gives you control over your guest communications. Plus, your digital guestbook is free for the first 14 days – that's two whole weeks to familiarise yourself with the platform, add your content, get some feedback from a friend and optimise it – what are you waiting for?! Use one of our templates to create your online guestbook today.