Do you need an Airbnb house manual template to help those guests who just can't quite get their head around how the dishwasher works (you need to turn it on..!), or the exact parking rules on your street? Cull the fourteenth phone call of the day and take a positively productive step towards improving guest communications and relations!
Of course, you want your guests to feel comfortable and informed during their stay with you. The good news is that with an Airbnb house manual they can access all the answers they need without having to contact you. In fact, a really good vacation rental house manual will answer guest questions before they even think of them.
To help you create a cracking house manual for your guests, we've crafted our very own Airbnb house manual template for our digital guidebook. We've also created a guide which walks you through our template, so that you can get up and running in no time at all.
This article is for any short term rental host looking for a better way to share information with guests. If you're wanting to reclaim time in your day and level up your guest experience offering, then keep reading. We'll walk you through:
Welcome happier guests with a digital Airbnb h
ouse manual
A printed Airbnb house manual is great for comprehensively covering every aspect of your holiday rental property. It can be as detailed or as simple as you like, and it's super easy to share with Airbnb guests (just leave it on the hall table!).
Plus, with programmes such as Canva, or templates for sale on Etsy, you can create one that's beautifully formatted.
However, a printed PDF guest book has its limitations:
Guests can't access it before they arrive
It's complex to update – you'd need to reformat, reprint, and potentially even rebind it
Guests can't carry it with them when they leave the property
It quickly becomes sticky and dog-eared (especially if you welcome children to your rental!)
Guests have to trawl through pages to find the info they need
A digital welcome book, on the other hand, overcomes all of these limitations. With pre-arrival access, your guests will know exactly what to expect, what to pack, and how to access your Airbnb. You can wave goodbye to panicked, late-night phone calls from new arrivals who can't locate the keybox!
Visitors access Touch Stay digital guidebooks via a shareable link. This means that every one of your guests can access it from any device, at any time, in any location. Easily update property information in your account, and it will automatically update when each guest next opens the app. Send them a deep link to a specific section, and they can quickly access the information they need.
And never fear! You can still generate a PDF version of your digital guidebook to cater to those guests who prefer a physical copy.
A digital guidebook saves you time – in fact, 86% of Touch Stay users halve the time they spend managing guests – and provides a polished experience for your guests.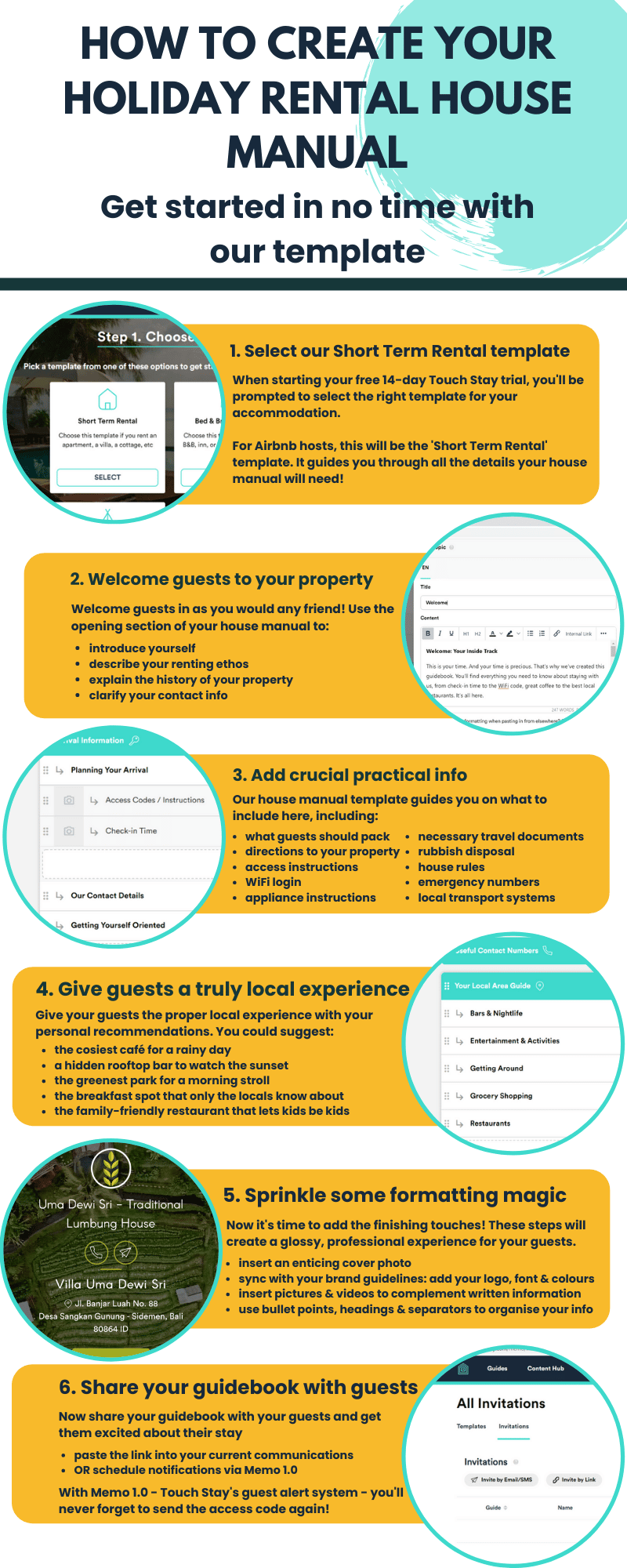 Just want to get going?
Download your free Airbnb house manual template Word doc. We've already inserted all the information your guests might want, along with some simple styling. All you have to do is insert your property details and photos
Your free Airbnb house manual template Word doc
Save time for yourself with a Touch Stay digital guidebook
The template above is the same one that we use in our digital guidebook software. So, why not start a free trial account and create your own digital house guide instead. It won't take any more time than editing a Word template – in fact, it'll take less!
With our Google Places integration, you can automatically pull in information about each local business you recommend. Rather than having to research and type out addresses, opening times, and descriptions for every cafe, restaurant, and historical site, you can just link to the Google listing and all the info will automatically appear in your guidebook. If the business updates its info, it'll update in your guidebook too.
Plus, there's no pesky formatting, printing costs, or having to repeat the entire process in two weeks because a guest spilled their coffee! We know how precious your time is – that's why we've designed our digital guest book to save you time now and in the future.
With a sleek, professional look, easy access, and scheduled sharing, it's not just you who benefits! Your guests will have the information they need, when they need it – every time. No more hanging around waiting for a text back! From how to log in to the WiFi, to insider tips on where to find the best bagels, anything they want to know is just a click away.
Wave goodbye to lost hours and welcome happier guests today, with Touch Stay by your side.