When it really comes down to it, your welcome book for vacation rentals needs to be two things: informative and polished.
It needs to contain all the information your guests could possibly need to know, so that they don't pepper you with questions throughout their stay. It also needs to be presented in an engaging, professional format, so that guests know they can trust you to deliver a 5-star experience.
If you're a holiday accommodation owner or manager wanting to craft a glossy guest book (without needing a graphic design degree!), you've come to the right place. Read on to discover:
Why do you need a branded
welcome book for vacation rentals

?

You don't! If you're juggling an Airbnb listing with a full-time job, you may not have had the time (or felt the need) to develop a logo or brand colours. However, it's still a good idea to design a polished, intuitive guest guidebook, that guests recognisably connect with your accommodation offering. A sleek Airbnb welcome book:
shows you're a host with professional standards
increases guest trust
makes guests want to engage with the info you're sharing
Equally, if you have developed a holiday rental brand, then it makes sense to reflect this in your digital guest welcome book, as you would on your website and social media. The more places you can showcase your branding, the more cohesive and recognisable it'll become. And if you can familiarise guests with your brand, you'll see:
more repeat guests
more word-of-mouth recommendations
a higher proportion of direct bookings
Let's dive into how you can go about designing a digital guidebook to help you shine.
Tools to help you create a sleek digital guest book for your holiday rental
You don't have to go it alone! There are a range of tools to choose from that'll help you build an elegant digital guidebook with minimal time and effort.
Creating a
welcome book for vacation rentals

in Canva

Canva has a lot of ingredients that make it a brilliant tool for building your digital guest book:
It has a free subscription option
It's got great design capabilities
You can easily share the link with guests
This makes it brilliant for crafting a static document that you can share either as a PDF or via a link.
BUT… a fixed document doesn't make life easier for your guests. They can view it, but they can't engage with it. And if they can't engage with it, they're far less likely to make full use of it, and more likely to continue coming to you with questions.
Touch Stay: the digital guest welcome book experts
That's us! Our software is specifically designed to support holiday accommodation owners in creating snazzy, effective digital guidebooks. With a digital guidebook you can:
share information multiple times before guests even arrive
establish scheduled guest notifications with custom message templates
use QR codes to direct guests to appliance instructions in your guidebook
track how guests are using your guidebook
pin your local recommendations to an interactive Map tab
And that's just a start! Why not read more about how digital guest welcome books make your holiday rental property look good?
But, will your guidebook look as good as it would if you created it in Canva? The (very!) short answer is: yes. Need some proof? Take a look at our example guidebooks to see real-life guest welcome books in action.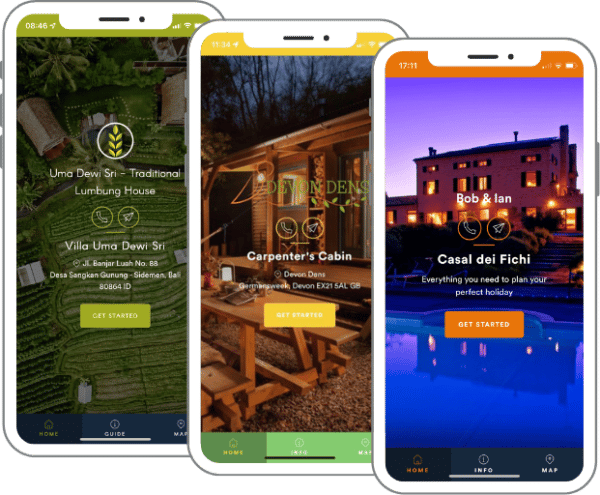 Like what you see? Discover how you can design your own in a few easy steps.
How to design your
welcome book for vacation rentals
We're going to walk you through how to design a digital guest welcome book in seven easy steps. By the end, you'll have a refined digital guidebook to start acing your guest communications.
1. Choose your guidebook template
We've crafted a selection of guidebook templates which contain everything you need to hit the ground running. From a suggested welcome message, to reminders of which appliance instructions you might want to include, we've thought of it all so that you don't have to.
Just pick the template that best describes your holiday accommodation business, and start your 14-day free trial - no credit card details needed!
2. Add a cover photo
Your cover photo is the first thing your guests see when they access your guidebook. Most people choose a high quality photo of their property – if you have any professional photos, now's the time to use them!
You want this image to give a generous (but accurate!) impression of your property. Choose one that shows it off in all its glory. This might be a wide-angle photo of the outside of your property, or it might be an image of a particularly exciting feature you have. If you boast about your views, your hot tub, or your pool on your listing or direct booking website, why not put them front and centre?
3. Add your avatar or logo
This is the part of the guidebook that introduces you. Your avatar or logo appears in the centre of your Home tab, and in the top left corner of your Info tab. If you've designed a logo for your short term rental business, placing it here will put it in front of guests' eyes every time they use your guest welcome book.
If you don't have a logo for your holiday rental business, why not add a photo of yourself instead? This is particularly important if you're a remote host, because your guests won't actually meet you in person. Placing a picture of yourself in your digital welcome book:
puts a face to your name
builds guest trust
develops a personal relationship between you
LISTEN: Hannah explains that the travel experiences which stand out the most for her are those where the host has added a personal touch.
4. Set your fonts and brand colours
If you've chosen a colour, or set of colours, that you want to represent your vacation rental brand, now's the time to set them as your guidebook colours. You can choose one colour for the navigation bar that sits at the bottom of your guidebook, and another for the icons.
If you've got one colour that you know you want to use, but you're not sure what to pair it with, try using the Adobe colour explorer to find palettes which complement one another. If you haven't decided on any brand colours, you can even use this tool to search for themes. For example, if you own a beachside rental, you could search "beach holiday" for colour inspiration.
When setting up your guidebook, you can also select from a range of fonts to represent your vacation rental brand. With your particular colours and fonts, your digital welcome book will provide a sleek, personal first impression for guests.
5. Add information in your brand voice
When it comes to actually writing the content for your digital guidebook, make sure to use your own voice. Guests are more likely to engage with your information if it sounds like it's coming from a human being.
Match the tone of your guidebook to the style you use in your emails, your listing, and on your website. A consistent voice solidifies the character of your short term rental. Your guests will feel that they've booked with a person or company that has a coherent identity: it's professional, human, and…real! This last one is particularly important for building trust in guests who have never stayed with you before.
DISCOVER: what to include in your guest welcome book
6. Accompany written information with engaging photos
A big block of written content is enough to turn any reader off. It's overwhelming and difficult to digest. So, break it up with photos and videos to illustrate the information you're providing. These could include:
pictures of your property
a peek into your outside space
a welcome video
instructional videos to help guests navigate tricky appliances
Each topic in your guidebook has space for one headline image or video, which sits above the written info in that section. You can also insert images throughout the text, to illustrate and break up your content. Make the most of this opportunity to add different media to your digital guest book!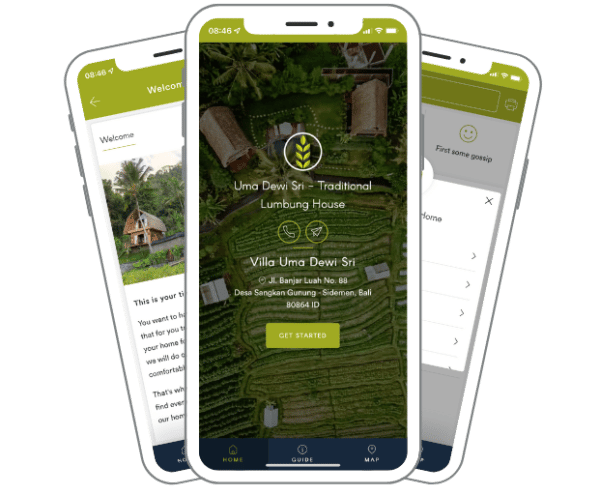 7. Direct guests towards your direct booking site
The final section of your guidebook can wave guests off whilst encouraging them to stay in touch. Embed links to direct them towards your:
newsletter sign up
social media
direct booking site
All of the work you've done up to this point – to provide a 5-star guest experience, to build a relationship with your guests, and to communicate a consistent brand – will be solidified if you can stay top of their minds after they leave.
If you can pop into their inbox every month, or pop up on their Instagram feed every few days, you'll be the first one they think of when they're planning their next trip or being asked for recommendations by friends. And if they've already bookmarked your direct booking site, they'll know exactly where to go to save on booking platform fees.
READ: about how to stay in touch with your guests even after they leave
Wow your guests with a professional digital welcome book
Touch Stay digital welcome books are your polished, powerful answer to guest communications. Provide your guests with all the information they could possibly need (and more!) in a sleek digital format.
You get all the glossiness of a Canva design, with the added functionality of a software created specifically to meet your needs.
The guest book looks absolutely fab!! Such a lovely design and so easy to navigate. Really good idea.
– guests of Kathy Murdoch
And with a 14-day free trial, you can give us a go without any commitment.