So, you've organised all your guest info and begun populating your Touch Stay digital guidebook with the basic things your guests will need to know, like how to get there and what to expect during their stay. Now it's time to go beyond logistics and instructions to create engaging content that not only reduces guest questions, but provides valuable data to help you improve the guest experience.
Read on to discover how the Special Topics included in your Touch Stay digital guidebook can help elevate your guests' stay by creating anticipation before their arrival, helping them plan their trip and get the most out of their time away:

Use your digital guidebook to fix a bad guest experience before it happens
First Impressions is your tool for removing guesswork from hosting by connecting with guests about the make-or-break first hours of their stay. By automatically offering a friendly welcome and requesting honest feedback from newly-arrived guests (in the form of a simple star-rating and/or comment), you can get ahead of any issues to ensure that 5-star rating at check-out!
Guests feel cared for and considered, and you have the peace of mind that everything's OK (or the opportunity to act fast to fix things that aren't).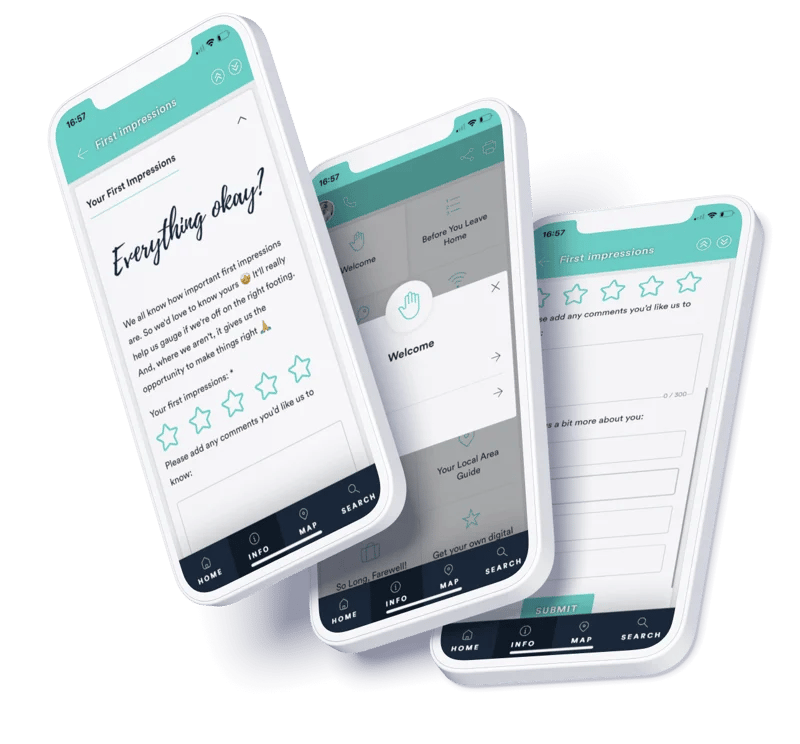 Forget the hassle of remembering when to send initial check-in messages by using Memo to schedule your First Impressions prompt to go out to guests automatically.
Click here to read more about adding First Impressions to your digital guidebook, or watch our explainer video here.
Ratings: collect feedback to help guests (and your business!)
You already know that guest feedback is worth its weight in gold - not only can great reviews be used to attract more visitors, but feedback can also be used to improve the guest experience for future guests.
Have a section in your digital guidebook about your hot tub? Include a Ratings box for guests to quickly provide feedback about how it's working, or even how easy your operating instructions were to follow.
Want to know how attendees to your event workshop felt about signing-in upon arrival? Use Ratings to improve the process for the next session.
The Ratings feature can be added to any part of your digital guidebook (even multiple places!) and lets you collect data about specific aspects of a guest's stay; alternatively, you can use Memo to automatically text or email guests a link to your Ratings page, where they can select a simple star rating and leave an optional comment. Once submitted, guest feedback can be sent to any email addresses you choose - yours, your property manager, your maintenance team, etc.
Guest reviews on your own terms
When guests leave feedback, the reviews are yours to use however you like - so no need to worry about them being displayed publicly!
You can choose to share feedback with your team for refining the guest experience, or simply copy and paste them to your bookings-ready website for the social proof some potential guests seek.
Use Email Capture to boost direct bookings
Staying in touch with guests after their stay is a great way to increase direct bookings (via repeats or recommendations), so Touch Stay's Email Capture Topic lets hosts collect guest email addresses in a friendly, non-intrusive way to use in direct marketing activities and extend your relationship with guests long after they check-out.
Email Capture embeds a simple newsletter sign-up form in your digital guidebook where guests will see it. You'll be notified when emails are collected, and can download them all in one easy file. Simply use Touch Stay's Email Capture template provided or tailor it using your own brand voice to turn one-time stays into lifelong guests.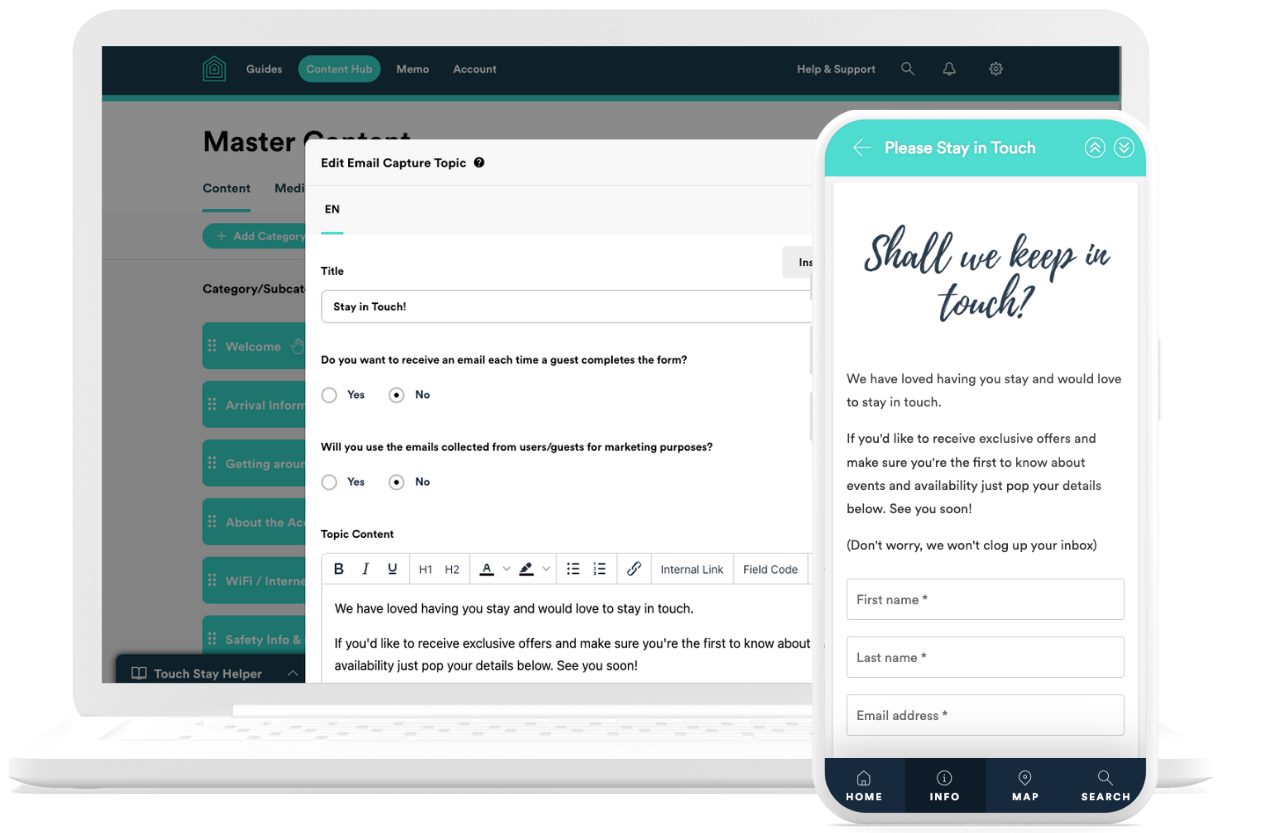 Find out how to easily add Email Capture to your own guidebook here.

And don't forget to read our Ultimate guide to email marketing and email capture! This epic guide includes everything we know about email marketing and is packed with handy tips and tricks to boost direct bookings!

Help guests plan their packing and activities with our Weather Widget
Touch Stay's built-in Weather Widget helps guests stay ahead of the weather by incorporating real-time localised updates to provide quick, at-a-glance information for weather conditions during their stay.
Ideal for planning outdoor activities, the Weather Widget can be used to inform guests about the weather prior to their arrival. The widget can also be embellished with additional seasonal info - e.g. in spring, campsite owners can advise guests to bring wet weather gear, or event managers can recommend visitors bring snow boots and warm clothes during a winter event.
If your location experiences extreme weather conditions, such as tornadoes, floods, frequent lightning strikes or hail storms, you can even include appropriate, reassuring safety info to position your digital guidebook as an all-in-one resource.

Click here for more info on adding the Weather Widget to your digital guidebook.
Or watch our instructional video here.
Will the tide affect your guests' activities?
For guests staying near a coast or river, the Tide Widget helps plan outings using precise tide information. If the water is a big attraction, guests are likely to head down there at some point during their stay. And when they do - whether it's a coastal wedding, a day of kayaking, or just game of beach cricket - the incoming or outgoing tide may affect the activities your guests have planned. Luckily, we've thought of this too, and provide a handy Tide Times Widget for your digital guidebook to let guests know exactly what the tide will be doing locally at any given point of their stay.
Discover how to add the Tide Times Widget to your digital guidebook here.
Enhancing your Touch Stay digital guidebook with these Special Topics can truly elevate your guests' experience. From ensuring a smooth check-in process with First Impressions, collecting valuable feedback with Ratings, providing weather and tide updates with our built-in widgets, to turbo-charging direct bookings with Email Capture, you have the tools to make your guests' stay unforgettable. And happy guests mean better reviews and more repeat bookings!
Already created your digital guidebook but need some help making it shine?
We offer a Tune-up Service that helps to get guests diving deep and loving your guidebook. Our Touch Stay digital guidebook pros will spend time reviewing your guidebook and provide a list of ways to optimise it, including:
category, subcategory and topic organisation

use of collapse/expand, internal links and other features

optimal presentation of your brand

finding the perfect balance between informing and inspiring guests
And don't forget to join our Touch Stay Rock Stars Facebook community - it's full of fun, helpful and knowledgeable Touch Stay users from around the world who are always willing to offer friendly advice and handy hosting hacks!