If you're a host in the vacation rental industry, you've probably already heard the buzz around digital guidebooks.
Also known as house manuals, digital welcome books or digital guest books, these online guest books are soaring in popularity and are fast becoming the must-have tool for optimising guest experiences.
But whether you've heard of them or not, you may still have questions about how they work and how they can enhance your business. Luckily, you've come to the right place. In this article, we'll explain everything you need to know about digital guidebooks, including:
Read on to discover everything you ever wanted to know about digital guidebooks.
What is a digital guidebook?
A digital guidebook, welcome book or guest book, is an online version of the traditional guest books that have lurked in the corners of holiday homes for decades. It includes things like information about the property, check-in and check-out procedures, and things to do in the local area.
The key difference is that a digital guidebook hosts all this information online. This offers huge benefits to you as a host, and most importantly, your guests. In fact, digital guidebooks have been proven to improve guests' holiday experience – just read some of the reviews from guests who have used Touch Stay.
The benefits of a digital guidebook for hosts and guests
There's a reason digital guidebooks are increasing in popularity in the vacation rental sector. They offer both hosts and guests a wide range of benefits that enhance the experience for everyone involved, which is good for business!
These benefits aren't just nice-to-haves. They're tangible and can have a positive impact on your business from both a revenue and management perspective.
Let's explore these benefits of digital welcome books in more detail.
Digital guidebook benefits for hosts
Investing in a digital guidebook is a great way to improve your guests' experience while simultaneously making the management process easier for you. Digital guidebooks make a lot of the more mundane and time-consuming tasks a lot easier for you to manage.
Digital guidebooks:
Save you time

Automated communication with your guests means you don't have to chime in every day of their trip

Easy to edit sections make uploading changes fast and simple
Improve your relationship with your guests

Regular communication and the right information can help evoke trust between you and your guests

Good relationships with guests lead to happy guests who leave great reviews.
Help you get repeat business

Happy guests return and/or recommend their holiday home to a friend – making digital guidebooks a key player when it comes to getting repeat business.
In addition, digital guidebooks are also:
Easy to update

Meaning you'll never have outdated information, recommendations or instructions
Easy to maintain

Meaning no sticky book covers, ripped pages or missing pamphlets. Also, they're far more hygienic!
Easy to brand and design

Meaning you can keep your business' branding fresh and up-to-date all the time
Digital guidebook benefits for guests
The benefits of digital welcome books for guests are a huge reason why they're becoming more commonplace in the vacation rental market. A good digital guidebook can help craft your guests' experience into a truly unforgettable one.
It can do this in lots of ways, but mainly it helps you by:
Answering questions that help your guests navigate their stay with ease and enjoyment

Which keeps them happy and informed and making the most out of their time
Allowing you to inject your own brand and personality into the communication

Which makes your guests feel comfortable, familiar and special
Enhancing communication between you and your guests
Being easily accessible

Meaning your guests can access the digital guidebook wherever they are (at Touch Stay, we've even made them available where there's no wifi or data coverage)
If you're looking for some digital guidebook inspiration, you can head to our example guides.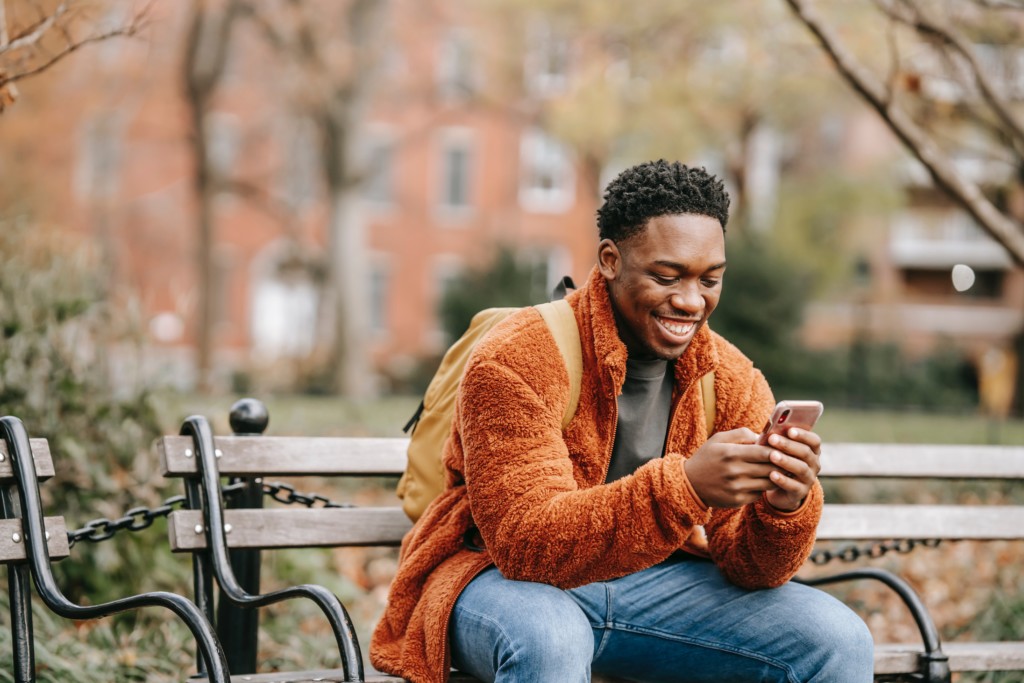 Are digital welcome books right for
your
vacation rental business?
Now you understand the tangible benefits of digital guidebooks, you might be wondering if they're right for your type of vacation rental business.
The good news is, whether you own one or two holiday homes, a suite of vacation rentals, a glamping site, a B&B, or even an RV or motorhome, digital guidebooks will enhance your business. Let us explain what they can do for each type of vacation rental.
Digital welcome books for vacation rentals
A welcome book has come to be an expected part of the holiday experience, especially for condo and villa holidays. Even hotels, holiday homes and B&Bs rely on welcome books to communicate with their guests. So, you might think that having a physical version of the welcome book is enough.
But by making these guidebooks digital, you enhance what is already expected. As explained, you allow your guests access to all the information they need at any point during their trip, while also giving yourself more control over the routine elements of hosting.
For hotels, B&Bs, and holiday homes, digitizing your welcome book can also offer specific perks, including:
Reducing the time you spend communicating with your guests

Easily clarifying common questions about the room or rental property

Helping streamline the check-in/out process with automated emails and FAQs

Offering translated content into guests' native languages

Reducing congestion at the front desk (for hotels and B&Bs)
Digital welcome books for motorhomes, campervans & RVs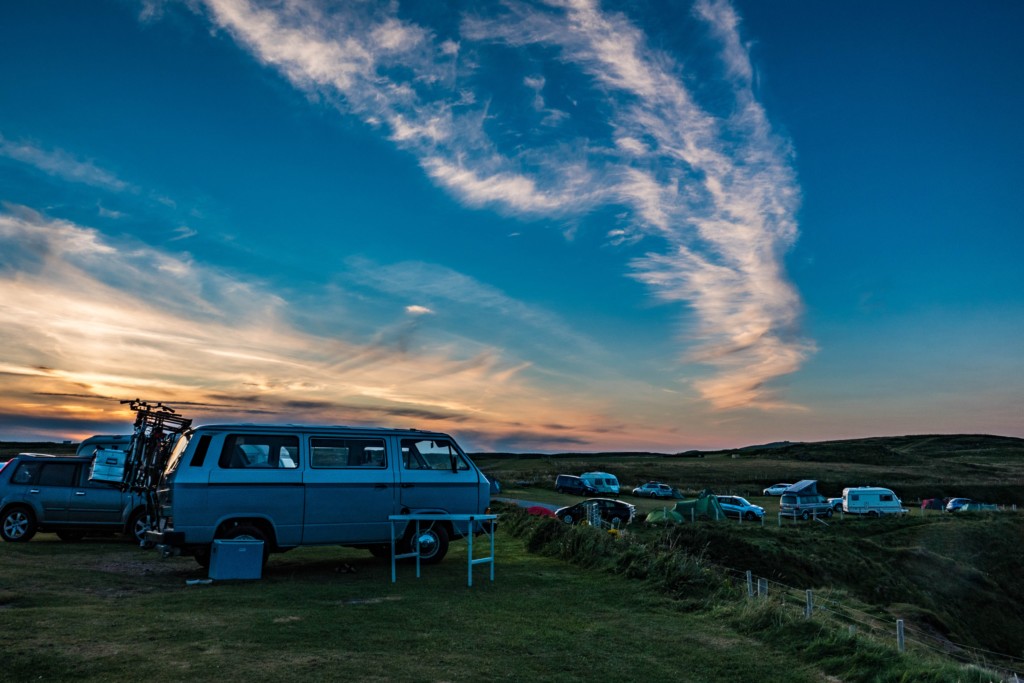 With the global pandemic placing a tight hold on international travel, holidaymakers around the world have started to find new ways to seek adventures. As a result, RV and campervan rentals have increased in popularity, offering guests a unique, exciting experience without leaving their home turf.
But, even an experienced campervan enthusiast will have questions about the vehicle and where they can go with it, let alone newbies. So, if you're a campervan host, this is where a digital guidebook can come in very handy.
A digital guidebook can help you communicate everything your guest needs to know about the vehicle and how to maintain it, such as:
How the kitchen appliances work

Where the engine is

How to fill the RV with fuel

How to unfold the bed

What to do if you break down

Where the spare parts are

How to fit the snow chains
It can also help clarify questions about what your guests can do with the campervan, such as:
What are the most popular driving routes near me?

Where are the approved places to park overnight?

Where can I camp in my local area?
In this sense, a digital guidebook can act as the perfect hybrid between an RV manual and a holiday welcome book. It can answer all your guests' questions about the vehicle as well as explaining how your guests can get the most out of their time in it.
Digital welcome books for glamping sites
Glamping has enjoyed a huge increase in popularity over the last decade and is expected to grow at a CAGR (Compound Annual Growth Rate) of over 11% during the period 2019-2025. On top of that, much like the RV and campervan market, glamping sites have also provided safe holiday options since the start of the pandemic.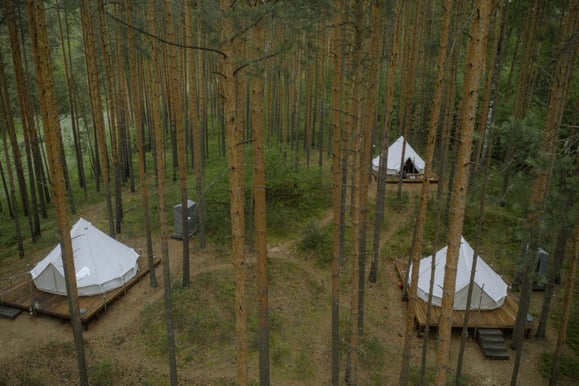 If you're the host of a luxury camping destination, a digital guidebook is a great way to make sure your guests understand your accommodation, whether it's a bell tent, yurt, tipi, shepherd's hut or a safari tent. It can also help them navigate and understand the entire campsite as a whole.
The digital guidebook can help glamping guests understand:
How to close/secure their accommodation type

Where the showers and toilets are

Where to buy supplies

Where to wash up/do laundry

The general campsite rules and guidelines
Is a digital guidebook really better than a normal one?
If our list of benefits hasn't convinced you that digital guidebooks are important, then let the rate of modern-day digitalisation convince you instead.
Consumers are becoming increasingly familiar with digitalisation across all vacation services and products. Airports, check-ins, car rentals, excursions – all of these areas are becoming digital and fast, so remaining "analogue" in your communication could put you behind your competitors when it comes to meeting your guests' expectations.
Digital guidebooks are a natural transition from the traditional and limiting physical versions of holiday home handbooks and vacation rental manuals, and will come to be expected in the coming years. It's time to get ahead of the curve!
What to include in your digital welcome book
When it comes to filling out your digital guidebook, it's a case of putting anything in there that you think your guests will find useful. Remember – you can update and edit the information whenever you want or need to, so it's always a work in process.
This might include the following information:
An outline of the check-in process, including:

the time that the property will be available from

directions to the property

public transportation options to arrive at the property

what the weather will be like when they get there

Information about children's equipment rental
A house/RV/glamping site manual, including detailed information about the space, such as:

the Wi-Fi password

information about smart devices (Google Home, Alexa, etc.)

the house/campsite rules

extras that are included (salt, cooking oils, etc.)

information about any added benefits such as pool access or fire pits
An outline of the departure process, including:

check-out procedures

how to leave the house

where to leave the garbage

information about airport transfers
Information about places to eat and drink, including:

insights on local eateries, cafes and bars

menu recommendations

details about dietary restrictions
Information about activities and attractions in the local area such as:

local hikes

famous landmarks

watersports/adventure sports

local theme parks

museums

shopping

your own personal recommendations!
Information about local amenities, such as:

local shops and grocery stores

smaller 24/7 convenience stores
How to get started with your digital guidebook
By now you'll have a clear understanding of:
what a digital guidebook is

how they can transform your vacation rental business

and what information you should include in it
Now it's time to get started on making your very own digital guidebook.
At Touch Stay, we have been perfecting our digital guest book software for years, and it's now the most affordable and dynamic option on the market. And the best part is you can get started on yours free today.
Follow these nine easy steps along with screenshots, and you'll have your very own digital guidebook by the end of this article.
Step 1: Click on the "Start your free trial" button on the Touch Stay homepage.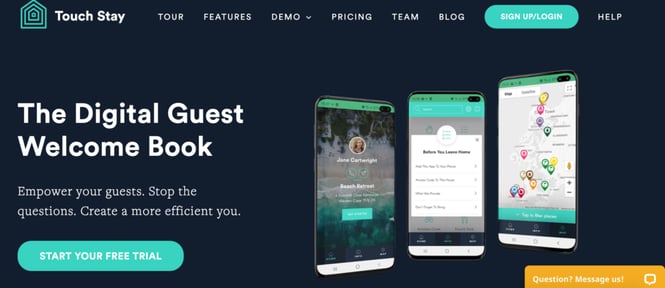 Step 2: Tell us your name and the name of your property and then click "Let's go."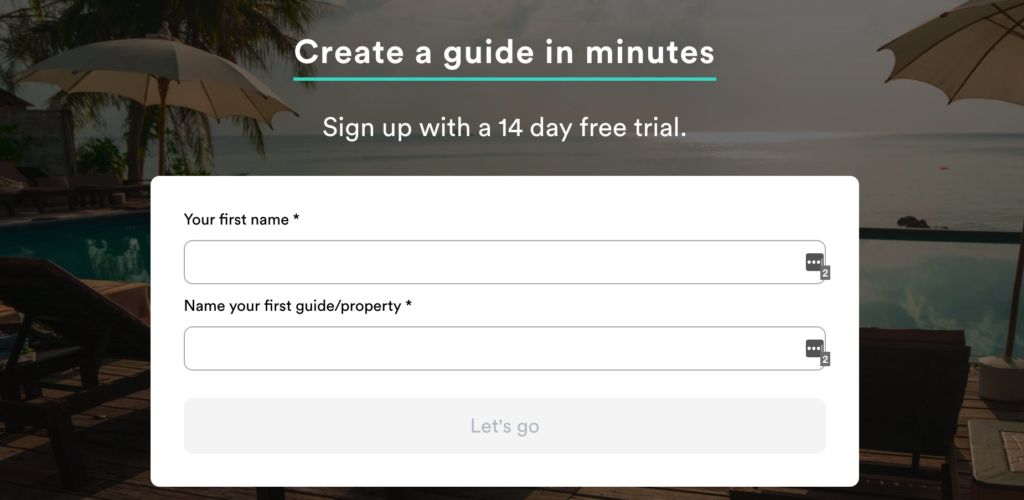 Step 3: Enter your property's address and the vacation rental type and click "Next Step"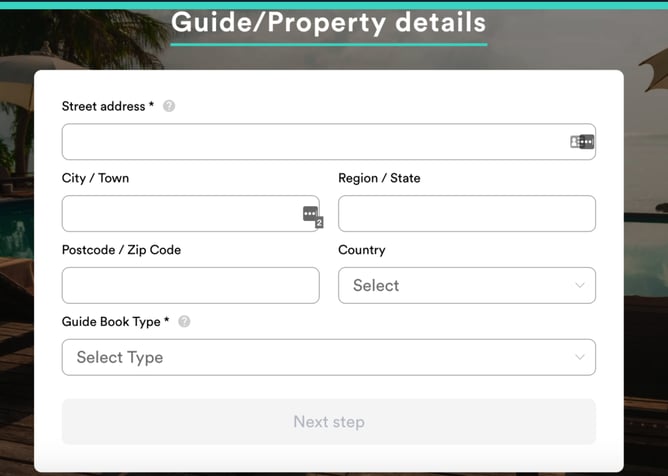 Step 4: Choose your guidebook's background image and then press "Next Step"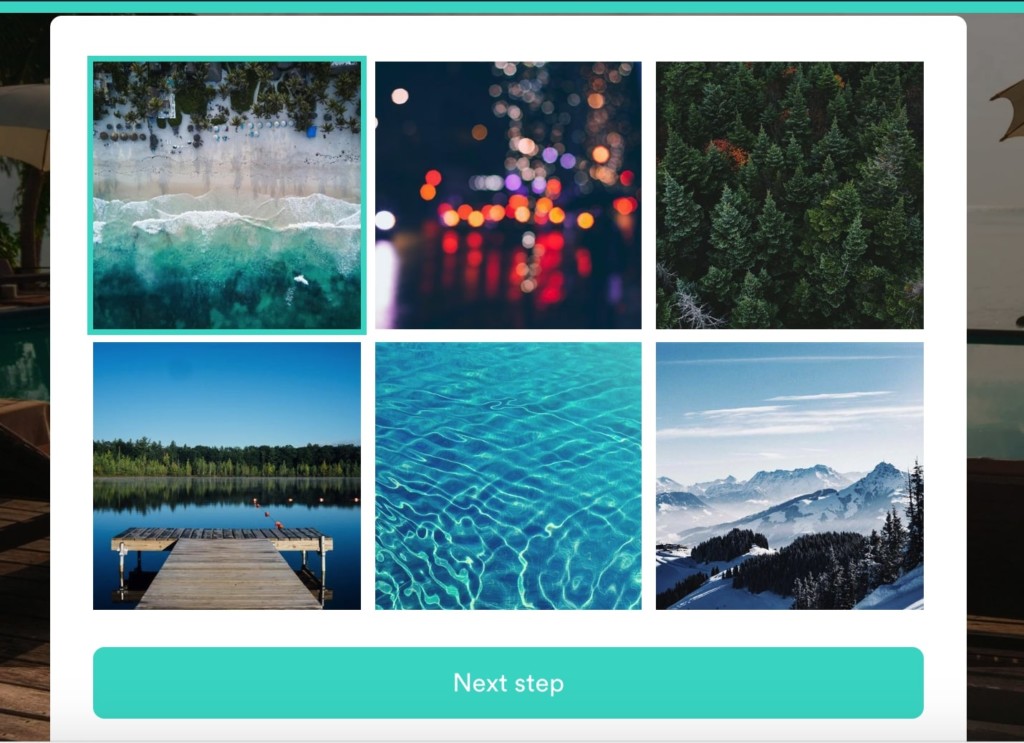 Step 5: Fill out the property information by editing the tabs shown below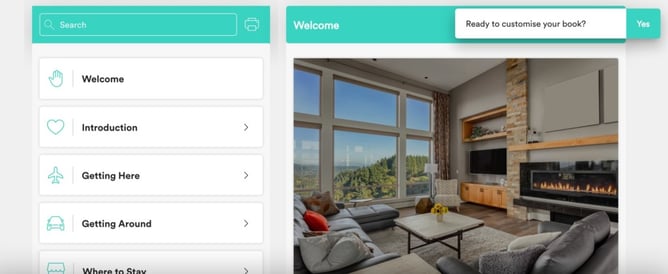 Step 6: Share your guestbook with your guests!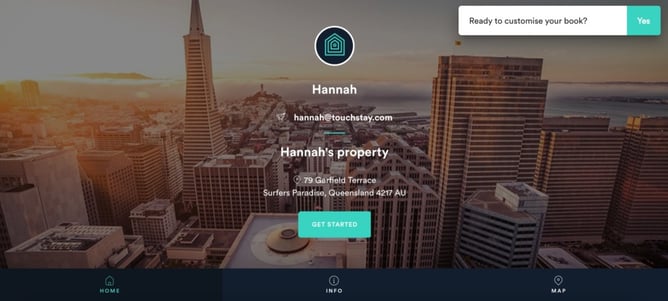 Remember – all the choices shown on the screenshots are examples to help you to get started. Everything you see can be edited, so you can upload your own text, photos, videos or hyperlinks.
Touch Stay #MakeGuestsHappy
At Touch Stay, we understand how important it is to keep your guests happy. Happy guests equal a thriving business! That's why we've worked hard to create a dynamic digital guidebook that meets all your guests' needs – while not taking up your precious time.
Unlike other digital guidebooks on the market, Touch Stay stores all your content in one single online location. Our mobile web app then packages that content to make it beautiful and easy-to-access. All you need to do is share the link with your guests and they'll have access straight away – no sign in or downloads needed. Magic.
So, why not give us a try? You can try for 14 days free by creating your free account.