"In 2023, we're going to reach for the stars!" – that's definitely what our development team thought when they came up with our brand new First Impressions Topic and Rating Topic!
These new Topics are an excellent way to collect guest feedback, while getting in front of guest concerns or issues and addressing them head on before they turn into asteroid sized problems. Without further ado, let's dive into these shiny new Topics!
Table of Contents
What is the First Impressions Topic?
Our brand spankin' new First Impressions Topic is all about just that – first impressions! From the moment your guests arrive, you're now able to collect their initial thoughts and reactions about your vacation rental property. No more pondering and hoping whether all things are coming up rosy for your guests during those initial hours or days of their stay – now you can ask them!
This is a crucial moment to get in front of any troubles or qualms your guests may have, and to address any issues that might arise right off the bat. This is imperative to do before your guests adopt the mindset you are a less than desirable host.
First impressions encourage property managers (PM), owners and hosts to capture their guests' first impression so the question then becomes… which PM wouldn't want to know what their guests are thinking upon arrival??
How can I use it?
The possibilities are endless with our First Impressions Topic – it can be used for pretty much any piece of your offering to scope out your guests' initial reactions.
Here are a few ideas to get you started. Glean first impressions from your guests for:
Property appearance and cleanliness

The initial check-in process

Your Touch Stay digital guidebook!
How do I include it in my digital guidebook?
It's easy to add a First Impressions Topic to your Touch Stay digital guidebook.
From within Content Hub, you'll now see it's one extra option under the "Add Topic" option. You can find this in the 3 dots menu, or at the bar at the bottom of the Subcategory where you'd like the Topic to appear.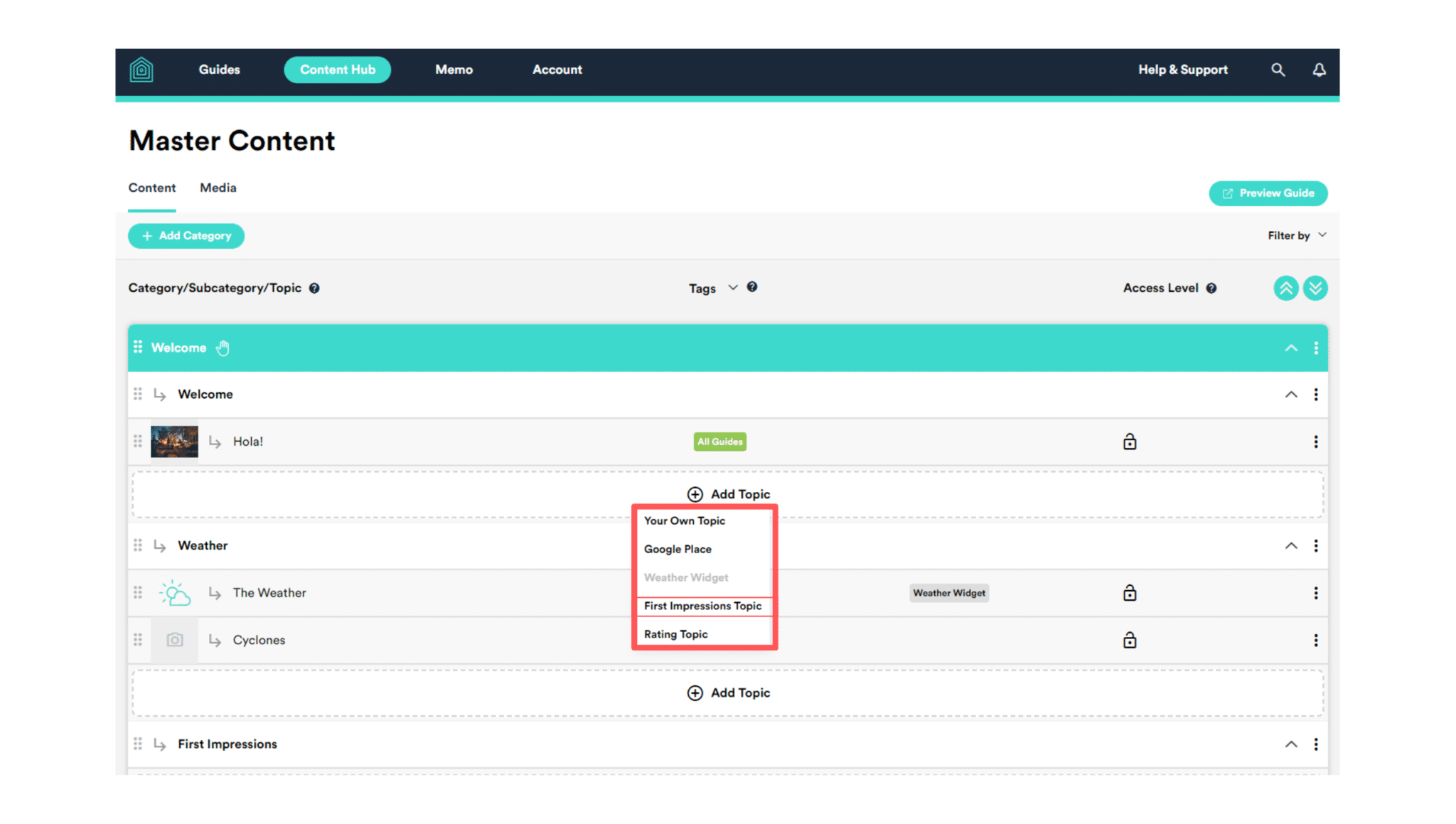 Just like any other Touch Stay Topic, you can customise your First Impressions Topic to suit your guidebook needs – this includes customisation of your:
Topic Name

Description

Photos/Videos

Tags

Access Level
When your guest clicks on your button to add their First Impression, a rating scale of 1 to 5 stars will appear, from which they can make their selection based on 5 being a stellar first impression and 1 being well… far from stellar.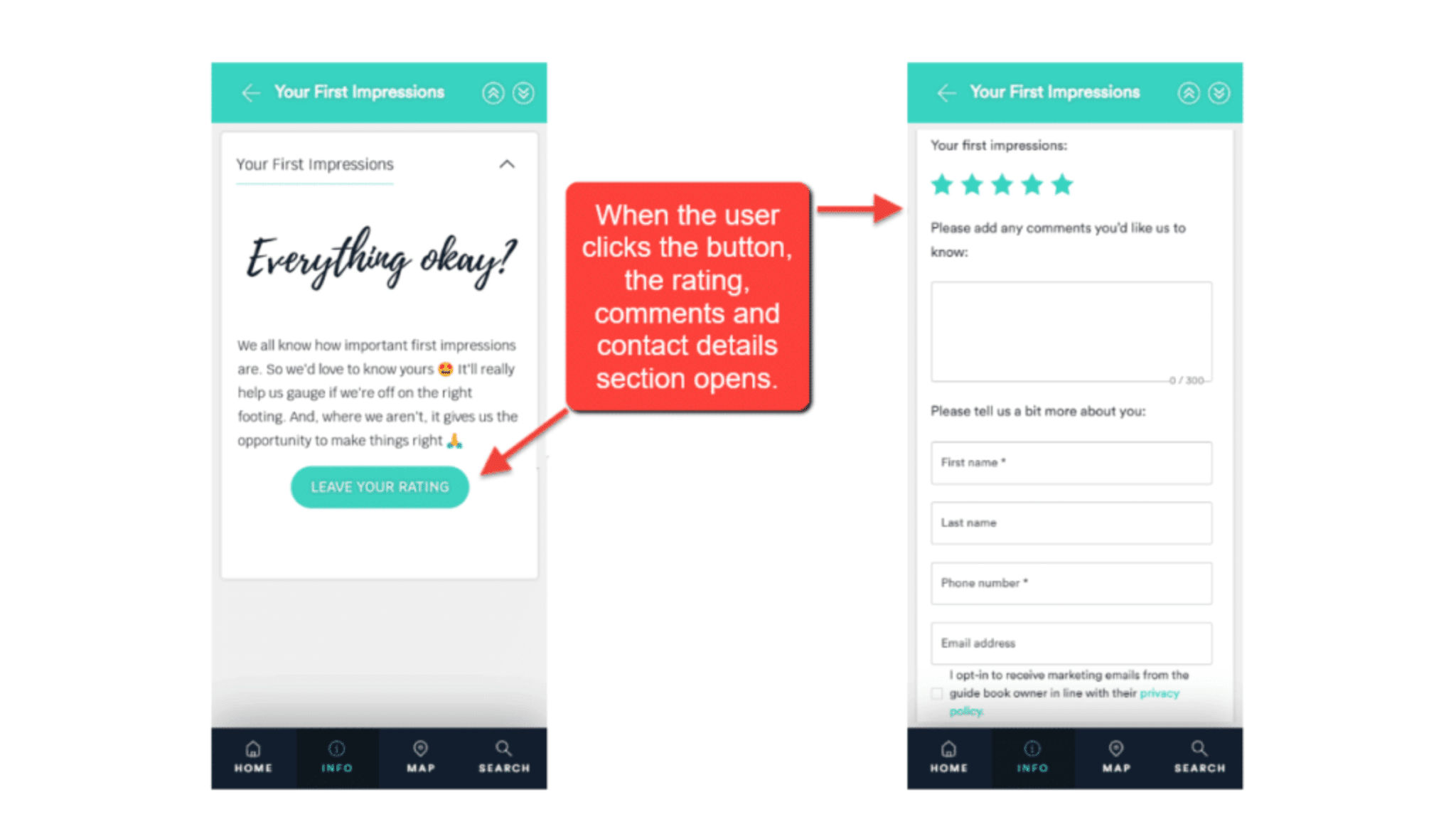 Fields for entering their first and last name, phone number and email address will appear, with only their first name and phone number fields being mandatory. This is because if by some chance your guest expresses a less than satisfactory first impression, time is of the essence for you to touch base with them and find a solution!
What's more? You can add your First Impressions Topic wherever you want throughout your guidebook and you can add as many as you want.
The only thing you'll need to do is set to whom you'd like the First Impression rating to be sent. To do this, you enter the email address you would like the completed First Impression to be sent to.
This is ideal for those Touch Stay customers who have multiple properties and guidebooks. You can also send the email notification to more than one email recipient. For example, if you want notifications to be sent to you and your cleaning company, this enables you to do so!
What is the Rating Topic?
Another fresh off the press addition to our digital guidebooks, the Rating Topic lets you collect a star rating from your guests, allowing you to gain clarity on how they are feeling about a particular aspect of your property.
It can be used to gather feedback on pretty much anything you can think of! For instance, you might want guests to rate:
A new feature or offering as part of your property

Their experience staying with you

An experience you provide
How can I use it?
Use the Ratings Topic for any piece of your property you're looking to gain a little insight into!
Here are a few use cases for the Rating Topic:
A service you've offered – think a car hire or a personal chef experience

An offering on your property grounds – like your newly installed hot tub, or smart home device

Property cleanliness – are guests pleased as punch with the state of your rooms?
How do I include it in my digital guidebook?
Once again, Content Hub is where it's at if you're looking to start using the Rating Topic in your digital guest welcome book. Either add it in via the 'Add Topic' option found in the 3 dots menu, or in the bar under the Subcategory where you want to add your Rating Topic.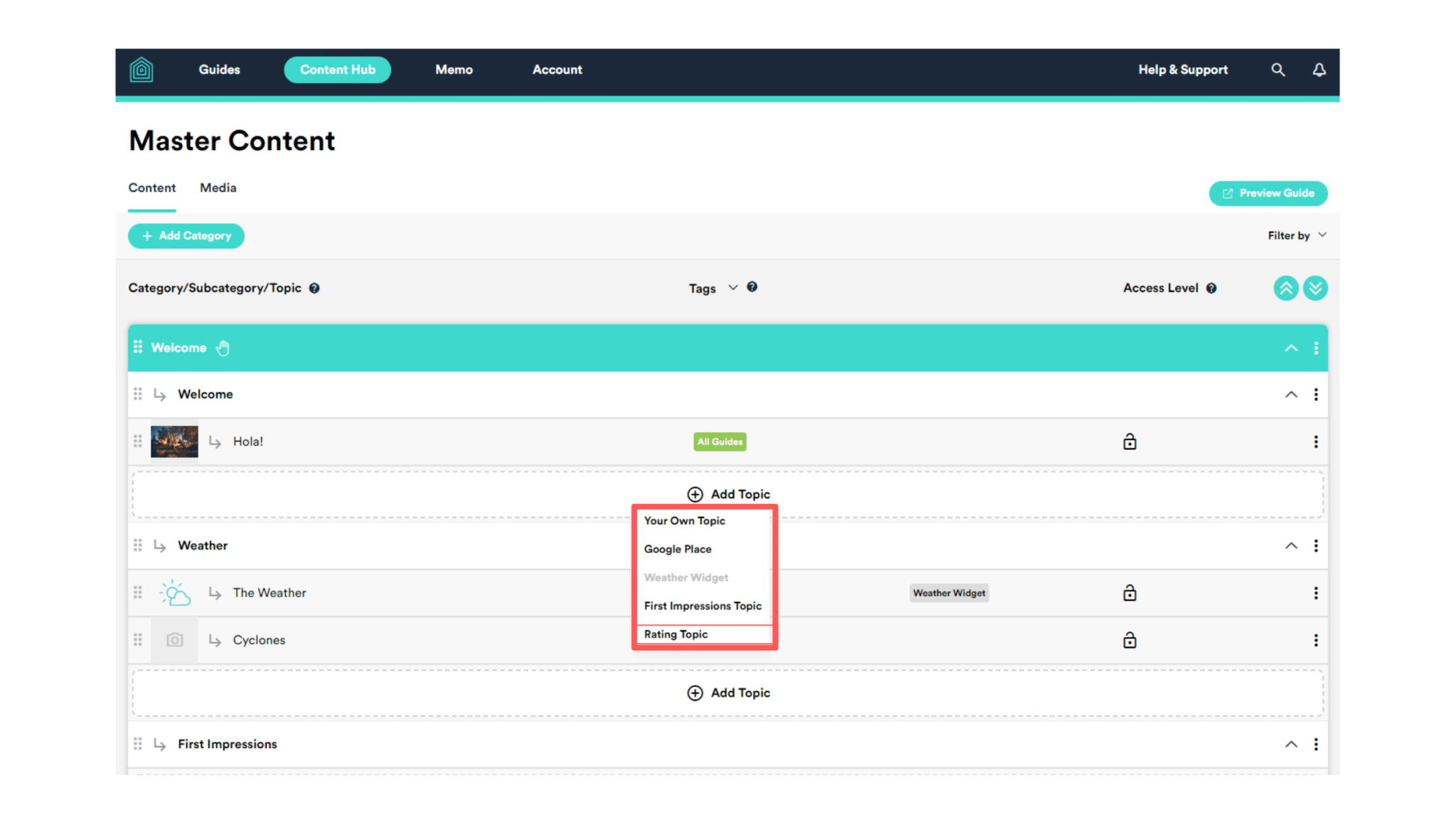 When your guests click "Rate Your Stay" as part of the Rating Topic, a number of prompts will appear, including a rating scale of 1 to 5 stars, a comment section, a spot to enter their first name and last name, their phone number and email address.
Similar to the First Impressions Topic, we've made the first name and phone number field mandatory for the Rating Topic because you want to get on solving your guests' qualms pronto! The longer you leave discontented guests, the longer they'll have to sit and stew over why you haven't responded to their issue.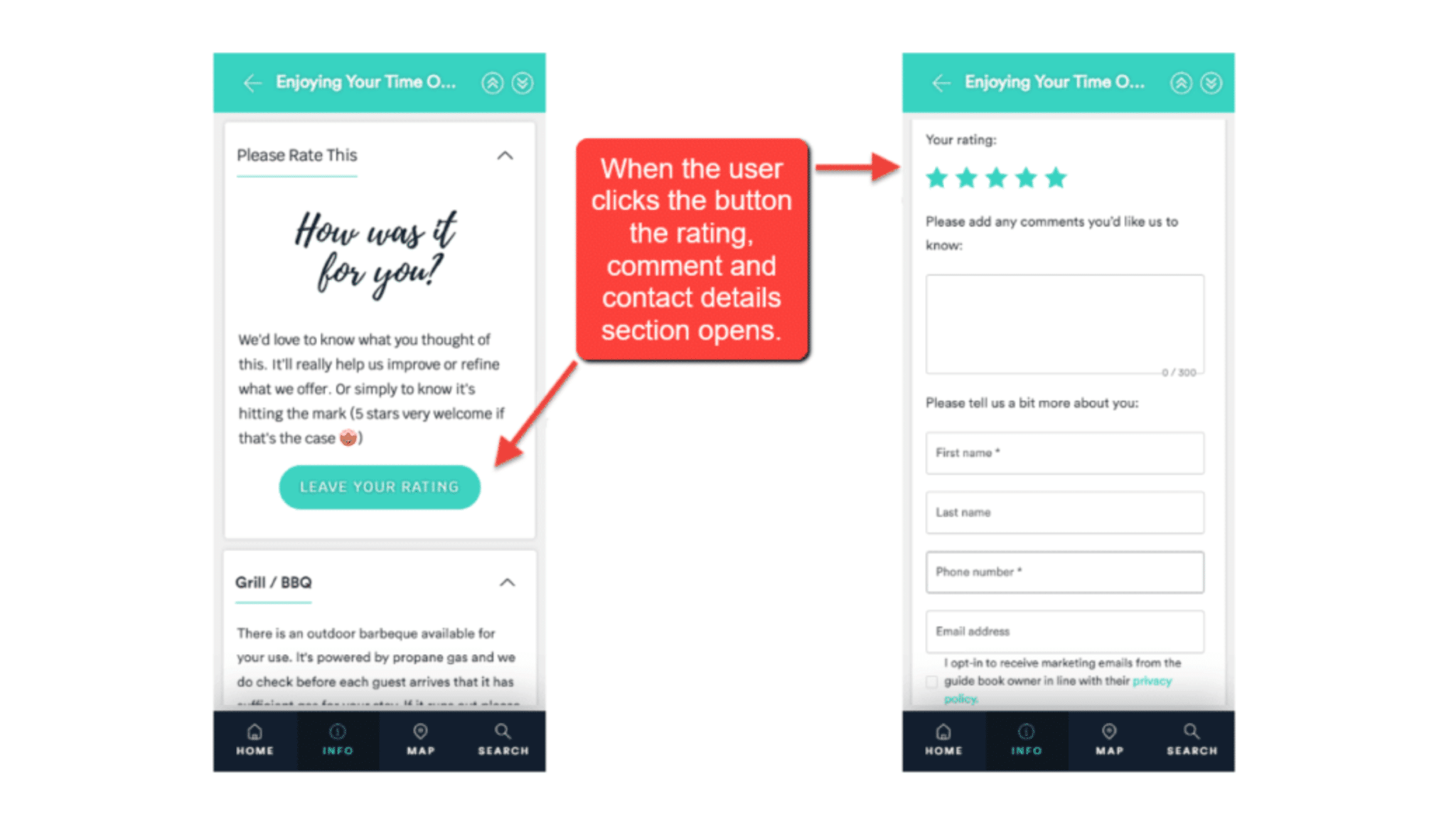 How do I communicate the First Impressions Topic and Rating Topic to my guests?
When beginning to use your First Impressions Topic and Rating Topic, knowing when and how to send it properly to your guests can ensure you actually receive responses!
Here are a few ideas to incorporate our First Impressions Topic and/or Rating Topic into your guest communications:
Can I use the First Impressions Topic or Rating Topic for marketing purposes?
Both the First Impressions Topic and the Rating Topic provide advanced options in the event you'd like to use your guests' contact details for marketing purposes.
The default for this option is 'No'. You can leave this as is if you're not planning on using the collected information for marketing materials like email campaigns and drip sequences or outreach to guests for promotional offers.
If you choose 'Yes', you will need to enter a link to your privacy policy, which will then be shared as part of the Topic with an opt-in checkbox. We ask you to enter this because a suitable data collection and privacy policy needs to be in place before collecting and using your guests' contact details for marketing purposes. It's also the right thing to do – advising your guests they will be marketed to maintain transparency between you as a host and your guest.
Can I download guest data and feedback?
You bet! Within the Download section of the Guides page, you can filter to include responses for the First Impressions Topic and Ratings Topic, and further filter by individual guides and time period of responses collected. The downloaded information also includes insight as to if the guest consented to their details being used for marketing purposes.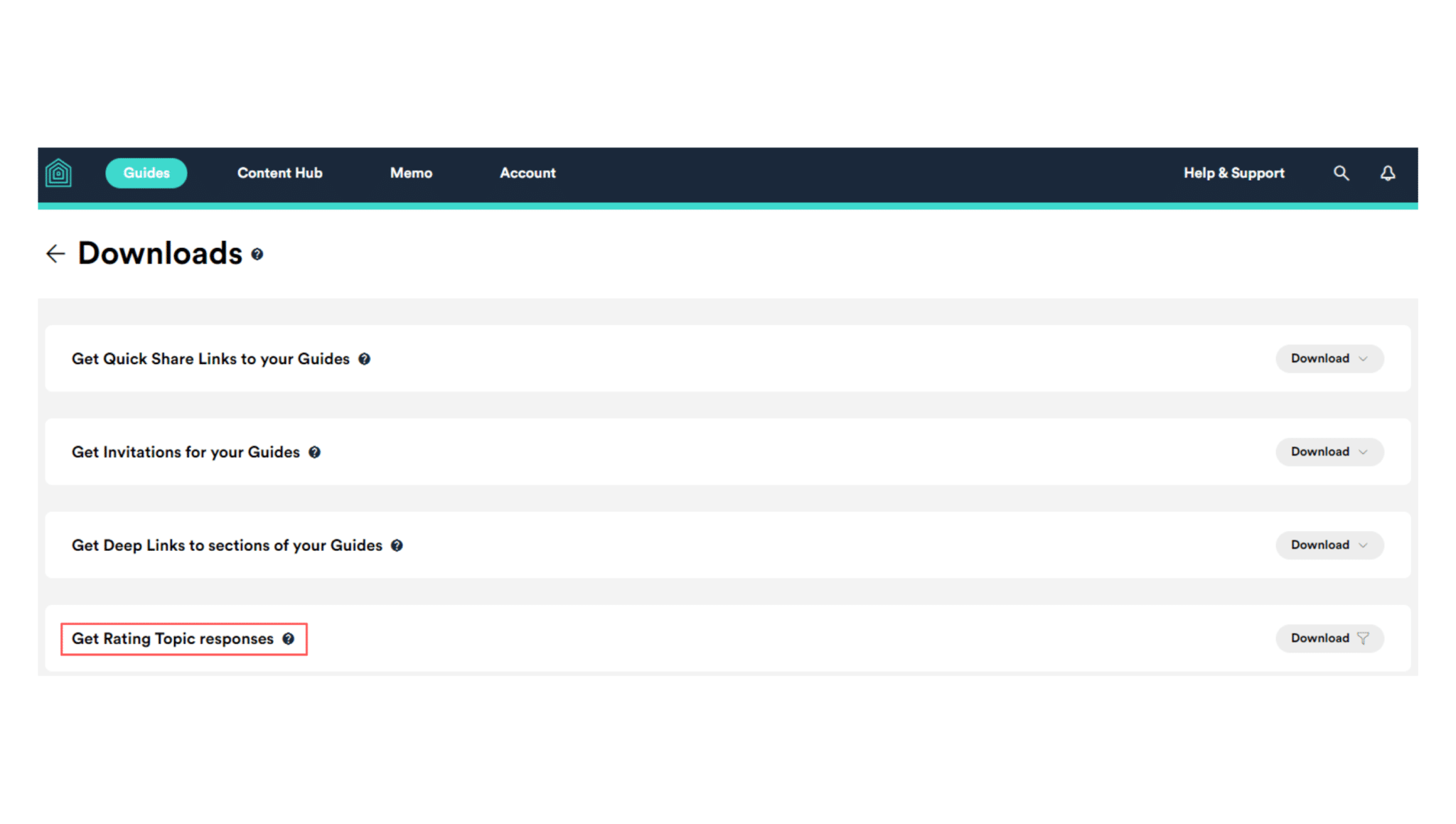 Explore more of Touch Stay's product updates and releases
Here at Touch Stay, we're always working hard to improve our digital guidebooks for all property verticals and guests alike. From short term rental hosts, to vacation property managers, boutique hoteliers, caravan park operators and more, a Touch Stay digital guest welcome has you and your guests covered.