A guidebook app is an effective, eco-friendly way to share your information. Whether you're running an event, welcoming new employees, or guiding customers through a health insurance plan, a guidebook app engages your audience and efficiently distributes your info.
However, building an app takes time and know-how. It also requires your audience to download yet another programme, cluttering up their storage. What if there was an alternative to the guidebook app?
That's where digital guidebooks come in. They're not native apps (i.e. the apps you download from an app store) – they're progressive web apps. We'll get into exactly what this means further down, but essentially you and your audience get all the benefits of a native app, with much less hassle.
If you're looking for a way to clearly, engagingly share information, keep reading to discover the alternatives to a guidebook app.
In this article, we'll cover:
How a digital guidebook helps you create:



The benefits of a digital guidebook
First things first, how will a digital guidebook help you to communicate more effectively? In short, the best digital guidebook app:
saves time for you
effectively informs your audience
With all the information your audience needs in one place, you spend less time fielding repetitive questions, and they feel prepared from the get-go. It really is a win-win.
Provide your clients with the most up-to-date information
Often, our methods of information-sharing include:
PDF
Email
Text
Presentation
Paper manual
And yet, each of these tools requires a new set of communications every time information changes. Have you tweaked the schedule for your event? That's another email to send, or potentially a whole document to redraft.
A Touch Stay digital guidebook automatically updates as you add or change content. Simply update the details in your central account, and your entire audience will see the correct info next time they open their guide. (You could even use Memo, our notification tool, to alert them to the most important updates as they happen).
If you've got large amounts of evolving information to share, a digital guidebook keeps everyone on the same page, and prevents your clients' inboxes from becoming clogged with emails that they stop bothering to read.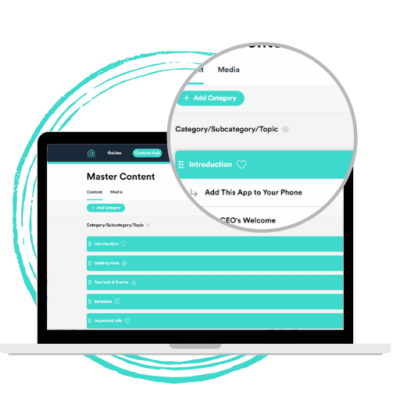 Everything your audience needs is in one place
Have you ever bought a new appliance, only to unpack it, assemble it, plug it in, switch it on, and…nothing.
So, you start searching for the instruction manual. It's lost amongst the packaging, of course. And when you eventually locate it, it's not clear if this issue comes under "Setting up your device", or "Troubleshooting". And why do they make the font so small?
What if everything your customers needed was already available on their phone? All the details easily accessible and clearly organised, with what we call internal links helping users to navigate between sections. And it's not just reams of written information, you can also insert instructional videos, photos, diagrams, and polls.
Plus, if people still have questions, you can respond with a deep link to the relevant information in your guidebook. No need to type it out all over again. You save time, and your clients get the answers they need straight away.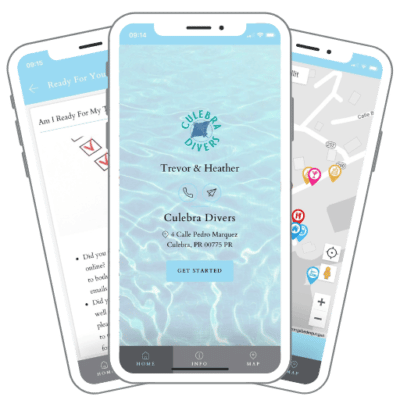 No app development required
We promised we'd get to this bit! Touch Stay digital guidebooks use progressive web app technology. This sounds technical, but all it really means is that your guidebook is a website that looks like an app. It's built and operated as a website, but your user experiences it as they would an app. This has a few handy benefits:
There's no need for you to build an app (no programming!)
Your guests don't have to download anything – no need to open the App Store or Google Play Store
Your guidebook automatically updates when you add new info
It optimises to whichever device your customer is using
Whether someone is engaging with your guidebook on an Apple or Android mobile device, an iPhone or an iPad, they'll have the same effortless experience. Plus, there's no need to develop separate iOS and Android apps – your guidebook works everywhere.
Essentially, a progressive web app provides the same powerful user experience as a native mobile app, but with far greater flexibility.
READ: our detailed explanation of a progressive web app
Share far and wide
If your clients don't download your guidebook from the app store, where do they find it? It's super simple, you simply email/SMS them a link that's unique to your guide, they click on it, and voilà!
To make it easier for them to return to your guidebook whenever they need to, they can pin it to their home screen (as they would a native app). Once it's there, they can access it even when they don't have an internet connection.
To increase engagement with your guidebook, we recommend sharing it multiple times via various channels. You can use Memo – our notification system – to schedule regular email and SMS alerts throughout the client lifecycle. All you need to do is:
Select your custom message templates
Schedule your alerts
Move on to the more important stuff
How a digital guidebook supports you
Let's get a bit more tangible. What exactly can a digital guidebook help you to accomplish?
We thought the best place to start might be with ways our current customers have got creative designing guidebooks that fit their exact needs. They've produced:
1. An event app
Actually, they've produced many event apps, for many different events. Check out this event guide for the Data and Revenue Management Conference.
A digital guidebook enhances your event experience by keeping attendees up to speed before, during, and after the event:
Quickly update content when things change
Serve multilingual audiences with language translation tools
Help attendees plan their visit with pre-arrival access
Embed surveys to spark a conversation
Spotlight your brand – include your logo, photos, and colours
Send SMS notifications to attendees at scheduled points during the event to remind them of actions you wish them to take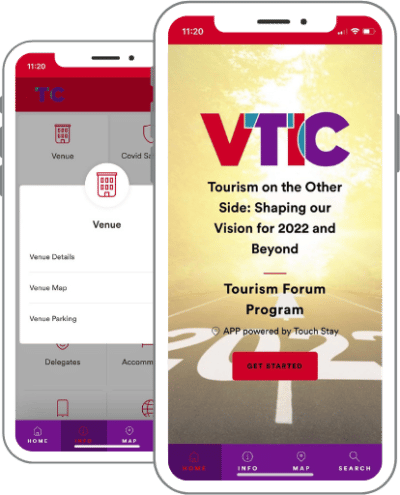 2. A travel guidebook
Culebra Divers has created a guide to welcome visitors to their dive school and, more generally, to the island of Culebra. They're able to communicate important dive safety information alongside recommendations of what to pack, where to eat, and where to snorkel.
For Culebra Divers, the ability to share their guidebook before visitors even board a plane is especially important. Diving carries risks, and they need to ensure that their visitors are properly prepared. They remind them to:
complete the liability waiver
test their equipment before they leave
pack their proof of certification
A digital travel guidebook app allows them to welcome prepared visitors who are ready to make the most of their dive trip.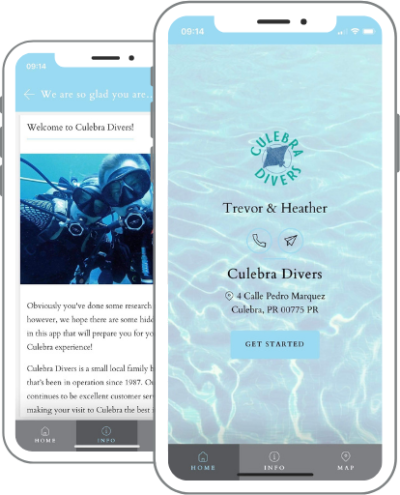 3. Educational playbooks
Your digital guidebook doesn't have to revolve around a singular event, or a one-time visit. It can become a resource that people return to time and time again, packed full of knowledge and tips to help them succeed.
For example, the Vacation Rental Advocate's Playbook was developed to help vacation rental pros take their advocacy to the next level. It includes a series of videos and transcripts that walk the user through the process of becoming an effective industry advocate.
Similarly, Guardhog's Short Term Rental Sharing Guide walks property owners through the process of setting up a short term rental. From creating the perfect listing, to choosing the best insurance for you, they've created a one-stop-shop for anyone looking to establish their first holiday rental.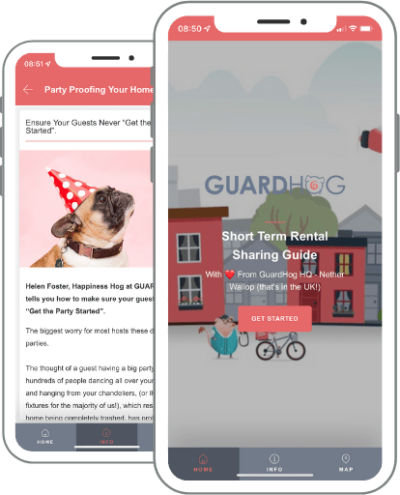 4. A digital user manual
Lifts for Life has converted its paper operations manual into a digital guidebook, providing clearer, more accessible instructions for its customers.
From the Quick Start Guide, to crucial safety information, all the details their customers need are right there. And it's all clearly ordered to allow for easy navigation.
Plus, they've inserted a link to the PDF of their user guide that customers can print if they prefer. They know that some customers feel more comfortable with a physical manual, so instead of replacing it completely, they've simply complemented it with a digital guidebook. You could even link to your digital guidebook via a QR code at the bottom of your paper manual, to create a truly hybrid experience.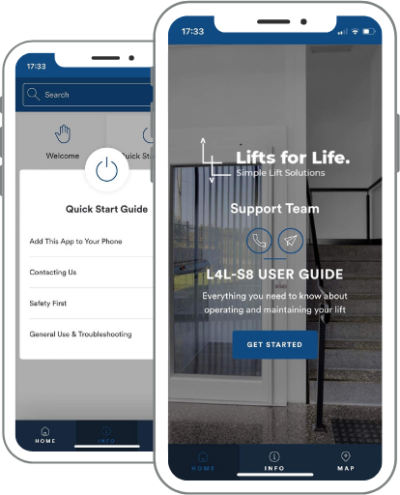 5. An owner manual
Cottage Link Rental Management has developed a digital owner manual to ensure that they set transparent expectations from the get-go. Owners who use Cottage Link to manage their rental properties know exactly what the service includes, how much they're paying, and what their fees cover.
This establishes a good working relationship from the very beginning and, with a resource they can return to at any time, owners at Cottage Link always feel informed and updated.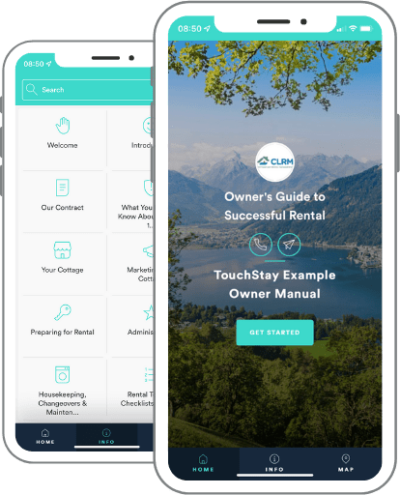 6. A tool for spreading awareness
A digital guidebook can help non-profits and charities to communicate with volunteers, donors, and the public:
Update your audience on fundraising campaigns
Create educational resources that anyone can access
Help users navigate the local area with the Map tab
Allow users to access info even when internet access is disrupted
Easily translate content into multiple languages
For example, the Nashville Area Short Term Rental Association created a disaster relief resource following a devastating tornado in Nashville, Tennessee. They used it to spread the word about what was happening on the ground, and how people could help.
Elsewhere, Fabstayz created a guide to LGBTQIA+ friendly places to stay, eat, drink, and enjoy in Fort Lauderdale. They're helping LGBTQIA+ travellers to make the most of a location which is already famed for its safety and inclusivity.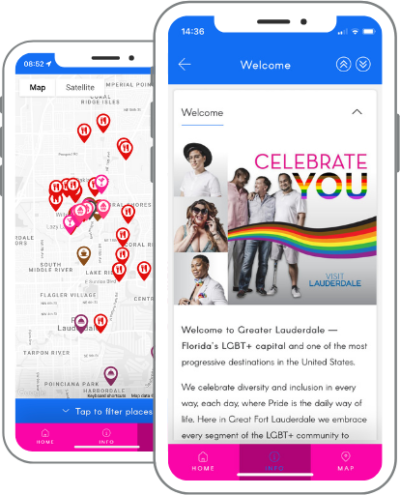 How to create your Touch Stay digital guidebook
Whatever your information needs, a Touch Stay digital guidebook meets them simply and effectively. No programming, and no app development. We've done all that for you, so all you have to do is:
input your information
customise your design
start sharing!
At only £76 + VAT per year – after your 14-day free trial – the cost of designing a Touch Stay digital guidebook app is far lower than that of creating your own from scratch.
Just fill in the contact form below to let us know that you'd like to create a custom guidebook (and fill us in on what you're going to use it for – we're nosy like that!). We'll help you set up your account so you can get underway in no time.
We're a friendly bunch too! If you run into any questions or difficulties, just reply to any of our emails or send a message via the support desk (you'll see this in the top right corner of your account once you're up and running).
Why not start by reading through our walkthrough of how to get your Touch Stay guide done when time is short (it's geared towards holiday rental owners because that's where we started out, but the basic principles apply to any guidebook).