Welcome to the fourth post in our series of blogs breaking down how each of Touch Stay's features can help guests get the most out of their stay. In case you missed any of the previous three, you'll discover organising information for guests, using Special Topics, and adding videos to engage guests.
In this post, we'll explore how a Local Area Guide creates a special experience for your guests and provide tips on how to make yours stand out. Read on to discover how to use your Local Area Guide to create a memorable experience and let guests navigate the local area with ease, all without having to ask you a single question!
The local area expert
Every destination has its own distinctive character. But for visitors, how does that local flavour translate into tangible experiences? This is where your local expertise comes in! Build trust and reinforce your reputation as the local area expert with your curated recommendations of the hidden gems, awesome activities, and local businesses that capture the essence of your area.
Unlike generic online listing review sites, your recommendations are personalised and tailored specifically to your property and area. You know the spots that are must-sees versus overhyped tourist traps. Your Local Area Guide allows guests to explore like a local and create one-of-a-kind experiences they can't get anywhere else.
Plus, directing guests to local businesses drives revenue into the community. You can even suggest partnerships with local restaurants and attractions to offer discounts. It's a win-win that builds goodwill all around.
The personal touch
Your guests aren't just there to stay at your property or attend your event; they want to feel like they're getting a personalised, local experience to make the most of the area. Your digital guidebook is the perfect place for you to help them make their stay unforgettable.
Tell visitors about those hidden gems and off-the-beaten-path experiences that they might not have found otherwise: your favourite hill to watch the sunset, the hidden parking spots only the locals know about, where to find the best coffee and pastries at breakfast, and your favourite beaches - the options are endless!
Creating the perfect Local Area Guide
Offering a curated list of personalised recommendations tailored to visitors' specific interests will save them time and effort, and allow them to quickly find the things they're most interested in doing during their trip.
Focus on your guests' interests: foodies want dining spots, families need child-friendly activities - cater to their needs.

Offer a range of options: provide budget finds, splurges, active adventures, relaxing escapes - provide variety.

Provide clear instructions: go further than listing nearby beaches - explain where to park and how to access them.

Personalise recommendations: don't just say "Cafe X is good" - say why you love their pastries and coffee.
Use photos and videos: visuals of locations and activities help them come alive.
Get creative with your guide's Category names! Go beyond imaginative titles, like Things to Do or Places to Eat, and make specialised sections, like Local Favourites, Adrenaline Junkie Adventures, or Arts & Culture Guide. When guests instantly see suggestions relevant to them, engagement soars!
Top tip: remember to provide your guests access to your Touch Stay digital guidebook before their trip, so they can plan their activities in advance (plus know what to pack).
Save time with Google Places
Touch Stay's seamless Google Places integration means there's no need to painstakingly type out opening times or contact details for the local businesses you want to recommend. We do all the heavy lifting for you by automatically pulling in all the relevant info from their Google Business Profile.
Choose a map pin style for each recommendation so it appears on the Map tab of your guidebook for guests to see and navigate to. By using Google Places to recommend and showcase your favourite spots, you'll engage and entice guests by showing them you really care about their stay.
Click here for more info on how to easily add Google Places to your Touch Stay digital guidebook. Or watch this video.
Starting your Local Area Guide
If you're just starting out with Touch Stay and want to get some basic local information into your Local Area Guide quickly, start with the essentials by simply adding your:
5 favourite local restaurants
5 favourite beaches, walks, or trails
5 favourite local attractions or activities
Click the guidebook below to check out a simple, yet thoughtful Local Area Guide by RAK Glamping. They've included Categories like Local & Culture, Hikes, bikes & walks, Activities, Beaches, Restaurants, and Shopping.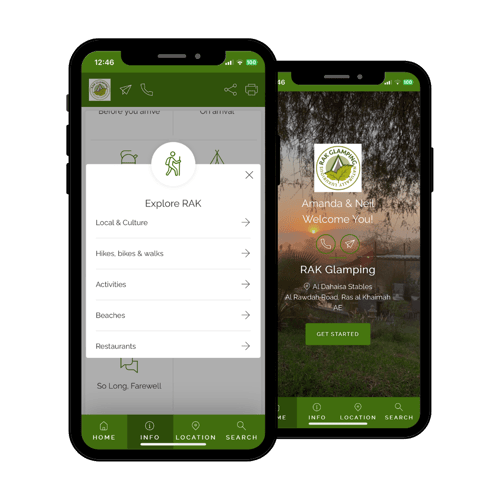 Another nice simple example is from The Green Lodge Aviemore. We love that they've broken down their Local Area Guide into sensible Subcategories, plus added videos and links out to other websites. Click below to read it.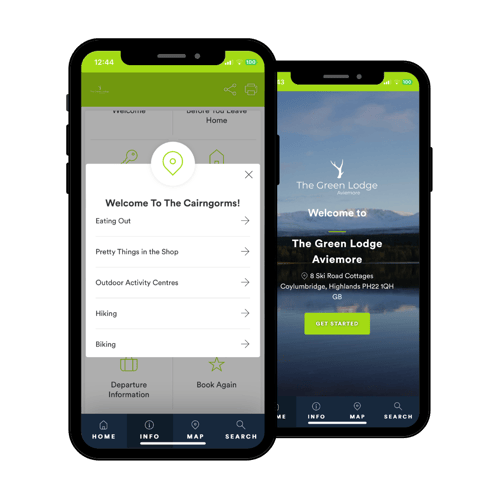 Add more details to your Local Area Guide
You'll soon work out what kind of visitors you attract and can tailor your guidebook's content especially for them. Once you've established your guests' preferences, take your Local Area Guide up a notch by adding Categories and Subcategories:
Category for eating

Category for walking/outdoors

Category for attractions
Cornish rental hosts, Lamorna, raise things up a level by adding a Food & Drink section with three Sub-Categories, as well as an Activities Guide section that includes various Subcategories, like Beaches, Golf Courses, Walking & GeoCaching, Water Sports, Spa Relaxation, plus info about their local castle. Click the guidebook for inspiration.

Michelle at Skytrek Willow Springs Station contains everything in one Category, which she calls Explore the Local Area. We love how she starts with itinerary ideas (that must help with extra night upsells!) and then has Subcategories for Drives, Arts, Restaurants, Bushwalking, and our favourite - Lookouts (a.k.a. 'nice views' to us Brits!)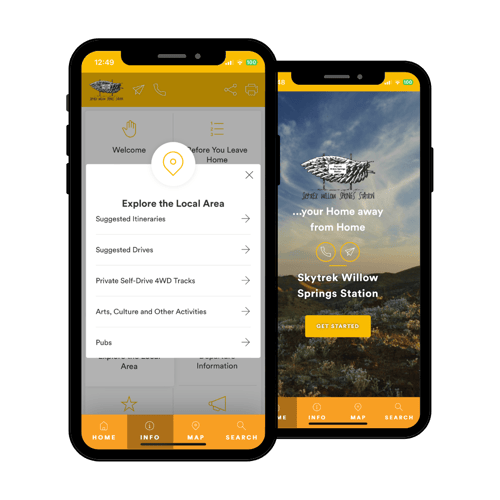 Paradise in Hawaii has created a Local Area Guide Category for different types of guests and we love the simplicity (as a guest) of recognising the one we are as soon as we open the guide. A Category dedicated to Staff Local Favourites wins us over too!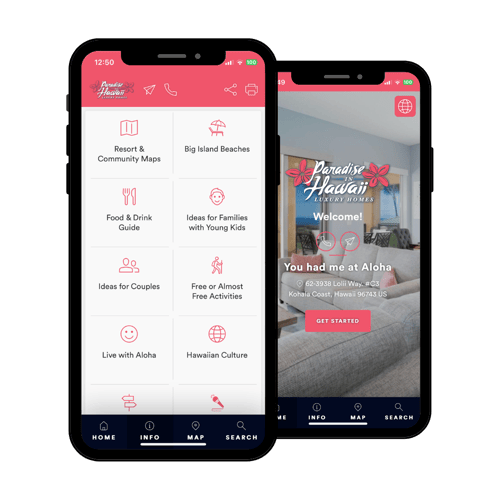 Benchmark Inn Provincetown has kept things super simple at the Subcategory level and we love that they start with one on How to get around. The fact they've added a line or two to each Google Place recommendation to help guests make a choice is a real winner!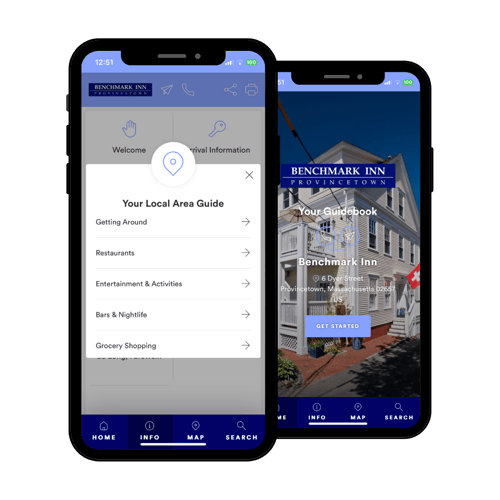 Make your Local Area Guide indispensable
We've learnt that a Local Area Guide can never include too much information! The more guests have to read and watch about their stay, the better. Not only does it save them time by having access to every bit of info they'll need in one place (and in their pocket for their entire trip), but it saves you time because they're not constantly having to contact you to ask questions.

Le Pas Paraloup in France has a fantastic example of an extensive Local Area Guide, with Categories and Subcategories including Arts & Culture Sightseeing, The Provençal Markets, Flea Markets, Top 5 Hiking & Cycling Trails, Wineries, Local Waterfalls and much more. Click the guidebook below to be impressed!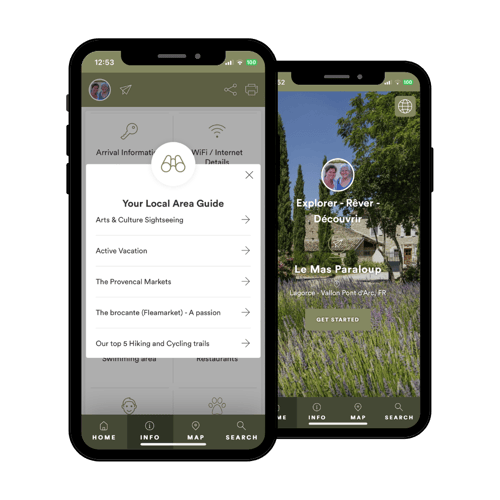 Australia's Country Food Trails is a glowing example of a comprehensive Local Area Guide for a destination guidebook, rather than for a short-term rental. It includes inspiration for an abundance of local activities for all types of guests - from Winery Tours, Day Trips, Festivals, For Children, and Markets, to The Arts and Retail Therapy, plus a wide range of accommodation options. Click the guidebook to check it out.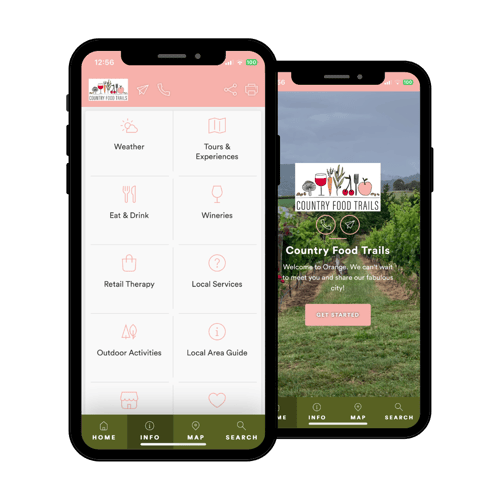 Your secret weapon to an unforgettable stay
An exceptional Local Area Guide transforms your guests from visitors into insiders. They get to explore the heart of your community through your eyes and benefit from your hard-earned local knowledge.
With an insider's view of hidden gems and local flavour, their experience becomes far richer and more memorable - and they associate those special memories with you and your place.
So tap into your local pride and expertise to create a digital guidebook that inspires. Then watch as your reputation, reviews, and bookings rise when word gets out about how your personalised recommendations made your guests fall in love with your destination.
Need some help taking your digital guidebook to the next level?
Our Tune-up Service helps get more guests engaging with your guidebook. Have a chat with our Touch Stay digital guidebook pros who will review your guidebook and offer a list of ways to optimise it, including:
Category, Subcategory and Topic organisation

use of collapse/expand, internal links and other features

optimal brand presentation

helping you find the perfect balance between informing and inspiring guests
Have you joined our Touch Stay Rock Stars Facebook community? It's full of fun, friendly and knowledgeable Touch Stay users from all over the globe who are always willing to offer helpful advice and handy hosting hacks!