The vacation rental industry is slowly becoming more aware of our responsibility to ensure that guests with disabilities can access holiday accommodation, but we've still got a long way to go. Here at Touch Stay, we were lucky enough to sit down with Lorraine Woodward, founder of Becoming rentABLE, who's taking matters into her own hands.
Lorraine has muscular dystrophy, as do her sons, and she wasn't able to take them on holiday as kids because there simply wasn't anywhere to stay. In response, she built her own holiday property – one that was properly accessible for herself and her sons.
And she didn't stop there! She founded Becoming rentABLE to connect people with disabilities to accessible holiday properties. Vacation rental owners can list on the site for free and verify the precise ways in which they meet various access requirements.
If you're a holiday accommodation operator looking to understand how (and why!) to make your property accessible for people with disabilities, then you're in luck – we've summarised Lorraine's expert advice below. If you'd prefer to watch her explain in her own words, you can watch her chat with Andy.
Why it's a good idea to make your holiday rental property accessible
For a start, there just aren't many of them! Lorraine noted that fewer than 1% of short term rental properties in the USA are accessible, and there are actually 23 states with no accessible short term rental properties at all.
If we, as an industry, claim to be inclusive, welcoming, and equitable, then we have to correct this.
How accessibility for guests with disabilities benefits vacation rental owners
For starters, making your holiday let more accessible also opens it up to a whole new market of travellers. According to the CDC, 26% of adults in the USA live with some type of disability. That's a huge number of people (61 million, to be precise) who may not be able to comfortably stay in your holiday rental property.
So, making your property more accessible, through changes which are often surprisingly simple, opens you up to a new group of potential guests. Because so few short term rental properties are currently accessible, you're likely to discover repeat guests who make strong recommendations to friends and family with similar access needs.
This is a brilliant example of how taking an inclusive, equitable approach actively benefits holiday rental owners. For another instance, check out how eco-friendly initiatives support your bottom line.
What does accessibility mean in practice?
Lorraine emphasised that making your holiday home accessible to people with disabilities doesn't have to be a huge project. You don't necessarily have to make any significant structural changes.
At the same time, there's no one-size-fits-all solution. There are a wide range of possible disabilities that guests could have, and a variety of ways you can accommodate their requirements.
You or I can't identify what makes a property accessible for someone else. I can identify what my needs are, and they may be different from your needs.
Lorraine walked us through some practical starting points for making your vacation rental property accessible to people with different types of disability.
How to create a rental property that's accessible to people with autism
For Lorraine, the key to making a property accessible to people with autism is reducing sensory stimulation. Strategies include:
choosing muted colour schemes
installing blackout curtains
avoiding fluorescent lights
Lorraine also suggested installing deadlocks and door alarms to ensure that everyone in the property remains safe and accounted for, especially at night.
She highlighted that none of these solutions involve any renovation – many of them are fairly simple swaps or installations. She estimated that they could cost less than $500, but would allow you to reach a population of around 6.2 million people with autism in the USA.
How to create a wheelchair accessible vacation rental
Lorraine uses a wheelchair herself, and a few of the things she looks out for in a new property are:
a roll-in shower
space to move about between items of furniture
a roll-under sink
a microwave that's reachable from a wheelchair
She emphasised that a lack of specific information often makes it difficult for her to know how accessible a property will actually be.
For example, some showers are described as accessible because they're step-in (meaning that the user doesn't have to step over the side of a bath to access it). Whilst this is a solution that works well for guests with walkers, Lorraine needs a roll-in shower for proper wheelchair access.
Similarly, a property with shallow steps might be suitable for a guest using a walker, but it won't be accessible for a guest who uses a wheelchair.
Allow room to manoeuvre
For both walker- and wheelchair-users, space is a key priority. Lorraine recommended having at least 40 inches of space between different items of furniture, to give guests enough room to move around.
Similarly, her wheelchair requires a door that's at least 36 inches wide. Most walkers need a door that's 32 inches wide.
Give your rental property a test run
It's always a good idea to spend a night in your vacation rental property to understand how your guests experience it. Is there enough cutlery? Are the pillows soft enough?
Similarly, Lorraine recommends putting yourself in the position of your guests with disabilities before they arrive. Invite over a friend who uses a wheelchair so that they can use your property to see what's accessible and what isn't. If this isn't possible, Lorraine even suggested sitting in a kitchen chair and moving about. Are there any appliances you can't reach? Any spaces you can't manoeuvre in?
Get creative! If you're low on funds and time, start by considering how you can position appliances and equipment so that a guest using a wheelchair can operate them.
Part of the process is rethinking how you position accessibility in your narrative on the booking platform. You just have to be a little creative and think about how your space could be accessible – sit in a chair and see where that chair can go; if you have a friend who uses a wheelchair or walker, invite them over to see what access they might have.
How to make your vacation rental property accessible to guests who are deaf or hard of hearing
Adapting your property to make it accessible for people who are deaf doesn't have to require a chunky investment. Lorraine suggested:
enabling closed captions on your television
connecting a vibrating alarm system to the door bell
installing a signalling device connected to a light system
With a series of small changes (your TV probably already has closed captions!), you can make your property accessible and inviting to a whole new group of travellers.
How to improve accessibility for people who are blind or have visual impairments
Finally, Lorraine walked us through her suggestions of ways to improve accessibility for guests who have visual impairments:
installing under-counter lighting
creating a clear walking path to allow for easy navigation
placing fluorescent tape on steps
creating a map of the house which incorporates different textures
You can see here how the same solutions can benefit multiple groups of guests. For example, creating a clear walking path supports guests with visual impairments, whilst also creating space for guests who use wheelchairs and walkers.
How to communicate the accessible vacation you offer
A big part of Lorraine's work is improving how we communicate about accessibility. Listing sites such as Airbnb, Vrbo, and Booking.com offer a range of accessibility filters, so a good starting point is to check that your listing specifies the ways in which your property is accessible.
And yet, at the time of writing, Vrbo only allows users to specify that they want the property to be 'wheelchair accessible', and/or to have an elevator. Well, we've seen that there are a whole host of other adjustments that guests with disabilities might need to enjoy a comfortable stay. Airbnb only allows hosts to specify if their doorways are wider than 32 inches, whilst Lorraine highlighted that her wheelchair actually requires a doorway to be at least 36 inches wide.
Listing sites are taking steps to help travellers with disabilities find holiday properties that meet their needs, but they're pretty slow steps.
Say hello to Becoming rentABLE
This is where Lorraine stepped in. Becoming rentABLE is a reality TV show and social media platform dedicated to advocating for accessible short term rental properties. It's also a listing site!
Becoming rentABLE has 36 possible filters for you to apply to your short term rental property. You can tell prospective guests that it's vision accessible, autism accessible, walker accessible, and so much more. Their representatives verify that properties are describing themselves in the correct way – Lorraine noted that some properties were already accessible in more ways than they realised!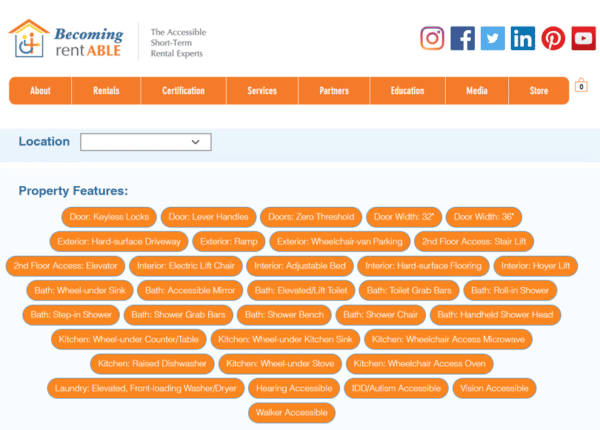 Lorraine's aim is to connect people with disabilities – and their friends and families – with accessible short term lets where they can enjoy a comfortable holiday. That's why Becoming rentABLE's listing site is currently free. Lorraine also provides a series of free resources, including:
a guide to achieving zero-threshold entry
documents that clarify the legality of accessibility in the USA
suggestions of ways you can make your property accessible to people with specific disabilities
These resources also clarify the terms of the Americans with Disabilities Act. The ADA outlines accessibility guidelines and requirements to ensure that people with disabilities have equal access to public life and services. Becoming rentABLE explains who these guidelines apply to, and why you shouldn't be nervous about them.
Essentially, they can tell you everything you need to know about the legal and practical considerations of making your home more accessible.
Use your digital guidebook to convey the access requirements you meet
A digital guest welcome book is the perfect tool to share the ways in which you've made your property accessible. Your Touch Stay digital guidebook comes with a short term rental template which you can customise in any way you like. You're in control of the content and structure, which means you can choose when and how you want to present your accessible modifications.
Guests access your guidebook via a shareable URL, so you can share it with them multiple times before they even pack their bags, with no need for them to download an app or a PDF. Generate a deep link to a specific section in your guidebook to send them straight to crucial accessibility info.
You can even use your guidebook as a marketing tool. Simply share the link on your listing, your website, and your social media to allow guests to browse your property in depth. With the ability to add pictures and videos to each section, you'll be able to demonstrate exactly how you welcome guests with disabilities.
Guests will know even before they book that they're staying in a property that serves their needs, with a host who truly cares.
The tangible effects of accessible short term lets
Lorraine shared multiple experiences with us which really demonstrated the transformative effect that accessible accommodation has for people with disabilities and their families.
Lorraine herself struggled to take her kids on holiday when they were younger, until they built their own accessible holiday property. They recently had someone stay with them who hadn't been on holiday in 28 years.
When a renter comes to our property I ask them, 'Why did you travel 2.5 days from Canada to North Carolina?', and they say, 'Lorraine, there's nothing in between here and there that's accessible.'
Widening access to your property undoubtedly makes sense from an economic perspective: you're widening the markets to which you have access. It also makes sense from a community perspective. Whether travellers with disabilities are looking for a wheelchair accessible oceanfront rental, a cabin that welcomes kids with autism, an accessible van rental service, or an all-inclusive resort, they'll be able to find something to suit their needs.
Start making simple changes to your vacation rental property today, and spread the word with a Touch Stay digital guest book.