From making Memo even more efficient, to improving ease of use for you and your guests, we've been beavering away to release some shiny new product updates.
Let's take a look at our most recent releases, and exactly how they'll help you enhance your guest experience and save even more time.
Memo upgrades
We've been busy adding some more exciting features to Memo to make it even easier for you to use and apply it to your guest communications.
Add deep links into message templates
You can now add a deep link to a subcategory or topic straight into your Memo message templates. Guests will be able to click on the link and arrive straight at the info they need.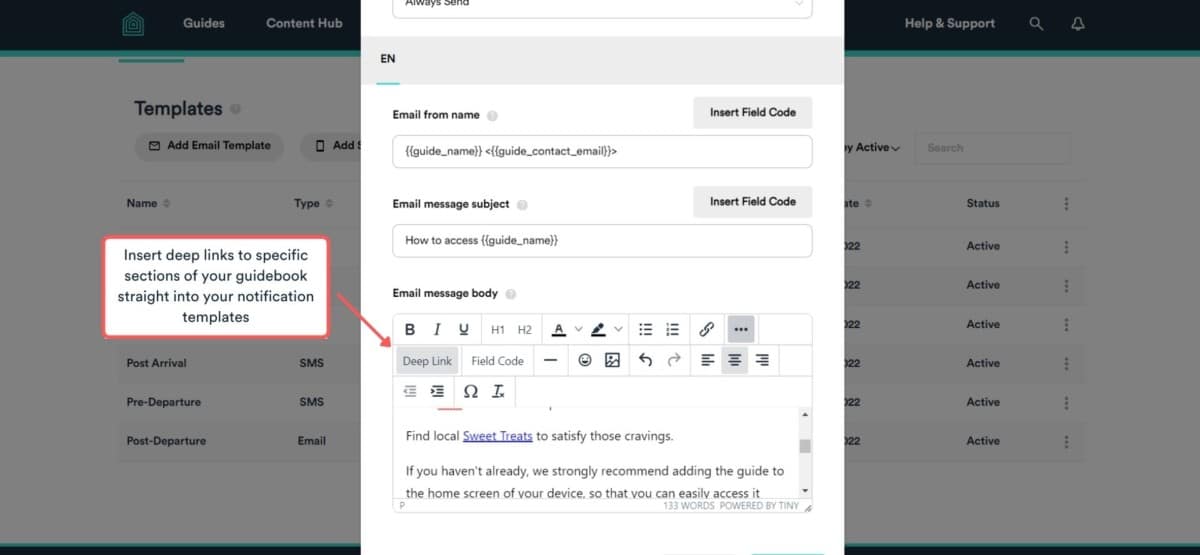 This comes in handy if, for example, you're encouraging guests to take a careful look at your access instructions, or to book local restaurants in advance of their stay. Instead of leaving it to them to navigate to the pertinent info in your guidebook, you can now send them straight to it. This makes it far more likely that they'll actually read it!
Watch your communications become even more effective as you serve guests the relevant details every time.
Find out more:
Allow guests to respond directly to your email address
When creating email message templates in Memo, you can now set the "reply to" email alias to your chosen email address for guest communications. This could be your own email, that of your property manager, or any other member of your team with whom the guest will be in contact.
This means that when guests receive an email from you and hit the "reply" button, they'll be replying to the email address you've chosen.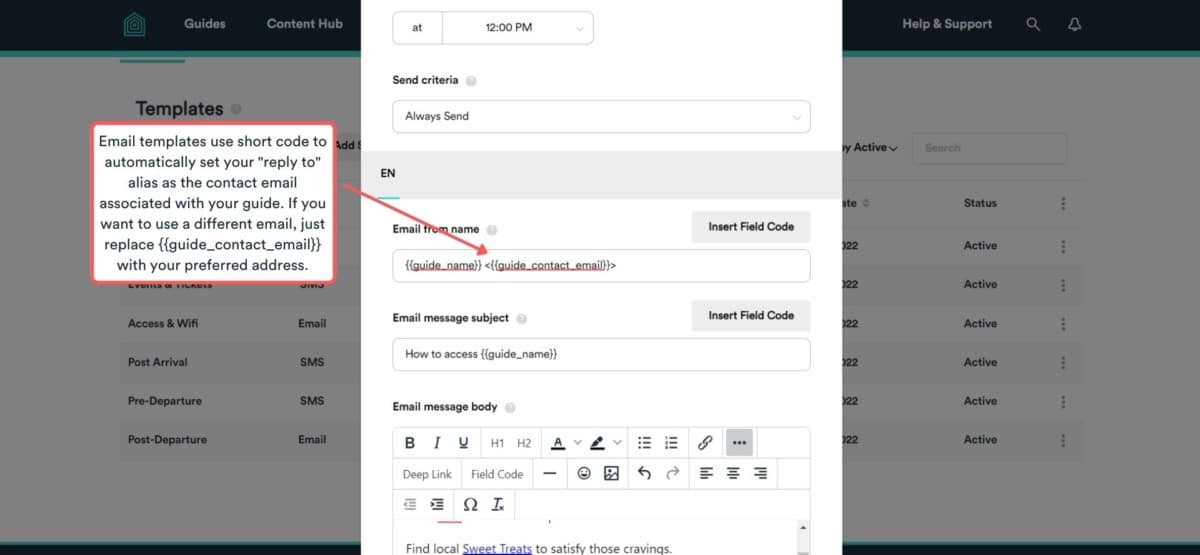 Keep the conversation going! Take the friction out of your guest's experience by allowing them to reply to your Memo notifications as they would to any other email.
Find out more:
Create custom fields when importing from a CSV and BookingSync
You can now create custom field codes which allow you to import unique information from a CSV file or from your BookingSync account.
For example, you might want to automatically import the door lock code for each property so you can embed it in your Memo message templates to share with guests. You can now link the lock code value in your BookingSync account (or in your CSV file) to a custom field code that you create in Memo.
This means that when you include your custom field code in a new template, the door lock code will be automatically added, in the same way that details such as the guest name and contact info already are.
Find out more: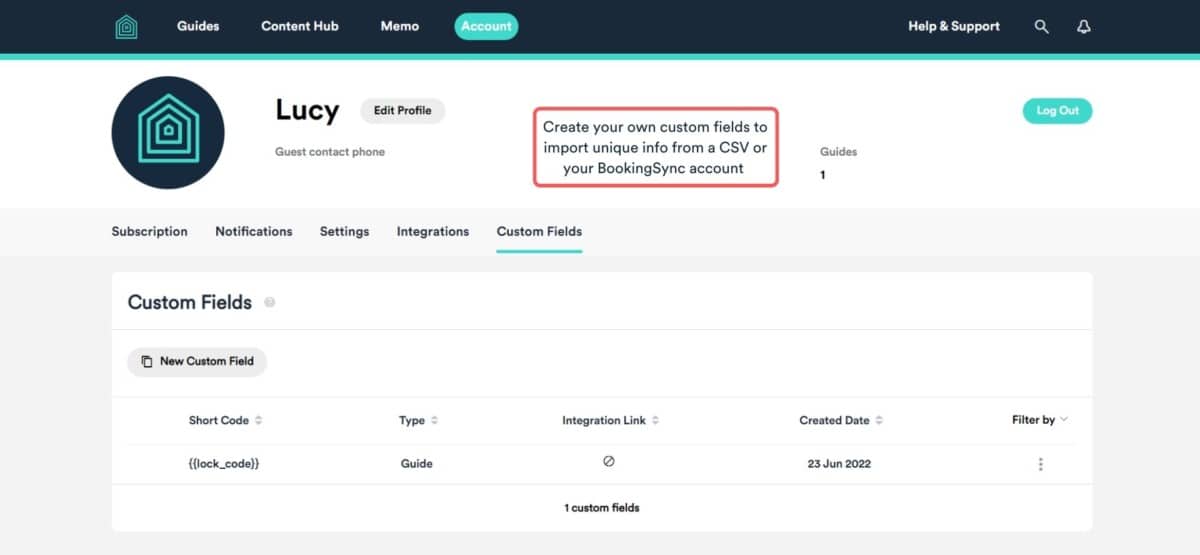 Making things easy
Recent tweaks that make it easier for you to build, manage, and share your guidebook.
Retain Category headers when you filter by tag in Content Hub
Previously, when you filtered by tag whilst viewing Content Hub, you had to expand all your Categories and Subcategories beforehand. Otherwise, your Category headings would disappear. Not the end of the world, but not ideal!
We've fixed this glitch so that Category headings now stay visible when you filter, whether you've expanded your content or not. The result? You can now more easily see which content belongs in which guidebooks.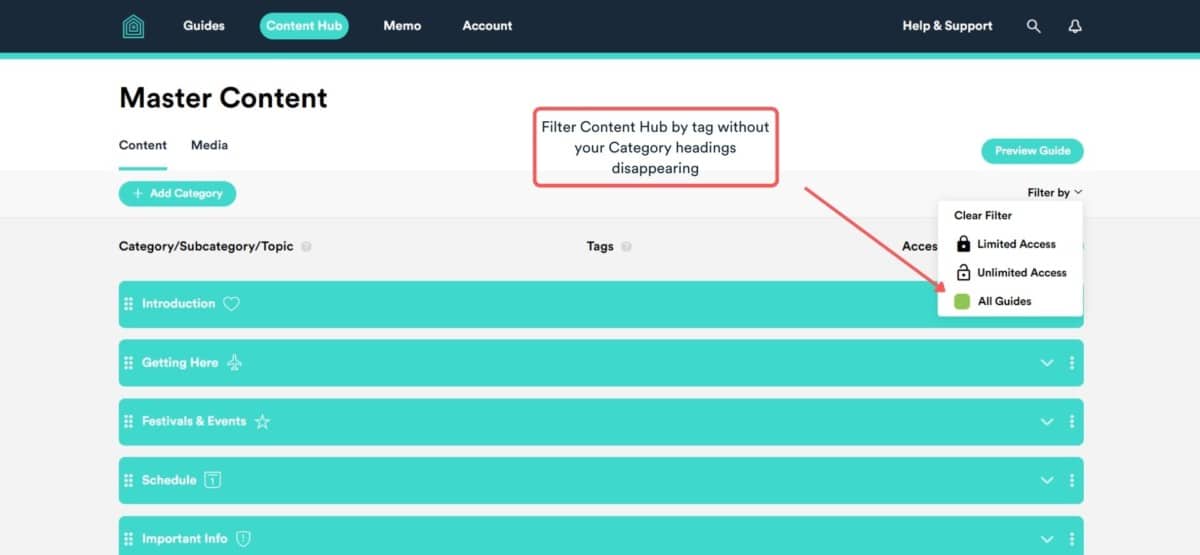 Improvements to your guests' experience
That's what this whole thing is all about, right?! Improving the guest experience. So, we've made some small but mighty changes which will make your guidebook even more intuitive.
Three new languages to choose from
You can now insert content into your guide in:
Indonesian
Chinese
Bulgarian
Enabling our Google Translate tool always allows your guests to view your guidebook in their own language. However, if you want to write the content yourself for clarity and fluency, you can now write it in these three new languages!
Find out more:
Hide the Map tab if you don't need it
If you're creating a guidebook that doesn't make use of the Map tab, you can now choose to hide it from your guest view.
Whilst the Map tab is brilliant for any guidebook that steers users around a specific geographical area – an event guide, a holiday rental welcome book, a tourism guide – it's less relevant for other guidebook uses. If you're creating an instruction manual, for example, you probably won't need to pin locations on a map.
So, instead of having an empty tab in your guidebook, you can now simply hide it.
Find out more:
Progressive web app improvements for a smoother experience
Your guidebook runs on progressive web app (PWA) technology. This is basically the system that keeps everything running behind the scenes. We're constantly working on our PWA to make sure everything runs as smoothly as possible for you and your guests.
We've made a couple of recent fixes:
Guidebooks no longer load twice when opened in iOS
Offline access is now more robust
So, your guests' experience of opening your guidebook and of accessing it on their off-road adventures will be even more polished than it already was.
Our development team is constantly working to add even more value to your Touch Stay experience. From exciting new features, to the behind-the-scenes tweaks that keep everything running smoothly, there's always something happening!
If you haven't already signed up, try Touch Stay free for 14 days!