At one point throughout your journey as a short term rental owner, you might have let out an audible groan when it came time to update your Airbnb welcome letter, vacation rental house manual, or holiday cottage information folder.
Or, perhaps you've forgotten to update it altogether, a quick flip-through revealing you still have the phone number listed for the local Italian restaurant that shuttered its doors two months ago – oops!
Good news for you, though – gone are the days of your outdated, neglected house manual for your Airbnb listing Instead, think sleek, sophisticated, easy to use and even easier to update with a Touch Stay digital guidebook. Surely, you'll create a great first impression! Yet, the question remains … How do you motivate your guests to read your precious digital Airbnb welcome letter?
Whether its your Airbnb guests' first time or fifth time staying with you, part of creating a winning guest experience is ensuring they are equipped and informed for their stay with you.
But, if they drag their heels when it comes time to actually reviewing the information that helps them achieve this, how do you encourage them to check out your guidebook? That's the question we'll be exploring today, as we find out what really motivates your guests to read your house manual.
Table of Contents
1. Regular, repetitive, and early communication
For many guests, including Touch Stay CEO Andy McNulty, infrequent communication following a short term rental booking is all too common. Call it crickets, call it tumbleweeds, call it the silent treatment, many hosts enter "quiet coyote" mode after their guests have booked.
Perhaps you're afraid of coming on too strongly with new visitors to your property. Maybe you fear overwhelming them with information (it's a common post-Covid concern amongst owners and managers who spent months updating guests on varying regulations).
However, getting over the fear of communicating to your guests early and frequently, increases the chances your guests will be more motivated to review your house manual!
To demonstrate there is never a cap to how many times you can communicate to your guests between post-booking and pre-arrival, Touch Stay's Queen of Guest Experience, Tyann Marcink Hammond, connects with her guests approximately 14 times between time of booking and guest check-in!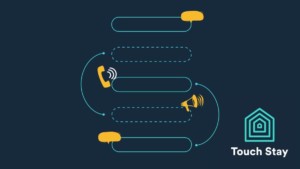 Consider diversifying your modes of guest communication, too. Your digital guidebook is as diverse as your property. Shouldn't the methods you use to communicate your Airbnb welcome letter to your guests be diverse, too?
See below a number of channels Tyann uses to hit her messaging out of the park:
Property management system

Memo (Touch Stay's notification tool)

Email

SMS/WhatsApp

Phone call

Thank you card in the mail
Multiple communication channels from different angles also helps to drive pertinent, time-sensitive information to your guests, too, like where to locate the fire extinguisher or your emergency contact number in case your guests need you on-site – pronto!
Our Guest Communications Planner makes it easy to begin plotting out where and how you'll communicate with your guests before, during, and after their time in your rental property.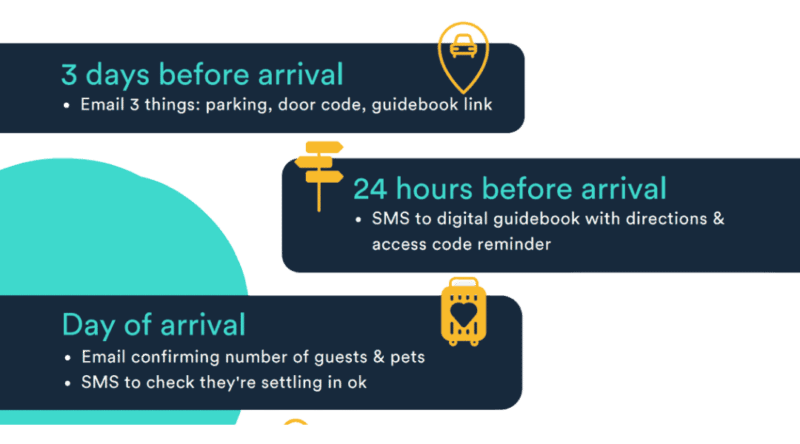 2. 'What's in it for me' answered
Chances are, your guests' brains will be scattered in at least 25 different places as they prepare for their trip. The first thing they'll want to do upon arrival at your property is kick back and relax, meaning your Airbnb house manual is likely to be low on your guests' priority list!
This is exactly why you want to open and maintain guest communications early – empower them to prepare for their stay. Naturally, not every guest will have the time or desire to do this, but at least if you provide the information it's there for the taking.
Your guests won't open your guidebook simply to appease you.
You need to demonstrate how it benefits them to take the time to review the information you've curated for your welcome book. Give them reasons to dive in!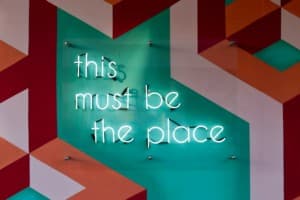 Probably the most important question you can address is 'what's in it for me' (WIIFM). At Touch Stay, we call it the "what's in it for me" factor. As an Airbnb host, supplying this to your guests and informing them of what they get by reading your digital welcome book, will motivate them to actually read it!
You can either do this by including a section within your digital guest welcome book that promotes your add-ons and 'must-book' local attractions, offering some sort of incentive that invites guests to join in the fun via your digital guidebook, or including punchy pre-communications to hook your guests in.
Get creative
For starters, get creative when it comes to answering WIIFM – make it fun but not too challenging, otherwise guests will lose interest.
For example, you could implement a treasure hunt throughout the welcome letter section of your house manual template, with a culmination of clues spelling out a free round of mini golf at the nearby fun park if your guests get to the bottom of things.
Spice up your comms
Virtually grab ahold of your guests by using your brand voice to spice things up. A lot of the time, it's not what you say, but how you say it!
Enacting quirky, quippy, and clever verbiage to convey information without sounding rude, or condescending, will grasp guests' meandering attention, and encourage them to dive deeper than the first page of your digital Airbnb welcome letter.
Upsell activities and attractions
If you're really short on time, a great way to reel guests into reading your digital guidebook is by including a section that surfaces the 'must-book' restaurants, attractions, or activities in your city.
Other add-ons you might consider including in your digital guest welcome book are grocery delivery services. Or, nearby farm shops and delis to save your guests time upon arrival.
Better yet, take them straight to those sections of your guidebook using your deep links.
3. Views your digital

Airbnb welcome letter

as a 'need to know' resource
Sure, providing information like how to operate the thermostat or air conditioning and supplying the WiFi password and Netflix account access code are all important. But the way in which you position your house manual to guests from the get go, sets the tone moving forward.
Present your digital welcome book containing pertinent house rules as a 'need to know' resource versus a 'nice to have' element as part of your vacation home.
This notifies guests without directly telling them that your guidebook is an important safety tool, not an optional added extra.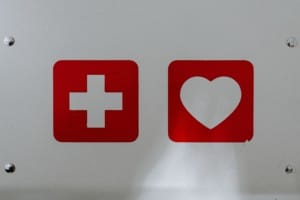 As it relates back to WIIFM, demonstrating to guests exactly how your house manual benefits them, and why they should care, also gives you the opportunity to clarify crucial information including:
Health and Safety Guidelines – including property safety guidelines, clear instructions for what to do in the event of an emergency, as well as contact information for urgent care centres, nearby hospitals, and the fire department.
Weather Updates – the

Touch Stay weather widget

can provide guests with quick at-a-glance information for weather conditions during their stay. However, if your destination experiences strong winds, hail storms, frequent lightning strikes or tornados, including evacuation information reassures guests and positions your guidebook as the all-in-one resource.

Pest and Wildlife Information – whether guests are staying in your off-the-grid log cabin, or in your beach house, notify guests of local animals, wildlife, and pests they may encounter during their stay. This includes, but is not limited to, ticks, snakes, bats, and possums. As well, supplying information on how to fend off these pesky critters, can help guests to feel more secure. This can include listing items as part of the 'what's not included' section within your guidebook for your guests to pack, or resources you provide as part of your guests' stay.
Position your guidebook as a digital version of a traditional house manual
In the event your guests classify themselves as technophobes, there are a few things you can do to usher them along in your guest journey, while helping them get the most out of your guidebook.
Positioning your digital guidebook as a new and improved piece of technology, can be an exciting element for the technophiles staying with you.
However, for those guests who are more averse to onboarding new technology into their lives (for instance, if they prefer their flip phone as opposed to joining the hoards of iPhone lovers), consider finding common ground in the way you communicate and convey your digital house manual.
If your guests are resistant to engaging with your guidebook, consider swapping your messaging.
Rather than promoting your guidebook as a shiny new thing, consider it a newer version of a traditionally relished resource for vacation rentals everywhere, that your guests already know and love.
Touch Stay digital guidebooks are not strictly a smartphone tool – our guidebooks are sent as a link that opens and operates in any browser, be it desktop, tablet, or smartphone.
Supply your guests a (printed) PDF version of your digital guidebook
Still experiencing guests hesitant to engage with your digital house manual? Sometimes it's easier to go back to the basics with a PDF copy of your guidebook. Your house manual's key purpose is to deliver important information to your guests. At the end of the day, how it is delivered is part of catering to the guest experience, in turn leading to increased 5-star reviews and direct bookings for your Airbnb business!
Additionally, attaching the guidebook link (and a QR code) to the front of your printed copy, ensures guests still have readily available access to all your guidebook's pertinent information at their fingertips.
The choice is theirs whether they wish to use your printed PDF, or access the digital format.
4. Receives genuine duty of guest care
Creating a winning guest experience is about showing your guests you genuinely care throughout the entirety of their stay with you. You don't have to go overboard in physically greeting guests upon arrival or giving them the complete lay of the land. But using your communications to show your guests you're around, goes a long way.
Tyann sends her guests a quick text on arrival, notifying them she's available to respond to any of their questions or concerns. She then continues to stay in touch with them throughout the rest of their visit.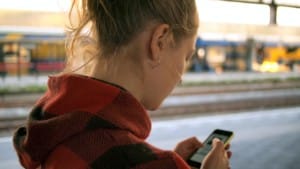 In turn, guests feel looked after, and are equipped with all the information they need for their trip.
How to know if guests are motivated to read your house manual template
Each of Touch Stay's digital guidebook templates allows you to see if your guests are viewing your guides. If you use the generic Quick Share Link, you'll see a cumulative number of opens from all who've been sent the guidebook.
If you use Memo, which enables you to send individual and unique guidebook links per guest, you'll be able to see how many times each guest has opened your guidebook and also to identify which guests are engaged and which may need an additional nudge (maybe via a different channel of communication (remember that list we mentioned above?).
Looking to see if a specific guest has opened your digital house manual?
If you're using Memo:
Log in and select Memo from the menu across the top of the screen

Select the Invitations tab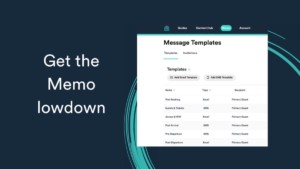 Otherwise:
Log in and select Guides from the menu across the top of the screen

Select the guidebook you want to check

Click on the Invite & Share tab beneath the guidebook title
Simply navigate to the "Invite and Share" tab on the relevant guidebook for an overview.
Get motivated to create a brilliant guest experience with a Touch Stay digital guidebook
Empower your guests and stop repeat questions with a customised Touch Stay digital guidebook, outfitted to meet the needs of your property and your vacationers.
Our digital welcome books help you to become more efficient at what you do best, position you as the knowledge expert for your destination, while empowering your guests before, during and after their stay.
From the moment guests find your property on the Airbnb app, to check-out time and their departure, find your motivation with our ready-made guidebook templates – transform your guest experience today!