In my 40+ years I've stayed in many vacation rentals. Some of the properties have been fantastic – from Key West, Florida, to Portugal, to Norfolk, UK. Yet I don't remember a single one of them having an Airbnb welcome letter that lives up to the quality of the vacation rental.

Why is that? Is it because owners are just too busy? Is it because the short term rental welcome book is considered an afterthought?

Far from being a nice add-on, an Airbnb welcome letter is crucial to providing a review-worthy guest experience. Not to mention, the literal hours of time it can save you as a host.

If you're yet to be convinced, check out how a digital guest book will improve your guest experience offering, and exactly why this matters.

DISCOVER: short term rental welcome book examples from accommodation operators who are already wowing their guests.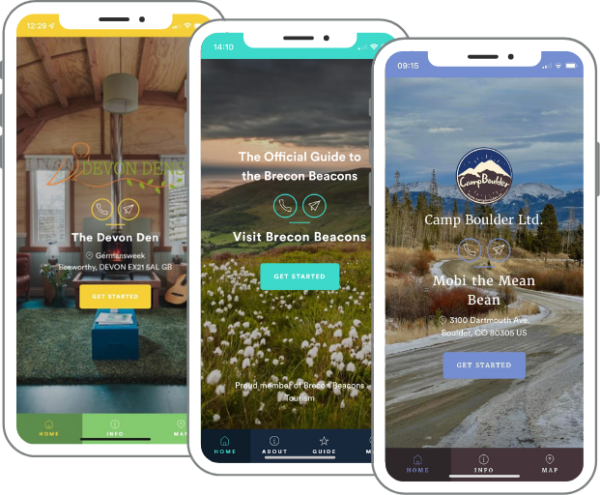 What should my Airbnb welcome letter include?
This is a question many owners ask. It can be a daunting task to start from scratch. Rather than list every possible topic that could be included, we've come up with the four key categories of information that we typically see in every good Airbnb welcome letter.
If you follow this format, and address the key themes that we discuss in each category, you'll have yourself a nifty resource in no time, and one that your guests will love!
If you're looking for a more structured approach, take a look at our guest welcome book template.
1. Pre-arrival information
The week before my vacation starts is usually frantic. Not only am I clearing my work desk, but I'm also starting to think about what to pack, how to find the vacation rental, what time I'll be able to check-in, where I'll shop for groceries, and so on. Us guests often need a vacation from our pre-vacation stress!
If you have a digital guest book that you can share with guests before they arrive, then you can help ease their stress. Answer all those questions that you know a guest will be concerned about:
Remind them of any important items to pack (e.g. beach towels).
Provide them with directions to your property.
Highlight the small grocery store en route to the vacation rental where they can pick up basic provisions.
Tell them what time to check-in, where to pick keys up, where to park, and so on.
The best thing you can do is to pretend you're making the journey. You've done it many times as an owner so you're often on autopilot. Try to turn off the auto setting and place yourself in your guests' shoes.
2. Important property information
We all know that vacation rentals require a little extra effort. It's what makes them unique. No that's not marketing spin, it's real… if we wanted bland we'd have booked the Hilton!
It would be impossible to list every "extra effort" item I've come across, but a few of them include:
Needing to heat up the outdoor hot tub a few hours ahead of being able to use it
Figuring out how to operate the gas grill
Realising on the first morning that there are no coffee filters
None of them were hard to resolve, but they did require a call to the owner, or a trip to the local store. If they'd been included in a guest information book that had been shared with us before we left home, we'd have been far better equipped to handle them, and we wouldn't have needed to bother the owner.
On top of the "quirks" there are all the obvious items like:
the WiFi password
where to put the garbage
how to operate the TV
These are simple things that take a few minutes to write down and will be appreciated by your time-starved guest!
3. Local area recommendations
This is the fun part: here's where you get to add some extra shine to your guest's stay. I've experienced some true golden nuggets of welcome information over the years, direct from the owner. For example:
The secret rock pool beach that nobody other than locals knows how to access
The best pizza restaurant in town
The local breakfast hang-out that serves the best pancakes
You simply can't get this kind of information at a hotel. Nor can you glean it from hours researching the web. It's like having your own (free) concierge.
This is where the greatest leap in guest satisfaction will come. We all love to experience something unique and we'll fall over ourselves thanking you for telling us (that's code for great reviews and/or repeat bookings).
It takes less than 30 minutes if you're an owner who knows their stuff! So invest that small amount of time in adding the hidden gems to your guest guidebook. And not just hidden gems, simple pieces of advice like the best way to walk to the beach are great time savers.
4. Answer frequently asked questions
With your experience you're bound to have a long list of questions that guests ask you. Often, these questions come at the pre-booking stage. Imagine being able to send interested guests a link to your Airbnb welcome letter with all those FAQs answered. Your guest welcome book could even help improve your conversion rate.
Plus, think of how much time you'd save in answering those questions! So why not make it a priority to improve the efficiency of your booking process? Place all those commonly asked questions in a guest welcome book that you can share with guests before they leave their own home, and even before they've booked.
With our 14-day free trial, you can try a digital welcome book for yourself with no obligation, no credit card details, and no commitment. So, what are you waiting for?