Today, you've got more options than ever before when choosing the best guest communication tool for you. When Touch Stay paved the way in 2014, we were one of the only digital guest welcome book providers around. Nowadays, you've got a whole range to choose from.
That's brilliant! It gives you the freedom to choose the tool that works best for you. However, it can also be difficult to know exactly what you're looking for, and how to choose between different providers.
To help you decide, we've compiled a side-by-side comparison of Touch Stay and GuestView Guide. Read on to understand which is the best digital welcome book for vacation rentals welcome book for vacation rentals
How to decide on the right digital welcome book for vacation rentals
There are some crucial differences in how you use Touch Stay's and GuestView Guide's technology, and in how your guests access it. When deciding which option is right for you, have a think about:
How your guests like to consume information
How you like to share information
The things you need your guests to understand before they arrive
What you want your communications to accomplish for you
If you rent an RV, there might be crucial technical details you need your guests to understand for their comfort and safety. If you own a short term rental, you might want to stand out from the crowd by directing guests to local hidden gems.
Before settling on a brand, it's important that you know exactly what you need from your guest communication tools. To help you determine which brand is best for you, we're going to run through the differences in how you:
And, of course, how much they cost.
This should give you all the info you need to make an informed decision about which digital guest book is best for you.
Adding information to your digital welcome book for vacation rentals
Arguably the most important consideration: how do you include content in Touch Stay and GuestView Guide's digital guidebooks?
Touch Stay includes a range of guidebook templates
To help you hit the ground running, Touch Stay offers a variety of guest welcome book templates which steer you through the details you might like to include. There are specific templates tailored to:
Short term rentals
B&Bs/hotels
Glampsites
Campsites
RV/campervan rentals
Destination guides
and more!
Simply fill out the sections in your chosen template, or create your own custom sections to tailor your guidebook even more specifically to your needs. Touch Stay automatically sorts your digital guest welcome book into Categories, Subcategories, and Topics, providing you with a coherent structure that you can tweak as you need.
And you don't need to stop at written information! You can include:
videos to welcome guests or instruct them on appliances
images to illustrate your written content
hyperlinks to direct guests to your direct booking site, newsletter sign-up, social media, etc.
internal links to help guests navigate through your guidebook
Replicating information across multiple guidebooks
All of your guidebook content is stored in Touch Stay's Content Hub. Whether you're curating one guidebook, or 100, all your information is on one accessible platform.
If you're creating multiple guidebooks, you can easily share information between them using Touch Stay's "Tag" system. For example, if you own multiple holiday rentals in one locality, you can instantly populate all your guidebooks with the same local recommendations. Simply assign a tag to your favourite cafés, restaurants, and bars in that area, and they'll automatically appear in the relevant guidebooks.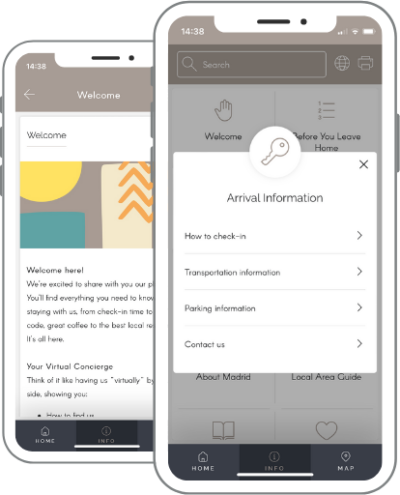 GuestView Guide's management dashboard stores all your content in one place
GuestView Guide makes it easy for you to manage your digital concierge service by storing all your info in its management dashboard.
From a summary of your different properties and the services you offer guests, to your guest messages and the media in your guides, it's all there. As with Touch Stay's Content Hub, you can edit all your guest information in one handy spot, on any web browser.
Whether you go with Touch Stay or GuestView Guide, a huge benefit of a digital guidebook is that as soon as you make changes in your central database, guests see the updated information in the digital welcome book they're viewing.
No more re-printing unwieldy PDFs whenever you update your appliance instructions. Now, your guests have instant access to the most up-to-date information.
Showcasing your local area
Visitors don't only come to visit your property (although we're certain that's a big draw!) – they're also coming to visit your local area. Point them towards local hotspots to help them make the most of their time in the region, and they'll be sure to thank you with a five-star review!
Touch Stay displays your local recommendations on an interactive map
Your Touch Stay digital welcome book includes a "Map" tab, on which you can pin your favourite local spots. These recommendations simultaneously appear as a list on the "Info" tab of your guidebook, so guests can engage with them in the format that best suits them. From cafés and restaurants, to your favourite surf spot, there's no limit to what you can recommend.
Touch Stay's Google Places integration allows you to instantly pull in key business details such as opening hours and addresses, making the process of crafting a comprehensive local area guide much faster. You can also add your own personal description if you like, so that guests can still feel the personal touch which is so important to the guest experience.
READ: Guest experience and why it matters to your short term rental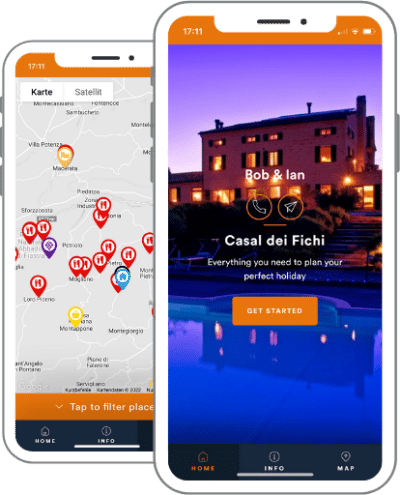 GuestView Guide presents your local recommendations to guests
GuestView Guide also dedicates a section of its digital concierge to local recommendations. With no separate Map tab, guests can only view these recommendations in list view, amongst the rest of your property information.
GuestView Guide similarly allows you to include the location of your recommendations, showcase reviews, and add your own description. With both communication tools, your visitors will know exactly where to head to experience the best of the best in your area.
Sharing your guidebook with guests
There's no point carefully curating all your property information and local recommendations, if you can't easily share them with guests!
So, how do your visitors view these two products?
Deliver your Touch Stay digital guest welcome book straight to guests' phones
Touch Stay is a progressive web app, which means that it's attached to a simple web link. There's no need for your guests to download an app, all they have to do is click on the link you share with them and follow the prompt to add your guidebook to the home screen of their mobile device.
With your guidebook bookmarked to their phone's home screen, they can access your information whenever they need it:
before they arrive
whilst they're at the property
when they're out exploring
Plus, they can even access it offline, so off-grid adventures aren't a problem!
How to share your guidebook link with guests
You've got five options for sharing your guidebook link with visitors:
Paste your Quick Share link into your current guest communications
Use Memo, Touch Stay's guest invitation tool, to set up scheduled emails/SMS across each guest's journey
Use Invite & Share to create a unique link for each guest to paste into your existing comms flow or OTA inbox
Place QR codes in handy spots around your property
Print your guidebook as a PDF, to supplement the digital view
If you've already established a guest communication flow that works well for you, all you need to do is paste your guidebook link into your current messages. You can even generate deep links to particular sections of your guide, or links specific to each guest which control when they can access certain content.
READ: 6 best guest communication tactics between booking and arrival, to understand what guests need from your communication flow.
If you're looking for a more efficient way to share your property information, try Memo, Touch Stay's guest notification system. Communicating with guests is as easy as 1, 2, 3…
Choose from 13 email/SMS templates (or create your own)
Schedule your guest alerts
Move on to the more interesting stuff
Memo helps you to serve your guests the information they need, when they need it, without you having to lift a finger.
READ: Memo 1.0: your guest alert tool, to get the Memo lowdown.
Guests can't miss your GuestView Guide digital concierge
Your GuestView Guide subscription includes a 21.5-inch LED touchscreen that hangs in your short term rental property. Instead of a tatty paper welcome book that gets moved from table, to sideboard, to kitchen drawer, your GuestView Guide is easy to access and always visible when you're in the property.
Your digital concierge engages guests as soon as they arrive by asking them to check-in and fill out a post-arrival survey. You can schedule messages to appear on your digital guide throughout guests' stay, to remind them of time-specific property info (e.g. rubbish collection day is tomorrow!) and direct them towards recommended local activities.
Whilst a large display encourages guest engagement whilst they're physically present in your property, it doesn't allow them to access your info before they arrive, or when they're out and about. It also adds an extra layer to your setup process, as you have to receive the delivery of a large piece of tech, and get it properly set up.
READ: What, how, and when to communicate with vacation rental guests
Spotlighting your brand to drive direct bookings
In order to build a strong foundation of direct bookings, your guests need to know that they stayed with you, not with Airbnb/Booking.com/Vrbo.
By putting your brand front and centre, your digital guidebook can help solidify your name in guests' minds.
Touch Stay shines a light on your short term rental brand
Touch Stay digital guest welcome book are white-labelled, meaning they allow you to insert your own:
Whilst you can choose to retain your guidebook's original Touch Stay design for ease, you can also replace it entirely with your own. When guests engage with your property information, they won't think of Touch Stay, or of Airbnb, they'll think of you.
Touch Stay's guidebook templates even include pre-formatted sections which request a review, and direct guests to your booking site and social media. All you need to do is insert the correct links, and guests will know exactly where to go to review and rebook.
GuestView Guide brings your brand into your property
You can personalise your digital concierge's home screen with your logo and a custom welcome message. Your visitors immediately know that it's you welcoming them to their home-from-home.
You can also use GuestView Guide's notification system to highlight other properties under your vacation rental brand on the home screen of your digital guide. This way, if guests have enjoyed this stay, they know exactly where to go to book a similar one. Even whilst your guests are enjoying the stellar experience you're providing, they're getting inspiration for where to book their next stay with you.
Boost your revenues with upsells
"Upsell" can feel like a dirty word, but pointing guests towards exciting extras is actually a great way to further enhance their stay, so long as the cost of the add-on matches the value it brings them.
Your digital guest welcome book is the perfect place to communicate your upsells, so how do Touch Stay and GuestView Guide facilitate this?
Touch Stay provides a platform to serve your upsells at the right time
Many Touch Stay users create a section in their guidebook dedicated to the extra services and experiences their guests can purchase. This makes it easy for guests to find your added extras, and creates clarity around any additional fees.
You can then use Memo to schedule messages to your guests reminding them of the upsells available. Perhaps schedule an email a fortnight before guests arrive, reminding them that they can book your pre-arrival grocery delivery service. Or, schedule an SMS for three days after they arrive, directing them to your referral link for the local spa.
Remind your guests of all the ways they can take their holiday to the next level, and direct them straight to the info they need.
WATCH: Guest upsells – how to wow guests and increase revenues
GuestView Guide allows guests to purchase upsells through the digital guide
With GuestView Guide, you can add additional services and their costs for guests to request directly from the guide.
Once they request an add-on, they're prompted to insert their mobile number and receive details to pay via their phone.
Late check-out, baby equipment rental, additional parking – all served with clarity and ease.
Digital guidebook pricing
Of course, a key factor will be each product's price point, so let's take a look at how affordable Touch Stay and GuestView Guide are.
Touch Stay pricing
Touch Stay's pricing plan starts at $99 per year, or $12.50 per month, for one guidebook. If you have more than one rental unit and therefore require more than one guidebook, the price you pay decreases as your business scales. Pricing plans vary depending on which kind of holiday accommodation you run.
As an example, for vacation rental properties, Touch Stay starts at $99 per year for your first property. This then decreases to:
$51 per year for your second property
$45 for each of your next three properties
for property managers with more than five properties, the price drops even further, eventually reducing to $20 per property per year.
It will be the cheapest and most effective tool you purchase.
– Nathan Allan, Swantown Inn & Spa
To calculate exactly how much you would pay per year and/or per month, in GBP and USD, head over to our pricing calculator.
Not to mention that Touch Stay has a 14-day free trial, no credit card details required. So, you can try us out with zero commitment.
GuestView Guide pricing
GuestView Guide starts from $39.99 per month for one guide, with a minimum commitment of one year. That's 40% of Touch Stay's yearly cost, in just one month.
For volume pricing, GuestView Guide requests that you contact them to receive a quote.
Product and people
At Touch Stay, we know that it doesn't just come down to pricing. It's about the quality of the product, and the support available.
That's why our development team is constantly working on a mixture of significant feature releases and small but powerful product enhancements, to make sure that Touch Stay is always at the cutting edge of guest communications. And it's not just us who think so..!
The app is getting phenomenal feedback – one of the best investments I have made.
– Alexandra Doherty
It's just invaluable as an asset to the business and one recent guest classed our guide as "a thing of beauty". Thanks Touch Stay for this!
– Chris Charnley
Touch Stay is invaluable to us. It's one of our next projects to explore & use more of the capabilities your team keeps developing. Seriously please tell them all – brilliantly well done and thank you for making our lives so much easier!
– Hannah Jones, Geufron Farm
Thank you again for providing such a detailed and informative app. I have never been so excited for a particular rental as I am for this one!
– Guest of Michelle Frieda
We realise that getting up and running with a new piece of tech can feel like another mountain to climb. That's why we designed Touch Stay to be intuitive and easy to use, without requiring any integrations (although we do have a few!). We also provide extensive support:
In short, our inbox is always open. So, if you fancy giving Touch Stay a try (commitment-free, remember), start your free trial today, and transform your guest communications.