We're always excited to see the vacation rental industry growing and developing. When we launched Touch Stay in 2014, we were early innovators of the digital welcome book. Now, short-term rental owners and managers have a whole range of digital guidebooks that they can choose from.
This is great! It keeps us all on our toes and pushes us to keep improving our customers' experience. It also means that there should always be a product out there to suit your needs. How do you decide which one to choose though?
To make it easy for you, we've created a side-by-side comparison of Touch Stay and Hostfully, so that you can determine which digital guidebook is best for you.
Which digital guest welcome book will best suit you?
Of course, as proud parents, we think everyone should choose Touch Stay. We realise, however, that this might be a slightly biased perspective…
So, we've tried to remain as objective as possible. We'll present:
By the end of this article, you should have all the details you need to make an informed decision about which digital guest welcome book will best suit your needs.
1. Adding content to your digital guidebook
How do you add information into Touch Stay's and Hostfully's digital guest welcome books?
Touch Stay offers a range of easy-to-use content templates
When setting up your guide, you can choose between templates for a:
short term rental
bed and breakfast/hotel
tourism guide
glampsite
RV/campervan
campsite
These templates give you an idea of what content to include, and how you could present that content, whilst allowing you to completely customise the information you incorporate. We automatically organise your digital guidebook into Categories, Subcategories, and Topics, providing you with a structure that you can tweak as you need.
As of this year, you can insert images amongst your text, not just at the top of each Topic, to make the most of your visual resources. You can also insert videos to guide guests through appliance instructions (particularly useful for RV owners!), or to give them an overview of your property.



Hostfully offers a mixture of standardised check-boxes and customisable fields
When creating a Hostfully digital guidebook, you populate "cards" with the information that your guests need, from arrival instructions to local area recommendations. Check-boxes allow you to quickly insert content into these cards, while customisable fields allow you to tailor your messaging when this is necessary.
Hostfully also allows you to embed images and videos within your text to illustrate your written content.
2. Replicating content between multiple guidebooks to support efficient property management
How easy is it to insert the same information into lots of different guest welcome books?
Touch Stay's "tags" function automatically shares content across multiple guidebooks
You might have information that's the same for multiple Airbnb listings/glamping pitches/campervans/rooms, e.g. arrival and safety instructions. A tag links the same Topic to as many guidebooks as you choose – a simple way of quickly populating all of them. You can still easily customise content in individual guidebooks when necessary.
For vacation rental managers with more than one property, creating multiple guidebooks can feel like a mammoth task. The tag function is designed to make this process as efficient as possible, and save you time that you can instead spend on other areas of your business.
Hostfully's cards can appear in multiple guidebooks
Hostfully has a similar system, but instead of tags, they use cards. Each guidebook is composed of multiple cards, and one card can live in multiple guidebooks. You can also create "templates" if you need to scale up even further, for example if you're a property manager in charge of hundreds of properties.
Every guidebook includes one set of "Arrival" cards and one set of "Departure" cards, which detail the key information that a guest needs to know (checking in and out, parking, WiFi, etc.). From there you can edit whichever combination of their "House Manual" and "Local Area" cards that you like.
An important note: you have to be a paid subscriber to Hostfully's "Power Host" option to create your own custom card categories.
3. Using your digital welcome book to guide Airbnb guests around the local area
How do you give guests access to your expert local knowledge?
Touch Stay's 'Map' tab displays all of your local recommendations
Touch Stay keeps all of your information in one handy view, with local area tips accessible alongside your property information.
The Map tab allows guests to easily orient themselves in the local area. There are more than seventy map pin icons so that you can label your places as accurately as possible, and we add more from time to time.
Our Google Places integration allows you to quickly and easily pull in information from a Google Business listing. Don't worry, you can still write your own personalised recommendations alongside these – the process is much faster for you, but guests still feel that personal touch.
Hostfully's recommendation cards let you showcase your local offerings
Hostfully allows you to tailor the content of your recommendation cards in the same way that Touch Stay allows you to customise your Topics. You can present your local area information in the format that best suits you. You could, for example, dedicate a card to a suggested day out, with information about where to get lunch, which routes to take, and which cafes to stop at.
Hostfully's Google Places integration similarly allows you to pull information in from Google Business listings, whilst still inserting your own custom description. Your guest will also see Hostfully's sponsored recommendations (you can only switch these off if you select the "Power Host" subscription).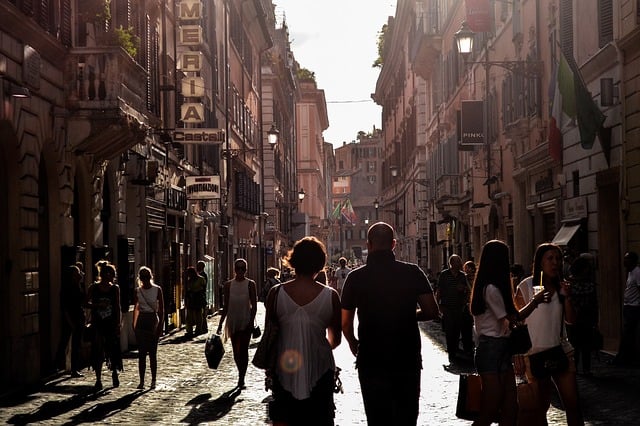 4. Sharing your digital guidebook with guests
How easy is it for guests to access your digital guidebook?
Share your Touch Stay digital guidebook through multiple channels
Your Touch Stay digital welcome book is simply attached to a link. There's no requirement for your guests to download an app, all they have to do is copy the URL into their browser and follow the prompt to attach it to the home screen of their phone.
Touch Stay is a progressive web app, which just means that once your guest has pinned it to their home screen, it has all the functionality of an app, whilst keeping the accessibility of a webpage. No matter what device your guest is using, your digital guidebook will adapt to work for them. Plus, they can access it even when they're offline – no internet required!
FIND OUT MORE: about what a progressive web app is, and why it's the best tech for your digital guidebook.
It doesn't matter if guests are coming to you from your own direct booking site, or from a listing site such as Airbnb, Booking.com, or Vrbo – you can insert the link into any guest communication channel:
a booking site messaging platform
email
text
Whatsapp
You can also schedule emails and SMS messages from your Touch Stay account. This second option allows you to set lead times on specific info, so that guests can only access it a certain amount of time before their stay. You can send guests your digital guidebook link well before check-in so they feel prepared for their stay.
If you use a property management system (PMS), just paste a link into your scheduled communications – no integration required!
Paste the URL for your Hostfully guidebook into your existing communications
Hostfully is a mobile-first website. To share your guidebook with guests, you can paste the URL into any of your pre- or post-check-in communications. If you select Hostfully's "Power Host" subscription, you can also customise your URL.
Your guests can't currently access the Hostfully guidebook if they're offline. This might be a point to consider if your property is in a remote location.
We can't see an option to set up scheduled emails if you're only using Hostfully's digital guidebook product, but this is something they offer through their property management platform.
5. Generating a printed version of your digital guidebook
What about those guests who prefer a physical copy of their welcome book?
Choose to print a PDF of your Touch Stay digital guidebook
At Touch Stay, we've designed your digital guidebook to be super easy for any guest to access and use, even the most committed technophobe. We realise, however, that it can be helpful to have the option of printing out your guidebook, or even sections of it.
That's why you can choose to print a PDF of your guidebook. You can also attach a QR code to the front cover of this PDF, which will take guests to the digital guidebook when they want the full version.
Print a PDF version of your Hostfully digital guidebook
Hostfully also allows you to print your guidebook as a PDF. When printing, you can customise the colour and font of the text in order to match your branding, and choose between different cover page options. Hostfully also allows you to choose which sections you'd like to print.
7. Using your digital guidebook to showcase your vacation rental brand
Will guests know who they should be recommending to their friends?
Your Touch Stay digital guidebook is white-labelled
Touch Stay allows you to package your digital guidebook into your own branding. You can change:
the logo
the font
the colours
the pictures
This means that guests associate the wonderful experience they have on holiday with your short-term rental brand and property. They know exactly who to recommend to their friends. Ultimately, this helps cement your offering in their minds in more ways than one.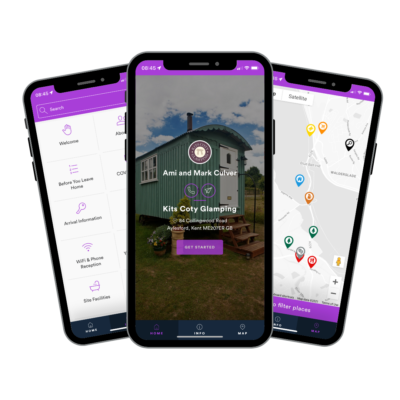 Hostfully allows their "Power Hosts" to brand their guidebooks
If you opt for the "Power Host" subscription, Hostfully allows you to insert your own logo, colours, and a link to your website. If you opt for their free "Premium" subscription, you don't get these brand recognition benefits.
Digital guidebook pricing
Of course, a key consideration is always going to be the price point, and both of these options are reasonably priced.
Touch Stay's pricing structure
Touch Stay's pricing starts at $99 per year. If you have more than one rental unit and therefore require more than one guidebook, our pricing plans vary depending on whether you manage a vacation rental, a glampsite/campsite, a B&B or an RV rental business. In each of our plans, the price you pay decreases as your business scales.
As an example, for vacation rental properties, Touch Stay starts at $99 per year for your first property. This then decreases to:
$51 per year for your second property
$45 for each of your next three properties
for property managers with more than five properties, the price drops even further, eventually reducing to $20 per property per year.
The key difference between Touch Stay and Hostfully is that with Touch Stay you get access to all the product features, however much you're paying. With Hostfully, certain features only become available when you opt for their paid "Power Host" subscription, or when you subscribe to one of their "Business" plans.
The features that every Touch Stay user can access include:
full multi-language support – use our Google Translate integration, or insert your own translation
all the practical information your guests could possibly need
full flexibility in your guidebook content and structure
include links to external websites
content organisation and formatting tools
Google Places and TripAdvisor integrations
option to print a PDF
insert videos
easy guest invitation process
offline accessibility
Plus! Touch Stay offers a free 14-day trial, so you can test us out before you commit.
Hostfully's pricing structure
For individuals, Hostfully offers a free "Premium" subscription, which gets you:
one guidebook
home information (check in, directions, WiFi etc.)
unlimited and sponsored recommendations
customer support
functionality on all devices
Their "Power Host" subscription costs $9.99 per month (aka $119.88 per year). The extra features include:
custom recommendation categories
Premium Print templates
capture of guest email addresses
white-labelling
option to remove sponsored recommendations
multiple languages
ability to create drafts before publishing
Support setting up your digital guest welcome book
If you get stuck, what customer support is available?
Touch Stay's support options
We've designed Touch Stay with you in mind – we want to make it as easy as possible for you to set up a digital guidebook and start seeing the benefits immediately. We offer a range of free support options to help you along the way:
Joe, our co-founder and product expert, mans the support desk. Questions always get a sensible and human answer, right from the expert himself!
we insert template text into your guidebook – you can tweak as much or as little as you want
help icons throughout the guidebook explain how to use each feature
our knowledge base contains hundreds of answers to FAQs, with screenshots and video demos to illustrate instructions
our blog offers advice and analysis of how to use your guide to ace the guest experience and get those five-star reviews pouring in
we host our own webinars and AMAs, which draw on the expertise of other vacation rental professionals
we also host a guest experience podcast, which provides you with an objective guest perspective and heaps of genius ideas to try
our community thrives in our private Facebook group, where holiday home owners, Airbnb hosts, property managers, BnB owners, and RV renters swap advice and offer support
plus, for property managers with more than twenty properties, we offer a custom onboarding service to get you up and running.
Hostfully also offers an extensive range of support:
in return for your email, they'll send you a demo which walks you through all the different features of their guidebook, and explains how to set one up
their "Quick Start Wizard" will get you up and running with a basic guidebook in a matter of minutes
they also host their own webinars, where they discuss vacation rental trends and best practices
their blog offers tips and tricks for guidebook optimisation and guest communication
they have a wide range of video tutorials
they have a dedicated page for guidebook tips & FAQs
So, which digital guidebook is best for your vacation rental business?
Both products essentially do the same thing, so it comes down to:
which one you think will work better for your guests, both visually and functionally
which one is easier for you to use
We would encourage you to try each product before you come to a decision. Hostfully has their free Premium plan, and Touch Stay offers a 14-day free trial. Take advantage of both options to see which feels best for you.
Let's be honest, you're not going to go wrong with either option. Both offer you a guest communication tool which allows you to present your guests with all the essential information about your property. WiFi codes, house rules, and recommendations for the top local restaurants are all there, in one accessible package.
Your guests feel prepared and informed, and you save time. Plus, happy guests mean those five-star reviews will start rolling in!
Given that you're here, fancy giving Touch Stay a whirl?