Wondering what our development team has been up to recently? You're in the right place! We've gathered our most recent updates so that you can see exactly how they're helping Touch Stay work even better for you.
Keep reading to stay in the Touch Stay loop.
What's new with Memo?
Like fine wine (or cheese!), Memo is only getting better with time. We're regularly enhancing it to make sure it's serving your communication needs as well as it possibly can.
Memo is optimised for mobile
If you log into your Touch Stay account on your mobile, you'll now find that the Memo page works a whole lot better. That's because we've optimised it for use and viewing on mobile devices.
This means that you can more easily create templates and schedule guest invitations from your phone. So if, for example, you receive a last-minute booking and don't have your computer to hand, you can still quickly ensure that your communication flow is ready to go.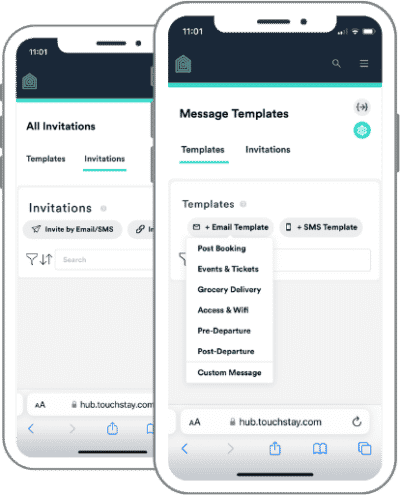 Preview Memo messages
Until now, if you wanted to see how your Memo messages would look to a guest receiving them, you had to create an invitation containing your own contact details. Whilst this works well enough, it's a bit of a faff…
Good news! You can now simply choose to view any Memo message as a preview, which means you'll see it exactly as it'll appear to your guest (with their personal info replacing any short codes).
All you have to do is:
Create your templates and invitations as usual
Head to the Invitations tab on your Memo page
Select the three dots menu at the right hand side of whichever guest invitation you want to check and choose to "View/Edit"
Select the three dots menu at the right hand side of the message template you're interested in previewing
Select "Preview Message"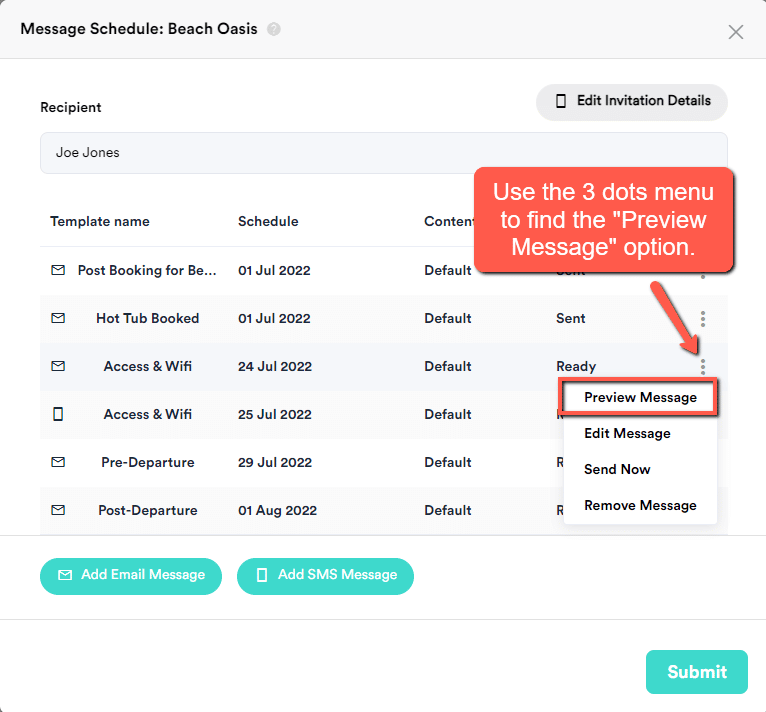 For more detail, check out Joe's article in the Knowledge Base.
OwnerRez integration news
If you use OwnerRez as your property management system, you probably already know that we're integrated with them. We've recently introduced a couple of updates to make this integration work even better for you.
Create custom fields when importing from OwnerRez
We recently announced this update for anyone who uses BookingSync, and it's now the turn of OwnerRez users! Essentially, you can now create custom field codes which allow you to import certain unique information from your OwnerRez account.
For example, you might want to automatically import the door lock code for each property so you can embed it in your Memo message templates to share with guests. You can now link the lock code value in your OwnerRez account to a custom field code that you create in Memo.
This means that when you include your custom field code in a new template, the door lock code will be automatically added, in the same way that details such as the guest name and contact info already are.
Find out more:
Webhooks allow instant OwnerRez updates
A webhook is just a message that goes from OwnerRez to Touch Stay to tell us that something has changed. For example, if your OwnerRez account creates a new booking, Touch Stay will get a message telling us this has happened. We can then pull in the booking details and create an invitation for that guest.
Previously, we had a timer that ran every 30 minutes to check for changes in your OwnerRez account. Now, webhooks arrive as soon as a change happens. The end result is that:
you now see near instant updates
Touch Stay can more robustly handle changes and cancellations in your OwnerRez account
Find out more:
Fine-tuning your guidebook experience
The following updates are comparatively small, but they'll make your experience of creating and editing your guidebook that bit easier.
Multi-language selection is now a drop-down menu
As we added an increasing number of languages to our Multi-Language option (find it in your Settings!), the previous checkbox view was becoming unmanageable. So, we've replaced it with a drop-down menu.
Rather than a huge list of checkboxes, you can now simply scroll down and select the languages you want to enable for your guidebook.
Find out more:
No more uncontrollable scrolling in Safari
A Safari bug was previously forcing your screen to scroll to the very bottom of Content Hub whenever you edited a Topic. Not the end of the world, but pretty frustrating, especially if you're updating a large amount of information.
Our development team has fixed that bug, so you can now edit your guidebook in Safari without being constantly catapulted to the bottom of the page. A far less frustrating experience!
With every update we release, from relatively small bug fixes to entirely new features, we're working to make your guidebook experience smoother, simpler, and more effective. And we'll keep you in the loop, so that you always know exactly what's exciting and new.